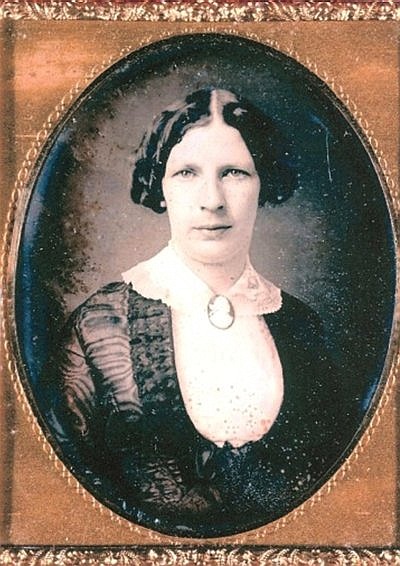 ..
Elizabeth Shaw was the first Melvillean. Beyond copying Herman Melville's work in his life, she maintained his literary reputation after his death. Her labor exhibited itself in the subtlest ways. On the back flyleaf of the Melville family's copy of The Piazza Tales, someone (likely Elizabeth) wrote the original publication dates of all the stories collected in the book. This book by Herman, annotated by Elizabeth, illustrates the intertwined nature of their shared bibliographic production, and the importance of this shared labor in the reception and study of Herman Melville.

Herman would tell stories of his adventures to his family and friends. At the urging of his sisters, Melville began to write down his stories. The result was five books all drawing on his experiences at sea. Among those who he entertained, were Elizabeth Shaw and her father, Lemeul Shaw, the chief justice of the Supreme Court of Massachusetts. Lemeul was a a boyhood friend of Melville's father. Herman dedicated Typee to Lemeul Shaw, and fell in love with his daughter.

Typee was first published in 1846 in London, where it was very popular. A Boston publisher subsequently accepted the sequel: Omoo, sight unseen. Herman was living in Lansingburgh at the time her was courting Elizabeth.
The Herman Melville House located at Lansingburgh in Troy, Rensselaer County, New York, is now a historic building. It was a home of author Herman Melville between 1838 and 1847, at the time of his marriage to Lizzie.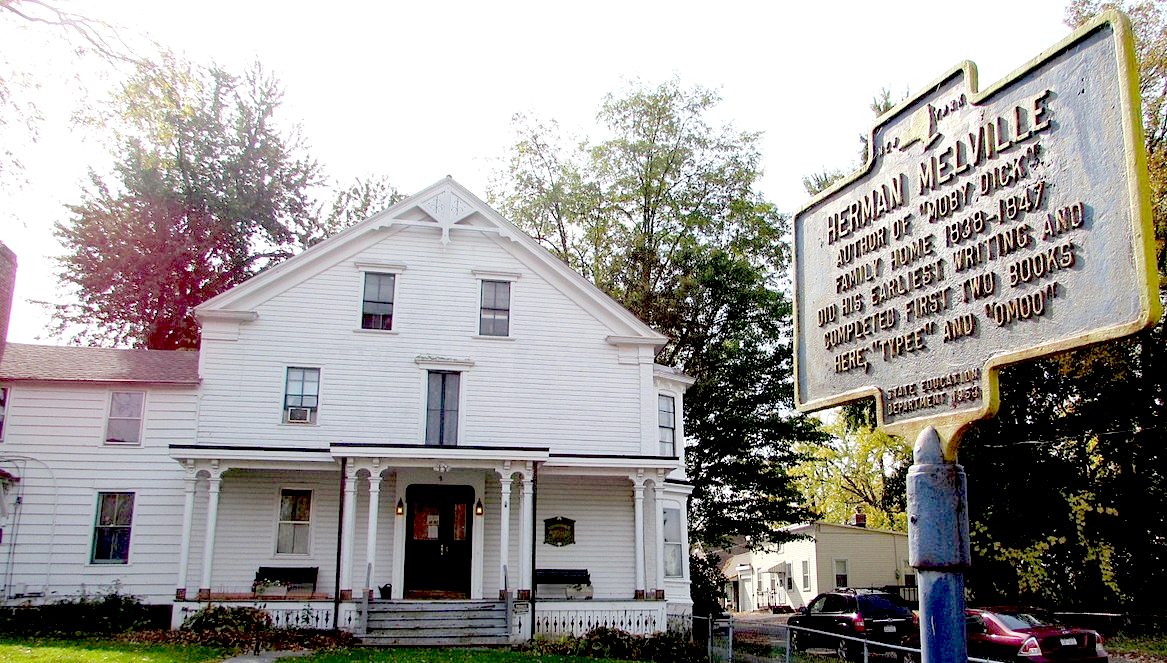 Herman Melville married Elizabeth Shaw on August 04, 1847. The couple honeymooned in Canada.
With a $2,000 loan from his father-in-law to contribute toward purchase price, Melville and his brother Allan, also newly married, bought a house at 103 Fourth Avenue for joint occupancy and moved their mother, sisters and brother in with them and their brides. It must have been crowded, but fun. Nobody was lonely.
The new Mrs. Herman Melville kept her stepmother in Boston informed of her daily life:
"… but sometimes – dear me! we have to go and make calls! and then goodbye to everything else for that day! for upon my word, it takes the whole day – from 1 o'clock till four! and then perhaps we don't accomplish more than two or three, if unluckily they chance to be in… and all Herman's and Allan's friends are so polite, to say nothing of Mrs. M's old acquaintances, that I am fairly sick of returning calls…. Herman is not fond of parties, and I don't care anything about them here."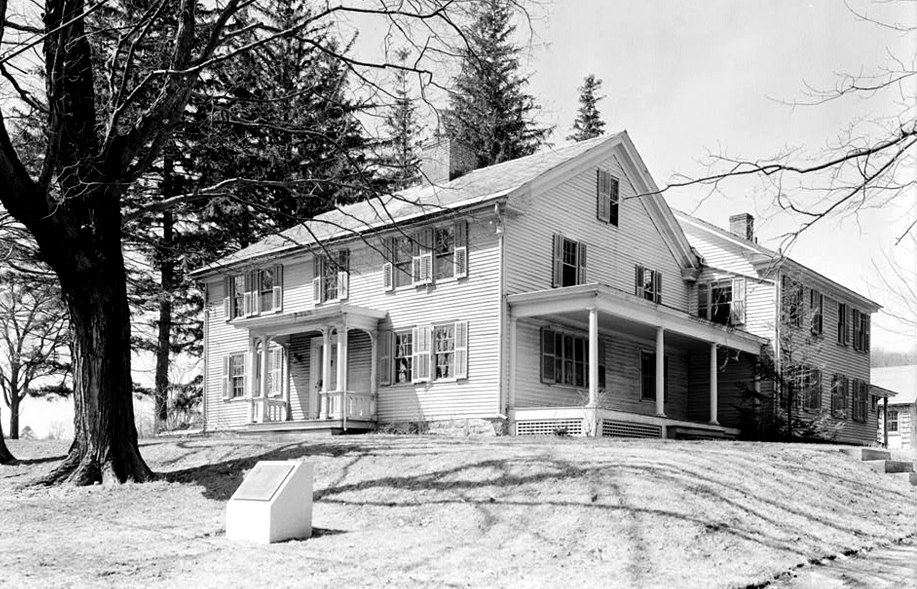 From 1850 until 1863 the Melville's lived at Arrowhead, now a heritage site of some significance. Arrowhead is open on Saturdays only from October 19 through December 14, 10am - 2pm. Melville wrote "Moby-Dick" here as well as many other notable novels and short stories.
Melville's family life was punctuated with moments of joy and difficulties. His four children enjoyed life in Pittsfield, but Lizzie had difficulty with her hay fever and frequently took trips back home to Boston.
As much as Melville loved the Berkshires, he grew frustrated at the lack of success of his writing career and found his debts mounting.
In 1863 Herman traded Arrowhead for his brother Allan's house at 104 East 26th Street in New York City to offset debt and mortgage payment arrears. Lizzie loathed winters in the country, and Herman needed the stimulation of an active community around him.
Fortune smiled on the Melville's with inheritances from both sides of the family, enabling them to pay off some debts, and they were pleased to return to city life. They lived off Lizzie's inheritance after the death of her father. Melville continued to visit Arrowhead through the 1880s.
Herman took a position as a customs inspector on the New York docks in 1866 resulting from family pressure to find gainful employment. He held this job for twenty years, working six days a week with only two weeks of vacation a year. The man who had sailed the world and written great American literature now found himself working at a job that paid four dollars a day.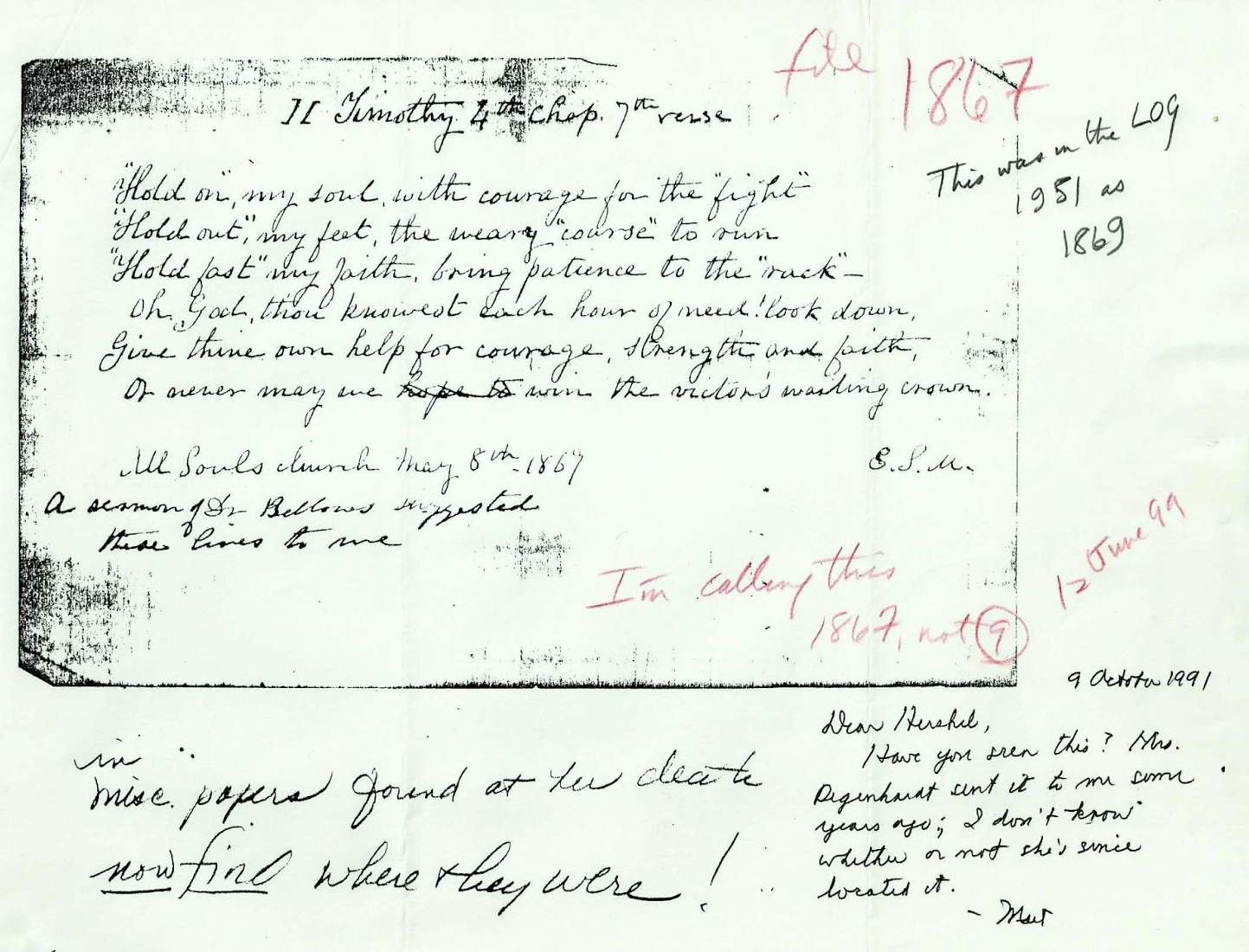 Herman and Lizzie outlived both of their sons. In 1867, their oldest son Malcolm shot himself after a quarrel with his father. Imagine the strain this put on the family.
Nobody knows if the fatal shooting was intentional or accidental. Their son Stanwix went to sea in 1869. He died of tuberculosis in a San Francisco hospital in 1886. One of the Melville daughters was a spinster, and the other reportedly regarded her father as a beast. He should have bought her the pony she wanted.
A small legacy from Lizzie's relatives finally enabled Melville to retire from the Customs House in 1886. That year Herman presented Lizzie with a book of poetry entitled Weeds and Wildings, Chiefly, with a Rose or Two. Many of the poems were about their happy days at Arrowhead.
After retiring from the customs service, he returned to fiction to write the novella, Billy Budd. Begun in early 1886, Herman Melville worked on the project until his death of a heart attack. It would remain unknown to the world until the Melville Revival rediscovered him in the 1920s. Billy Budd, whose pages Lizzie had stored in a bread box, was published in 1924.
Herman died on the 28th of September 1891 in New York, he was 72.

Elizabeth Shaw Melville died July 31, 1906 in New York City.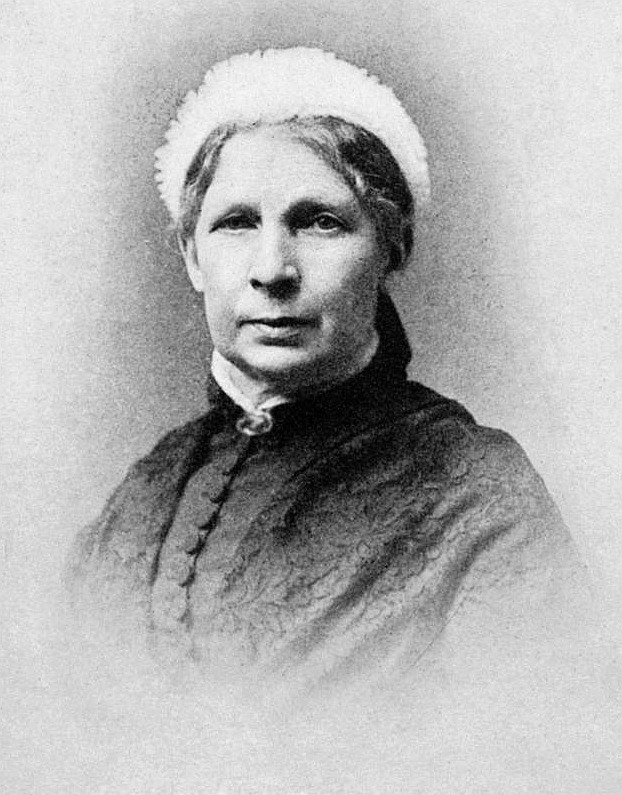 HERMAN'S SHORT STORIES
Bartleby, the Scrivener
Benito Cereno
Cock-A-Doodle-Doo!
The Encantadas
The Paradise of Bachelors and the Tartarus of Maids


HERMAN'S BOOKS

Typee (1846)
Omoo (1847)
Mardi (1849)
Redburn (1849)
White-Jacket (1850)
Moby Dick (1851)
Pierre (1852)
Israel Potter (1855)
The Confidence-Man (1857)
Billy Budd (1924)

LINKS & REFERENCE
https://w