SUPERB - Keira Knightly portrays Elizabeth Swann as the girl who grew up with a thing for pirates and then fell in love with one - and his swashbuckling lifestyle.
Elizabeth Swann (later to become Elizabeth Turner) is a fictional character in the Pirates of the Caribbean film series. She appears in The Curse of the Black Pearl (2003) and three of its sequels, Dead Man's Chest (2006), At World's End (2007) and Dead Men Tell No Tales (2017). She is portrayed by Keira Knightley (and as a child by Lucinda Dryzek in the prologue of The Curse of the Black Pearl). She is known to use the alias "Elizabeth Turner", but this later becomes her married name when she weds the character Will Turner who is played by Orlando Bloom.
TEST MODEL - 1:20th scale test tank model of the Elizabeth Swan under construction. For the SNAV, Elizabeth Swann, development models we will use triple layer, laminated, amorphous cells in combination with polycrystaline (16.5 - 17%) cells to provide 100+ watts of energy for hull speed tests.
The full size vessel could achieve far more energy than this in terms of kilowatts per ton, but is being limited to 67kW (55kW + 12kW) on economic grounds, so around 2.8kW/ton at present displacement estimates for the smaller turbines setup, and 90kW (60kW + 30kW) for the larger turbine installation, to give 3.4kW/ton. 100w on this model is the equivalent of between 3.73kW/ton (5hp) - 5.89 kW/ton (7.9hp), depending on the weight of the final model. The model is therefore more powerful than the full size ship pro-rata, when it should perhaps be the other way around - and of course it is, because the model should have a considerable battery mass and it has none. Ballasted (lead weights) the power to weight ratio is roughly 5.27kW/ton (7.07hp) in the upper range. Or, looking at it another way, the full size ship may prove to be faster than we are working towards giving us a respectable safety margin.
The world record at the moment is held by Planetsolar, a ship that weighs 95 tons and generates 93.5kW from 825 solar panels. That works out to .984kW per ton. For this reason the Bluefish platform promises to advance the state of the art significantly in theory. That coupled to the stable low drag hull, could yield sprint speeds in excess of 18 knots with suitable motors, and that is why this is an exciting time for us. When built the Bluefish hull will be the largest solar powered boat in the world at 43 meters (140ft). Planetsolar is 113 ft long and the current record holder.
A version of this technology could power a giant ocean going vacuum cleaner or ocean dustcart to tackle the plastic pollution menace.
THE SHIP
The name Elizabeth Swan is also that of another fictional character, but this time a small ship that under the command of John Storm, an eco adventurer. The vessel first makes its appearance in the Kulo Luna adventure where John Storm and Dan Hawk retire from the lead in a solar boat race to rescue a wounded humpback whale.
WHAT THE ACTOR SAYS
According to actress Keira Knightley, Swann is "a 21st century girl trapped in an 18th century world. She starts out as a damsel in distress and then kicks butt, so what's not to like?" While she appreciates her role, she was disappointed that her character did not carry a sword in The Black Pearl: "I didn't have a sword. Am I angry about that? Yes, very! ... I asked every single day, anyone I could ask, if I could have a sword but I didn't get one." In the sequel Dead Man's Chest, she added that, "we went off into a grungier look for her. That was really exciting actually, to take the character and make her grow up... I think they really liked the more action-based side of Elizabeth from the first film and apparently that's what little girls really responded to, so they decided to take her off in that direction". She adds she was relieved to finally be able to brandish a sword, although according to Knightley, most of her sword fighting scenes were cut. Knightley also stated how glad she was that by At World's End, she was finally able to shed the elaborate dresses and only wear pirate's clothing: "Actually I am really glad, it's so hot in there it is unbelievable, and everybody else has got their proper pirate stuff on and I am a little less dressed than everyone else and I am very glad, so that's good. The rest of the time I've got kind of the Pirate look instead of the corset and frilly dresses."

Behind-the-scenes footage included on the DVD and Blu-ray releases of Dead Man's Chest reveals that Knightley wore wigs when playing Elizabeth in that film, as her real hair had been cropped short at the time (she is shown rehearsing numerous scenes without her wig in several production featurettes).

For the toyline for At World's End an Action figure was made for Elizabeth Swann.

Following the film's prologue, Elizabeth Swann is approximately 18 years old , about 5' 7" tall with a slender figure, brown eyes, and dark blonde hair. Having been raised in upper-class society as a governor's daughter, Elizabeth is a refined and elegant young lady.

In The Curse of the Black Pearl, she wears a dress style known as a Robe a L'Anglaise. As a young girl, she wears a blue dress in this style, and, eight years later, her father presents her with a gold-colored frock to wear at Commodore Norrington's promotion ceremony. Elizabeth is kidnapped wearing a long, floral cream-colored dressing gown, though Captain Barbossa later insists she wear a red dress, previously owned by another lady; she is forced to return it prior to walking the plank and being marooned on a deserted island, clad only in a long white chemise . After being rescued by Commodore Norrington, Elizabeth is loaned a Royal Navy uniform, the first time she is seen in men's attire. At Jack Sparrow's execution, she is once again fashionably attired, wearing a peach-colored gown and a picture hat.

In Dead Man's Chest, as Elizabeth's character and circumstances change, so does her wardrobe. Although she is first seen in an elegant wedding gown and a long lace veil, Elizabeth later disguises herself as a cabin boy, wearing brown breeches, a white shirt, brown boots, a red waistcoat, a black belt, and a brown tricorne hat. She wears this garb throughout the film. Exposure to the sun tans her skin and lightens her hair.

In At World's End, Elizabeth first appears in Chinese peasant clothing and a coolie hat while paddling a small boat through Singapore's waters. She is forced to wear only a short robe upon entering Sao Feng's bathhouse. Later, Elizabeth wears a long armored coat while traveling. As a captive aboard Sao Feng's ship, Elizabeth has been dressed in a long red cheongsam, a sleeveless full-length blue overcoat (both probably silk), and a studded turquoise phoenix crown. She later dons Chinese battle dress. During her one-day on the island with Will, she is clad in a black tunic. In the scene set ten years later, she is wearing a long skirt and a double-breasted brocade waistcoat over a white puffy-sleeved shirt, probably cotton or linen.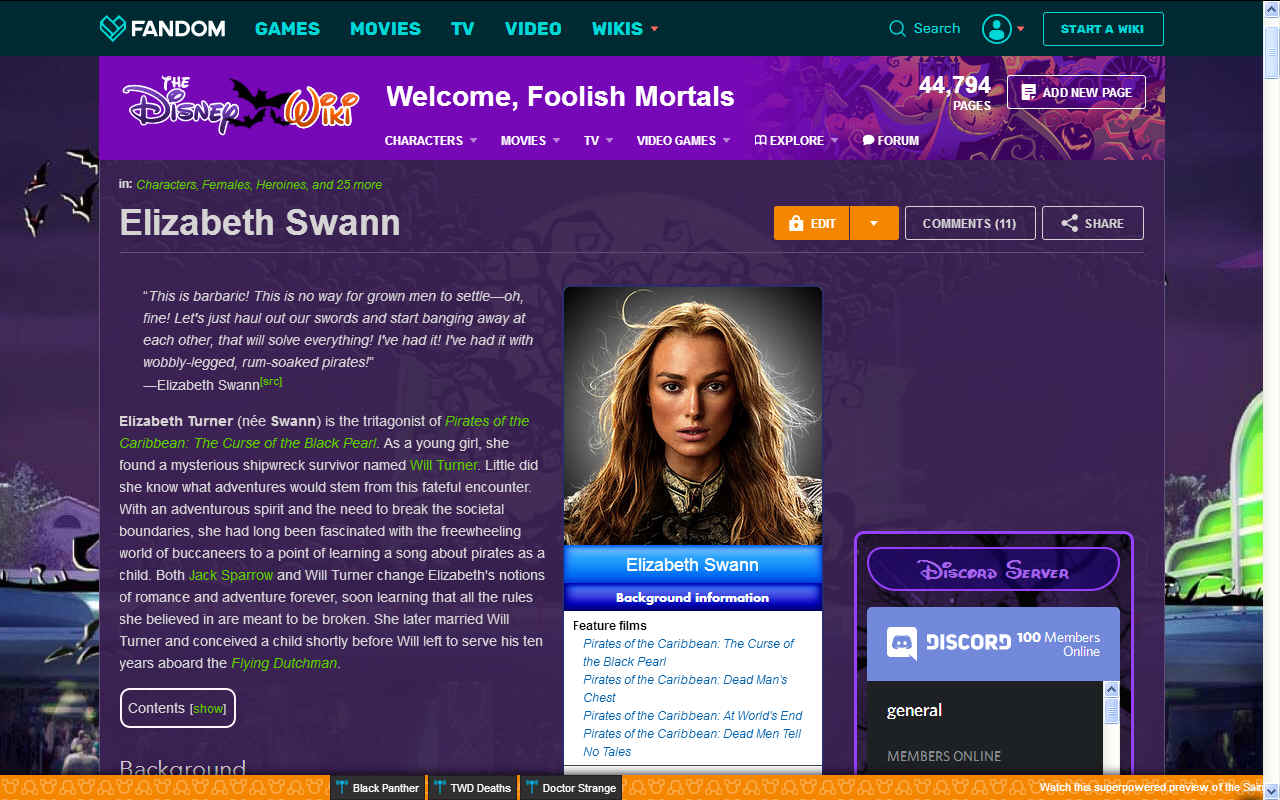 Elizabeth is a spirited, intelligent, and independent-minded character whose beauty attracted Will Turner, James Norrington, Sao Feng, and Captain Jack Sparrow. Only Will Turner's affections were reciprocated, although she struggled with a subtle attraction and kiss with Sparrow, and a compassionate friendship with Norrington. Throughout the three films, she transforms from a young girl to a proper lady and finally into a courageous pirate. Elizabeth has always been fascinated by piracy, but she is often revolted by pirates' aggressive, wild nature. Even after becoming a pirate, Elizabeth retains her refined ways, as well as her loyalty and compassion for loved ones (including Will Turner, her father, and later, Jack Sparrow and James Norrington).

Elizabeth adapts easily to piracy, having natural leadership abilities. She learns seamanship quickly, and finds that she has an innate talent for battle strategy. She learns swordsmanship from Will, and is soon capable of defending herself against multiple opponents, fighting with two swords simultaneously. She later uses a Chinese Jian sword and also carries a multitude of other weapons on her person including knives, firearms, and what appears to be a small grenade.

She freely speaks her mind even if it offends others; for example, she calls a potentially dangerous enemy, Sao Feng, a coward. During her reign as Pirate King, Elizabeth proves to be a charismatic leader and inspires the other pirate lords to battle Cutler Beckett's fleet. Elizabeth's darker side is shown when she sacrifices Jack Sparrow to the Kraken so she and the crew can escape. However, she feels so guilty about it that she later helps rescue Sparrow from Davy Jones' Locker.
Who might take over this part and will there be any more in the series?

LINKS & REFERENCE
http://disney.wikia.com/wiki/Elizabeth_Swann
https://en.wikipedia.org/wiki/Elizabeth_Swann
Kulo Luna $billion dollar whale
When a pirate whaler kills a small humpback whale, her giant friend sinks the pirate ship to avenge the death, but is itself wounded. The pirate fishermen put a price on the whale's head, but an adventurer in an advanced solar powered boat races to beat the pirates and save the wounded animal.
A heartwarming action adventure: Pirate whalers V Conservationists, with an environmental message and a $Billion dollars riding on the winner. Hoping for release as an e-book next year, and an eventual film within five years with a provisional budget of £107m including risk share, TBA. This is an ocean awareness endeavour, rather than a typical commercial venture.