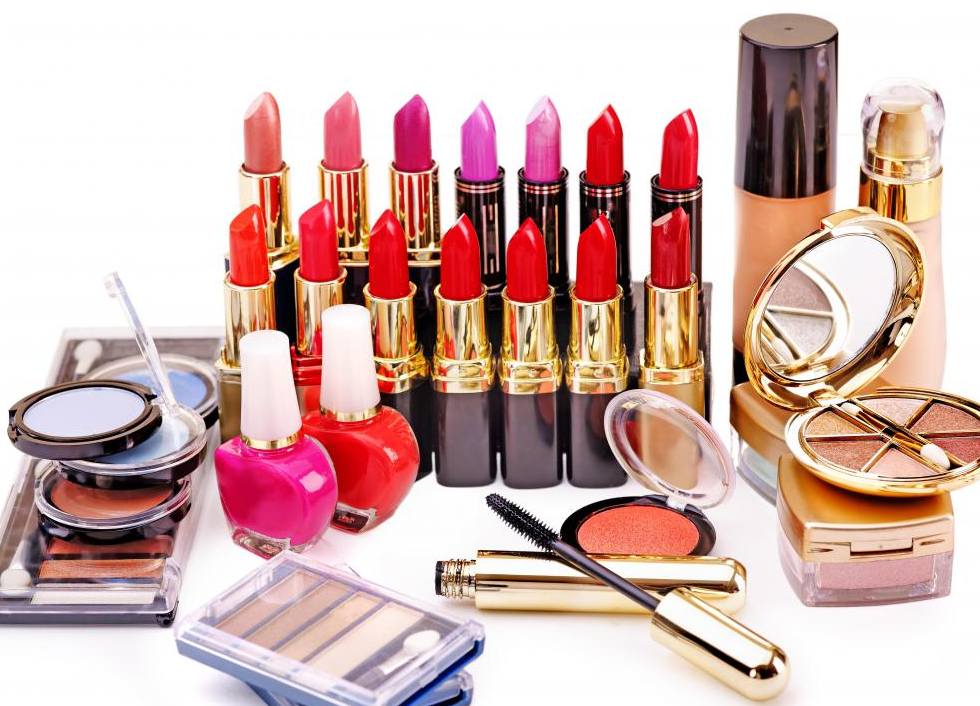 A range of bio friendly cosmetic products
Cosmetics (also known as makeup or make-up) are care substances used to enhance the appearance or odor of the human body. They are generally mixtures of chemical compounds, some being derived from natural sources (such as coconut oil) and many being synthetics. In the $382 billion global beauty business, we feature the brands with the greatest market share and the brands that give us all a choice.

In the U.S., the Food and Drug Administration (FDA), which regulates cosmetics, defines cosmetics as "intended to be applied to the human body for cleansing, beautifying, promoting attractiveness, or altering the appearance without affecting the body's structure or functions." This broad definition includes any material intended for use as a component of a cosmetic product. The FDA specifically excludes soap from this category.
ARTISTRY
AVON PRODUCTS
BARE ESCENTUALS
BEAUTI CONTROL
BIORE
BOOBY BROWN
CHANEL
CLINIQUE
DIOR
DOVE
ESTEE LAUDER
LANCOME
L'OREAL
MAC COSMETICS
MARY KAY
MAX FACTOR
MOTIVES COSMETICS
NEUTROGENA
NIVEA
O'LAY
ORIFLAME
PROCTER AND GAMBLE
REVLON
SEPHORA
SHISEIDO
TOO FACED
UNILEVER
URBAN DECAY
YOUNIQUE
TOP TEN EARNERS
No. 1: Olay
Based in: U.S.
2012 Brand value: $11.8 billion
2011 Brand value: $11.1 billion
Change in value: 6%
Last year's rank: No. 1

No. 2: Avon
Based in: U.S.
2012 Brand value: $7.9 billion
2011 Brand value: $10.2 billion
Change in value: -22%
Last year's rank: No. 2

No. 3: L'Oreal
Based in: France
2012 Brand value: $7.7 billion
2011 Brand value: $7.6 billion
Change in value: 1%
Last year's rank: No. 4

No. 4: Neutrogena
Based in: U.S.
2012 Brand value: $6.2 billion
2011 Brand value: $6.4 billion
Change in value: -2%
Last year's rank: No. 6

No. 5: Nivea
Based in: Germany
2012 Brand value: $5.6 billion
2011 Brand value: $6.6 billion
Change in value: -15%
Last year's rank: No. 5

No. 6: Lancome
Based in: France
2012 Brand value: $5.1 billion
2011 Brand value: $5.7 billion
Change in value: -10%
Last year's rank: No. 7

No. 7: Dove
Based in: Britain
2012 Brand value: $5 billion
2011 Brand value: $4.5 billion
Change in value: 12%
Last year's rank: No. 8

No. 8: Estee Lauder
Based in: U.S.
2012 Brand value: $3.7 billion
2011 Brand value: $3 billion
Change in value: 22%
Last year's rank: No. 9

No. 9: Biore
Based in: Japan
2012 Brand value: $3.3 billion
2011 Brand value: $3 billion
Change in value: 11%
Last year's rank: No. 10

No. 10: Shiseido
Based in: Japan
2012 Brand value: $2.9 billion
2011 Brand value: $3 billion
Change in value: -2%
Last year's rank: No. 11
LINKS & REFERENCE
Forbes top-10-global-beauty-brands
TK Maxx beauty skincare cosmetics
Fragrance Direct make-up icat cosmetics
https://www.avon.com/
http://www.loreal.co.uk/
http://www.neutrogena.com/
http://www.neutrogena.co.uk/
http://www.dove.co.uk/
http://www.nivea.com/
http://www.nivea.co.uk/
http://www.olay.co.uk/
http://www.esteelauder.co.uk/
https://www.shiseidogroup.com/
http://www.shiseido.com/
http://www.shiseido.co.uk/
http://www.forbes.com/pictures/lmj45jdlf/top-10-global-beauty-brands/
http://www.fragrancedirect.co.uk/
http://www.ex1cosmetics.com/
http://www.nyxcosmetics.co.uk/
http://www.debenhams.com/beauty/mac-cosmetics
http://www.loreal-paris.co.uk/
http://www.clinique.co.uk/
http://www.tkmaxx.com/beauty/skincare+cosmetics/icat/1631
http://www.fragrancedirect.co.uk/make-up/icat/cosmetics
http://www.boots.com/en/Beauty/Make-up/
http://www.feelunique.com/
http://www.maccosmetics.co.uk/
https://en.wikipedia.org/wiki/Cosmetics

An event for adventurous women who want to make a difference