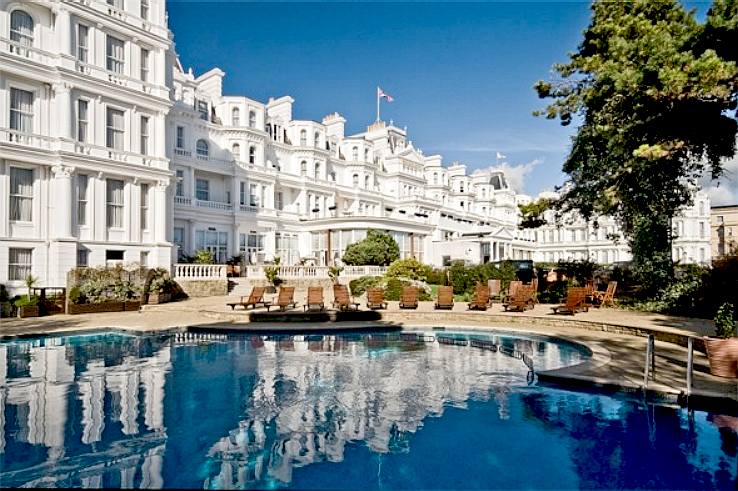 Situated at the foot of the rolling South Downs, The Grand is ideally placed for exploring the beautiful county of Sussex, with its many attractions.
Meticulously restored to its former glory by Elite Hotels, the Grand Hotel epitomises the grandeur of the Victorian era. Affectionately known as 'The White Palace', it commands breathtaking views of the sea and dramatic cliffs at Beachy Head. The hotel's strong sense of history is apparent from the outset. The large gilded columns that line The Grand Hotel, the splendid chandeliers and high-backed chairs around the roaring log fire, all set the scene for arriving guests.

There are a number of charming bedrooms, each one unique in layout and most with breathtaking views overlooking the sea. Decorated in rich fabrics and fine linens they are perfectly in keeping with the style of the hotel.

The Health Club at The Grand provides a superbly equipped setting where guests can enjoy facilities including an indoor swimming pool, which is open all year round, and an outdoor heated pool during the summer months. Tuning, toning and trimming are just some of the attractions of The Grand's Health Club. The Club also enjoys a wide range of activities and leisure pursuits. From relaxing beauty treatments to muscle-testing technology in the gym, elegant coiffure in the hair salon to cue control on the snooker table, it exercises both body and soul.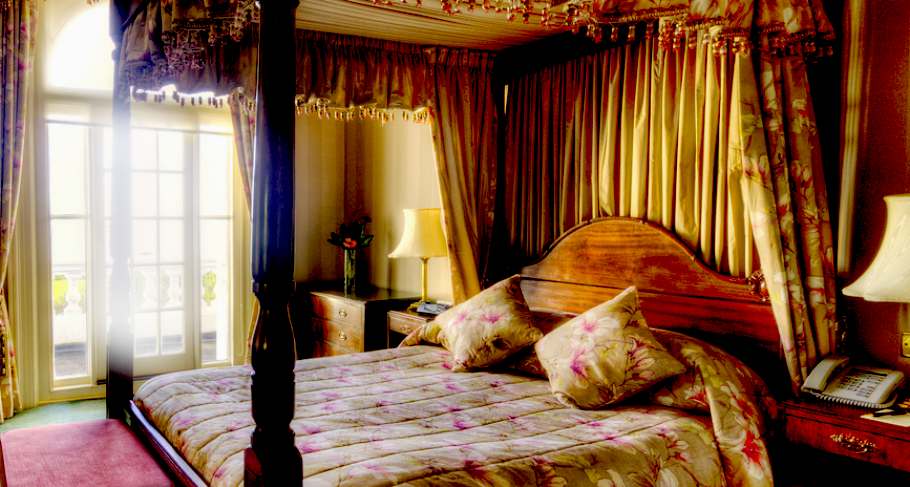 The Grand Hotel has 152 rooms, including 23 suites, 30 junior suites and 99 rooms. The hotel also offers conference and banqueting facilities with 17 fully equipped conference and meeting rooms of varying size. The largest is the Compton Room which can accommodate up to 300 guests in a theatre-style layout.

The Grand is a Victorian hotel also known as the 'White Palace' is located on King Edwards Parade, Eastbourne in East Sussex England. This 5 star hotel is part of an independent UK based hotel group, Elite Hotels who also own Tylney Hall in Hampshire, Ashdown Park Hotel near Forest Row and Luton Hoo in Luton.

On 13 May 1874 the Eastbourne Gazette announced that a local resident William Earp was proposing to build a hotel with a 400-foot frontage at a cost of £50,000. The result was the Grand Hotel, constructed in 1875.

The Grand Hotel is well known for its association with music. Claude Debussy corrected the proofs of La Mer[1] between 24 July and 30 August 1905 in Suite 200, which is now known as the Debussy Suite. Eastbourne was also where Frank Bridge completed work on his suite The Sea in 1911.

The Grand Hotel Orchestra broadcast live on the BBC from the Great Hall every Sunday night from 1924 to 1939 on the programme Grand Hotel. During the Second World War, Eastbourne was easy prey to air raids and the hotel eventually closed down and became a military headquarters.
HOTELS
This is an A to Z listing of chains of hotels (some international) with five or more properties that are either based in the United Kingdom, or are global companies with operations, marketing or having reservations offices in the UK.
020 8283 4500

Major hotel company in 92 countries with more than 3,500 hotels and 450,000 rooms, ranging from economy to luxury. Brands include Etap, Mercure, Novotel, Ibis, Pullman and Sofitel.

n/a

A Marriott brand, launched in 2011, with over 80 modern city hotels across Europe.

0844 855 9141

A collection of modern 3 & 4-star business & leisure hotels throughout England and Scotland. The Akkeron brand is likely to become more familiar as it grows. The recent aquisition of Folio Hotels and Forestdale Hotels, brings the portfolio to 26 properties. Their target size is 150 properties.

0800 2255 2626

Luxurious resort hotels - large in scale, small in room numbers - in exotic locations in Thailand, Bhutan, Cambodia, China, France, India, Indonesia, Laos, Montenegro, Morocco, the Philippines, Sri Lanka, the Turks and Caicos Islands and the USA.

*

Upmarket design hotel brand by Hyatt. There are 9 so far (2012) - 6 in the USA, 2 Europe & 1 China - with another 5 in the pipeline.

0845 365 0000

Seven stylish 4-star contemporary hotels in London, Edinburgh and Dundee.

0870 168 8833

Spanish chain of 185+ mostly 4-star hotels resort and business hotels in 17 countries through North and South America, Europe and Africa.

0845 0772 222

Previously the Orient Express Hotels collection, they've renamed themselves "Belmond" in 2014 to bring more clarity to their brand architecture. Belmond is a global collection of luxury hotels, restaurants, safaris, and travel experiences including 6 train railway trips and 3 river cruises.

08457 747474

With over 4,000 hotels in 80 countries, Best Western is the largest group of independently owned and managed, budget to mid-price, hotels in the world. The keyword is 'independent'. BW is unusual in that most large chains own or franchise their hotels.

0871 222 0100

Chain of 35+ mid-price hotels in the UK ranging from grand seaside hotels and country house hotels to modern airport and city hotels.

0800 444 444

Parent brand for a range of mostly budget & longstay motel/hotel brands, including in the USA: Mainstay Suites, Suburban Extended Stay Hotel, Ascend Collection, Econo Lodge, Rodeway Inn & Cambria Suites, and in the UK & Europe: Comfort Inn, Comfort Suites, Quality Inn, Sleep Inn & Clarion.

020 7447 1029

Small chain of luxury resorts in Bali, Turks & Caicos, Bhutan and the Maldives, plus city hotels in London and Bangkok.

020 7340 8765

French chain of upmarket city hotels in Europe (20), North Africa (3), Japan (2) and USA (1)

0800 41 47 41

Part of the Millennium & Copthorne group. There are 35+ Copthorne hotels mostly in the UK, and New Zealand plus a few in the Far East and Middle East.

Contact hotels individually

Luxury hotel chain with 10 unique 'grand hotel' style properties in an eclectic mix of cities; London, Lisbon, Prague, St. Petersburg, Malta (the company has Maltese roots), Khartoum, Tripoli, and Budapest, where Wes Anderson may have got the inspiration for his Grand Hotel Budapest movie.

0844 950 6282

Small chain of spa hotels in the Scottish Highlands (9) and Yorkshire (1).

00 800 8222 8222

400+ upscale hotels in 52 countries, mostly in city centers or near airports focusing on business travellers and city breakers. Part of the ICH group.

Days Inn

0800 0280 400

A Motel chain (launched 1970) now in 15 countries worldwide including UK, Ireland and Italy in Europe.

0800 3746 8357

A collection of more than 176 hotels with distinctive architecture and interior design in over 43 countries around the globe.

0844 980 9950

Thirteen business and leisure hotels in the UK, plus approximately 30 conference and meeting "Venues".

0800 2222 8733

In the States it's just "Doubletree" but outside the US they long-windedly call it "Doubletree by Hilton" so us poor hicks get the pedigree. Nice hotels though. 240 "upscale" full-service hotels and resorts in 15 countries. Seven of them in the UK

0800 2222 8733

Edition Hotels are a new joint venture between Marriott and Ian Schrager. Contemporary luxury, "exclusive" (no riff-raff) boutique (Schrager invented the term), hotels. The first is in Istanbul and the second will open in London (former Berners hotel) in the autumn 2013, with more planned for New York, Miami, Los Angeles, Bangkok, Abu Dhabi and Gurgaon.

01342 824988

A group of country house hotels in East Sussex and Hampshire with outstanding levels of comfort, facilities and service, which include, luxurious spas, outstanding business and banqueting facilities, award-winning gourmet dining. The Grand in Eastbourne is the only 5 star hotel to be found on Britain's coastline.

Contact hotels individually

Extraordinary collection of elegant and quirky luxury boutique hotels worldwide.

0800 897 121

0800 515 070

Luxury hotel company with its roots in the old Canadian Pacific historic hotels of Canada, but now with 40+ hotels in N. America and 35 worldwide. Sister brand to Swissotel and Raffles under parent Fairmont Raffles Hotels Int.

Contact hotels individually

A collection of contemporay hotels in London - The Soho, Haymarket Hotel, Number Sixteen, Charlotte Street Hotel, Covent Garden Hotel, Knightsbridge Hotel - and one in New York - Crosby Street Hotel. Some have private cinemas, so they are keen on mini film festivals.

0800 526 648

Canadian chain of upmarket hotels that launched in the 60's with one hotel. Now there are 85 properties - hotels, resorts and residence clubs - in 35 countries.

+65 6533 7337

Franklin Hotels & Resorts (Formerly 'Stein Group') is a collection of five elegant hotels in Italy, Mallorca, London and Beijing. Franklyn Hotels and Resorts, Singapore, 152 Beach Road, #27-01, The Gateway East, Singapore 189721 Email: info@franklynhotels.com

0845 450 4400

A collection of 15 independent luxury hotels in London.

Guoman Collection

*

Guoman has five luxury hotels in London and one in Shanghai (See Thistle Hotels)

020 928 4062

Spanish chain with 41 modern hotels mostly on the Spanish mainland and islands, some in Spanish speaking countries like Cuba, & Mexico, and one each in Rome, Berlin and London (Waterloo Rd).

0845 458 0901

Collection of 17 independent country house hotels in the UK.

0800 856 8000

Hilton Hotels Corporation has more than 3,300 hotels in 77 countries. The company owns, manages or franchises some of the best known hotel brands including Hilton, Conrad, Doubletree, and the Waldorf Astoria Collection.

0800 897121

Over 1300 popular upscale mid-priced hotels worldwide. Classic example of "from small acorns" growth. In this case, from a Memphis motel in 1952 to one of the world's largest and best known hotel brands. Now a part of IHG group.

Contact individually

Fourteen modern boutique-style hotels in the UK. Sister brand to Malmaison.

0871 423 4876

Modernist boutique brand mostly in North America (36) but with 8 properties in the UK, 3 in mainland Europe and 5 in the Asia-Pacific region. Styled in retro 1970s bright colours (lots of orange) and thin stainless steel legs. An Intercontinental Hotels group brand.

0845 888 1234

One of the biggies with 445 properties in 45 countries on five continents (2010). Sub-brands include Hyatt, Park Hyatt, Andaz, Grand Hyatt, Hyatt Regency, Hyatt Place and Hyatt Summerfield Suites.

*

Economy hotel brand by Accor, with 900+ properties worldwide (mostly France & Europe). A little more upscale than Accor's Etap brand, EG they have 24hr reception, but less so than their Mercure brand.

0871 221 2478

Originally, InterContinental was Pan Am's hotel chain developing classic luxury hotels in prime locations on the airline's route network. Now the brand has over 150 hotels and resorts in 65 countries.

00 800 426 313 55

Europe's oldest luxury hotel group (since 1879), now worldwide with 74 hotels in 34 countries. Founding member of the Global Hotel Alliance (GHA) of independent hotel brands.

0800 840 1240

Six hotels in the Lake District.

0800 2888 8882

A consortium representing over 430 independent hotels and resorts worldwide.

020 7301 2000

Originally (1972) Air France's network of hotels, Le Méridien these days is a global hotel brand, part of the Starwood group, of more than 100+ modern, luxury hotels in over 50 countries worldwide.

01323 748700

The Lions Hotel Group is an independent; family owned and managed chain of hotels situated on Eastbourne's seafront, stretching from Beachy Head through to Sovereign Harbour. HQ - Mansion Hotel, Grand Parade, Eastbourne, East Sussex, BN21 3YS. sales@lionhotelsltd.com

0844 879 9000

Macdonald have 48 x 4 & 5-star hotels throughout the UK, in town/city centres and in the country.

0845 365 4247,

Twelve stylish boutique hotels in UK cities, and pet-friendly! Dogs welcome.

0800 221 222

Marriott is one of the largest hospitality companies in the world with over 3,400 business and leisure hotels in more than 70 countries.

n/a

Fast-growing funky brand for urban travellers, be they backpackers, business travellers or families. Their roots are German (5 cities) but they've expanded into Austria (Vienna & Salzburg), and to Brussels, Amsterdam and London.

0808 234 1953

Known as "Sol Melia" until 2011. Spanish hotel chain since 1956. They used to focus on leisure and business hotels in Spain Portugal and Latin America for the Spanish market. In the nineties they started expanding to other international destination (inc London) and now they have more than 350 hotels in 35 countries.

0871 663 0627

Midscale brand by Accor. 700+ mostly 3/4-star properties worldwide. There is a Grand Mercure luxury 5-star sub-brand in China, Australia & New Zealand.

0800 41 47 41

Part of the Millennium & Copthorne group. There are 50+ Millennium Hotels & Resorts mostly in the USA, Europe, the Far East, Middle East and New Zealand.

Contact hotels individually

Swiss brand of "moderate First Class" hotels in 33 countries.

020 7690 0609

Swiss hotel brand with 78+ "upscale" business & leisure hotels in 24 countries in Europe, Africa, the Middle East and Asia.

0870 807 1359

Spanish chain of 400+ mid-priced, modern styled hotels with 60,000 rooms in 25 countries across Europe (mostly), America and Africa. NH originally stood for Navarra Hoteles, after the region where it grew from just one hotel in 1978.

0121 631 5550

Nitenite city hotel was launched in 2006. They are a new generation of budget hotels for cost-conscious travellers who don't always need views or lots of space. (So the 104 compact rooms in their first property, the nitnite Birmingham, have high-tech electronics and stylish furnishings but only 7 sq metres of space and no windows). nitenite plans to launch 30 hotels in the next five years in the UK and Ireland, Europe, USA, Canada and Argentina. 18 Holliday Street, Birmingham, B1 1TB

0871 66 306 26

Mid-range modern hotel brand with 400 hotels and resorts in 60 countries, located in the business and tourism districts of major cities and tourist resorts. Novotel is an Accor brand.

00 800 1234 0101

17 luxurious hotels and resorts, many of them former palaces, throughout India, plus single properties in Saudi Arabia, Egypt, Mauritius, Bali & Lombok. They also have two Nile cruise ships and one in Kerela.

n/a

A small collection of some of the most distinguished hotels and spas in the world.

0800 169 6128

35+ individual and upmarket hotels in key cities worldwide such as Bangkok, Beijing, Berlin, Amsterdam, Dublin, Budapest, Tel Aviv and Sao Paulo. In London they recently (Feb 2010) opened the 1,000-room Park Plaza Westminster Bridge London, one of the largest new hotel developments in Europe. It also has a sub-brand Art'otel (See Art Hotels list)

+49 69 256699-0

A "neighbourhood lifestyle hotel aimed at independent travellers" is how PentaHotels describe themselves. They've been around since 1971, mostly in Germany, when they were lauched as a joint venture by five airlines. They now have stylish modern hotels in the UK (4), China (3) Germany (11) Austria (1), Belgium (1), Czech rep (1).

00 800 3237 5001

Independent collection of luxury hotels.

0871 527 8000

580 + budget hotels in the UK & Ireland. This is the Lenny Henry brand.

An Accor brand. Expanding (60 by end of 2010) upmarket 4/5-star business hotels in business district locations in regional and international capitals around the world.

0845 074 0052

A collection of 21 individual four-star hotels in country and city locations throughout the UK.

0800 3333 3333

158+ Chic & stylish luxury hotels, usually in historic city centre locations (See the lobby of the Berlin Rad Blu as an example of their design conscious style - ed). This is the Radisson hotel brand outside the USA & Canada, licensed and operated by the Rezidor group. It used to be called "Radisson SAS"

Contact hotels individually

Small chain of nine luxurious hotels mostly in the Far East and Indian Ocean taking their name from the flaghship hotel in Singapore. A Fairmont brand.

Ramada

0808 1000 783

A Wyndham hotel brand with almost 900 mid-range hotels in 50 countries worldwide.

Contact hotels individually

Luxury 4&5 star collection of family-run boutique hotels in London, UK, South Africa, Geneva and Palm Beach.

*

Boutique-style brand from Marriott with 80+ properties in North America and another 75 scattered around the world.

20 8795 2608

Established upmarket hotel brand with 16 properties mostly in the Far East.

0800 2000 00 02

Well known luxury brand with landmark properties all over the world.

0800 856 8000

Well-known luxury hotel brand with 77+ hotels worldwide.


Contact hotels individually

Thirteen luxury city centre hotels in Europe and the Middle East, with more on the way.

020 7781 8888

Rosewood has 18 luxury properties in nine countries including The Carlyle in New York and the new (Oct 2013) Rosewood London, in Holborn.

0800 5510 55

Luxury (5-star) hotels & resorts in the Middle East. Across the brands of the Rotana group there are now 85 properties from Egypt to Iraq.

0800 353 535

One of the longest-standing international hotel brands with over 400 hotels and resorts in 70 countries worldwide. Part of the Starwood group.

020 8283 4570

130+ luxury business & leisure properties around the world. An Accor brand.

Contact hotels individually

Soho House was founded in London, in 1995, as a private members' club for those in film, media and creative industries. Now the group includes restaurants, spas and club hotels in the UK (4), Europe (1) and the US (2).

+49 (0) 69 665 6401

German chain of 35 mostly traditional hotels that has expanded to Austria (4), Switzerland (3), Holland (1), and Egypt (4)

020 8604 2005

More than 135 hotels and resorts in over 40 countries around the world - a mix of city centre business hotels & country

0800 637 94771

International chain of 'highly polished', modern, deluxe business & leisure hotels and resorts.

*

33 mid-range hotels across the UK (not N. Ireland) plus 2 in Malaysia and one in Shanghai. That's because the Shanghai hotel is part of the Guoman Collection (of luxury hotels) and Guoman (owned by a Singapore investment company) is the parent of Thistle.

*

High quality budget hotels. Travelodge has 452 of them across the UK, Ireland and Spain.

*

Tune Hotels are an expanding Malaysian brand with seven hotels in Malaysia, one in Bali and one in London (Westminster). The concept is budget hotel with up-market facilities and high quality beds.

0330 100 9774

Warner Leisure Hotels is a regional chain of hotels operating throughout the UK, hosting accommodation ranging from manor houses to coastal resorts and villages. Hemel Hempstead, Hertfordshire, HP2 4YL 01442 230300

00 33 1 45 61 82 42

Started with the Warwick Hotel in New York in the eighties. Now they have over 40 city hotels and resorts worldwide in Austria, Belgium, China, Fiji Islands, France, Bali, Italy, Czech Republic, Germany, Sweden, South Africa, Spain, Switzerland, UK, USA, Tahiti, Thailand, Netherlands and Vanuatu.

*

Upmarket Starwood brand, famous for innovations like its 'Heavenly® Bed', with 160+ hotels and resorts worldwide. Not a very user friendly website.

+353 21 4930494

A Starwood brand. W Hotels (don't ask me what I think of the name!) is a contemporary design brand with over 40 properties - hotels, retreats and residences - in cities and exotic destinations around the world, and plans to expand to 60 by 2015. The emphasis is on fashion, music and entertainment.

020 8350 1001

Wyndham claims to be world's largest hotel company based on number of hotels. They offer "upscale" hotels and resorts throughout the United States, Europe, Canada, Mexico, China and the Caribbean.

+91 999 973 2323

Small chain of six luxury resort hotels, four of them in India (Bangalore, Goa & Kerala), one in Kenya and one, The Liner, in Liverpool.

* You may be able to find a phone number if you delve deep into their websites, or use Google, but they don't seem to want people contact directly, which we think is counter to good public relations - even if it does cost a bit more.
Old London Hotels - Youtube
TELEGRAPH WHICH SURVEY - 26 OCT 2014
A survey of Which? readers, published in October 2014 saw hotel firms judged in nine categories, including cleanliness, customer service, food, and value for money.
Sofitel, the luxury arm of Novotel and the costliest chain to feature in the poll - with rooms prices at £144 a night, on average - took top honours. It scored five stars in seven categories for a total score of 83 per cent.
Other firms in the top five were Premier Inn with 82 per cent, Warner Leisure Hotels with 80 per cent, Hampton by Hilton with 78 per cent and Q Hotels, also with 78 per cent.
Premier Inn recently announced plans to roll-out a series of high-tech "hub" hotels, with the first due to open in Covent Garden next month.
Britannia Hotels propped up the table for the second year running, scoring just one star in five categories - bedrooms, bathrooms, cleanliness, communal areas and "description matching reality".
Other poorly performing chains were Old English Inns/Hotels with 50 per cent, Principal Hayley Hotel with 55 per cent, and De Vere Hotels with 58 per cent.
Travelodge, one of Britain's biggest hotel chains, also suffered, scoring 60 per cent, despite recently implementing a £57m overhaul of its rooms.
The cheapest hotel chain - Ibis, where rooms cost £32, on average - came 13th, out of 29.
| NAME | No UK HOTELS | AVE PRICE | CUST SCORE |
| --- | --- | --- | --- |
| Sofitel | 3 | £144 | 83% |
| Premier Inn | 668 | £61 | 82% |
| Warner Leisure Hotels | 13 | £128 | 80% |
| Hampton by Hilton | 14 | £80 | 78% |
| Q Hotels | 21 | £102 | 78% |
| Marriott Hotels | 50 | £110 | 73% |
| DoubleTree by Hilton | 25 | £112 | 72% |
| Holiday Inn Express | 129 | £72 | 72% |
| MacDonald Hotels | 45 | £124 | 72% |
| Novotel Hotels | 33 | £97 | 72% |
| Radisson Blu | 13 | £111 | 72% |
| Holiday Inn | 135 | £88 | 71% |
| Ibis | 59 | £63 | 71% |
| Crowne Plaza Hotels | 22 | £107 | 70% |
| Ramada | 39 | £75 | 69% |
| Best Western | 280 | £92 | 67% |
| Hilton Hotels | 71 | £110 | 67% |
| Ibis Budget | 23 | £32 | 67% |
| Copthrone Hotels | 12 | £86 | 64% |
| Mercure Hotels | 74 | £93 | 64% |
| The Hotel Collection | 21 | £109 | 63% |
| Jurys Inn | 31 | £87 | 62% |
| Days Inn/Hotel | 55 | £55 | 61% |
| Thistle Hotels | 31 | £101 | 61% |
| Travelodge | 500 | £44 | 60% |
| De Vere Hotels | 7 | £115 | 58% |
| Principal Hayley Hotels | 22 | £120 | 55% |
| Old English Inns/Hotels | 60 | £70 | 50% |
| Britannia Hotels | 47 | £56 | 33% |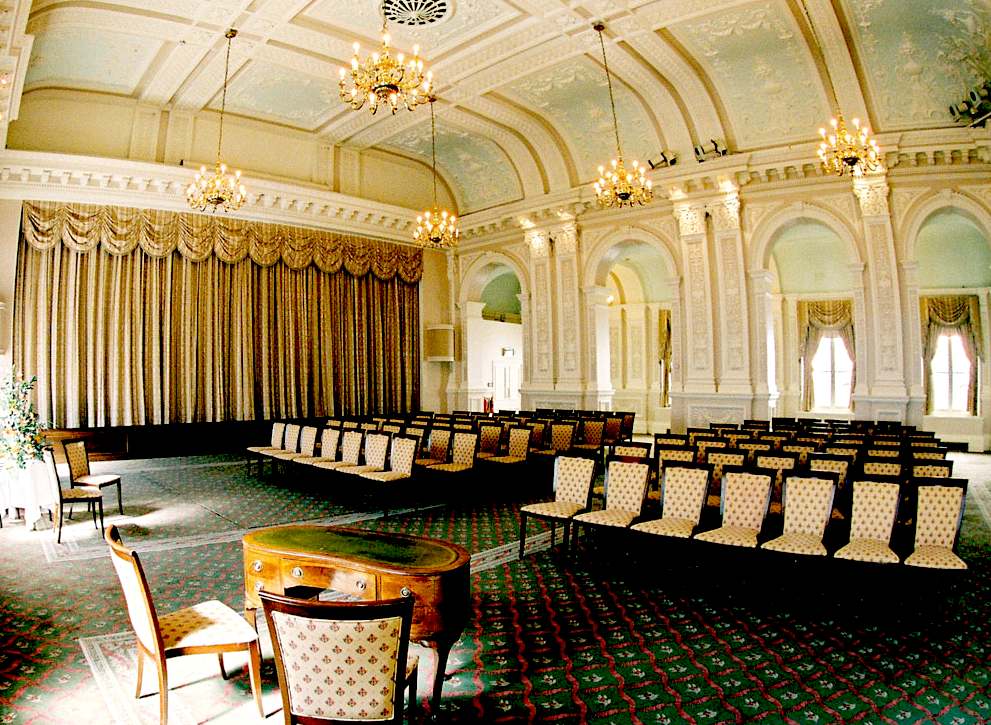 LINKS & REFERENCE
Telegraph UK travel and hotels Britains best and worst hotel chains named in Which poll
Travel Lists UK travel listings accommodation hotel chains
http://www.telegraph.co.uk/travel/hotels/11183242/Britains-best-and-worst-hotel-chains-named-in-Which-poll.html
http://www.hiphotels.com/
http://www.travel-lists.co.uk/travel/listings/categories/accommodation/hotel-chains
http://www.theaa.com/travel/hotel_groups.jsp
http://www.theregister.net/

An event for adventurous women who want to make the world a better place to live