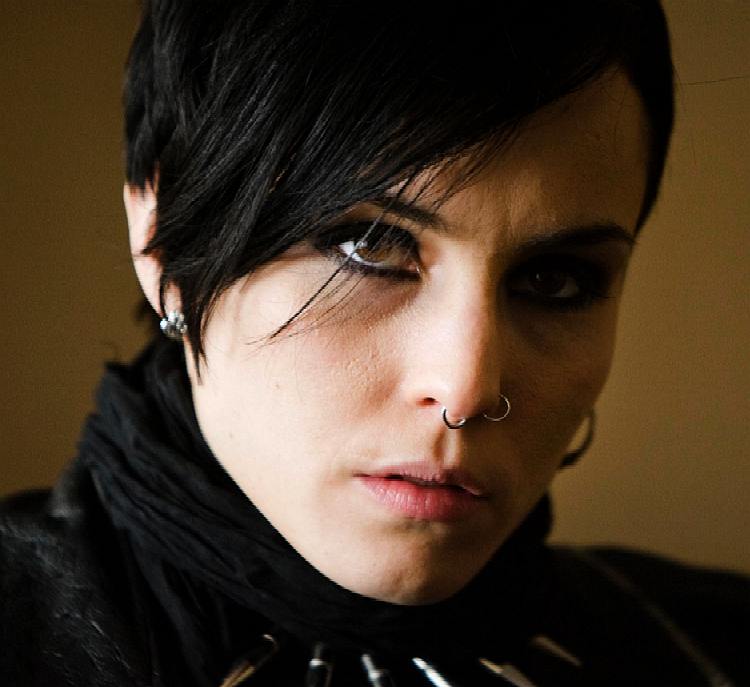 Noomi Rapace as Lisbeth Salander, a dark and clever girl with a dragon tattoo, several piercings and some serious baggage to clean up - and clean it up she does.
PROMETHEUS 2 VILLAINS - 28 OCTOBER 2014

Ridley Scott made the surprising announcement last month that Prometheus 2 will not be featuring any of our beloved Xenomorphs, which has made many wonder in what direction the sequel is going to take the franchise. Even star Noomi Rapace isn't so sure what Scott has in mind, though she has some ideas. Read on!

In an interview with MTV UK, Rapace was pressed for details about the impending sequel and offered up some insight into the mind of her character, Elizabeth Shaw, who is favourite to be the central character in the film.

"I know that Elizabeth Shaw wants to go to Paradise; you know, I say that in the first one," said Rapace. "She can't go to Earth; there's nothing left for her there really. And she wants to go where they came from, those giant creatures. In her head that's dark paradise, in a way. So what's there? I don't know. I think she wants answers."

So who will be the main villains of Prometheus 2, if not the usual Xenomorphs. Will it now be the Engineers, strange beings that do not quite make sense, or does Scott have something else up his sleeve? Noomi claims not to know.

"Maybe God or [the] devil," the actress posited. "I don't know. I don't know where he's going to take us, but I can't wait to go there. I don't know what we're going to discover."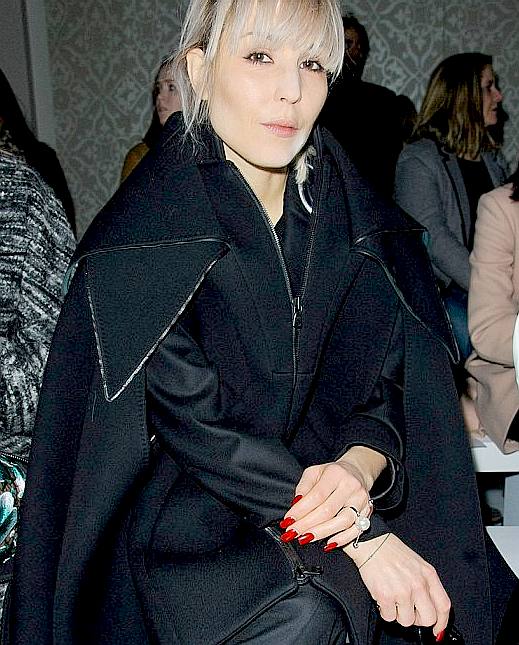 Not Noomi's colors at all. The Sherlock Holmes (and maybe a touch of Batman) inspired cape is great, so too the red nails, but we don't cotton to the gray hair and blotches. Noomi is though famous for playing roles where she goes all the way for realism, and that is why we love her.
FEBRUARY 2014 - DAILY MAIL, LONDON FASHION WEEK

It is perhaps the worst place to suffer a cosmetic faux pas. But Swedish film actress Noomi Rapace did exactly that when she sported a overly-concealed chin at London Fashion Week on Monday. The gaffe took place at the Antonio Berardi fashion show, where the critically acclaimed screen star sat on the front row.
Fortunately, the rest of her ensemble proved to be more impressive. Wearing an all-black ensemble, the Stockholm-born screen star sported a fitted trouser suit with an oversized cape and bright-red nails.

The 34 year-old, who shot to fame in The Girl With The Dragon Tattoo franchise, was left red-faced by the white-out, which gave her skin a seriously blotchy appearance.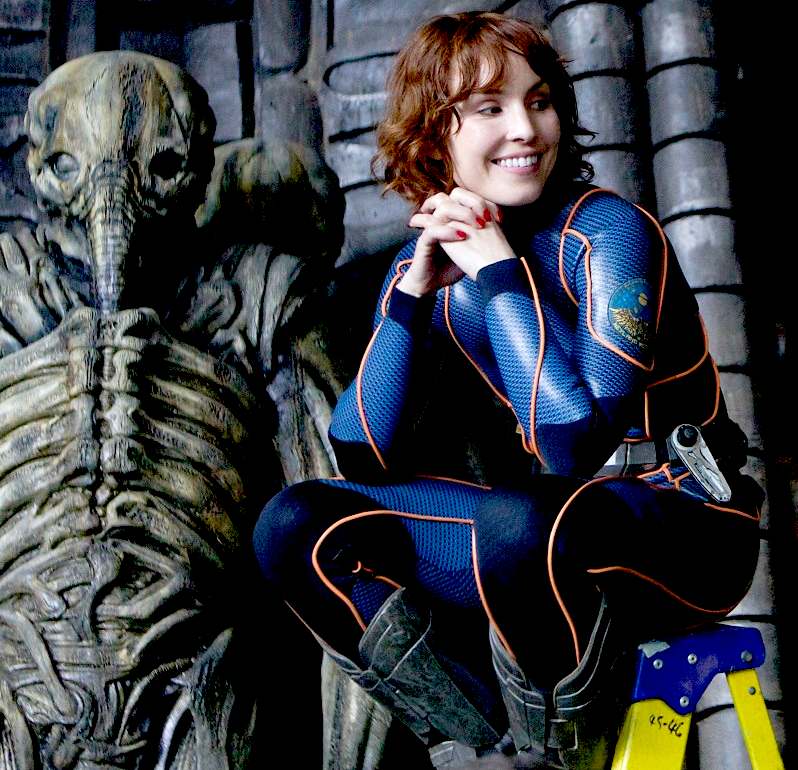 He's behind you
BACKGROUND
Noomi Rapace, née Norén, was born on the 28th of December 1979. She is a Swedish actress who achieved international fame with her portrayal of Lisbeth Salander in the Swedish film adaptations of the Millennium series: The Girl with the Dragon Tattoo, The Girl Who Played with Fire and The Girl Who Kicked the Hornets' Nest. She is also known for playing Leena in Beyond (2010), Anna in The Monitor (2011), Madame Simza Heron in Sherlock Holmes: A Game of Shadows (2011), the lead role of Dr. Elizabeth Shaw in the Ridley Scott science fiction film Prometheus (2012), and Beatrice in Dead Man Down (2013).
Prometheus 2 - Youtube
At the age of seven, Rapace was given her first film role, which was a non-speaking part in the film Í skugga hrafnsins by Hrafn Gunnlaugsson. This experience made her decide to be an actress. She left home at age 15 and enrolled in a Stockholm theatre school.

In 1996, she made her television debut playing the part of Lucinda Gonzales in the long-running soap series Tre kronor. From 1998 to 1999, Rapace studied at the acting school Skara Skolscen. She has been engaged at Theater Plaza 2000–01, Orionteatern 2001, Teater Galeasen 2002, Stockholms stadsteater in 2003 as well as at the Royal Dramatic Theatre, all in Stockholm. In 2007, she won acclaim for her award-winning portrayal of a troubled teen mother in the Danish film Daisy Diamond, directed by Simon Staho. She won the two top film awards in Denmark (the Bodil and Robert prize) for Best Actress for her role in the film, which was also selected for the main competition at the San Sebastián International Film Festival. The film received some criticism for the supposed abuse occurring to a baby actor during production.
In 2009, she played the role of Lisbeth Salander in the Swedish-produced film adaptation of the best-selling novel The Girl with the Dragon Tattoo, reprising this role in the sequels The Girl Who Played with Fire and The Girl Who Kicked the Hornets' Nest (all three were subsequently re-cut as a six-part miniseries aired on Swedish television called Millennium). On 11 September 2010, Entertainment Weekly reported that Rapace had been cast in Guy Richie's Sherlock Holmes: A Game of Shadows, her first English-speaking role, as a French romani; the film was released in 2011. Her international fame has earned her leading roles in American cinema. She was cast in Ridley Scott's blockbuster hit Prometheus where she played the leading role, a scientist named Elizabeth Shaw. She had met Scott for the first time following the release of the Millennium trilogy movies, at which point he expressed a willingness to work with her and encouraged her to improve her accent. Prometheus was released in June 2012. She starred alongside Rachel McAdams in Brian De Palma's erotic thriller Passion, which is the English-language remake of 2010's French psychological thriller Love Crime. They both appeared in Sherlock Holmes: A Game of Shadows but did not share scenes together.

She appeared in Niels Arden Oplev's crime thriller Dead Man Down. In November 2012, she appeared as the lead role in a Rolling Stones video for the single "Doom and Gloom" shot in the studios of the Cité du Cinéma by Luc Besson in Saint-Denis. On September 2014, Noomi Rapace scored the short film A Portrait of Noomi Rapace, directed by Aitor Throup and scored by Flying Lotus. Rapace will be in the upcoming sci-fi thriller Brilliance, although her role isn't known yet. In 2014, Rapace appeared in the video for the single "eez-eh" by Kasabian.
Shades of Ellen Ripley - strap up tight for a Saturday night fright

Sultry seductress
FILMOGRAPHY ON WIKIPEDIA
2009

2009

2009

2010

Leena

2011

Anna

Also known as Babycall

2011

Madame Simza Heron

2012

Elizabeth Shaw

2013

Beatrice

2013

Isabelle

2014

Nadia

2015

Raisa Demidov

Post-production
LINKS & REFERENCE
Wikipedia The_Girl_with_the_Dragon_Tattoo
Daily Mail Noomi Rapace suffers make fail London Fashion Week
Dread Central Noomi Rapace talks potential prometheus 2 villains
http://en.wikipedia.org/wiki/The_Girl_with_the_Dragon_Tattoo
http://www.prometheus2-movie.com/
http://www.dailymail.co.uk/tvshowbiz/article-2561234/Noomi-Rapace-suffers-make-fail-London-Fashion-Week.html
http://www.brainyquote.com/quotes/authors/n/noomi_rapace.html
http://www.imdb.com/name/nm0636426/
https://www.facebook.com/NoomiRapace
https://twitter.com/NoomiRapaceInfo
http://www.justjared.com/tags/noomi-rapace/
http://www.rottentomatoes.com/celebrity/noomi-rapace/
http://www.dreadcentral.com/news/76124/noomi-rapace-talks-potential-prometheus-2-villains/
http://www.noomi-rapace.com/
http://en.wikipedia.org/wiki/Noomi_Rapace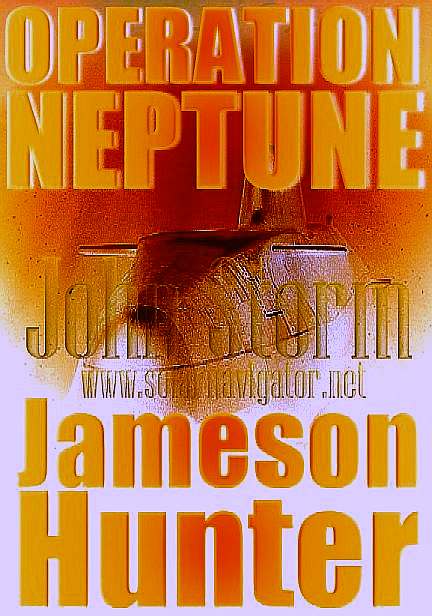 OPERATION NEPTUNE - A naval battle royal with the UN sanctioning NATO to chase a stolen nuclear submarine captained by environmental terrorists, who destroy another oil rig in the Gulf of Mexico, after Deepwater Horizon, then sink an aircraft carrier and one of the submarines chasing them, on their way to the Gold Coast. Amidst the carnage, Charley Temple and John Storm move their budding relationship up another gear and still manage to save the day. If you enjoyed Battleship, Under Siege, or Pacific Rim, you'll love this story.