This company rents out some (in their own words) amazing structures for events, weddings and more. They certainly are eye-catching and unusual contemporary designs based on a SaddleSpan frame. As such they are bound to add a interest to your event and are rapidly deployed on almost any surface. Amazing Tents can provide space flexibly for up to 2800 people.
The design is modular based on a single unit, expanded either length-ways or in a clover formation to create ever larger spaces. The expandability is just about infinite, hence you decide when to stop. No matter how many frames you'd care to join, the final layout will always give a clear-span inside.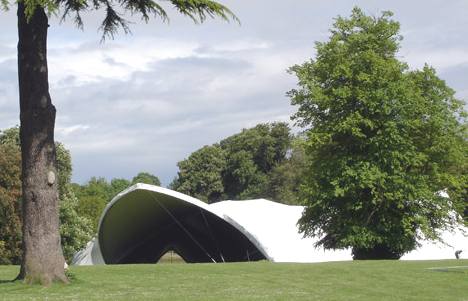 White modular saddle span tent set amongst trees
These elegant structures are weatherproof for a comfortable and safe environment. You can mix and match to create multi-use venues. Use a TriSpan and take off two ends, leaving one end in place and you have a great concert area with excellent acoustics plus an open air bar and catering areas.
The Amazing Tent Company is the result of 35 years event experience and a passion for the special event industry. This company cater for an increasing demand for stylish, simple, high-end rental structures for corporate events, exhibitions, concerts, private parties and festival stage solutions. The Amazing Tent Company offers a tailor-made service with the expertise to match.
Amazing tent inside the Numaster saddle span
CONTACTS
Steve and Daniel are directors of The Amazing Tent Company. Between them they have over 35 years experience in the event and structures industry. The team are happy to undertake site visits and attend production meetings.
Steve Haddrell is the event manager with over twenty years experience. mailto:steve@amazingtent.co.uk
Daniel Hyde has a background in military engineering and has installed hundreds of structures over the last 15 years.
mailto:daniel@amazingtent.co.uk
The Amazing Tent Company Limited
Blacknest Cottage, Owlpen, Uley
Gloucestershire
GL11 5BZ, UK

Steve Haddrell 07881 828908
Daniel Hyde 07717 295 655
Office 01453 861131