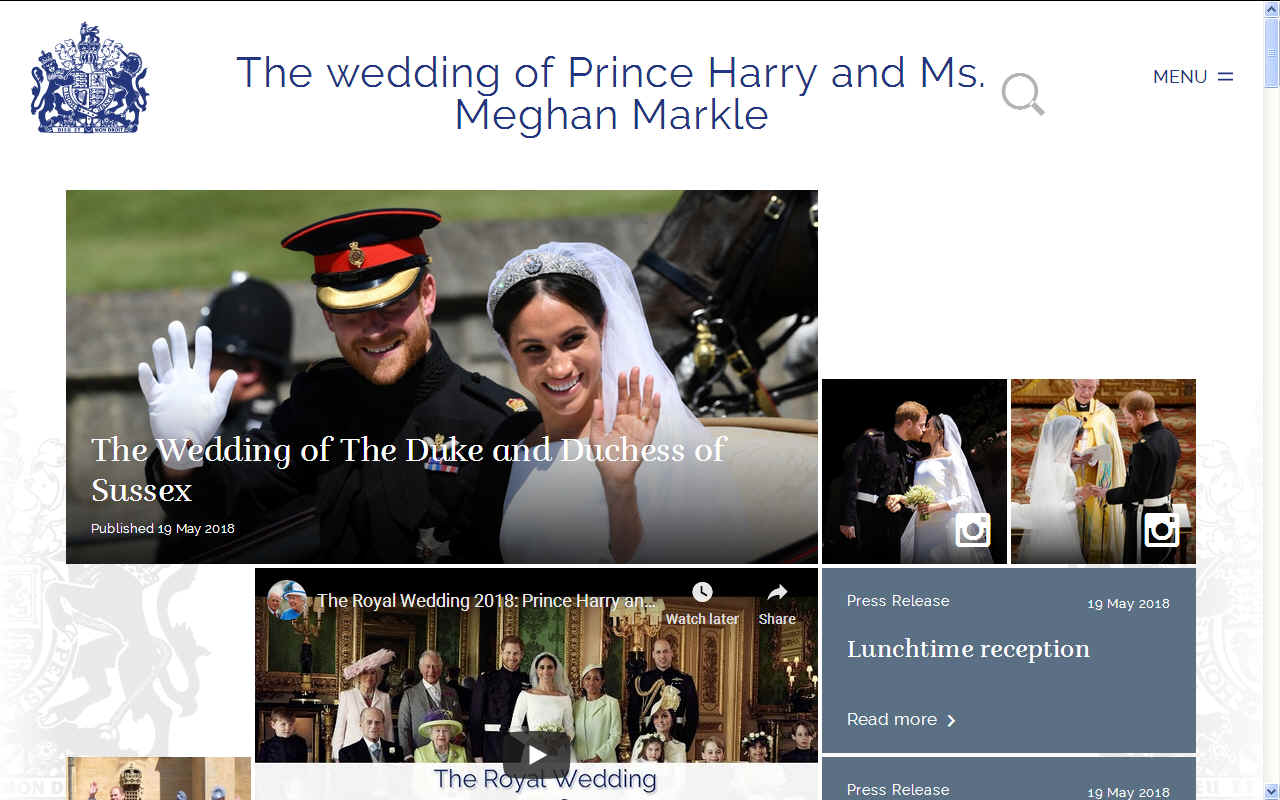 MEGHAN & HARRY - Became the Duke and Duchess of Sussex when they married in 2018.
Now that you've said "Yes," there are a million planning details to deal with. Planning your wedding should be exciting, not hectic. The best wedding professionals are booked up to two years in advance. So start making contacts today by browsing through our pages and clicking on the links that interest you. We aim to give you access to many wedding professionals who may help you make the right planning decisions and offer suggestions to save you time and money.
We hope that our guides to weddings will help you to create a dazzling environment for your special day, as the start of your journey as a married couple. The most famous weddings are those of the British Royal Family. We take an interest in these events as the benchmark against which other betrothals might be measured. Though, bear in mind that statistically most weddings end in divorce. Hence, plan ahead for that eventuality - and put those future costs into the kitty as part of your forward (family) planning.
As wedding traditions and customs vary greatly between cultures, religions and countries, you may want to spice up your special event with an exotic theme. If so there are many company's out there catering for such tastes.
Marriage vows
Planning Your Wedding?

Whether your plans call for a lavish extravaganza, or a simple ceremony on the beach, make no mistake, it WILL NOT JUST HAPPEN. Behind every successful wedding lies months of careful planning.
From selecting the perfect invitation through throwing the rice, you will need to make many decisions. As a modern busy bride we aim to take some of the stress out of the decision making, to help you accomplish a flawless, and stress free wedding day.
This is a magical time in your life, so make the most of it and use our services to help you plan your dream wedding and enjoy every minute of it.
Things to think about:
Who pays for what

Invitations

The Bridal Party

Ceremony & Location

Wedding Rehearsal

Correct Attire

Your Gown

The Reception

Music

Flowers

Cake

Photographer

Videographer

Transportation Options

Marriage License

Bridal Showers

Gift Registry

Thank You Notes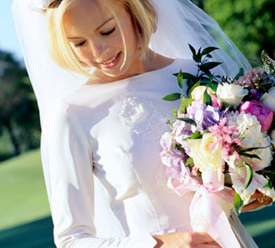 Types of Wedding
A double wedding is a single ceremony where two fiancé couples rendezvous for two separate weddings. Typically, a fiancé with a sibling might plan a double wedding with that sibling.
A destination wedding is any wedding in which the engaged couple and/or a majority of their guests travel to attend the ceremony. Whether this happens for an intimate beach ceremony in the Caribbean, extravagant nuptials in Las Vegas or for a simple ceremony in someone's back yard, chances are it qualifies as a destination wedding.
A white wedding is a formal or semi-formal wedding in the United Kingdom, Ireland and United States, as well as Commonwealth, traditions.
A military wedding is a ceremony conducted in a military chapel.
An online wedding is a wedding that is either conducted on the internet, or is an event that resembles a standard wedding when two people who wish their avatars, or characters, to be married.
A same-sex wedding is a ceremony in which two people of the same gender are married. This may be an official and legally recognized event, or (in places that to do not allow same-sex marriage) it may simply be an opportunity to make the same pledges and have the same celebration with friends and family as at a traditional wedding.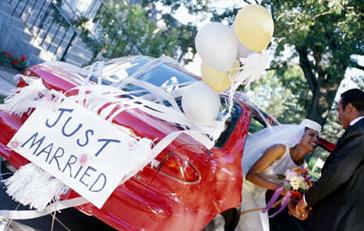 Just Married

A civil wedding is a ceremony presided over by a local civil authority, such as an elected or appointed judge, justice of the peace or the mayor of a locality. Civil wedding ceremonies can use references to God, but no references to a particular religion or denomination. They can be either elaborate or simple. Many civil wedding ceremonies take place in local town or city halls or courthouses in judge's chambers.
Customs
The wedding ceremony formally celebrates the beginning of a marriage. In some countries, cultures and religions, the actual act of marriage begins during the wedding ceremony. In others, the legal act of marriage occurs at the time of signing a marriage license or other legal document and the wedding is then an opportunity to perform a traditional ceremony and celebrate with friends and family.
Wedding ceremonies may contain any number of different elements, however most contain wedding vows of some kind and a proclamation of marriage, usually by the officiant. Most weddings also involve wearing the traditional clothes of the culture in which the couple is wedding. A wedding is often followed or accompanied by a wedding reception.
Other elements may include music, poetry, prayer, scripture, or other traditions. In most societies a number of traditions or customs have emerged around the wedding ceremony, many of which have lost their original symbolic meaning in the modern world. Other wedding traditions are relatively recent. Some elements of the Western heterosexual wedding ceremony symbolize the bride's departure from her father's control and entry into a new family with her husband. In modern Western weddings, this symbolism is largely vestigial, since husband and wife are of equal power and status. In some cultures, same-sex weddings are celebrated.
A wedding's particular customs may be varied, mixed, or invented to suit the personalities, interests, and cultural backgrounds of the couple. Such hybrid ceremonies are more common when performed by Civil Celebrants, as in Australia, the United States and Canada.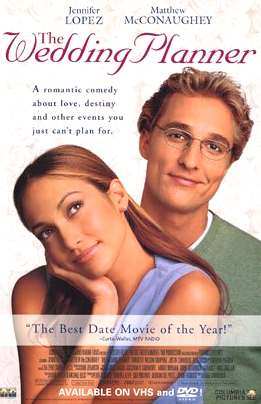 Wedding Planner DVD
Clothing
Different wedding traditions call for different wedding outfits:
Qipao, Chinese traditional formal wear

Batik and Kebaya, a special garment worn by the Javanese people of Indonesia.

Barong Tagalog, an embroidered formal garment of the Philippines

Kimono, the traditional garments of Japan

Ao dai, traditional garments of Vietnam

Morning dress, a particular category of men's formal dress

Topor, a type of conical headgear traditionally worn by grooms as part of the Bengali Hindu wedding ceremony

Tuxedo

Black tie, indicating dinner jacket in the UK

White tie, indicating evening dress in the UK

Sherwani, a long coat-like garment worn in South Asia

Wedding veil

Wedding dress
WEDDING PLANNING TOOLS and LINKS :
Why not start by downloading this free Wedding Day Planning Check List.

From love birds to favors to invitations to honeymoons, our pages can be your one-stop mall. In addition to caterers and photographers, chapels and coordinators, you can also discover interesting wedding trivia - Why do brides wear white? Why do brides carry flowers? What's behind the "something old, something new, something borrowed, something blue" tradition? It's all there when you click on Wedding Traditions.

Don't forget the get-away car! How many times does this happen? The Best Man and Groomsmen leave the wedding reception to purchase decorations for the bride and grooms car? We noticed this time saving Car Decorating Kit just for this reason. You can purchase the kit or items are sold separate. Nothing harmful to vehicle.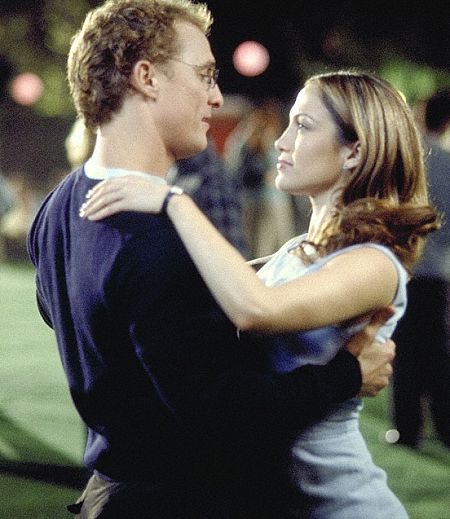 Wedding Planner movie
Jennifer Lopez and Matthew McConaughey
MUSIC
Music often played at western weddings includes a processional song for walking down the aisle and reception dance music. The style of music is usually dictated by the traditions of the country the wedding is being performed in.
Choose your wedding songs :
Accommodation guide:
Dimensions
Number of Guests Accommodated
in Feet
in Metres
Standing Reception
Seated Dining
Dining, dancing
& low level Seating combined
10 x 10
3 x 3
-
-
-
15 x 15
4.5 x 4.5
20
15
-
20 x 20
6 x 6
35
30
-
15 x 30
4.5 x 9
40
30
-
20 x 30
6 x 9
60
40
30
30 x 30
9 x 9
100
90
50
30 x 60
9 x 18
200
180
100
30 x 90
9 x 27
300
270
150 (L or T shape possible)
30 x 120
60 x 60
9 x 36
18 x 18
400
360
200 (T or X shape possible)
30 x 150
9 x 45
500
450
250 (X, L or T shape recommended)
Seating is based on 8 guests sitting around a 5ft round or 6ft long table with table service and does not allow for any buffet tables, bars, cake tables etc.