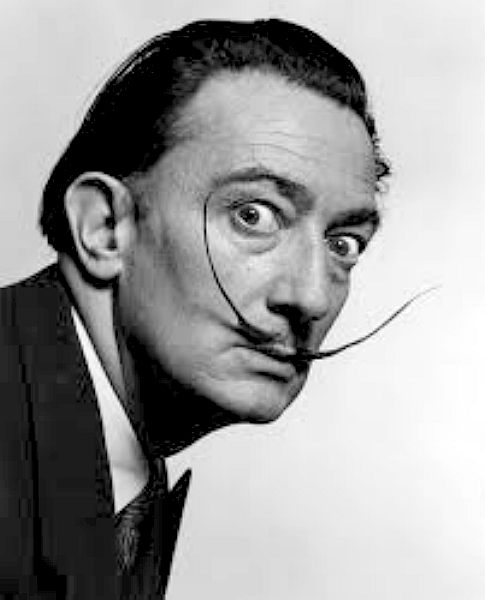 Salvador Domingo Felipe Jacinto Dalí i Domènech, 1st Marqués de Dalí de Pubol (May 11, 1904 – January 23, 1989), known simply as Salvador Dalí, was a prominent Spanish surrealist painter and sculptor born in Figueres, Catalonia, Spain.

Dalí was a skilled draftsman, best known for the striking and bizarre images in his surrealist work. His painterly skills are often attributed to the influence of Renaissance masters. His best-known work, The Persistence of Memory, was completed in August 1931. Dalí's expansive artistic repertoire included film, sculpture and photography, in collaboration with a range of artists in a variety of media.

Dalí attributed his "love of everything that is gilded and excessive, my passion for luxury and my love of oriental clothes" to an "Arab lineage", claiming that his ancestors were descended from the Moors.

Dalí was highly imaginative, and also enjoyed indulging in unusual and grandiose behavior. His eccentric manner and attention-grabbing public actions sometimes drew more attention than his artwork, to the dismay of those who held his work in high esteem, and to the irritation of his critics.
SYMBOLISM
Dalí employed extensive symbolism in his work. For instance, the hallmark "melting watches" that first appear in The Persistence of Memory suggest Einstein's theory that time is relative and not fixed. The idea for clocks functioning symbolically in this way came to Dalí when he was staring at a runny piece of Camembert cheese on a hot August day.

The elephant is also a recurring image in Dalí's works. It first appeared in his 1944 work Dream Caused by the Flight of a Bee Around a Pomegranate a Second Before Awakening. The elephants, inspired by Gian Lorenzo Bernini's sculpture base in Rome of an elephant carrying an ancient obelisk, are portrayed "with long, multijointed, almost invisible legs of desire" along with obelisks on their backs. Coupled with the image of their brittle legs, these encumbrances, noted for their phallic overtones, create a sense of phantom reality. "The elephant is a distortion in space", one analysis explains, "its spindly legs contrasting the idea of weightlessness with structure." "I am painting pictures which make me die for joy, I am creating with an absolute naturalness, without the slightest aesthetic concern, I am making things that inspire me with a profound emotion and I am trying to paint them honestly." — Salvador Dalí, in Dawn Ades, Dalí and Surrealism.

The egg is another common Dalíesque image. He connects the egg to the prenatal and intrauterine, thus using it to symbolize hope and love; it appears in The Great Masturbator and The Metamorphosis of Narcissus. The Metamorphosis of Narcissus also symbolized death and petrification.

Various other animals appear throughout his work as well: ants point to death, decay, and immense sexual desire; the snail is connected to the human head (he saw a snail on a bicycle outside Freud's house when he first met Sigmund Freud); and locusts are a symbol of waste and fear.

Both Dalí and his father enjoyed eating sea urchins, freshly caught in the sea near Cadaqués. The symmetry of the sea urchin fascinated Dalí and adapted its form to many art works and other foods also appear throughout his work.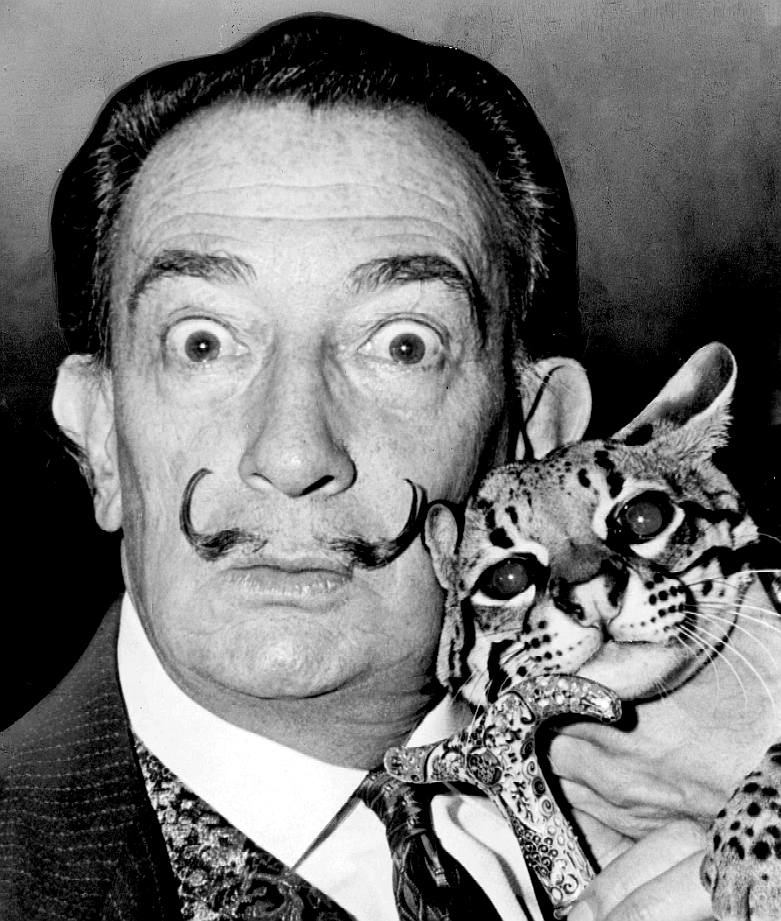 FILMS & THEATRE
In theatre, Dalí constructed the scenery for Federico García Lorca's 1927 romantic play Mariana Pineda. For Bacchanale (1939), a ballet based on and set to the music of Richard Wagner's 1845 opera Tannhäuser, Dalí provided both the set design and the libretto. Bacchanale was followed by set designs for Labyrinth in 1941 and The Three-Cornered Hat in 1949.

Dalí became intensely interested in film when he was young, going to the theatre most Sundays. He was part of the era where silent films were being viewed and drawing on the medium of film became popular. He believed there were two dimensions to the theories of film and cinema: "things themselves", the facts that are presented in the world of the camera; and "photographic imagination", the way the camera shows the picture and how creative or imaginative it looks. Dalí was active in front of and behind the scenes in the film world.

He is credited as co-creator of Luis Buñuel's surrealist film Un Chien Andalou, a 17-minute French art film co-written with Luis Buñuel that is widely remembered for its graphic opening scene simulating the slashing of a human eyeball with a razor. This film is what Dalí is known for in the independent film world. Un Chien Andalou was Dalí's way of creating his dreamlike qualities in the real world. Images would change and scenes would switch, leading the viewer in a completely different direction from the one they were previously viewing. The second film he produced with Buñuel was entitled L'Age d'Or, and it was performed at Studio 28 in Paris in 1930. L'Age d'Or was "banned for years after fascist and anti-Semitic groups staged a stink bomb and ink-throwing riot in the Paris theater where it was shown".

Although negative aspects of society were being thrown into the life of Dalí which affected the commercial success of his artwork, it did not hold him back from expressing his own ideas and beliefs in his art. Both of these films, Un Chien Andalou and L'Age d'Or, have had a tremendous impact on the independent surrealist film movement. "If Un Chien Andalou stands as the supreme record of Surrealism's adventures into the realm of the unconscious, then L'Âge d'Or is perhaps the most trenchant and implacable expression of its revolutionary intent".

Dalí worked with other famous filmmakers, such as Alfred Hitchcock. The most well-known of his film projects is probably the dream sequence in Hitchcock's Spellbound, which heavily delves into themes of psychoanalysis. Hitchcock needed a dreamlike quality to his film, which dealt with the idea that a repressed experience can directly trigger a neurosis, and he knew that Dalí's work would help create the atmosphere he wanted in his film. He also worked on a documentary called Chaos and Creation, which has a lot of artistic references thrown into it to help one see what Dalí's vision of art really is.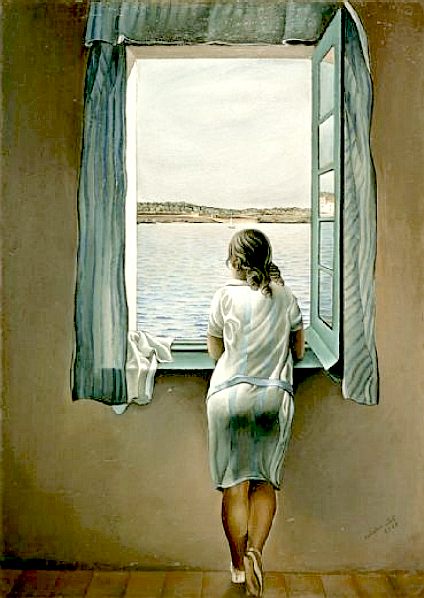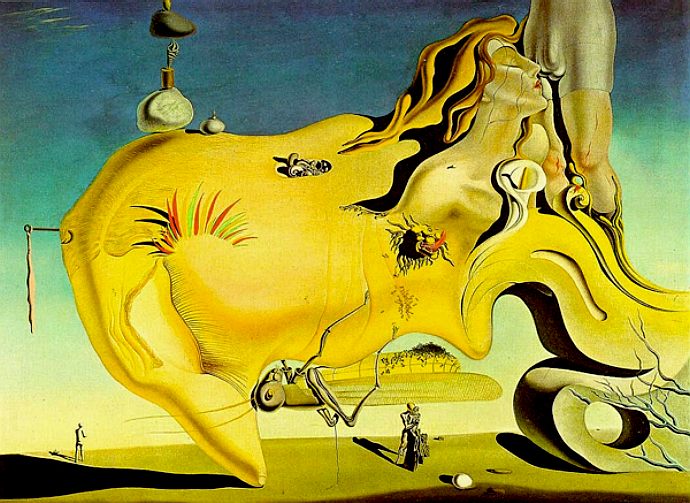 Dalí also worked with Walt Disney on the short film production Destino. Completed in 2003 by Baker Bloodworth and Walt's nephew Roy E. Disney, it contains dreamlike images of strange figures flying and walking about. It is based on Mexican songwriter Armando Dominguez' song "Destino". When Disney hired Dalí to help produce the film in 1946, they were not prepared for the quantity of work that lay ahead. For eight months, they worked on it continuously, until their efforts had to stop when they realized they were in financial trouble. However, it was eventually finished 48 years later, and shown in various film festivals. The film consists of Dalí's artwork interacting with Disney's character animation.

Dalí completed only one other film in his lifetime, Impressions of Upper Mongolia (1975), in which he narrated a story about an expedition in search of giant hallucinogenic mushrooms. The imagery was based on microscopic uric acid stains on the brass band of a ballpoint pen on which Dalí had been urinating for several weeks.

In the mid-1970s, film director Alejandro Jodorowsky cast Dali in the role of the Padishah Emperor in a production of Dune, based on the novel by Frank Herbert. According to the 2013 documentary on the film, Jodorowsky's Dune, Jodorowsky met Dali in the King Cole Bar in the St. Regis hotel in Manhattan to discuss the role. Dali expressed interest in the film but required as a condition of appearing that he be made the highest paid actor in Hollywood. Jodorowsky accordingly cast Dali as the emperor, but he planned to cut Dali's screen time to mere minutes, promising he be the highest-paid actor on a per minute basis. The film was ultimately never made.

In the year 1927, Dali began to write the libretto for an opera, which he called "Être Dieu" ("To Be God"). He wrote this together with Federico Garcia Lorca one afternoon in the Café Regina Victoria in Madrid. In 1974, for a recording in Paris, the opera was adapted by the Spanish writer Manuel Vazquez Montalban, who wrote the libretto, while the music was created by Igor Wakhevitch. During the recording, however, Dali refused to follow the text written by Montalban, and instead, began to improvise in the belief that "Salvador Dali never repeats himself."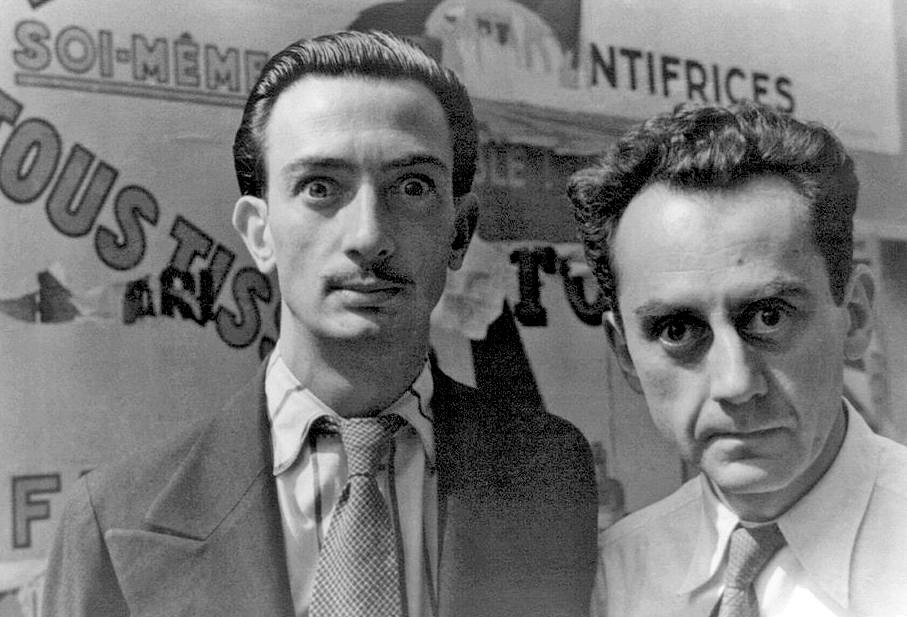 SCULPTURE
Two of the most popular objects of the surrealist movement were Lobster Telephone and Mae West Lips Sofa, completed by Dalí in 1936 and 1937, respectively. Surrealist artist and patron Edward James commissioned both of these pieces from Dalí; James inherited a large English estate in West Dean, West Sussex when he was five and was one of the foremost supporters of the surrealists in the 1930s. "Lobsters and telephones had strong sexual connotations for [Dalí]", according to the display caption for the Lobster Telephone at the Tate Gallery, "and he drew a close analogy between food and sex." The telephone was functional, and James purchased four of them from Dalí to replace the phones in his retreat home. One now appears at the Tate Gallery; the second can be found at the German Telephone Museum in Frankfurt; the third belongs to the Edward James Foundation; and the fourth is at the National Gallery of Australia.

The wood and satin Mae West Lips Sofa was shaped after the lips of actress Mae West, whom Dalí apparently found fascinating. West was previously the subject of Dalí's 1935 painting The Face of Mae West. The Mae West Lips Sofa currently resides at the Brighton and Hove Museum in England.

Between 1941 and 1970, Dalí created an ensemble of 39 pieces of jewelry; many pieces are intricate, and some contain moving parts. The most famous assemblage, The Royal Heart, is made of gold and is encrusted with 46 rubies, 42 diamonds, and four emeralds, created in such a way that the center "beats" much like a real heart. Dalí himself commented that "Without an audience, without the presence of spectators, these jewels would not fulfill the function for which they came into being. The viewer, then, is the ultimate artist." The "Dalí – Joies" ("The Jewels of Dalí") collection can be seen at the Dalí Theater Museum in Figueres, Catalonia, Spain, where it is on permanent exhibition.

Dalí took a stab at industrial design in the 1970s with a 500-piece run of the upscale "Suomi" tableware by Timo Sarpaneva that Dalí decorated for the German Rosenthal porcelain maker's "Studio Linie".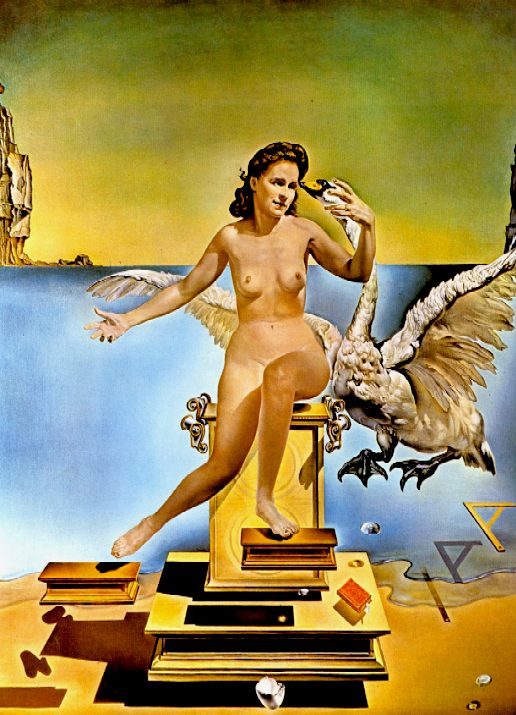 This beautiful picture is called 'Leda Atomica,' in which Salvador portrays Gala, his wife of whom he was very passionate about and portrayed in several works, his love for her always coming out in the art.
PHOTOGRAPHY & FASHION
Dalí built a repertoire in the fashion and photography businesses as well. His cooperation with Italian fashion designer Elsa Schiaparelli was well-known, when Dalí was commissioned to produce a white dress with a lobster print. Other designs Dalí made for her include a shoe-shaped hat, and a pink belt with lips for a buckle. He was also involved in creating textile designs and perfume bottles. In 1950, Dalí created a special "costume for the year 2045" with Christian Dior.

Photographers with whom he collaborated include Man Ray, Brassaï, Cecil Beaton, and Philippe Halsman. With Man Ray and Brassaï, Dalí photographed nature; with the others, he explored a range of obscure topics, including (with Halsman) the Dalí Atomica series (1948) — inspired by his painting Leda Atomica — which in one photograph depicts "a painter's easel, three cats, a bucket of water, and Dalí himself floating in the air."

One of Dalí's most unorthodox artistic creations may have been an entire persona, in addition to his own. At a French nightclub in 1965, Dalí met Amanda Lear, a fashion model then known as Peki D'Oslo. Lear became his protégée and muse, later writing about their affair in her authorized biography My Life With Dalí (1986). Transfixed by the mannish, larger-than-life Lear, Dalí masterminded her successful transition from modeling to the music world, advising her on self-presentation and helping spin mysterious stories about her origin as she took the disco-art scene by storm. According to Lear, she and Dalí were united in a "spiritual marriage" on a deserted mountaintop. She was referred to as Dalí's "Frankenstein," and some observers believed Lear's assumed name was a pun on the French phrase "L'Amant Dalí", or "Lover of Dalí". Lear took the place of an earlier muse, Ultra Violet (Isabelle Collin Dufresne), who had left Dalí's side to join The Factory of Andy Warhol.

Both former apprentices would go on to successfully promote their own careers in the arts. On April 10, 2005, they joined a panel discussion "Reminiscences of Dalí: A Conversation with Friends of the Artist" as part of a symposium "The Dalí Renaissance" for a major retrospective Dalí show at the Philadelphia Museum of Art. Their conversation is recorded in the 236-page exhibition catalog The Dalí Renaissance: New Perspectives on His Life and Art after 1940.
ARCHITECTURE
Architectural achievements include his Port Lligat house near Cadaqués, as well as his Theatre and Museum in Figueres. A major work outside of Spain was the temporary Dream of Venus surrealist pavilion at the 1939 New York World's Fair, which contained within it a number of unusual sculptures and statues, including live performers posing as statues.
LITERATURE
Under the encouragement of poet Federico García Lorca, Dalí attempted an approach to a literary career through the means of the "pure novel". In his literary production Hidden Faces (1944), Dalí describes, in vividly visual terms, the intrigues and love affairs of a group of dazzling, eccentric aristocrats who, with their luxurious and extravagant lifestyle, symbolize the decadence of the 1930s. The Comte de Grainsalles and Solange de Cléda pursue an awkward love affair, but property transactions, interwar political turmoil, the French Resistance, his marriage to another woman and her responsibilities as a landowner and businesswoman drive them apart. It is variously set in Paris, rural France, Casablanca in North Africa and Palm Springs in the United States. Secondary characters include ageing widow Barbara Rogers, her bisexual daughter Veronica, Veronica's sometime female lover Betka, and Baba, a disfigured US fighter pilot. The novel concludes at the end of the Second World War, with Solange dying before Grainsalles can return to his former property and reunite with her.

His other, nonfictional literary works include The Secret Life of Salvador Dalí (1942), Diary of a Genius (1952–63), and Oui: The Paranoid-Critical Revolution (1927–33).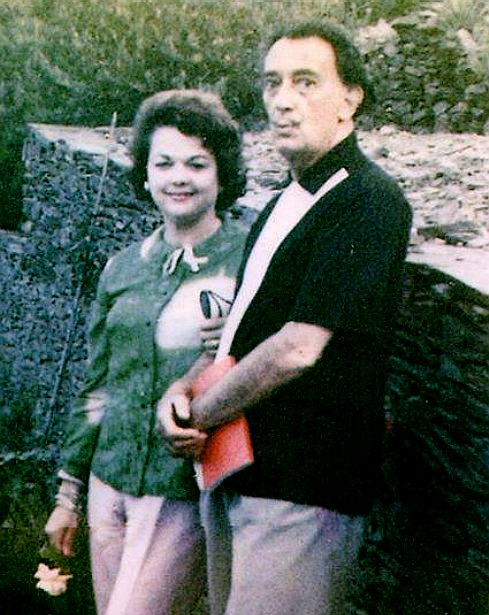 Ruth Daponte and Salvador Dali. Salvador painted a superb portrait of Ruth
LINKS & REFERENCE
Webneel Salvador Dali famous surreal optical illusion paintings
The art story artist dali salvador
http://webneel.com/salvador-dali-famous-surreal-optical-illusion-paintings
http://www.salvadordali.com/
http://thedali.org/timeline/
http://www.theartstory.org/artist-dali-salvador.htm