AUSTRALIA 23 November 2012 - Nickelback Tour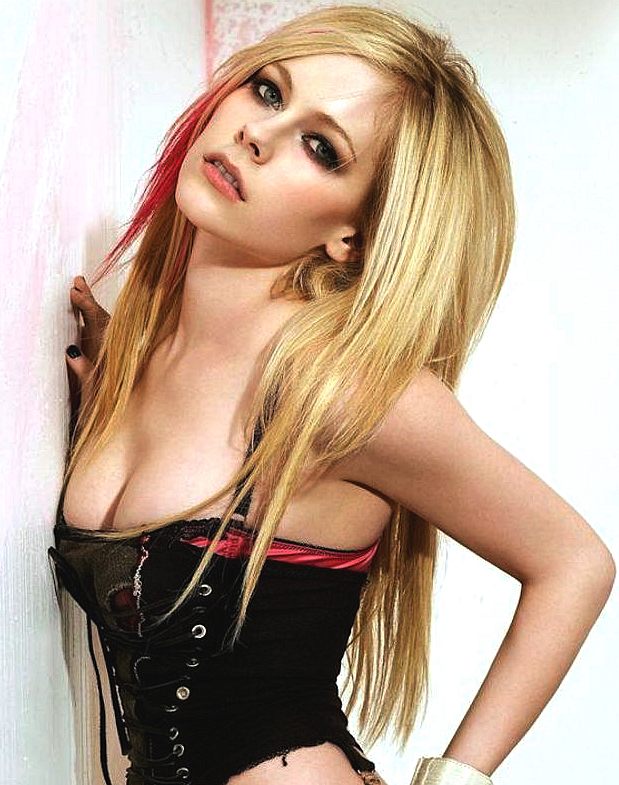 Avril Lavigne is every inch the doting fiancée as she accompanies Chad Kroeger to Sydney for his Nickelback tour. They might not be married yet but Avril Lavigne is certainly proving to be a devoted partner. The 28-year-old singer has been supporting the Nickelback singer as the band tours around Australia and on Thursday the couple arrived in Sydney.

The pair were seen smiling as they made their way through the airport after a flight. A couple that travels together, stays together. Avril and Chad may have only been dating since February this year but they already share a similar sense of style. The couple were both wearing black T-shirts and black hooded jumpers to travel in. If that wasn't enough the pair both sported pairs of aviators sunglasses to finish off their look.

The Nickelback singer was seen carrying two bags leaving Avril without any luggage to heave around - what a gentleman. The I'm With You singer looked every inch the rock groupie in her all black outfit and workman boots
Avril couldn't bear to be parted from her husband-to-be during his band's tour so she decided to tag along too, putting the wedding planning on hold. On Sunday the pair flew out of Perth in Western Australia after Chad and his band played a near to capacity 15,500 people stadium show.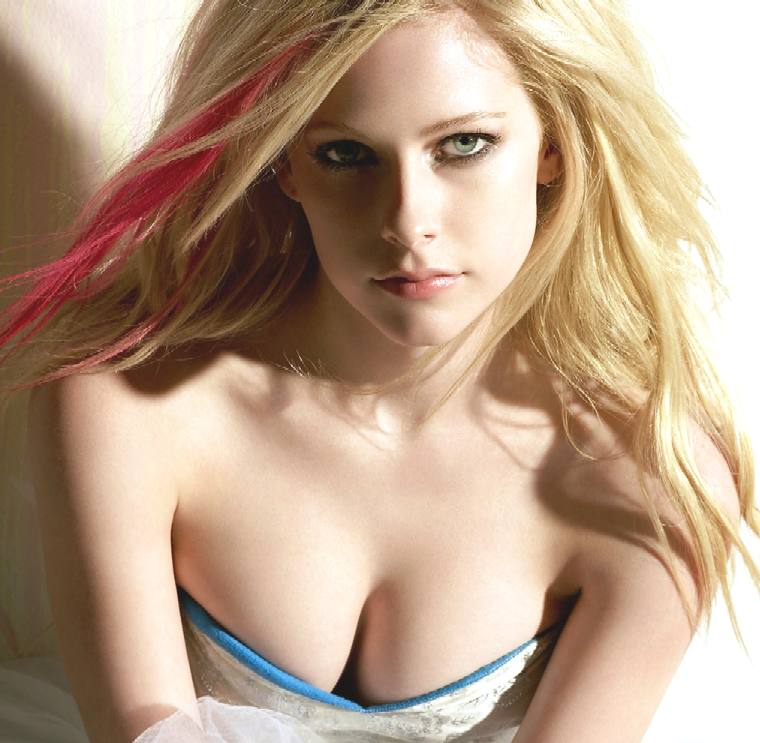 Despite her fiance's music being some of the most lambasted in rock, the 28-year-old proudly stayed close to her man as they prepared to fly to Brisbane, Queensland. Obviously not quite the hot Aussie weather she was expecting, Avril layered a white poncho with the phrase 'Keep on trucking' on it over a longer back tee-shirt and black skinny jeans. The Canadian Sk8r Boi singer donned giant aviator sunglasses and for the flight, a leopard print cap - presumably from her clothing line Abbey Dawn.

Avril layers it up which does nothing to quash the speculation that she is pregnant following her and her fiance's quick engagement after six months of dating in secret. The singer finished off her outfit with her most prized accessory - her giant 14-carat engagement ring that her 38-year-old husband to be gave her in August.

Already Avril has done some serious wedding planning, with Chad revealing in a recent interview that despite this being her second marriage - she was married to Sum 41 front-man Deryck Whibley for four years - the 28-year-old is going all out. 'I get control over nothing. I just show up,' the How You Remind Me Singer is quoted as saying to Men's Health Magazine. 'But I'm glad, because she has... traversed these territories before. These are uncharted waters for me. So it's nice to have her to guide me through this.'
While her first wedding was a fairytale theme expect a far more edgier event this time, Chad said. 'She's got great ideas. I would have gone a little too traditional, I think, and she's giving it a real rock n' roll edge. 'Let's just say she's taking the bull by the horns and steering the ship towards what is going to be the most unique wedding that the planet has probably ever seen.' While no wedding date has been confirmed yet, if the bride-to-be's tamer hair style is anything to go by perhaps the 'most unique' is just around the corner.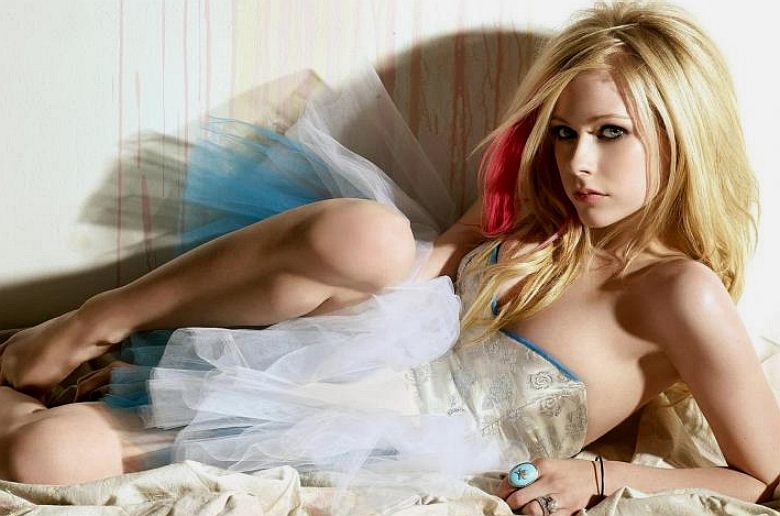 Avril in Wonderland - The Canadian singer looks good whatever she wears
HISTORY
Avril Ramona Lavigne was born on the 27th of September 1984 in Belleville, Ontario. She is a Canadian singer-songwriter, but spent most of her youth in the small town of Napanee. By the age of 15, she had appeared on stage with Shania Twain; by 16, she had signed a two-album recording contract with Arista Records worth more than $2 million. In 2002, when she was 17 years old, Lavigne broke onto the music scene with her debut album Let Go.

Let Go made Lavigne the youngest female soloist to reach No. 1 in the UK, and the album was certified four-times platinum by the Recording Industry Association of America. By 2009, over 16 million copies had been sold worldwide. Her breakthrough single, "Complicated", peaked at No. 1 in many countries around the world, as did the album Let Go. Her second album, Under My Skin, was released in 2004 and was her first album to peak at No. 1 on the U.S. Billboard 200, eventually selling more than 10 million copies worldwide. The Best Damn Thing, Lavigne's third album, was released in 2007, becoming her third No. 1 album in the UK Albums Chart and featuring her first U.S. Billboard Hot 100 No. 1 single, "Girlfriend". Lavigne has scored six number-one singles worldwide, including "Complicated", "Sk8er Boi", "I'm with You", "My Happy Ending", "Nobody's Home", and "Girlfriend". With more than 34 million copies of her albums sold worldwide, Lavigne is one of the top-selling artists releasing albums in the U.S., with over 11 million copies certified by the RIAA. Her fourth studio album, Goodbye Lullaby, was released in March 2011. Goodbye Lullaby gave Lavigne her fourth top 10 album on the U.S. Billboard 200 and the UK Albums Chart and her third No. 1 album in both Japan and Australia. Three months after the release of Goodbye Lullaby, Lavigne began work on her fifth album, which will be released on Epic Records following her departure from RCA Records.

Lavigne branched out from recording music, pursuing careers in feature film acting and designing clothes and perfumes. She voiced a character in the animated film, Over the Hedge, in 2006. That same year, she made her on-screen feature film debut in Fast Food Nation. In 2008, Lavigne introduced her clothing line, Abbey Dawn, and in 2009, she released her first perfume, Black Star, which was followed by her second perfume, Forbidden Rose, in 2010 and her third perfume, Wild Rose, in 2011. In July 2006, Lavigne married her boyfriend of two years, Deryck Whibley, lead singer and guitarist for Sum 41. The marriage lasted a little over three years, and in October 2009, Lavigne filed for divorce. Whibley and Lavigne continued to work together, with Whibley producing her fourth album, as well as Lavigne's single, "Alice", written for Tim Burton's film Alice in Wonderland.


Avril Lavigne - 28 going on 20

FASHION

In July 2008, Lavigne launched the clothing line Abbey Dawn, featuring a back-to-school collection. It is produced by Kohl's, which is the brand's exclusive U.S. retailer. Named after Lavigne's childhood nickname, Abbey Dawn is designed by Lavigne herself. Kohl's describes Abbey Dawn as a "juniors lifestyle brand", which incorporates skull, zebra, and star patterns, purples and "hot pinks and blacks". Lavigne, who wore some of the clothes and jewellery from her line at various concerts before its official launch, pointed out that she was not merely licensing her name to the collection. "I actually am the designer. What's really important to me is that everything fits well and is well-made, so I try everything on and approve it all." The clothing line incorporates Lavigne's musical style and lyrics, "after the release of my first album, I realized how much fashion was involved in my musical career".

The designs were also featured on the Internet game Stardoll, where figures can be dressed up as Avril Lavigne. On 14 September 2009, Lavigne took her then latest collection for her clothing line to be a part of the New York Fashion Week, returning in 2011. In December 2010, the clothing line was made available to over 50 countries through the line's official website. "It's fun to be a chick and design clothes and things I'd like for myself. I design things I [can't] find." At the end of 2008, Lavigne signed a contract with Canon Canada to appear in advertising campaigns and commercials to promote the latest line of cameras and a full range of other accessories.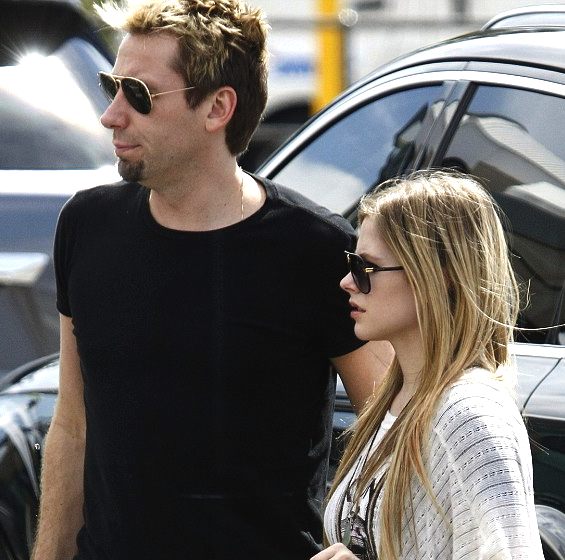 Avril Lavigne and fiance Chad Kroger prepare to leave Perth, Australia on Sunday


Lavigne released her first fragrance, Black Star, created by Procter & Gamble Prestige Products. The fragrance was announced on Lavigne's official website on 7 March 2009. Black Star, which features notes of pink hibiscus, black plum and dark chocolate, was released in summer 2009 in Europe, and later in the US and Canada. When asked what the name meant, Lavigne replied, "I wanted [the bottle] to be a star, and my colors are pink and black, and Black Star resembles being different, and standing out in the crowd, and reaching for the stars; the whole message is just about following your dreams, and it's okay to be unique and be who you are." Black Star won the 2010 Best "Women's Scent Mass" by Cosmetic Executive Women (CEW). Black Star was followed by a second fragrance in July 2010, Forbidden Rose, which took two years to develop. It features notes of red apple, winepeach, black pepper, lotusflower, heliotrope, shellflower, praline agreement, sandalwood, and vanilla

Its message is an extension of Black Star's "follow your dreams", though the tagline for the new perfume is "Dare to Discover". The commercial takes place in a gothic garden setting, where Lavigne, upon entering the garden, finds a single, purple rose. Lavigne launched a third fragrance, Wild Rose, in August 2011 and filmed the commercial for it in late 2010. The tagline for the fragrance is "Dare to discover more". It features notes of mandarin, pink grapefruit, plum, orange blossom, frangipani, blue orchid, musk, sandalwood and crème brûlée.

In January 2010, Lavigne began working with Disney to incorporate Alice in Wonderland-inspired designs into her Abbey Dawn line of clothing. Her designs were exhibited at the Fashion Institute of Design & Merchandising in California beginning in May through September, alongside Colleen Atwood's costumes from the 2010 film.


| | |
| --- | --- |
| Avril on CBS - Youtube | Chelsea Lately HQ - Youtube |
LINKS:
Twitter
Daily Mail Avril Lavigne Chad Kroger Sydney Nickelback
---
A heartwarming adventure: Pirate whalers V Conservationists,
with an environmental message.
For release as an e-book in 2013 with hopes for a film in 2015 TBA