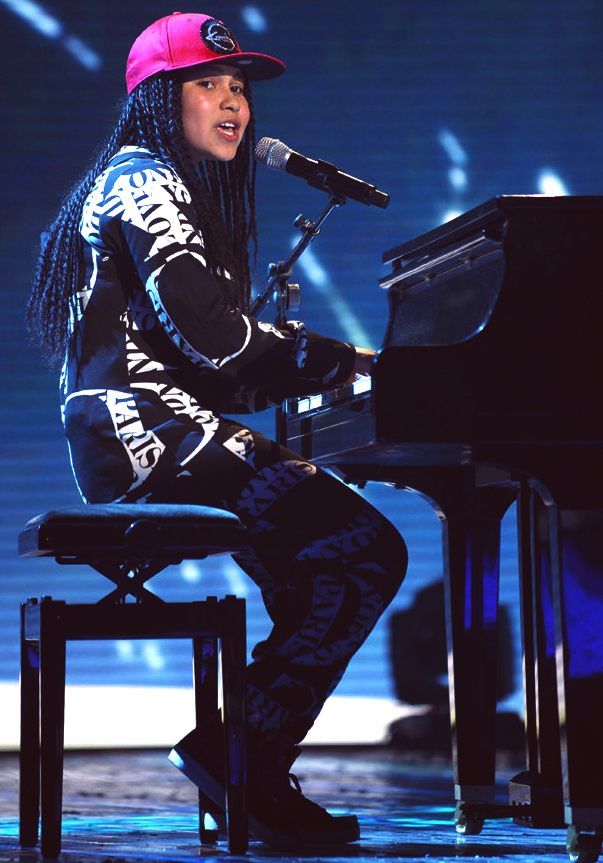 A Rising Star - Gabz Gardiner
I DIDN'T THINK I STOOD A CHANCE
We thought Gabz Gardiner from Stevenage, Herts, was an easy choice, but apparently, she had her doubts.

Gabz said: "It was really amazing. I was completely surprised. I really didn't think I was going to get through because I had written my own song. I think now that is why I did because everyone reacted so well to it and it made me different."

"I was excited enough just to be in the top three. I wish I hadn't been up against Jack and Cormac because they are so great and really funny. When I saw who was going to be on the semi-final with me, I didn't think I had a chance, particularly against people like Alice Fredenham – I thought I'd definitely go straight out."

The talented 14-year old said she was inspired Alesha Keyes, Jessie J and Ed Sheeran and always wanted to do everything by herself.

"I started singing, then I began playing the piano and I only got into song writing a year ago. I wanted to bring the three together," she said. "I also play guitar, ukulele, drums and violin and I'd love to bring them all into my act but I'm not good enough yet."

Gabz has been keen to enter BGT for some time but said her parents didn't think she was ready before. After performing in church and at school, people started to say she should audition, so she did.

Her dad has been by her side all the way through – even getting his own moment in the limelight on BGMT!

Gabz said: "My dad was really, really happy when I came off stage after the finalists were announced. He's so proud. I don't think he expected me to go through. Before I went on he just told me to do my best and try not to fall over!

"The onesie was my dad's idea. He suggested I wear it to stand out and be different. I never expected to stick with it and now it's become my signature."

She continued: "I would love a career as a singer songwriter or a producer maybe. I've done some music technology at school and we've just got a lot of new equipment so I go in at lunchtime and after school.

"I'm halfway writing a new song which I'm trying to get finished." Gabz is determined to make music her career.
The 14 year old singer-songwriter said Brucie's call for children to have a separate show was ­unnecessary and she loved being on stage. She said adult contestants suffered more stress from competing than the children.

The schoolgirl, who Simon Cowell said could have a No1 hit with the song The One, which she wrote herself, is among the favourites to win next Saturday's final.

Gabz continued: "I think all the kids have been ­really good. There is more ­pressure on the adults. I think kids will be fine, we don't worry about pressure. ­Everyone has said 'Good luck' and 'Have fun' and they haven't put any pressure on me.

"I'm really excited. I have always wanted to go on BGT but I never thought I was good enough. I can't wait for the ­final."

"The kids have taken over the show," said David Walliams, as 'Britain's Got Talent' sent two more finalists through to the weekend's final after an evening of entertainment on Tuesday.

Comedian Jack Carroll and singer-songwriter Gabz proved that the BGT audience can't get enough of this year's youthful contenders, more grist to Simon Cowell's mill following his with Bruce Forsyth over recruiting underage contestants. Jack Carroll was the first contestant to go through.

It was a kids-only final three in this semi-final with 14-year-old Gabz, Jack, also 14, and folksy duo Jack and Cormac, aged 13 and 14, vying for the weekend's two places.

After Jack Carroll went through first, David Walliams and Alesha both opted to go with Gabz, with Alesha saying she was voting for somebody she believed was "ready for the industry right now".
NEW SONG
Gabz joins the lineup with Jack Carroll, Arisxandra Libantino and Richard and Adam and Simon Cowell previously recommended that she tries a new track for the next round. It sounds like she's taken his advice and speaking on This Morning Gabz said:

"I think I'm going to do a new one [song], I have written more than just the one song and I want people to know that." Gardiner admitted that she feels incredibly chuffed and proud that her first number went down so well with viewers and added:

"I think it's really great because it's my own song. I'm really happy everyone likes it and hopefully they will like my other songs as well."

It seems she has been overwhelmed by the public support too and taking to Twitter after the last live show, the teenage performer thanked her new fans, writing:

"Wow, that was amazing, still buzzing! Thanks so very much to all that voted for me, it means so much to me that people like my music. X"
From all of us here at Kismet - Best of luck Gabz.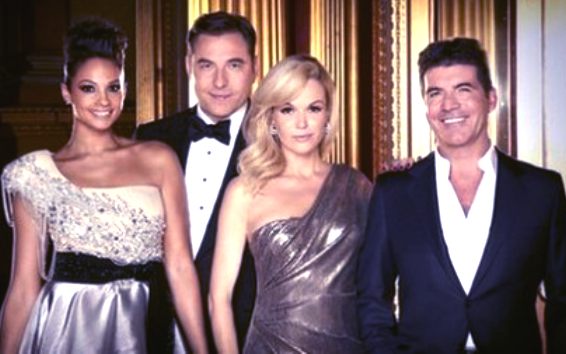 BRITAIN'S GOT TALENT HISTORY
Britain's Got Talent (sometimes shortened to BGT) is a British television talent show competition which started in June 2007 and originated from the Got Talent series. The show is a Thames production (formerly Talkback Thames) distributed by FremantleMedia and is produced in association with Syco TV. The show is broadcast on ITV and its sister show Britain's Got More Talent is broadcast on ITV2. Anyone of any age with some sort of talent can audition for the show. Acts compete against each other in order to gain the audience support while trying to win the title of "The winner of Britain's Got Talent". Each year, on the morning of the first show of the new series, Britain's Got Talent has a special program titled "Most Talented", featuring interviews of the winners from the previous series and their progress since winning.

Throughout the show, contestants must perform in front of the judges, and each year initial auditions have been held in front of a live audience. Auditions precede live shows, where the final 40 contestants (45 from 2012 onwards) perform nightly for a week in order to impress the British public. There have been six winners to date: Paul Potts, George Sampson, Diversity, Spelbound, Jai McDowall and Ashleigh and Pudsey. The winner of each series is given the opportunity to perform at the Royal Variety Performance in front of members of the British Royal Family, including Queen Elizabeth II. The winner also receives a cash prize, which from series 1 to 5 was £100,000, but was increased to £500,000 in series 6 and then lowered to £250,000 in series 7. Britain's Got Talent is known as one of Britain's biggest television talent competitions and has also proven popular throughout Europe. The series 3 live final brought in 17.3 million viewers, (a 64.6% audience share). On 18 October 2010, ITV announced that Cowell had signed a new three-year contract renewing Britain's Got Talent until 2013.

The initial judging panel consisted of the show's creator Simon Cowell, Amanda Holden and Piers Morgan. Kelly Brook was brought in as a fourth judge during series 3, but was axed just days later. In 2010, it was announced that Morgan would not return as judge for series 5 and that Cowell would be absent during the auditions stage, so Michael McIntyre and former America's Got Talent judge David Hasselhoff joined the panel. In 2011, Hasselhoff and McIntyre revealed that they would not return for series 6. They were replaced by comedian and actor David Walliams and Alesha Dixon, a former Strictly Come Dancing judge and member of girl group Mis-Teeq.
BGT 2013
The seventh series of Britain's Got Talent began airing on ITV on 13 April 2013 and will end on 8 June 2013. Ant & Dec returned to present the main show on ITV, while Stephen Mulhern returned to present spin-off show Britain's Got More Talent on ITV2. The judges are Simon Cowell, Amanda Holden, Alesha Dixon and David Walliams, all of whom were judges for the sixth series.

The auditions took place in January and February 2013. Auditions began in Cardiff for two days (16 and 17 January) and then moved to London for four days (20–23 January). They then took place in Glasgow on 28 January and Manchester for two days (2 and 3 February), before concluding with three days in Birmingham (8–10 February). The live semi-finals began on 27 May and will conclude on 1 June. The live final will take place on 8 June.
CONTROVERSY
Jennifer Lopez Outfit
Ofcom says it received around 100 complaints about her choice of clothing. Of that Jennifer said: "I wore the same outfit on the Billboard Awards in red and it didn't seem to cause any controversy there, so I felt pretty safe." The star insists a bodysuit was the right choice for the show and is happy despite the complaints.

The Britain's Got Talent semi-final was shown between 7.30 and 9pm on Tuesday evening, before the watershed, although J.Lo's performance went out on the results show after 9.30pm. She wore thigh-high boots and a fur bolero to perform her new single Live It Up. During the song she also slid down a pole onto the stage.

Judges on the show praised her performance, including Simon Cowell, who said: "Seriously, JLo. If anyone wants to know how you do it. That's how you do it. Seriously world class."

The 43-year-old also spoke about her outfits ahead of a performance at the British Summer Time Series in London's Hyde Park in July. "Is that a family show as well?" she asked. "I'll wear whatever I'll feel like I guess."
Overabundance of singers

Controversy was caused before the show had even aired. When auditions for the series kicked off in Cardiff on 16 January 2013, some fans who were in the audience complained about a lack of variety, as 14 out of the 15 acts they saw were singers.


"Inappropriate" claims

11-year old schoolgirl Arisxandra auditioned successfully in Salford singing Jennifer Hudson's "One Night Only", after which she received a standing ovation from the judges and the audience. However, upon the broadcast of her audition during the launch episode of the series, many viewers were outraged at that the fact that she was singing a song about a one-night stand. Vivienne Pattison, director of Mediawatch UK, said the show was "sexualising children" and that "We are sleepwalking into a situation where pornography is the norm."

ITV bosses defended Libantino, as well as contestant Keri Graham, whose audition saw her stripping to her underwear, perform a provocative dance and gyrating on Cowell. A spokesman said: "In its seventh series, Britain's Got Talent celebrates variety and showcases a wide range of different acts. Mindful of our family audience, the performance was carefully edited to ensure it was suitably inexplicit."

The audition of 11-year old Asanda Jezile was also criticised for being "sexualised". She sang "Diamonds" by Rihanna, but viewers complained about it for the same reason as Libantino's audition – that the lyrics, such as "I see a vision of ecstasy when you hold me", "I knew that we'd become one right away" and "as we moonshine and molly" (a reference to drinking illicit spirits and taking the powder or crystal form of MDMA) were not appropriate for someone her age, as well as her somewhat provocative dancing. Some also took to Twitter to claim that this proved Rihanna is not a good role model for children. However, Asanda's father Lennox insisted that his daughter is "mature for her age": stating, "I know she is young but, believe me, she's ready...We know there will always be negative as well as positive comments. We don't want her to get hurt so we've prepared her. We will always give her our support."

There were complaints about 71-year old Kelly Fox's audition as well. Her audition saw her sing a song called "Kiss My Ass", with extremely explicit lyrics. During the performance, Cowell literally kissed Holden's backside. One member of the National Association of Headteachers claimed that scenes which "no mum or dad with an ounce of morality" would want their child to see were being shown too early. Fox defended the controversial song, telling Mancunian Matters: "It was just one teacher's comment in a general attack on television. My mother-in-law is an ex-headmistress, my daughter is a teacher and neither have any problems with my song. I have also been contacted by the headmaster of a local school asking for signed photographs for his 10-year-old pupils."

Many viewers said that Jennifer Lopez's "raunchy" performance on the second live results show was inappropriate for family viewing, despite the fact that it was broadcast after the 9:00pm watershed. Lopez arrived on stage wearing a tiny black leotard that barely covered her backside, which she showed to the camera several times. Also, when Ant & Dec asked the judges if there had been any highlights that night, Holden exclaimed: "JLo's arse... I just wanted to bite it! It was fabulous."


Foreign acts

Fans of the show have also complained that, despite the name of the show, several acts that got through were not actually British or from Britain, such as Hungarian shadow dancers Attraction and the two Dutch acts, dance duo Martin & Marielle, and singer Maarty Broekman. Cowell, however, has insisted that he is happy to allow foreign acts on the show: "I've always said this, we always welcome everyone from around the world in this competition." He also said "I think it's quite flattering that they fly all that way to enter this show because they see it as the flagship show, but it means our Brits have got to step it up now."


Children on the show

Strictly Come Dancing presenter Bruce Forsyth questioned the show allowing children to audition. He said, "I don't think that's entertainment. I don't think they should put children on that are too young. If you're going to do that, have a separate show. Have a children's show, British Children Have Talent."
All of the above may have a point, but talent does not come to order and the show has to make the best of what is finds at that point in time. Talent is talent. Where would Shirley Temple have been is Hollywood had been prudish about child stars. We do though like Sir Bruce' idea about categorization - save that it might make for boring viewing and lack of variety - unless of course it is screened for children between 16:00 and 18:00 hours.
TRADEMARK
she is though, just being her playful self.
LINKS:
britains-got-talent-scott-whitley-tried-to-kill-himself-after-show-exit
www.bbc.co.uk/newsbeat/22717025
www.huffingtonpost.co.uk/2013/06/01/francine-lewis-asanda-jezile-britains-got-talent
http://talent.itv.com/2013/news/insider/read_gabz-i-didnt-think-i-had-a-chance_item_100171.htm
http://www.huffingtonpost.co.uk/2013/05/28/britains-got-talent-semi-final-2_n_3348557.html
http://www.mirror.co.uk/3am/britains-talent-child-star-tells-1926411
A heartwarming adventure: Pirate whalers V Conservationists.
For release as an e-book in 2013 with hopes for a film in 2015 TBA