Natalie brings the routines where she partners in Strictly Come Dancing to life. She reminds us of a blonde Ava Gardner. Now there's a hottie. Ms Lowe is perfectly shaped physically for her memorable performances. In fact she is so commanding, it may be difficult for her male partners to appear to be leading, and that must be difficult for her and her partners - no doubt she instructs them well. There is though no getting away from the fact that Natalie is super fit both physically and sexually. We can't take out eyes off her moves.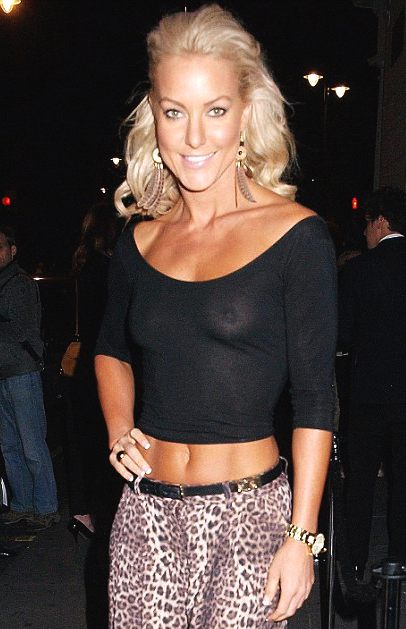 HISTORY
Natalie Lowe was born on the 15th of August 1980. She is an Australian professional dancer and Ballroom expert.

Natalie is a four-time Australian Dance Champion. She is from Sydney, Australia. She joined Seven Network's Dancing with the Stars in 2004, partnering athlete Matt Shirvington. She then partnered Ian Roberts, and won the 2006 series with AFL legend Anthony Koutoufides. She then partnered Home and Away actor Tim Campbell, and in 2008 partnered boxer Danny Green.

Natalie competed as a new professional dancer on the seventh series of the original British version of Strictly Come Dancing, partnering Hollyoaks' Ricky Whittle. Lowe joined the show with fellow newcomers Aliona Vilani and Katya Virshilas. After their first dance together in front of the judges, Lowe and Whittle were described by head judge Len Goodman as maybe the most formidable couple Strictly Come Dancing had ever seen. Even so, Lowe and Whittle finished second overall. She competed in the 2010 series partnering Scott Maslen. Her professional partner in this series was New Zealand professional Brendan Cole. Lowe and Maslen were eliminated in the semi-final of the competition along with Gavin Henson and Katya Virshilas.

On 15 June 2011 the BBC announced that Natalie Lowe will again be one of the professional dancers teaching a celebrity in the 2011 series of Strictly Come Dancing. She was partnered with Boxer Audley Harrison, they were the sixth couple to leave. In the 2012 tenth series her partner is former England cricket captain Michael Vaughan.
LIKES & DISLIKES
According to her website, Natalie is:-
1. A huge fan of cooking. "But with my schedule and frequently living out of a hotel room, it can become quite relentless and difficult to enjoy a home-cooked meal, so whenever I get the chance to stay in and cook a meal I do. I am hugely inspired by my parents when it comes to cooking; my dad is very daring, creative and adventurous in the kitchen and I can always turn to my mum for advice with the more traditional dishes, she cooks a great Spaghetti Bolognaise!"

2. Her favourite place is by the water: "Whether I'm relaxing on the beach, surfing, waterskiing, going for a run or playing a game of volleyball. My favourite water-side activity is fishing... I find it hugely therapeutic and relaxing, and I am an ambassador for Okuma ladies pink rods and reels, the proceeds of which go to support the Breast Cancer Foundation."

3. She was an athletics champion at school, but Drama and History were her favourite subjects.

4. Her family is hugely important to her: "One of my on-going goals is to be able to provide support and help to families that are affected by illness, and creating an environment in which they can go to make time for themselves to bring back the strength they need in order to keep their own families strong."
DANCE PARTNERS
Anthony Koutoufides, AFL footballer. Grand final 1st place

Ian Roberts, NRL legend footballer. Grand final 2nd place

Danny Green, World Champion Boxer. Grand Final 2nd place

Tim Campbell, Actor. Semi Final 3rd place

Matt Shirvington, Olympic sprinter. Semi Final 4th place

Ricky Whittle UK Actor in the series Hollyoaks. Grand final 2nd place

Peter Jones, Entrepeneur, star of Dragon's Den. Sport Relief 1st place

Scott Maslen UK Actor in the series EastEnders, Semi Final, 4th place.
LINKS and REFERENCE
BBC Press Release 15 June 2011
Audley Harrison Leaves Strictly Come Dancing
Natalie Lowe at the Internet Movie Database
| | |
| --- | --- |
| Strictly - Youtube | Interview - Youtube |
| Strictly - Youtube | Cha, Cha - Youtube |
---
A heartwarming adventure: Pirate whalers V Conservationists,
with an environmental message.
For release as an e-book in 2013 with hopes for a film in 2015 TBA
(graphic design: Martin House)