UK UNSIGNED is organised by SABA, a UK registered performing arts charity. Over the past 7 years, this charity has become one of the biggest producers of showcases and talent development in the UK. Their aim is to promote and develop unsigned UK based performers, giving them a platform to showcase their skills to the industry.

Since 1999 UK Unsigned has grown from a single showcase, to touring over 100 shows around the country each year. UK UNSIGNED performances take place in all kinds of venues from pubs, community centres and local theatres, through to clubs, major concert venues and festivals. Through their talent show section, they claim to have be the UK's biggest talent quest.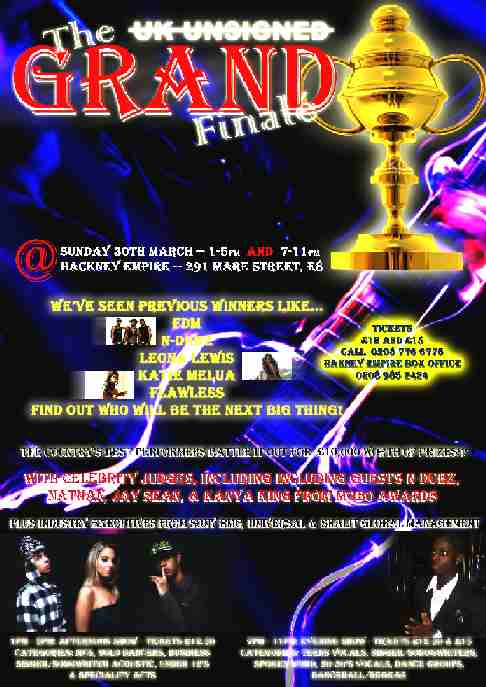 They arrange events and venues such as London Astoria, Respect/Rise Festival, Hackney Empire, Festival of Youth Arts, Luton Carnival and the Bloodstock Metal Festival. We have provided support at major arenas such as the Millennium Dome, Earls Court, Shepherds Bush Empire and Alexander Palace.


UK UNSIGNED includes the following categories:
| | |
| --- | --- |
| Bands | Gospel |
| Bollywood | MCs |
| Comedy | Poets |
| Dance | Promoters |
| DJs | Reggae |
| Fashion | Rock |
| Film | Soca |
| Singer Songwriters | Pop |
| Business | Models |
Our mission statement is to Discover new talent, give them the opportunity to Showcase their skills and help them to Develop their true potential.
If you would like to place your profile on our web site, please click on the REGISTRATION tab on this web site menu, then click as an ARTIST. You will then be able to upload a picture and a sample of one of your tracks. This is FREE of charge.
To enter the UK UNSIGNED competition please follow the instructions on the REGISTRATION tab on our web site menu, and click on PERFORMER. There is a registration fee of £10 per individual & £15 per duo or group. We will then book you in a UK UNSIGNED showcase that is convenient to you.
01, Mar 2008

Stanley Hall, 12 South Norwood Hill, London, SE25, 6pm, UK UNSIGNED Semi-Finals for Singer / Songwriters
UK UNSIGNED Semi-Finals for Singer / Songwriters Live & with Pre-Recorded Backing. We will choose the Top 5 acts in each category to go through to the grand finals on March 30th at the Hackney Empire. Tickets are £10 in advance & £12 on the door

02, Mar 2008

Granville Hall, Granville Rd, Kilburn, London, NW6, 4pm , UK UNSIGNED Semi-Finals for Cover singers aged 12 & Under and Teens
We wil be choosing the best 5 acts in the 12 & Under category and the Teens category. Those chosen will be placed in the Grand Finals at the Hackney Empire onMarch 30th. Tickets are £10 in advance & £12 on the door, Those 12 & under pay £7

08, Mar 2008

Nettlefold Hall, Above West Norwood Library, 1 Norwood High Street, London, SE27, UK UNSIGNED Semi-Finals for Dance Groups & MCs
This is the Semi-Finals for UK UNSIGNED Dancers & MCs where we will choose the best 5 acts in each category for the Grand Finals at the Hackney Empire on March 30th. Tickets are £10 in advance and £12 on the door. Children 12 and Under will pay £7

09, Mar 2008

Granville Hall, Granville Rd, Kilburn, London, NW6, 4pm , UK UNSIGNED Semi-Finals for Cover singers aged 20 - 30 and the Over 30s
We wil be choosing the best 5 acts in the 20 - 30 category and the Over 30s category. Those chosen will be placed in the Grand Finals at the Hackney Empire onMarch 30th. Tickets are £10 in advance & £12 on the door, Those 12 & under pay £7

30, Mar 2008

Hackney Empire, 291 Mare Steet, Hackney, London, E8, 7pm - 11pm
The UK UNSIGNED Grand Finals & Awards will now be held on Sunday 30th March at the Hackney Empire. This will also launch the 2nd annual UK UNSIGNED week which features a week of performances from various categories of unsigned acts. Tikets for the Grand Final are £12 & £15 in advance, more on the door. Special guests to be announced nearer the time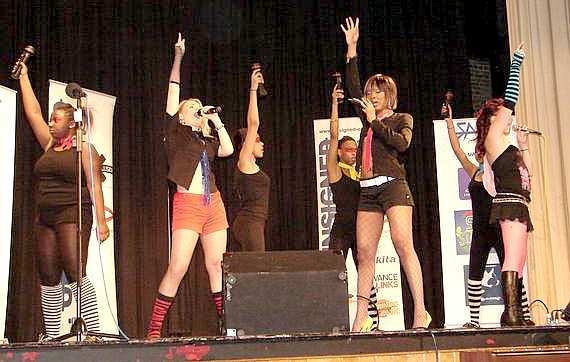 Kismet Girls performing Stalker on stage at UK Unsigned
All registered performers will be entitled to our Performers Support Package. This will help in your development as both a performer and as a small business entity. For more information, please email john@ukunsigned.net or call the SABA office on 0208 776 6776
UK UNSIGNED
C/O: SABA
Unit 1
Resource Business Centre
537 Norwood Road London
SE27 9DL

TEL: 0208 776 6776, 0207 377 8545, 0208 766 5833
FAX: 0208 776 6990
Email: info@ukunsigned.net
---