The Hackney Empire is a theatre on Mare Street, in the London Borough of Hackney, built in 1901 as a music hall.
History

Hackney Empire is a grade II* listed building. The theatre was built as a music hall in 1901, designed by the architect Frank Matcham.

Charlie Chaplin, WC Fields, Stan Laurel and Marie Lloyd all performed there, when the Hackney Empire was a music hall.

ATV bought the theatre to use as studios in the 1950s, and shows such as Take Your Pick and Oh, Boy! were broadcast live from the venue. Some scenes from Emergency - Ward 10 were also filmed there. From 1963 to 1984 the theatre was used by the Mecca Organisation as a bingo hall.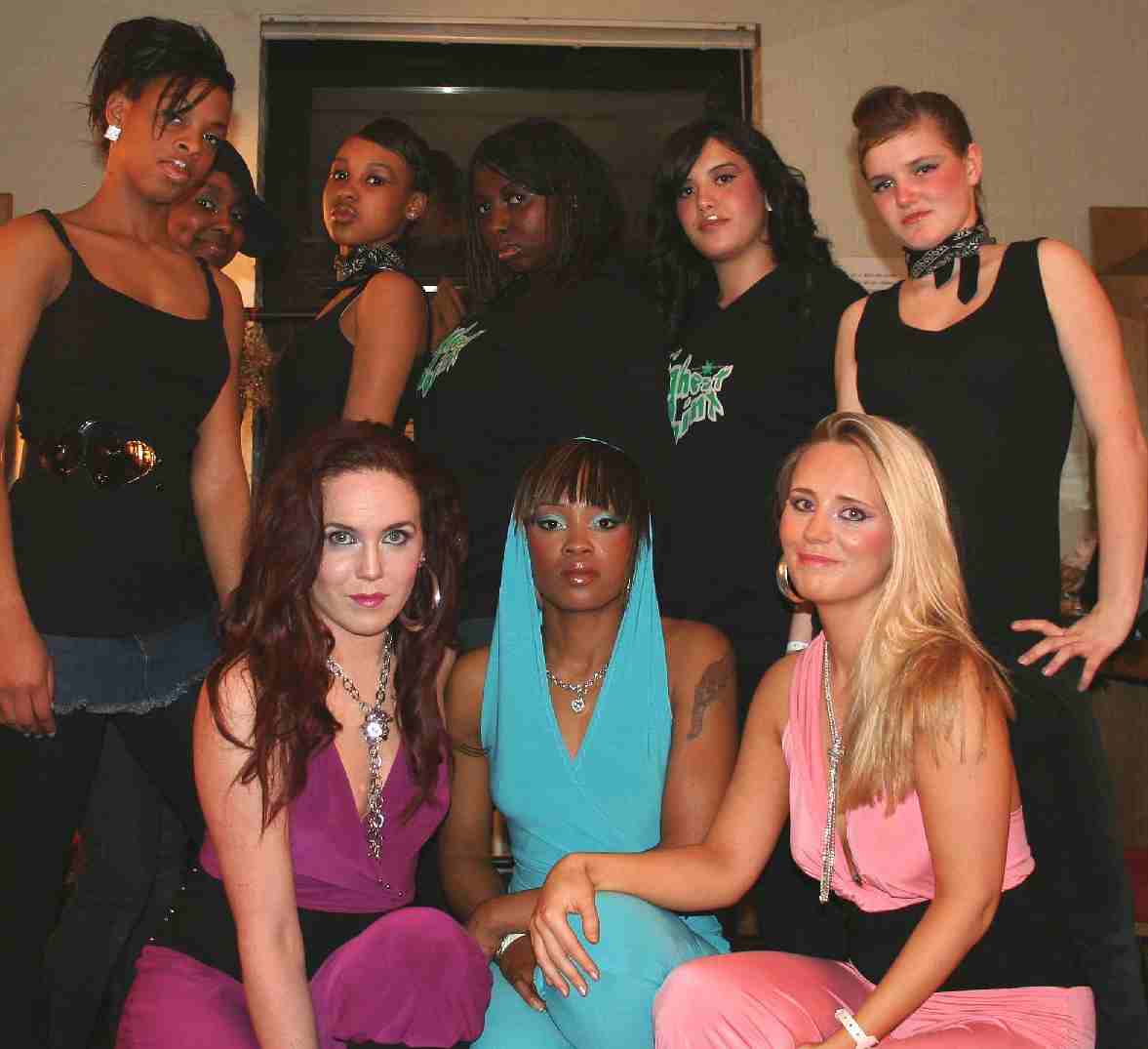 Kismet Girls and support dancers at the Hackney Empire theatre dressing rooms
In 1984 Mecca found the building too expensive to maintain as a bingo hall, and it was offered to C.A.S.T, a satirical touring theatre group, headed by Claire and Roland Muldoon, as a London base. Not only was it used by them, it also mounted successful variety nights headlined by a new breed of alternative comedy acts, such as Ben Elton, Dawn French, and Jennifer Saunders.

The theatre was threatened with demolition, and in 1986, the actor-manager Roland Muldoon mounted a campaign to acquire the freehold and to re-open the Hackney Empire as a permanent performance space. He retired in 2005 and was replaced by Simon Thomsett as Chief Executive.


Stand-up comedy

Hackney Empire was a leading centre in the alternative comedy boom of the 1980s - Ben Elton, Dawn French, Jennifer Saunders, Jeremy Hardy, Mark Steel, Arthur Smith, Jo Brand, Harry Hill, Paul Merton, Harry Enfield, Alan Davies, Bill Bailey and Russell Brand have all performed there, amongst many others.

Arthur Smith hosts the important annual Hackney Empire New Act of the Year competition for up and coming stand-up comedy talent.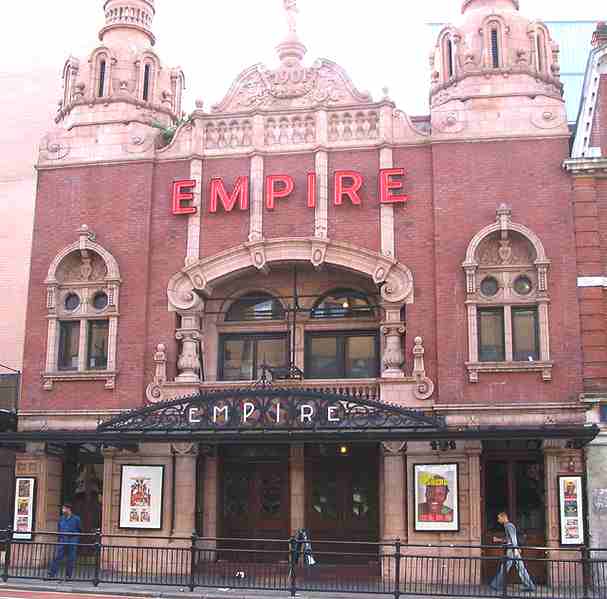 Hackney Empire theatre, London - original listed building


Modern times

The refurbished Hackney Empire built in 1901, retains the original structure, but adds modern facilities (Sept 2005)In 2001, the Empire closed for a £17 million refurbishment project designed by Tim Ronalds Architects, and reopened in 2004 - returned to theatrical use on its 85th birthday. The restoration includes a 60-seat orchestra pit, to make the Empire suitable for opera performance, by companies such as English Touring Opera. Other new facilities include a studio theatre, educational and hospitality facilities; as well as incorporating the former Marie Lloyd public house within the new extension. There are also purpose-built dressing rooms, replacing the original primitive facilities. In addition to Muldoon, the comedian Griff Rhys-Jones led the restoration appeal, with a large donation coming from local businessman Sir Alan Sugar. It has produced an enormously successful and highly regarded panto since the beginning of the current millennium.
The Hackney Empire is situated in the heart of the East End, in the cultural borough for the 2012 games. It is one of London's most important, popular arts complexes. The Hackney Empire strive for the following objectives for audiences and stakeholders:
Be distinctive by presenting a bold, entertaining kaleidoscope of performances and activities that are always striving to be of high quality, accessible, diverse and engaging.

Create a real sense of belonging for all audiences.

Ensure everyone visiting this most fantastic of venues is given the great possible experience.

Become a recognized leader within the industry in offering opportunities for innovation, engagement and dialogue through all forms of theatre.


Patrons

Harold Pinter
Griff Rhys-Jones
Sir Alan Sugar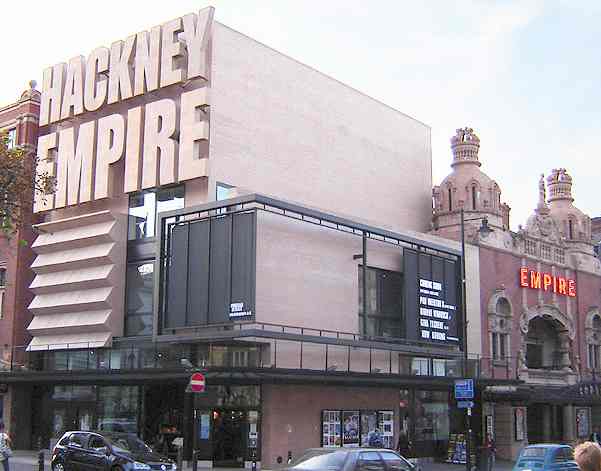 Hackney Empire theatre, London - modern extension building

Transport

The area is well served by buses to all parts of London; the nearest station is Hackney Central on the North London Line.
Contacts

291 Mare Street, London E8 1EJ
Tel. +44 (0)20 8510 4500
Fax. +44 (0)20 8510 4530
Box Office: +44 (0)20 8985 2424
Email: info@hackneyempire.co.uk
Chief Executive:

Simon Thomsett
simon.thomsett@hackneyempire.co.uk
Theatre Administration
Head of Programming: Frank Sweeney
frank.sweeney@hackneyempire.co.uk
Associate Director: Susie Mckenna
susie.mckenna@hackneyempire.co.uk
Head of Finance and Administration: Stuart Shanks
stuart.shanks@hackneyempire.co.uk
Assistant Accountant: Tayo Williams
tayo.williams@hackneyempire.co.uk
Chief Executive's PA: Sarah Norrish
sarah.norrish@hackneyempire.co.uk
Marketing, Communications and Development
Head of Marketing, Communications and Development: Andrew Higgins
andrew.higgins@hackneyempire.co.uk
Marketing Manager: Simon Reilly
simon.reilly@hackneyempire.co.uk
Box Office Manager: Jonathan Christian
jonathan.christian@hackneyempire.co.uk
Press and Media Relations Manager: Allan Watson
allan.watson@hackneyempire.co.uk
Marketing Officer: Ellie Manwell
ellie.manwell@hackneyempire.co.uk
Marketing Assistant: Tony Goodrick
tony.goodrick@hackneyempire.co.uk
Development Manager: Sophie Medd
sophie.medd@hackneyempire.co.uk
Registered in England No. 2060996
Charity Reg No. 1062085/0
VAT Reg No. 454 3752 41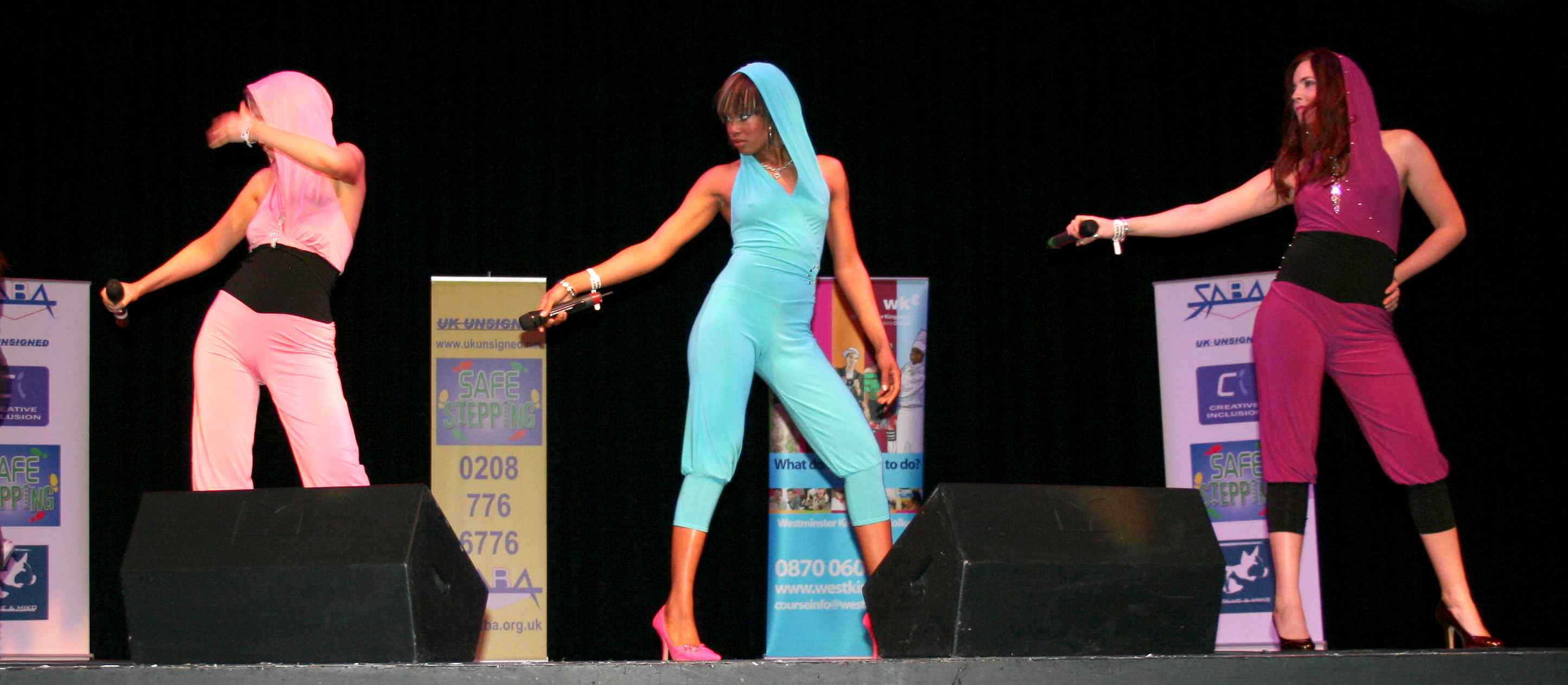 Kismet Girls performing Addictive at the Hackney Empire UK unsigned finals
LINKS and REFERENCE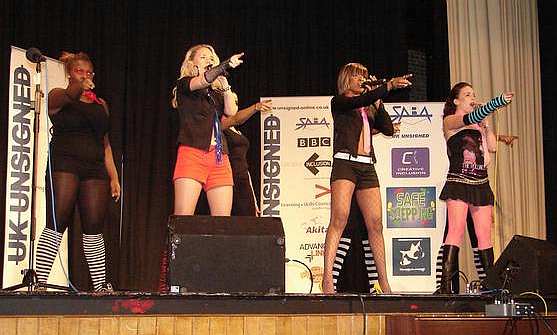 Kismet Girls performing Stalker UK Unsigned competition
---