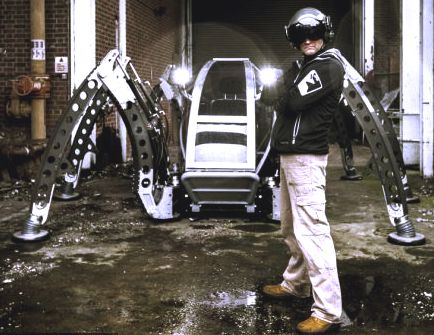 Matt Denton and his 'Mantis' robot was at Bestival in 2012
LOOSE TEA TENT
No matter what instrument you play: Piano, Banjo or Beatbox the 24 hour Loose Tea tent has it all… all the time… all down to YOU! So whether you're a crooner or cellist… poet, break dance or pole dance… come and share anything you like, any time you like or just enjoy a slice of Battenberg or a cup of Lady Grey tea at our café.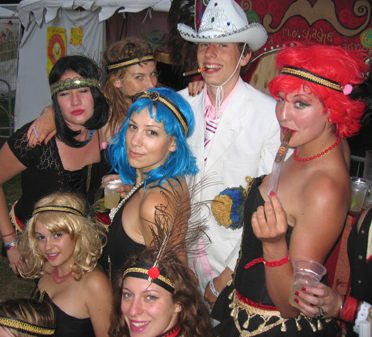 Katherine Hudson (red wig) and her friends at Bestival
Everyday between 3.30 – 6 both am and pm Miss Pink invites you and a fiddling vicar (watch out choir boys) to join her top table for high tea. This groovy granny doesn't just know how to make tea, she can spin tunes too… on her gramophone player, and the Fiddling Vicar's a dab hand at well, fiddling… so come along and bring something to the tea party… like a musical instrument, silly sketch, an oversized teatime offering or your juiciest useless fact which could even win you a jammy treat in the 'Tarts for Trivia' competition…
Other eclectics, you can expect to enjoy are live night time glass blowing demonstrations, cabaret acts, impromptu piano recitals, interactive graffiti painting, karaoke and poetry.
Loose Tea postcards will be on sale as will super-sized biscuit cushions and some divine & delicious teatime offerings at the cafe.
Contact Katherine Hudson on 07941 370241 to book your slot on the stage!
Bestival 2007 Demo Entry
This year Bestival have created a new system that will allow us to listen to all of your great unsigned music and to check out your DJing / VJing skills to see if any of it might bring something extra special to Bestival 2007.

This will be the only way we accept demo submissions this year so please don't send us any CDs.

Bands / Singers: Click here to download the Demo Entry Form for Bands / Singers. Please read the instructions carefully and then fill in the information requested and email back to demos@bestival.net along with an mp3 of your best track.

DJs / VJs: Click here to download the Demo Entry Form for DJs / VJs. Please read the instructions carefully and then fill in the information requested and email back to demos@bestival.net along with a link to a streamed 20 minute DJ / VJ mix.

The reason we have set up this process is because we receive 100s of demos every year and we wanted to ensure we gave them all an equal chance. However, we will not be able to respond to every applicant individually or provide any feedback. If we believe your music is right for Bestival 2007 we will contact you.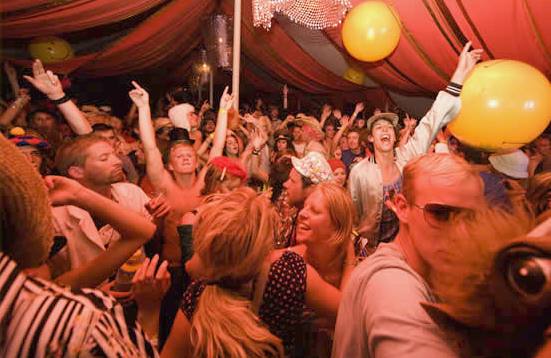 Bestival party tent - Moulin Rouge theme
CONTACTS
Band / DJ / VJ Demo Submissions:
Click here for instructions to send demos to Bestival to be considered for 2007
Stall / Trading Applications:
Please email rosie@rectorylodge.co.uk
Ticketing Enquiries / Problems:
Click here for general info on ticket prices and outlets.
If you need further info or have are having problems with your booking, please call Ticketline on 08700 667753 (or the relevant outlet if you did not buy via this website).
General Enquiries:
hello@bestival.net | 020 7379 3133
Bestival Ltd, 3rd Floor, 25 Denmark Street, London WC2H 8NJ
Bestival PR, Sponsorship & Marketing:
Please contact Get Involved Communications on 020 8962 8040 (option 3)
Marketing & Sponsorship: ziggy@getinvolvedltd.com

National Press: clare@getinvolvedltd.com / holly@getinvolvedltd.com
Regional Press: simon@getinvolvedltd.com

Get Involved Ltd, Unit B, Park House, 206-208 Latimer Road, London W10 6QY
Voluntary Work at Bestival:
Please check back again in March / April 2007
Therapist Applications for Healing Zone:
CLICK HERE to apply.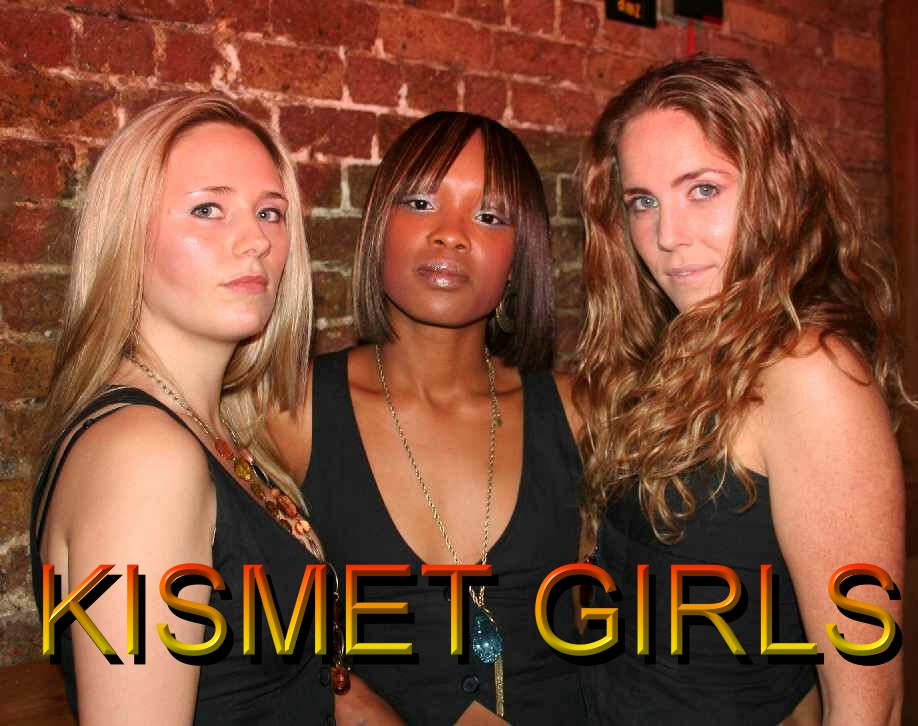 Website founder members: Lera, Mandy and Charley
BESTIVAL ARTISTS A-Z
Beastie Boys, The Chemical Brothers, Primal Scream, The Levellers, The Orb, Billy Bragg, The Maccabees, 2 Many DJ's, The Cuban Brothers, Dub Pistols, Simple Kid, The Noisettes, Gossip, Kid Carpet, 3 Daft Monkeys, Gregory Isaacs, Calvin Harris, Mr Hudson & The Library, Simian Mobile Disco, Bonde De Role, Cagedbaby, Horace Andy, Jah Wobble, Zion Train, Fujiya and Miyagi, Fionn Regan, Daedalus, Ska Cubano, Super Nashwan, Kate Nash, Remi Nicole, The Shakes, Dan le Sac vs Scroobius Pip, Fields, Adjagas, Francois Kevorkian, Gilles Peterson, Tim Westwood, Rob da Bank, David Holmes, Justin Robertson, Erol Alkan, Ben Watt, Andy C, Soul II Soul Soundsytem LIVE!, Bat for Lashes, Candie Payne, Robyn, Marlena Shaw, John Foxx, Kitty Daisy & Lewis, Tunng, Shychild, Foals, Figurines, The Kissaway Trail, Thee Earls, Max Sedgley, Sportsday Megaphone, The Hat, Seasick Steve, Man Like Me, James Lavelle, Annie Mac, Easy Star All Stars, Kid Harpoon, Annie Nightingale, Tim Love Lee, Reverso 68, Jah Shaka, Optimo, Jose Padilla, Xerox Teens, Planning To Rock Aka Janine Rostron...
---
OTHER LINKS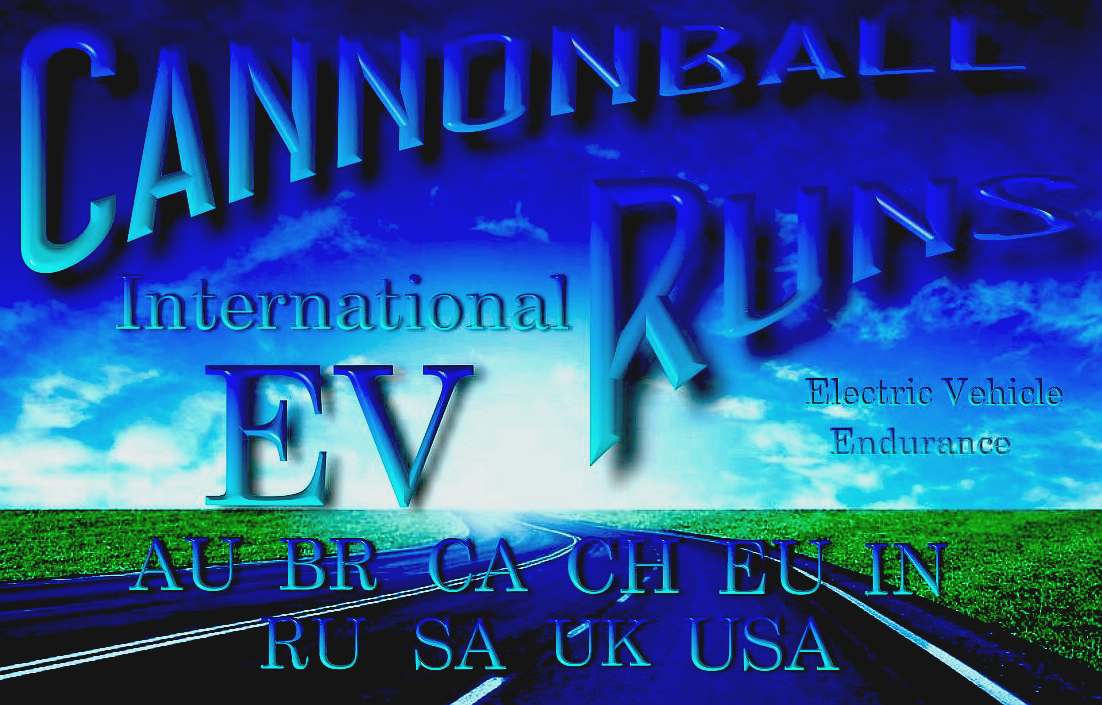 An event for environmentalists around the world.
TRANSPORT
Wightlink - www.wightlink.co.uk/bestival / 0870 582 7744

Red Funnel - www.redfunnel.co.uk/bestival / 0870 444 8898

Hovertravel - www.hovertravel.co.uk / 01983 811000
Wightlink foot passenger 'FastCat' runs from Portsmouth Harbour to Ryde Pier Head in around 15 minutes. Wightlink car and passenger ferries run from Portsmouth to Fishbourne and Lymington to Yarmouth in approx 35 minutes.

Red Funnel passenger/vehicle ferries go from Southampton to East Cowes. The crossing takes approx 50 mins and sailings connect with shuttle buses to the festival. Foot passengers can also travel on the 'Red Jet' service from Southampton to West Cowes which takes approx. 20 mins.

Hovertravel takes 10 minutes to reach the Isle of Wight. Its foot-passenger hovercraft departs Southsea seafront in Portsmouth and travels to Ryde town on the Island.
By Train: South West Trains operate services to Portsmouth Harbour, where you will be metres away from the Wightlink 'FastCat' service, and to Southampton Central where a courtesy bus will take you the short journey to Red Funnel's 'Red Jet' and passenger/vehicle service. Further info at www.nationalrail.co.uk or 08457 484950.
By Coach: National Express is your best bet. Further info from www.nationalexpress.com or 08705 010104.
By Car: To plan your route by car head over to www.theaa.com/travelwatch/planner_main.jsp Its especially important to pre-book your Ferry travel if you are travelling by car!

Robin Hill Country Park,
Newport,
Isle of Wight,
PO30 2NU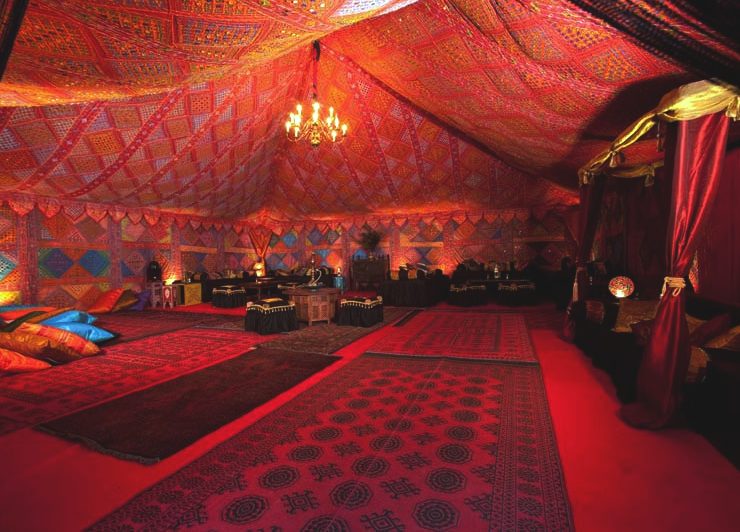 Exotic tents at Bestival
---