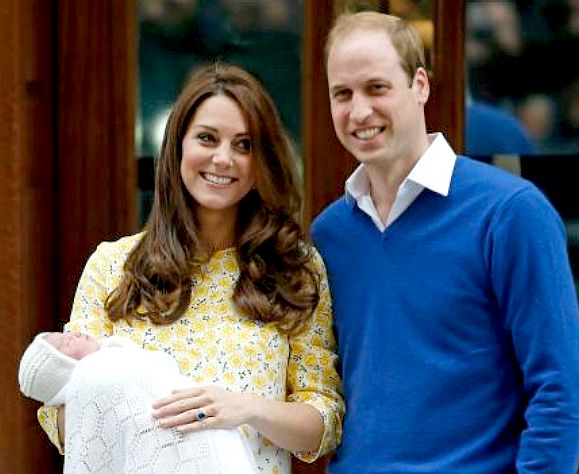 Kate Middleton and Prince William show off the new royal baby; Princess Charlotte. Kate Middleton and Prince William exited St. Mary's Hospital on Saturday 2nd May with their new baby girl and showed her off to throngs of reporters gathered around the facility awaiting the first shot of Her Royal Highness.

The Duchess wore a white silk dress with yellow flowers (Jenny Packham) and Stuart Weitzman heels while she held the pint-sized princess all wrapped up in a white blanket, also wearing a matching white hat. Even at one day old the new Princess is media conscious. The couple stood briefly, waving and smiling, then disappeared through the hospital doors. A few minutes later, they walked out again, boarded their motor carriage, and drove off into the distance.

The duchess was admitted to the Lindo Wing at St. Mary's Hospital's in London in the late hours of Friday, May 1st and after a short three hour labor the baby was born on Saturday, May 2, at 8:34 am BST. Her Royal Highness weighed 8 pounds, 3 ounces. Along with keeping fans updated on Twitter, Kensington Palace announced the birth via email: "The Queen, The Duke of Edinburgh, The Prince of Wales, The Duchess of Cornwall, Prince Harry and members of both families have been informed and are delighted with the news. Her Royal Highness and her child are both doing well."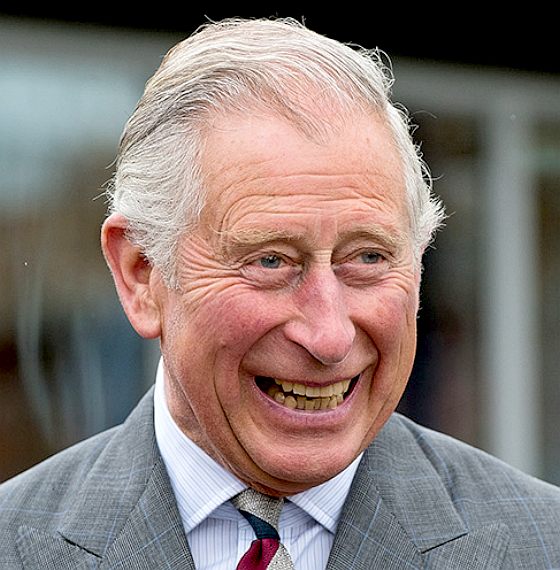 Prince Charles, 66, became a grandfather for the second time on Saturday 2 May 2015. The future King of England is quoted as saying that Charlotte was "very beautiful" during a visit to the Dorset town of Poundbury. Margaret Morrissey chairwoman of the town's management committee is quoted as saying: "I did congratulate Charles on the birth of his granddaughter and told him he needs to bring her here sometime, he told us she was very beautiful."
Prince Charles gave a tremendously uplifting speech during a visit to Washington earlier this year to a gathering of the Global Ocean Commission, where once again he mentioned that as a grandfather he owed it to his grandchildren to try and clean up the oceans.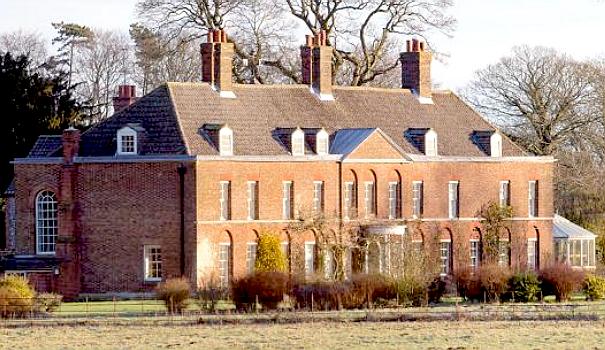 ANMER HALL RETREAT - Kate Middleton and Prince William have been living at Anmer Hall with newborn Princess Charlotte and Prince George. It is reported that this might be because Kate and Prince William are getting no sleep these days, hence the retreat to their English country home, with 11-day-old Princess Charlotte and 21-month-old Prince George. A source close to the royal family is quoted as telling the People that they "don't have any plans other than to have a proper family life."
Caring for a newborn and a toddler is exhausting but Middleton has plenty of help — Prince William took a 2-week paid paternity leave from his job as an air-ambulance pilot (he's returning to work in several days) and Maria Teresa Turrion Borrallo, the couple's nanny (who the family hired in March 2014), is on duty as well. And of course, Kate's parents, Carole and Michael Middleton, have been a fixture in the Anmer home, helping to care for their granddaughter.

"Kate and William won't be hiring a huge entourage to care for their children," Melanie Bromley, chief news correspondent for E! News and E! Online, explained to Yahoo Parenting. "Their parenting style is similar to William's late mother Diana, princess of Wales, who was determined to raise Prince William and Prince Harry as normally as possible. She felt that her responsibility to the crowd and to the commonwealth came second to her job as a mother." Prince William's job will include shift work and hard labor, but his schedule will allow him to spend ample time with his two children. "Charlotte and George will grow up seeing their father not just as a royal, but as a hard worker," said Bromley. "He could have taken a longer paternity leave, but it's a new job and he's committed to it."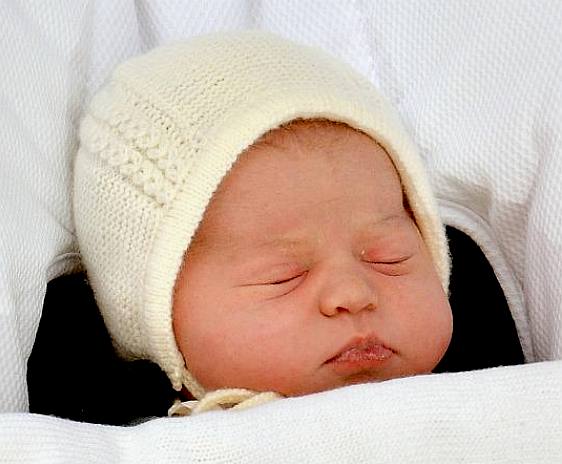 MAY 2 2015
Kate Middleton is in the early stages of labor and has been admitted to St. Mary's Hospital in London, according to an announcement from Kensington Palace sent via email and Twitter.
The Duchess of Cambridge and Prince William arrived at the Lindo Wing of St. Mary's by car, the same hospital where Prince George, Prince William, and Prince Harry were all born. Kate was likely to have been admitted to a private suite with a medical team led by Guy Thorpe Beeston, who helped deliver Prince George in 2013.
Royal expert Victoria Arbiter is quoted as saying: "It will most likely be an intimate scene in the delivery room with Prince William the only immediate family member in attendance, just as he was for the birth of his son. "When Prince Charles was born to Queen Elizabeth II, her husband Prince Philip wasn't in the delivery room but like most modern dads, Prince William will be, as was his own father Prince Charles when William and Harry were born."
Whether the future heir to the throne is a prince or a princess is anyone's guess - and that includes the royal couple. In December 2014 Prince William told President Obama that they wanted the gender of their unborn baby to be "a surprise" although rumors that Middleton is carrying a girl have been swirling since March when the duchess visited her favorite clothing store Amaia in London and, according to People magazine, was "very interested" in the girl's clothing. If the baby is a girl, her grandfather will be happy. Back in September, Charles, Prince of Wales said of the pregnancy, "I'm happy I'm going to be a grandfather again. I'm looking forward to it — but I hope it will be a girl this time," when he was congratulated during a royal event.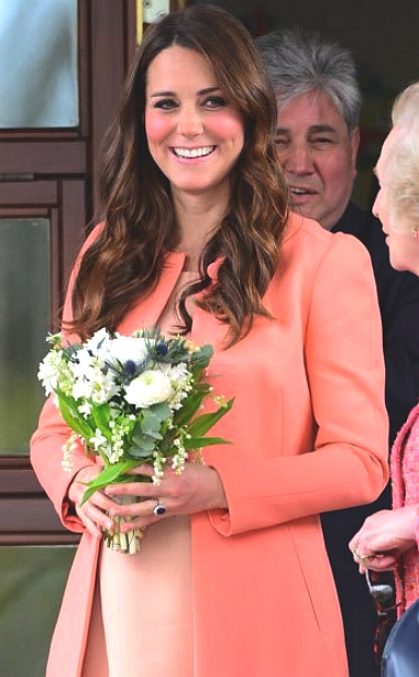 MAY 22 2013 - QUEEN'S SUMMER PARTY
Kate Middleton was the bright spot at Queen Elizabeth II's annual summer garden party on Wednesday, 22nd May in more ways than one. She was dressed in a lemon-yellow Emilia Wickstead coat dress and cream-colored bow fascinator, the seven-months-pregnant Duchess of Cambridge stood out from the crowd of other guests, who clamored for a glimpse of her growing baby bump.

The mother-to-be's tummy has noticeably popped in recent weeks and Kate who is now 31 looked radiant. One onlooker is reported as saying: "She carried her bump elegantly." She also appeared to be in great spirits as she mingled with her father-in-law, Prince Charles, and his wife, Camilla, Duchess of Cornwall, who wore a printed ivory and gray coat with a matching feathered hat for the occasion.

All eyes were on the expectant royal as she made her way around the elegant fete, smiling and chatting with other festively outfitted partygoers. Among the 8,000 invitees were Olympians, Paralympians, and officials from London 2012. Together, they are expected to consume more than 27,000 cups of tea and eat some 20,000 sandwiches and slices of cake.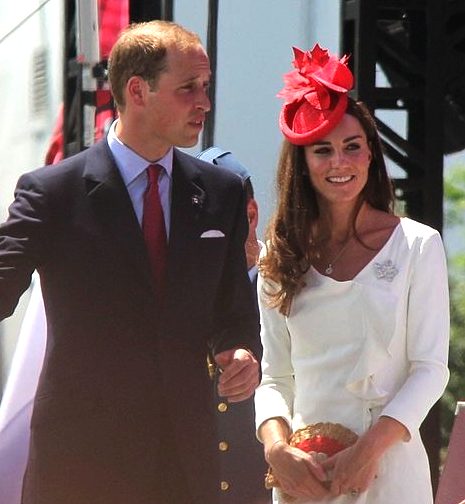 HISTORY
Catherine, Duchess of Cambridge (Catherine Elizabeth "Kate"; née Middleton; born 9 January 1982), is the wife of Prince William, Duke of Cambridge. The Duke of Cambridge is second in line to the thrones, after his father, of the 16 Commonwealth realms and the Duchess is expected to eventually become queen consort.

Catherine grew up in Chapel Row, a village near Newbury, Berkshire, England. She studied Art History in Scotland at the University of St Andrews, where she met the then Prince William of Wales in 2001. Their engagement was announced on 16 November 2010, and she attended many high-profile royal events before they married on 29 April 2011 at Westminster Abbey. Catherine has had a major impact upon British fashion which has been termed the "Kate Middleton effect", and in 2012, she was selected as one of The 100 Most Influential People in the World by Time. On 14 January 2013, St James's Palace announced that the Duchess was expecting her first child in July 2013.


EARLY LIFE

Catherine Elizabeth Middleton was born at Royal Berkshire Hospital in Reading on 9 January 1982 and christened at St Andrew's Bradfield, Berkshire, on 20 June 1982. She is the eldest of three children born to Carole (née Goldsmith), a former flight attendant, and Michael Middleton, who also worked as a flight attendant prior to becoming a flight dispatcher for British Airways. Her parents were married on 21 June 1980 at the Parish Church of Dorney, Buckinghamshire. In 1987, they founded and became owners of Party Pieces, a mail order company that sells party supplies and decorations. Party Pieces is a private company with an estimated worth of £30 million. The Middletons have another daughter, Philippa "Pippa", and a son, James. The family has complained about press harassment of Pippa and Carole since Middleton's engagement.

The Duchess's paternal ancestors were from Leeds, West Yorkshire. Her paternal great-grandmother Olive was a member of the Lupton family, who, for a number of generations, were Leeds-based woollen cloth merchants and manufacturers and who were also active in civic affairs. Her maternal ancestors, the Harrisons, were working-class labourers and miners from Sunderland and County Durham.

Michael and Carole Middleton worked for British Airways in Amman, Jordan from May 1984 to September 1986. In Jordan, Middleton went to an English language nursery school before returning to their home in Berkshire. Following her return from Amman, Middleton was enrolled at St Andrew's School near the village of Pangbourne in Berkshire, then briefly at Downe House. She attended Marlborough College, a co-educational independent boarding school in Wiltshire, and graduated in 2005 from the University of St Andrews in Fife, Scotland, with an undergraduate MA (2:1 Hons) in the History of Art.

She supports Premier League football team Reading F.C.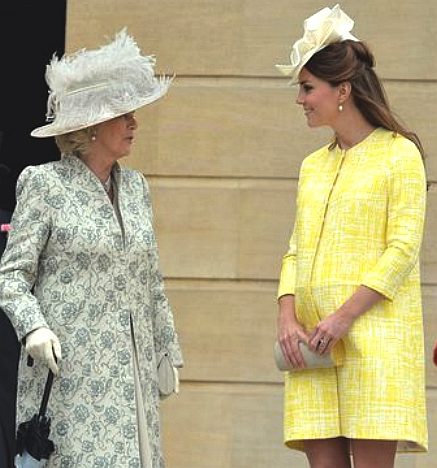 CAREER

In November 2006, Middleton accepted a position as an accessory buyer with the clothing chain Jigsaw. She also worked part-time until January 2011 as a catalogue photographer, webpage designer and marketing officer for her parents' firm Party Pieces. Despite this, at one point she was nicknamed "Waity Katie" by the media for her apparent lack of work ethic and seeming lack of desire to work, in preference for awaiting a wedding proposal.

In 2008, it was reported that she had quit her job at Jigsaw to become a professional photographer, intending to take private classes with photographer Mario Testino, who had taken several well-known photographs of Diana, Princess of Wales, and her sons. Testino later denied that Middleton was going to be working for him.


PUBLIC IMAGE

Catherine became prominent for her fashion style and has been placed on numerous "best dressed" lists. She was selected by The Daily Telegraph as the "Most Promising Newcomer" in its 2006 list of style winners and losers. Tatler placed her at number 8 on its yearly listing of the top ten style icons in 2007. She was featured in People magazine's 2007 and 2010 best-dressed lists. Middleton was named as one of Richard Blackwell's ten "Fabulous Fashion Independents" of 2007. In June 2008, Style.com selected Middleton as their monthly beauty icon. In July 2008, Middleton was included in Vanity Fair's international best-dressed list. In February 2011, she was named the Top Fashion Buzzword of the 2011 season by the Global Language Monitor. In January 2012, she was voted 'Headwear Person of the Year'. Middleton was number one on Vanity Fair's annual Best Dressed lists in 2010, 2011 and in 2012 also its cover star. She was awarded the accolade of 'Best Celebrity Smile' in May 2012 after placing first in a poll by Bupa.

The Duchess is known for mixing couture pieces, often by British designers, with 'High Street' retail fashion. Designers worn by Middleton include Sarah Burton at Alexander McQueen, Issa; Jenny Packham; Beulah London; Alice Temperley; Erdem; Burberry; and Catherine Walker. High street labels worn by Middleton include Reiss, Zara and L.K.Bennett.
WEDDING DRESS & TIARA - Kate looked absolutely beautiful in her ivory and satin Alexander McQueen. She accessorized the look wonderfully and we all agree she was an impeccably beautiful bride. Of course, nothing signals a royal wedding like a tiara, and if a future queen cannot wear one on her wedding day, who can? Kate looked regal in the Cartier 'Halo' Tiara lent to her by the Queen.

The 'Halo' Tiara was made by Cartier in 1936 and purchased by HRH The Duke of York (later King George VI) for his wife HRH The Duchess of York (later Queen Elizabeth). The tiara is formed as a band of 16 graduated scrolls set with 739 brilliants and 149 baton diamonds. The Duchess of York only wore it once publicly before becoming Queen Consort and moving on to larger and more opulent pieces.

The tiara was presented to Princess Elizabeth (now HM The Queen) by her mother on her 18th birthday, however she has never worn it publicly and like her mother, is said not to have been terribly fond of it. The tiara has been loaned out on many occasions to Princess Margaret and Princess Anne over the years, before their own collections grew.
RELATIONSHIP WITH PRINCE WILLIAM

In 2001, Middleton met Prince William while they were students at the University of St. Andrews. The couple began dating as early as 2002, although their relationship remained unconfirmed. On 17 October 2005, Middleton complained through her lawyer about harassment from the media, stating that she had done nothing significant to warrant publicity. In February 2006, it was announced that Middleton would receive her own 24-hour security detail supplied by the Royalty Protection branch (SO14). Many speculated that she and Prince William would soon be engaged, since she would not otherwise be entitled to this service.
No engagement was forthcoming and Middleton was not granted an allowance to fund this security. Media attention increased around the time of her 25th birthday in January 2007, prompting warnings from both The Prince of Wales and Prince William and from Middleton's lawyers, who threatened legal action. Two newspaper groups, News International, which publishes The Times and The Sun; and the Guardian Media Group, publishers of The Guardian, decided to refrain from publishing paparazzi photographs of her. Middleton attended at least one event as an official royal guest: Prince William's Passing Out Parade at the Royal Military Academy Sandhurst on 15 December 2006.

On 17 May 2008, Middleton attended the wedding of Prince William's cousin Peter Phillips to Autumn Kelly, which the prince did not attend. On 19 July 2008, she was a guest at the wedding of Lady Rose Windsor and George Gilman. Prince William was away on military operations in the Caribbean, serving aboard HMS Iron Duke. In 2010, Middleton pursued an invasion of privacy claim against two agencies and photographer Niraj Tanna, who took pictures of her over Christmas 2009. She obtained a public apology, £5,000 in damages, and legal costs.


BREAKUP & RECONCILIATION

On 14 April 2007, The Sun newspaper broke a "world exclusive" suggesting that Prince William and Middleton had split up. Other media outlets, such as the BBC, confirmed the story as the day progressed. The couple decided to break up during a holiday in the Swiss resort of Zermatt. Clarence House made only one comment about the relationship's end, according to The Times, stating, "We don't comment on Prince William's private life". Newspapers speculated about the reasons for the split, although these reports relied on anonymous sources.

The original report in The Sun quoted a "close friend of the couple" as saying that Middleton felt Prince William had not been giving her enough attention. The paper highlighted reports that Prince William had been spending time with other young women and said the Prince, aged 24 at the time of the split, felt he was too young to marry. A report in the Daily Mail blamed a desire by royal courtiers not to "hurry along" a marriage announcement, and Prince William's desire to enjoy his bachelor status within his Army career. The Mail also suggested that a friend of Prince William's encouraged the Prince to take a "careless approach" to relationships. The same article suggested that Middleton had "expected too much" in wanting Prince William to demonstrate his commitment to her.

In June 2007, Middleton and Prince William insisted they were "just good friends" following reports of a reconciliation. Middleton and her family attended the Concert for Diana at Wembley Stadium, where she and Prince William sat two rows apart. The couple were subsequently seen together in public on a number of occasions and several news sources, including the BBC and the Daily Mail, stated that they had "rekindled their relationship". She also joined Prince William and the Prince of Wales on a deerstalking expedition at Balmoral and attended the wedding of Prince William's cousin, Peter Phillips, even though Prince William, due to a prior commitment, did not. In April 2008, Middleton accompanied Prince William when he was awarded his RAF wings at the Royal Air Force College Cranwell. On 16 June 2008, she attended Prince William's investiture into the Order of the Garter, along with the Royal Family.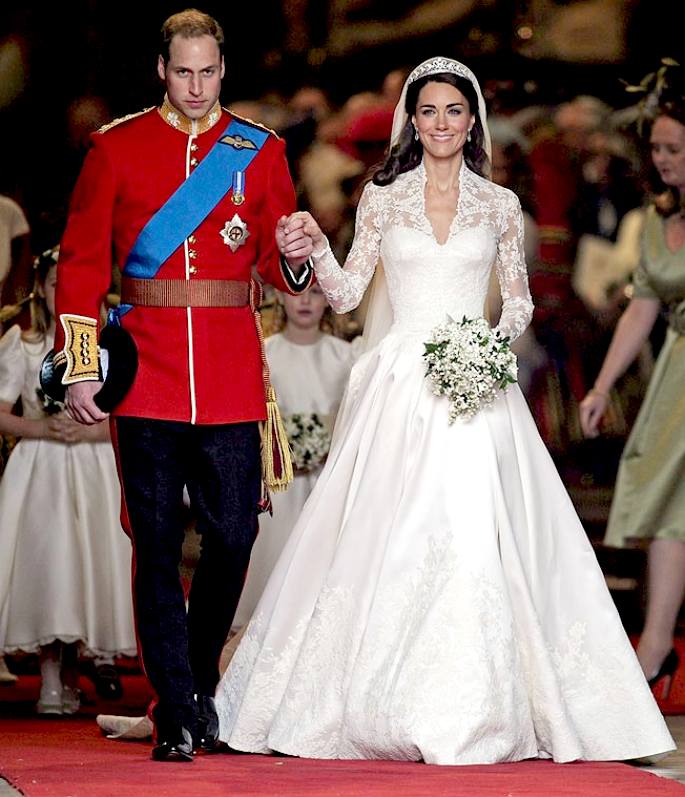 NUMBER ONE WEDDING DRESS APRIL 2011 - Possibly the number 1 wedding dress has to be that worn by Kate Middleton back at the royal wedding. The dress, designed by Sarah Burton, was decorated with delicate lace appliqué flowers and was handcrafted using the Carrickmacross lace-making technique. Being the most talked about dress of the year and representing a new era for the house of McQueen, this deserves to be ranked at No. 1.

ENGAGEMENT & MARRIAGE

Prince William and Catherine Middleton became engaged in October 2010 in Kenya, during a 10-day trip to the Lewa Wildlife Conservancy to celebrate Prince William's passing his RAF helicopter search and rescue course. Clarence House announced the engagement on 16 November 2010. Prince William gave Middleton the engagement ring that had belonged to his mother, Diana, Princess of Wales. He said about his decision to give his fiancée his mother's ring, "It's very special to me. As Kate's very special to me now, it was right to put the two (Catherine and Diana) together. It was my way of making sure my mother didn't miss out on today and the excitement, and the fact that we're going to spend the rest of our lives together." The couple married in Westminster Abbey on 29 April 2011, (St. Catherine's Day) with the day declared a bank holiday in the United Kingdom of Great Britain and Northern Ireland. Estimates of the global audience for the wedding ranged around 300 million or more, whilst 26 million watched the event live in Britain alone.

In October, several months after the wedding, Commonwealth leaders pledged that they would implement changes in British royal succession law to allow daughters of future monarchs to have equal rights to the throne.


FIRST PREGNANCY

On 3 December 2012, St James's Palace announced that the Duchess is pregnant with her first child. The announcement was made earlier in the pregnancy than is traditional because she had been admitted to King Edward VII's Hospital Sister Agnes suffering from a hyperemesis gravidarum where she remained for three days. On 14 January, St James's Palace announced that the child is due to be born in July 2013 and that the Duchess's condition is improving.

In January 2013, the Queen issued new letters patent enabling all children of the eldest son of the Prince of Wales to enjoy the princely title and style of Royal Highness, as opposed to only the eldest son.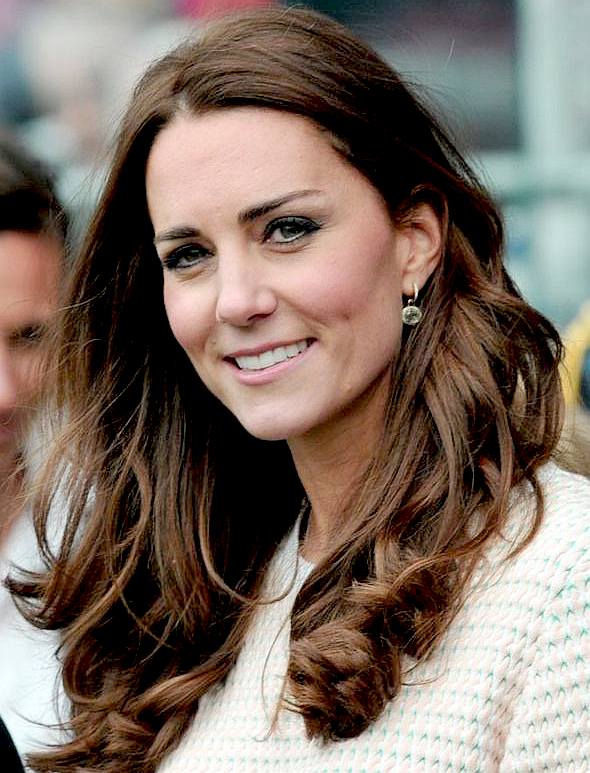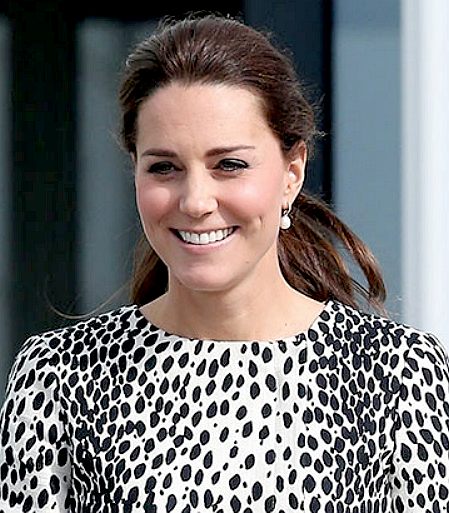 11 MAY 2015 - The Duchess of Cambridge, née Kate Middleton, wrote a heartfelt letter in support of Children's Hospice Week. Just days after welcoming her daughter Princess Charlotte, the doting mum took the time to write a letter in support of the cause.

"For families of children with life-limiting conditions, every moment is precious and every memory needs to be cherished and celebrated," the letter from Kensington Palace said. "Children's hospices strive to create happy moments in the most difficult times any family could face. "I hope you will join me in supporting Children's Hospice Week and work to make every moment count for all of our families."

The letter was released by charity Together for Short Lives which leads Children's Hospice Week from 11-17 May. Barbara Gelb OBE, CEO of Together for Short Lives is quoted as saying: "Children's Hospice Week this year is all about helping children and families make the most of the time they have together. "The campaign raises awareness about all the important services supporting these families and how they focus on life – however short it may be."
ROYAL DUTIES

Middleton was formally introduced to public life on 24 February 2011, two months before the wedding, when she and Prince William attended a lifeboat-naming ceremony in Trearddur, Anglesey, in North Wales. A day later they appeared in St Andrews to launch the university's 600th anniversary celebrations. On 16 February 2011, Clarence House announced that the Duke and Duchess's first royal tour of Canada would take place in July 2011.

In May 2011, shortly after the wedding, Clarence House announced that the Duke and Duchess would extend their tour to visit California. This was to be the Duchess of Cambridge's first visit to the United States.

The Duchess's first official engagement after the wedding came in May, when she and her husband met with Barack Obama, the President of the United States, and First Lady Michelle. In June 2011, the Duke and Duchess presented medals to members of the Irish Guards.

On 26 October, Kate undertook her first solo event for In Kind Direct, stepping in for the Prince of Wales who was in Saudi Arabia. On 2 November, the Duke and Duchess of Cambridge visited the UNICEF Supply Division Centre for supplying food to malnourished African children in Copenhagen, Denmark.

On St Patrick's day, 17 March 2012, the Duchess carried out the traditional awarding of shamrocks to the Irish Guards at their base in Aldershot; this was her first solo military engagement. On 19 March she gave her first speaking engagement for the opening of the Treehouse, a new children's hospice opened by EACH, a charity of which she is a patron.

The Duchess has involved herself with the charities supported by her husband and his brother, Prince Harry. On 29 September 2011, the Duchess officially became a patron of The Foundation of Prince William and Prince Harry. In November 2011, April 2012 and November 2012, she and the Duke attended the biannual Princes' Charities Forum, which unites the various charitable interests of the two princes.[85][86] In June 2012, The Foundation of Prince William and Prince Harry was renamed The Royal Foundation of The Duke and Duchess of Cambridge and Prince Harry, to reflect Catherine's contribution to the charity.

The Duke and Duchess were announced as Ambassadors for the 2012 Summer Olympics in London, alongside Prince Harry. The Duchess attend both the Opening and Closing Ceremonies of the Olympics. On 29 August 2012, the Duchess attended the Paralympic Opening Ceremony accompanied by her husband, the Duke of Cambridge. As part of her role, the Duchess attended numerous sporting events throughout the games.

In September 2012, the Duke and Duchess embarked on a tour of Singapore, Malaysia, Tuvalu and the Solomon Islands as part of the Royal Jubilee celebrations. During this overseas visit, the Duchess made her first official speech abroad, while visiting a hospice in Malaysia, drawing on her experience as patron of East Anglia's Children's Hospices.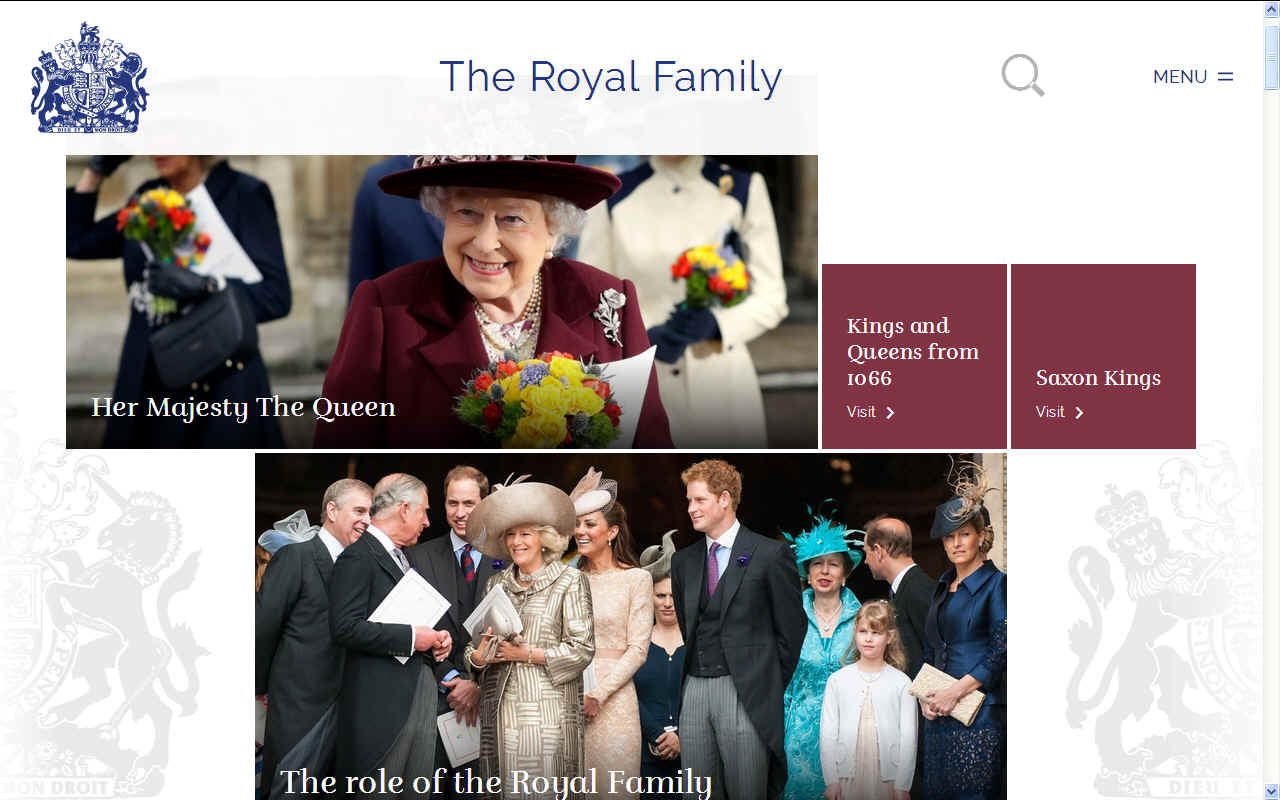 PATRONAGES

In March 2011, William and Catherine set up a gift fund held by The Foundation of Prince William and Prince Harry to allow well-wishers who want to give them a wedding gift to donate money to charities they care about instead. The gift fund supported 26 charities of the couple's choice, incorporating the armed forces, children, the elderly, art, sport and conservation. These causes are close to their hearts and reflect the experiences, passions and values of their lives so far.

In January 2012, the Duchess announced the first charities which she would support. These are:

* The Art Room
* The National Portrait Gallery, London
* East Anglia's Children's Hospice
* Action on Addiction

She will also be a local volunteer leader with The Scout Association in north Wales.

In October 2012, the Duchess gave her royal backing to the M-PACT programme (Moving Parents and Children Together), one of the only UK programmes to focus specifically on the impact of drug addiction on families as a whole.

Her first official portrait was unveiled at the National Portrait Gallery in January 2013, meeting mixed reviews from both critics and audiences.

In April 2013, the Duchess added three new patronages:

* Place2Be
* Natural History Museum
* SportsAid

The Natural History Museum is a patronage formerly held by her later mother in law, Diana, Princess of Wales.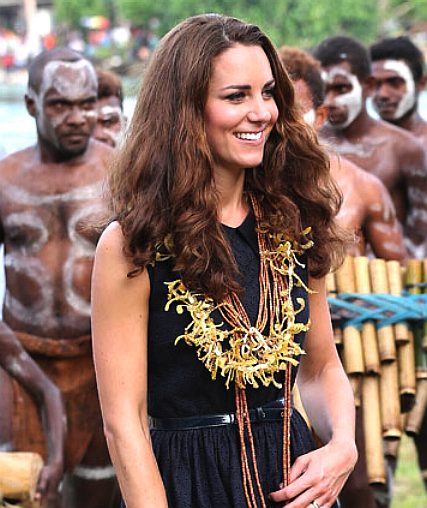 PRIVACY VIOLATIONS

In 1997, William's mother, Diana, Princess of Wales, had died in a road accident in Paris while being pursued by paparazzi. This incident has influenced the Duke's hostility towards intrusive media attention. Both the Duchess and her husband have been clear that when off-duty, their privacy should be respected, yet the media, at times, has violated the couple's wishes.

In 2009, before her engagement to William, Middleton was awarded £10,000 damages and an apology from the photographic press agency Rex Features Ltd after she was photographed playing tennis on Christmas Eve when on holiday in Cornwall.

On 13 September 2012 it was reported that the French edition of "la presse people" magazine Closer and that the Italian gossip magazine Chi, had both published photographs of the Duchess sun-bathing topless while on holiday at the Château d'Autet (a private château on a 260-ha estate some 71 km north of Aix-en-Provence). Analysts from The Times believe that the photograph was taken from the D22 (Vaucluse) road from a distance of 500 m from the pool – a distance that would require a 800-mm or a 1000-mm lens. On 17 September 2012, the couple laid a criminal complaint to the French Prosecution Department and launched a claim for civil damages at the Tribunal de Grande Instance de Nanterre; the following day the courts granted an injunction against Closer prohibiting further publication of the pictures and also announced that a criminal investigation would be initiated. Under French law, punitive damages cannot be awarded but such intrusions of privacy are a criminal offence carrying a maximum jail sentence of one year and a fine of up to €45,000 for individuals and €225,000 for companies.

In December 2012, Australian radio hosts Michael Christian and Mel Greig called King Edward VII's Hospital Sister Agnes where the Duchess was an in-patient for hyperemesis gravidarum. Pretending to be the Queen and the Prince of Wales, Greig and Christian telephoned the hospital and spoke to a nurse, enquiring about the Duchess's condition. Following a hospital inquiry and a public backlash against the hoax, the nurse who put the call through, Jacintha Saldanha, committed suicide. The Australian radio hosts subsequently apologised for their actions.

In February 2013, Italian gossip magazine Chi published the first photos of Catherine's exposed baby bump, taken during her vacation on the private island of Mustique. The British press have refused to publish the paparazzi shots out of respect for the couple. This is the second breach of privacy by Chi, the magazine that published the Duchess's topless photographs in September 2012.


POPULAR CULTURE

Following international attention regarding the wedding, Lifetime aired a TV movie entitled William & Kate on 18 April 2011, in the US. The film premiered in the UK on 24 April 2011. Middleton was played by Camilla Luddington and Prince William by Nico Evers-Swindell. TV programmes were also shown in the UK prior to the wedding which provided deeper insights into the couple's relationship and backgrounds, including When Kate Met William and Channel 4's Meet the Middletons.

A second TV movie was produced that covers similar ground to William & Kate. That movie, titled William & Catherine: A Royal Romance and filmed in Bucharest, stars Alice St. Clair as Kate Middleton and Dan Amboyer as Prince William. Of note in this second television movie is the appearance of Jane Alexander as the Queen and Alias alum Victor Garber as the Prince of Wales. The movie aired 27 August 2011 in the United States on the Hallmark Channel.


TITLES, HONOURS, ARMS
9 January 1982 – 29 April 2011: Miss Catherine Elizabeth Middleton
29 April 2011 – present: Her Royal Highness The Duchess of Cambridge
in Scotland: 29 April 2011 – present: Her Royal Highness The Countess of Strathearn

Catherine's full title and style is Her Royal Highness Princess William, Duchess of Cambridge, Countess of Strathearn, Baroness Carrickfergus.

Unlike the majority of royal brides, and in contrast to most previous consorts-in-waiting for over 350 years, Catherine's immediate family are neither aristocratic nor royal. On the morning of their wedding day on 29 April 2011, at 8:00 am, officials at Buckingham Palace announced that in accordance with royal tradition and on recognition of the day by the Queen, Prince William was created Duke of Cambridge, Earl of Strathearn and Baron Carrickfergus.
| | |
| --- | --- |
| Wiliam & Kate proposal - Youtube | Catherine's baby bump - Youtube |
Many people believe that the Monarchy is an outdated institution, where the Queen, as Head of State has proven herself to be ineffective in making the UK a decent and moral place to live - such as providing affordable housing for young families starting out in life. For example, Britain is held to be the most corrupt country in the world, and no Prime Minister has done anything about stopping London being the drug money laundering capital of the world. Is it not time for a Written Constitution to replace the fickle royals who refuse to sack Prime Ministers who lie to them. What qualifies a royal to lead a country, when they don't have qualifications in economics or administration. The Honours System is also corrupt, where ware criminals like Tony Blair, get knighted for invading a country on bogus intelligence and killing millions of people.
We should be aiming for Zero Pollution and Zero Growth, for a sustainable future planet with a truly Circular Economy.
LINKS & REFERENCE
Hello magazine royalty 2015 Kate-supports-childrens-hospice-week
kate middleton plays up pregnant bump at queen elizabeths garden party pictures
Hello magazine 8 May 2015 Prince Charles says Princess Charlotte is beautiful
http://www.hellomagazine.com/tags/kate-middleton/
http://www.hellomagazine.com/royalty/2015051125137/kate-supports-childrens-hospice-week/
https://twitter.com/kensingtonroyal
http://www.mirror.co.uk/news/uk-news/kate-middleton-live-pregnant-duchess-1904382
http://www.hellomagazine.com/royalty/2015050825106/prince-charles-princess-charlotte-beautiful/
http://hollywoodlife.com/2013/05/22/kate-middleton-baby-bump-showing-yellow-dress/
http://en.wikipedia.org/wiki/Catherine,_Duchess_of_Cambridge