CHOREOGRAPHY
Choreography (literally "dance-writing", also known as "dance composition"), is the art of making structures in which movement occurs. The term composition may also refer to the navigation or connection of these movement structures. The resulting movement structure may also be referred to as the choreography. People who create choreographies are called choreographers.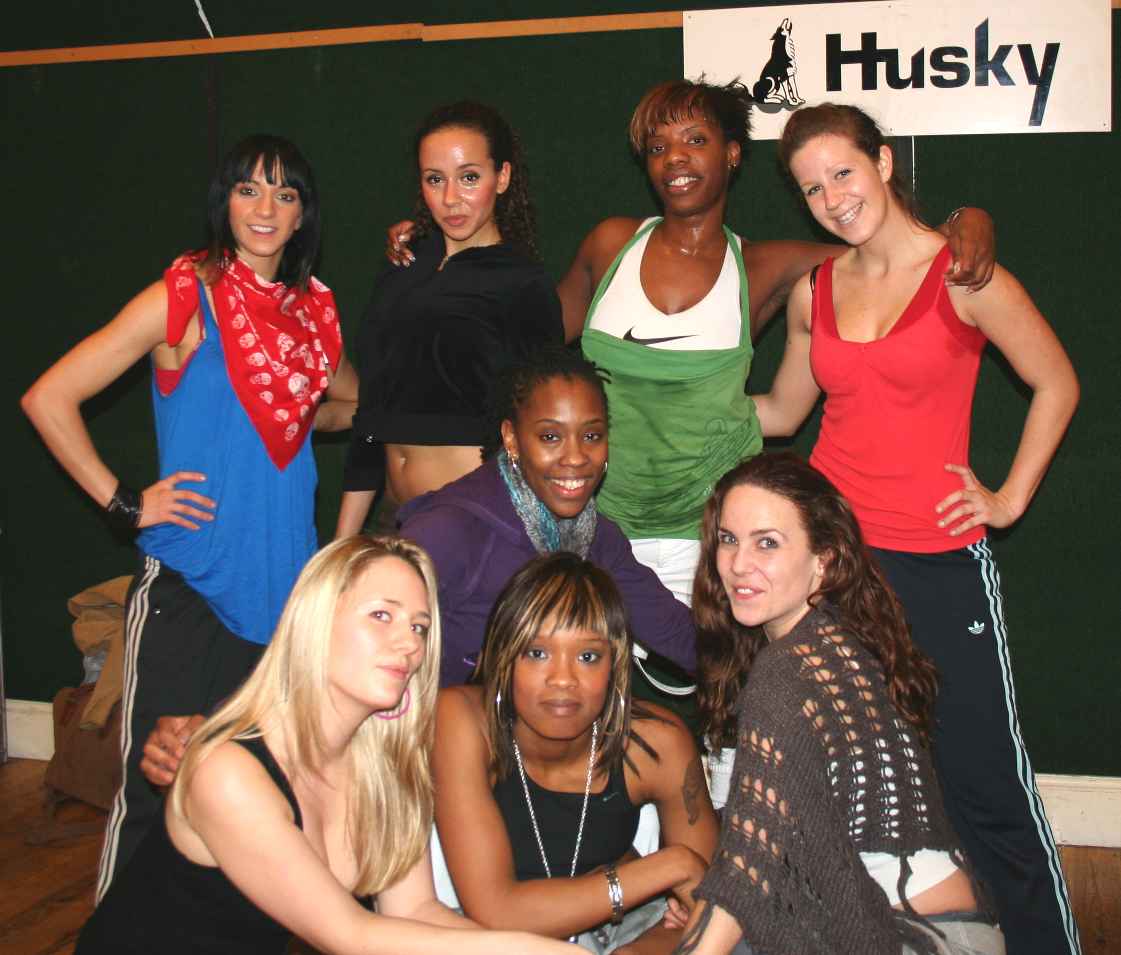 The Kismet Girls (foreground) with Marsha Carrington (centre) Choreographer
and dancing troupe (standing)
ORIGIN

The term choreography first appeared in the American English dictionary in the 1950s. Prior to this, movie credits normally stated "Ensembles Staged by", "Dances", "Dance Director", "Dances Staged by", "Musical Numbers Directed by",or "Musical Numbers Staged and Directed by". Choreographers often improvize to find what works best musically.
TECHNIQUES - IMPROVISATION
Dance improvisation is the creation of improvised movement and is usually associated with 20th century concert dance but is not exclusive to that genre.

Development of improvised movement material is facilitated through a variety of creative explorations including:
body mapping

body mind centering

levels, shape and dynamics (see Laban Movement Analysis)

sensory experiences

touch / contact improvisation

perceptual schema
Contrary to popular belief dance improvisation is not about creating new movement but freeing the body from habitual movement patterns (see Postmodern dance and Judson Dance Theater). Dancer and choreographer Michael Jackson combines improvisation in both of those definitions, insisting that he has interest in performing a dance to Billie Jean only if he can do it by a new way each time.

Some of the developed dances stress their improvisational nature. For example, Argentine Tango is an improvisational dance despite what you see on stage. Improvisation is greatly encouraged and taught. Tango surroundings support directing the dance toward more improvisation: tight crowds, reach rhythmic patterns in music, a new partner every dance, a reach vocabulary of moves. Many Tango performers while on stage dance improvisation only. Great improvisation abilities are a must in reaching the height of popularity.
There are methods of improvisation in Tango that are taught. Belly dance is one of the most commonly improvised dances, since having live bands to dance to often change songs every time that they're performed. Professional belly dancers sometimes dance publicly 6 nights a week, up to three times a night, and simply do not have the time to choreograph for the 15-60 minutes a night that such performing requires. American Tribal Style type belly dancing is built entirely upon improvisation in a group setting.



QUOTES

some movement improvisation artists and theorists, (eg: Steve Paxton, Bonnie Bainbridge-Cohen, Simone Forti) as specialists of the phenomenology and aesthetics of human movement have reached theoretical and practical insights about human interaction and embodiment that are closely related to the ones that are found recently in the fields of artificial intelligence (embodied robotics), cognitive science (embodied cognition) and new biology (self-organization and emergence). - Barrios Solano, M. (2004)
TECHNIQUES - CONTACT IMPROVISATION
Contact improvisation (CI) is a dance technique in which points of physical contact provide the starting point for movement improvisation and exploration. Contact Improvisation is a form of dance improvisation and is one of the best-known and most characteristic forms of postmodern dance.


HISTORY

Contact Improvisation's earliest roots lie in the 1972 explorations of a group of dance students under the leadership of Steve Paxton. Many of the those in Paxton's initial group were from Bennington College and Oberlin College. Today Contact Improvisation is practiced with a variety of intentions, having expanded ideologically beyond Paxton's early work. However, the core of Paxton's original work remains as a basis, expressed or not, of most if not all of Contact Improvisation's current forms. For instance, Contact Improvisation has been used by artists, performance artists, and dancers. It has been used in sensitivity trainings and in dance therapy. It has also been the subject of college dance courses, graduate level degree theses and scholarly books.

The first performance work recognized as Contact Improvisation is Steve Paxton's Magnesium (1972) which was performed by Paxton and dance students at Oberlin College. Five months after Magnesium Paxton led the first Contact Improvisation performance series at the John Weber Art Gallery in New York City where dancers performed Contact Improvisation in marathon fashion on mats in the middle of an art gallery surrounded by the paintings on display. The ongoing dance was presented as part of the galleryís installation.

The following excerpt, reproduced with permission, is from the Master's thesis of Gretchen Spiro, "Moving Together a Dance Therapy Approach to Working With Couples."

"CI originated from the movement studies of Steve Paxton beginning in 1972 at Oberlin College in Ohio. There he created a dance piece titled "Magnesium," which is considered the seminal exploration of CI. In Magnesium, 11 men threw themselves through the space at one another. The piece ended with the dancers coming to standing and remaining for the last few minutes in stillness. The stillness was a meditation on physical awareness and standing balance Paxton called 'The Small Dance.'

"Since that first exploration, Paxton worked with dancers and athletes to develop movement pathways and an improvisational style of dance based on the physics of bodies in contact, in motion. Influences in the physical practice include post-modern dance, aikido, and gymnastics. Improvisers discovered various ways to lift, roll, fall, and support one another. Performances followed, informally presenting what became known as Contact Improvisation.

"In 1973, some members of the initial group of [dancers] went to California to tour a series of performances they called "You Come, Weíll Show You What We Do." The group was comprised of Steve Paxton, Nancy Stark Smith, Nita Little, and Curt Siddall. The improvisational dances were typically performed in duets. In 1975 the [same] group formed ReUnion, considered the first pure CI company. The principle theme was the exploration of movement possibilities between two people in physical contact. There was an emphasis on functional movement, without trying to make CI look 'like modern dance.'

"ReUnion briefly considered whether to trademark the name CONTACT IMPROVISATION and establish an authorization process for teachers. The group was concerned about people practicing and teaching CI after seeing the form in a performance. Some were getting injured as they lacked the training and sensitivity needed to dance safely. As CI employs lifts, falls, and acrobatic movements, it requires essential skills and techniques for keen body awareness, collaboration with a partner, strength, flexibility and alertness. The ReUnion group wanted to support training and communication between practitioners, not to stifle or control the practice. The name was never trademarked, and there remains no certification process for CI teachers. Paxton and his colleagues were interested in the development of a non-hierarchical movement practice and support ongoing discovery and innovation.

"The group started a newsletter to encourage dialogue between persons interested in CI. The newsletter developed into what is now a bi-annual magazine, Contact Quarterly-A Vehicle For Moving Ideas. Nancy Stark Smith and Lisa Nelson, two dancers important in the development of CI, are still [the original] editors of the journal. They solicit articles and photographs from contributors worldwide. The scope of Contact Quarterly has branched out to include contributions from the fields of post-modern dance, new dance, and a variety of body-centered practices.

"CI has at itís central core a physical commitment to following the point of contact, sharing balance and leverage, deep listening to subtle impulses, and riding the waves of falling weight and momentum. It can be said that "If you know where the dance is going, you arenít improvising..."

"CI is practiced worldwide. Current CI 'hotspots' include Buenos Aires (where there are jams with over 100 people 5+ nights of the week), Eastern Europe (where there is an avid burgeoning interest), and other parts of Europe. Dancers meet in jams, where they dance informally, classes or workshops, festivals (some with over 200 participants) and classes at local studios or universities. Contact Improvisation informs post modern dance, new dance, site-specific work, and dance improvisation. There are those that practice it as a social form and delight in the community connection, some that practice it as an artistic dance form, and some that use it in performance. There are also wild CI anarchists that love the form, and find renegade places to explore." [End of Spiro excerpt]

Contact or CI, as it is often known, continues to evolve and be developed by many curators, teachers, students, practitioners and participants around the world. In CI's 35th year Steve Paxton, Nancy Stark Smith and Nita Little, from that earliest group, continue to teach and perform Contact Improvisation.


PRACTICE and THEORY

Contact improvisation can be practiced as concert or social dance form. In the social setting contact improvisation meetings are called "jams" in which participants can participate or watch as they choose. The name is perhaps derived from the "jams" of jazz musicians, who come together to spontaneously explore musical forms and ideas.

The longest running weekly contact improvisation jam is in Toronto, Canada. It has been going on for 31 years (2007).

Contact improvisation is often practiced in duet form but can also be performed in groups or as a solo using physical objects (floor, walls, chair, etc.) as the point of contact. As many teachers say in introductory classes, the floor is your first partner.

Contact improvisation techniques can include weight transfer, counter balance, rolling, falling, suspension, and lifting. CI practitioners may also draw on:
Alexander Technique

Acrobatics

Body-Mind Centering

Cognitive science

Emergence

Feldenkrais method

Eutony

Gymnastics

Ideokinesis

Laban Movement Analysis

martial arts, especially Aikido and capoeira

Newton's laws of motion

Skinner Releasing Technique

Tango

Yoga

Parkour
Due to the improvised nature of CI and depending on the choreographic structure used, a CI performance may contain little physical contact.

When used as a choreographic technique, movement sequences that emerge during a jam may be adapted and set to form a part of a fixed choreographic score.


QUOTES

If you're dancing physics, you're dancing contact. if you're dancing chemistry, you're doing something else. - Steve Paxton (1987)

When an apple fell on his head, Newton was inspired to describe the three laws of motion, that carry his name. ... In his attempt to be objective, Newton overlooked the question of how it feels to be the apple. When we put our bodymass in motion, we raise above the law of gravity and go towards the swinging, circulating attraction of the centrifugal force. Dancers ride upon, and play with these forces. - Steve Paxton (1987)

The earth is much bigger than you are so you'd better learn to co-ordinate with it. - Nancy Stark Smith (1987)

Contact Improvisation or CI is "a contemporary game" says Steve Paxton. CI started in the US as a means to explore the physical forces imposed on the body by gravity, by the physics of momentum, falling and lifting. CI is a complex but very open form with infinite possibilities and is a dance form that is made by the dancer in the moment of dancing. - Touchdown Dance (2002)
LINKS and REFERENCE
Frankie Manning: Lindy Hop Pioneer". Presented by Amanda Wilde. Radio Intersection. KUOW Puget Sound Public Radio, Seattle, WA.

Mark Sandrich (Director). (1935). Top Hat [DVD]. RKO Radio Pictures. "Ensembles Staged by Hermes Pan"

Norman Taurog (Director). (1940). Broadway Melody of 1940 [DVD]. Metro-Goldwyn-Mayer. . "Dances Bobby Connolly"

William A. Seiter (Director). (1942). You Were Never Lovelier [DVD]. Columbia Pictures. . "Dance Director Val Raset"

Edward Cahn (Director). (1942). Our Gang in "Melodies Old and New" [DVD]. Metro-Goldwyn-Mayer. "Dances Staged by Steven Granger and Gladys Rubens"

Robert Z. Leonard (Director). (1941). Ziegfeld Girl [DVD]. Metro-Goldwyn-Mayer.. Event occurs at 00:00:56. "Musical Numbers Directed by Busby Berkeley"

Stanley Donen and Gene Kelly (Directors). (1952). Singing' in the Rain [DVD]. Metro-Goldwyn-Mayer. Event occurs at 00:00:55. "Musical Numbers Staged and Directed by Gene Kelley and Stanley Donen"

BBC Blast Find out how to become a choreographer with BBC Blast.

Choreograph.net is an online forum about the emerging aesthetics of choreography

About-creativity.com An interview with choreographer Natalie Marrone, 4/6/07

McDonald Selznick AssociatesThe Global Leader in Dance and Choreography Representation

contact madrid - all the information about contact improvisation in Madrid. Jams, workshops and performances.

contactimprov.com - CI-related info, news, discussion, jam/event listings, teachers resources and products including CI-related artwork, clothing, photography, and music.

contactimprov.net - Global Directory of Contact Improv Groups and Classes

contactimprov.ca - Canadian Directory of Contact Improvisation

Contact Improv Ann Arbor Detroit - A group of SE Michigan Contact Improv enthusiasts promoting jams, workshops and performances.

Contact Improvisation Los Angeles - Los Angeles and Southern California jams, classes, and events. Includes information and advice for those new to contact improvisation.

Contact Quarterly - the original CI journal, edited by Nancy Stark Smith and Lisa Nelson

Earthdance Retreat Center - Earthdance invites you for workshops, contact improv jams, personal and group retreats throughout the year.

History of Contact Improv - Anya Kamenetz, "On Balance," The Village Voice, December 4 - 10, 2002.

proximity - CI journal

"Contact improvisation comes of age" - Elizabeth Zimmer, "Contact improvisation comes of age," Dance Magazine, June 2004.

contact-improvisation.de German website for contact improvisation with calender, jams und address lists

Yee, Sandra M. 2006. Making Contact: Contact Improvisation in Performance. Atlanta, GA: A 7Adinkras Production. (Inspiring Contact Improvisational dance performance).

Yee, Sandra M. 2006. Making Contact: Atlanta Contact Improv Jam 2006. Accessed video online: August 1, 2007. Atlanta, GA: A 7Adinkras Production.

www.movimiento-bcn.org - information about classes and jam sessions in Barcelona

OsterImproFestival.info Yearly contact improvisation festival for dance, theatre, music and painting at eastern in Goettingen, Germany.
---