Kismet the Book by Charles Lederer and Luther Davies: based on a play by Edward Knoblock: Music and Lyrics by Robert Wright and George Forrest from the themes of Alexander Borodin
Ziegfeld Theatre, Broadway - 3 December, 1953 (583 perfs)
Stoll Theatre, London, 20 April, 1955 (648 perfs)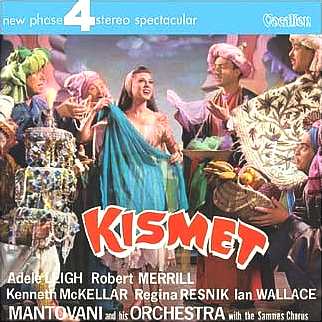 Synopsis:
A day in the life of a glib-tongued street poet in old Baghdad. He accidentally inherits the city's most lucrative begging site, is captured by brigands from whom he tricks a small fortune in gold, hands most of it to his beloved daughter to spend on baubles, bangles and beads, purchases slave-girls and bids for a palace, gets arrested for theft and condemned to have his right hand lopped off, briefly reconciles an erring father and a hard-hearted son, thus winning a reprieve-and the lustful affection of the shapely wife of the Wazir of Police-undertakes to prevent the marriage of a love-sick Caliph, no less, and finally murders the aforementioned Wazir. Since he finds himself about to become the Caliph's father-in-law, he pronounces the only fitting sentence for such a crime, and is banished to a lonely oasis with Lalume, the Wazir's recent, willing widow, to spend the rest of his days compensating for her deprivation. For a street poet in old Baghdad, some days were like that.
For the Chorus
An exciting and dynamic score includes a fair amount of chorus work demanding careful rehearsal. There is enough work to keep dancers happily busy, and there is colourful crowd work throughout. The chorus appear as muezzins, beggars, worshippers at a mosque, citizens of Baghdad, brigands, tribesmen and shoppers, street-market hawkers, policemen, slaves and slave-masters, Asiatic maidens, merchants, members of the Wazir's household, officials, guards, prosecutors and prosecuted, and women of the harem.
Singing Principals
Marsinah, the poet's daughter
Lalume.
An Ayah to Princess Zubbediya.
The Poet.
The Caliph.
The Wazir.
The Bangle Man.
Straight Roles
Omar, another poet.
Jawan, a bandit.
Smaller Roles
Three Princesses of Ababu,
Princess Zubbediya of Damascus,
Princess Samaris of Bangalore,
auditionees for the hand of the Caliph.
Widow Yussef.
Several 2/3 line roles, some including short singing solos.
The Edwin Lester production of KISMET was first presented by Charles Lederer at the Ziegfeld Theatre, New York City, on December 3, 1953, the first London performance was at the Stoll Theatre on April 2o, 1955.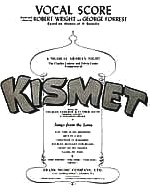 Cast:
MUEZZINS … LEE KENTON, LOUIS HENRY, EMLYN LEWIS, TOM SWIFT
DOORMAN … COLIN THOMAS
FIRST BEGGAR … COLIN CUNNINGHAM
SECOND BEGGAR … HUMPHREY HEATHCOTE
THIRD BEGGAR … DAVID DULAK
DERVISHES … RAYMOND RAY, JOHN BLYSDAEL
OMAR … DONALD ECCLES
A PUBLIC POET, later called HADJ … ALFRED DRAKE
MARSINAH, his daughter … DORETTA MORROW
TAMAN J … OSEPH SEALEY
HASSAN-BEN … ALISTER WILLIAMSON
JAWAN … STANLEY VAN BEERS
STREET DANCER … JOSEPHINE BLAKE
AKBAR … MALCOLM GODDARD
ASSIZ … NIGEL BURKE
THE BANGLEMAN … COLIN THOMAS
CHIEF POLICEMAN … HUMPHREY HEATHCOTE
SECOND POLICEMAN … ALISTER WILLIAMSON
THIRD POLICEMAN … JOSEPH SEALEY
THE WAZIR OF POLICE … PAUL WHITSUN-JONES
WAZIR'S GUARDS … KEN RICHMOND, GEORGE SWALES
LALUME … JOAN DIENER
ATTENDANTS … GORDON PETRIE, HARRY BAIRD
SERVANT … COLIN CUNNINGHAM
THE PRINCESSES OF ABABU … SHEILA O'NEILL, MURIEL ALI, DOREEN RIDER
THE CALIPH … PETER GRANT
SLAVE GIRLS … JUDITH SHERGOLD, PAMELA BUTLER, SHEILA BRADLEY, OLGA ROMAN
A PEDDLER … COLIN CUNNINGHAM
PRINCESS ZUBBEDIYA OF DAMASCUS … CLAIRE WARNER
AVAH TO ZUBBEDIYA … JUNE GRANT
PRINCESS SAMARIS OF BANGALORE
AYAH TO SAMARIS … BARBARA ALLARD
STREET WOMEN … ANNE MARTIN, JANE WALKER
THE WIDOW YUSSEF … BARBARA ULRIC
EXECUTIONER … ROBERT GARCIA

SINGERS: Janet Yorke, Jane Walker, Gloria Wenlock, Mary Burgess, Barbara Allard, Barbara Ulric, Anne Martin, Ruth Silvester, Frank Olegario, Alister William-son, Joseph Sealey, George Slack, Emlyn Lewis, Louis Henry, Robert Garcia, James Phillips, George Kazanzi, Lee Kenton, Tom Swift.

DANCERS : Josephine Blake, Juliet Prowse, Norma Dunbar, Ann Tyrell, Sally Webb, Maureen Sims, Elizabeth Wright, Margaret Kovac, Ann Thomas, Malcolm Goddard, Nigel Burke, John Blysdael, Raymond Ray
Scenes and Settings
Act I
The steps of the Mosque.
Desert Encampment.
The Bazaar of Caravans.
A side street (front drop).
Widow Yussef's garden.
A street (front gauze).
The Wazir's throne room

Act II
Along the route of the Caliph's procession.
The garden.
Ante-room of the Wazir's harem.
A terrace, atop the harem.
Anteroom to the harem.
Hall of the Caliph's palace
Orchestration
Piano, Violin A-C, Violin B-D, Viola, Cello, Bass, Flute, Oboe, lst and 2nd Clarinets, Bass Clarinet, Bassoon, 2 Horns. 3 Trumpets, 1st and 2nd Trombones, Tuba, 2 Percussion, Harp
Musical Numbers:
ACT ONE
OVERTURE and SANDS OF TIME - Imam and Muezzins

RHYMES HAVE I - Hadj with Marsinah

FATE - Hadj

THE HAND OF FATE

FATE—REPRISE

BAZAAR OF THE CARAVANS - Bangleman, Townswomen and Townsmen

ENTRANCE OF LALUME

ABABU DANCE I

NOT SINCE NINEVEH - Lalume

NOT SINCE NINEVEH—DANCE - with Townspeople

EXIT AFTER NINEVEH and STOLEN ORANGES

BAUBLES, BANGLES AND BEADS - Marsinah, Bangle Man, Merchants, Silk Merchants, Caliph, Townspeople

THE POET AND THE SLAVE GIRLS

SLAVE GIRL - Lute Solo

THE POETS ARREST—PARADISE GARDEN

STRANGER IN PARADISE - Marsinah, Caliph

THE ABABUS GO SHOPPING

HE'S IN LOVE - Policemen

THE WAZIR'S PALACE

THE WAZIR'S COUNCIL

GESTICULATE - Wazir, Lalume, Hadj, Council

THE CALIPHS NEWS - 3 Fanfares

FATE—FINALE ACT I - Company
ACT TWO
ENTR'ACTE

NIGHT OF MY NIGHTS - Caliph, Chorus

STRANGER IN PARADISE—REPRISE - Marsinah

BAUBLES, BANGLES AND BEADS—REPRISE - Caliph

HE'S IN LOVE—REPRISE -Entourage and Omar

THE EMPTY LITTER and THE WAZIR'S SPIES - Entourage and Caliph

WAS I WAZIR? - Wazir

RAHADLAKUM - Lalumewith Hadj

AND THIS IS MY BELOVED - Hadj, Marsinah, Wazir, Caliph

THE POETS MEET

THE OLIVE TREE - Hadj

THE WAZIR'S WEDDING

THE CALIPHS DIWAN

ZUBBEDIYA - Ayah, Male Guests

SAMARIS' DANCE

ABABU DANCE II

FROM THE RUBAIYAT

THE WAZIR IS DEAD

FINALE ACT II - Company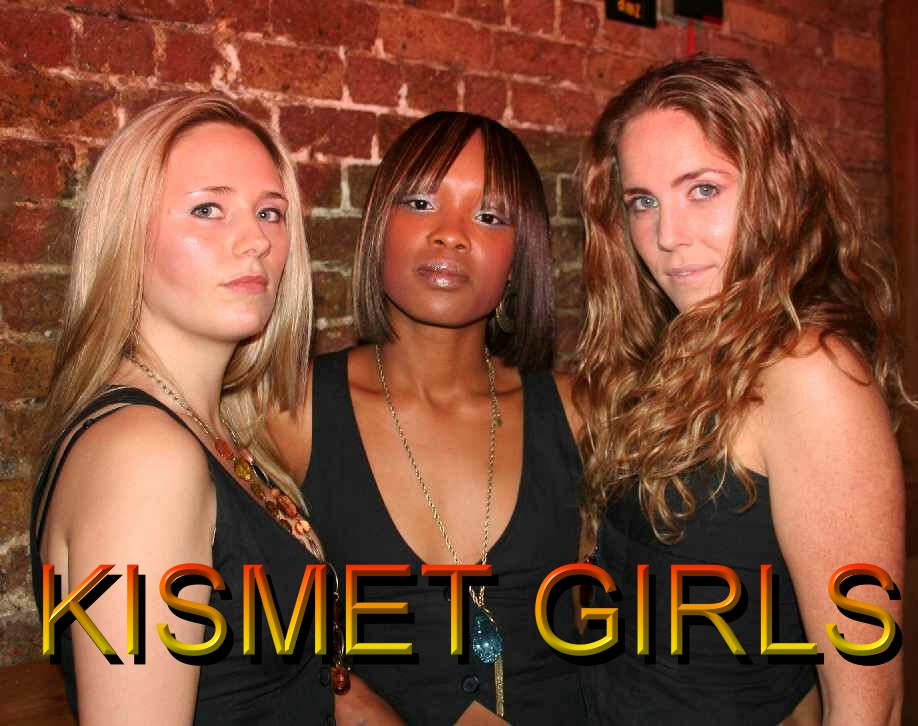 Kismet Girls - Brilliant new London based girl group
---