The Award winning Nickel Shakespeare Girls all-female troupe was formed in 1999 and has been performing ever since. The players-for-hire describe their shows as a mix of lunacy, speed, flips, tricks and stunts, all staged using the accurate text of William Shakespeare. The words are all William Shakespeare's, but they don't take themselves too seriously, for that would undo what they are trying to achieve in the US: inject fun into their renditions based on the Bard of Stratford Upon Avon.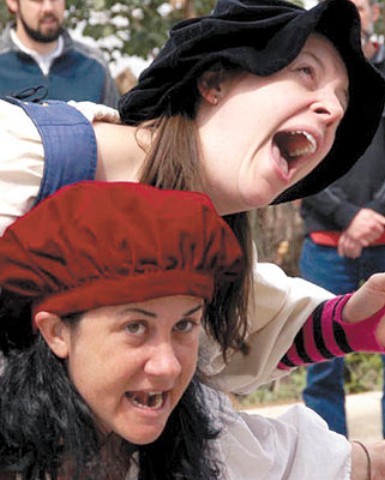 BACKGROUND
The troupe won a 2009 Renaissance Festival Award in the category of "Best Street Performance." During street performances, the ladies approach patrons and ask them to name any Shakespeare play. They proceed to perform something of the play right on the spot. Improvisation is their thing.

The Nickel Shakespeare Girls also teach workshops consisting of Shakespeare's clowns, stage combat, structure of the verse, a play in an hour and acrobatics.

In addition to street and classroom performances, the Nickel Shakespeare Girls' repertoire includes a variety of stage shows. Carmen Mandley says: "The audience can expect to learn something and have fun in the process. We are all about having fun."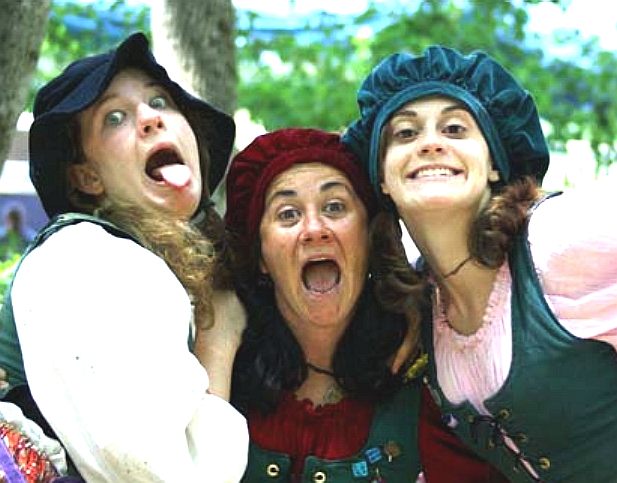 THE GIRLS

Carmen Mandley

Carmen-maria Mandley (Creator and Artistic Director) attended National-Louis University in Chicago Illinois and continued her training at Shakespeare and Company, studying with master teachers and scholars such as Tina Packer, Dennis Krausnick, Susan Dibble and Kevin Coleman. She then continued her training at the Dell' Arte International School of Physical Theatre with Master Clown teacher Ronlin Foreman. She has been actively directing, teaching and performing Shakespeare for 18 years. Bringing the physical, textual, and spiritual to Shakespeare's works is her passion. She is exhilarated to be able to bring this work to all who are willing to play. She thanks her partner in crime, Rebecca as well as all of those who have helped us along the way.

Rebecca Blum

Rebecca Blum (Managing Director) grew up in rural North Carolina . Unlike most of the students in her high school English classes, she fell for Shakespeare just as Romeo fell for Juliet. She studied theatre at Meredith College in Raleigh, NC and, though her career mostly focused on contemporary works, she was first able to perform in a few student Shakespearean productions. In 2005, she began working as a principle player with Bare Theatre in Raleigh, NC . She is most proud of her performances as Lady Macbeth in Macbeth (a dream come true), Bottom in A Midsummer Night's Dream, Olivia in Twelfth Night, and Emilia in Othello.

Paying bills and creating a family have taken priority over pursuing a career in performance, but she is ecstatic to have a creative outlet in the Nickel Shakespeare Girls. She joined the troupe in 2006. Performing Shakespeare for those who already love the Bard is wonderful, but nothing compares to evoking joy from those who previously thought Shakespeare was best left on a shelf gathering dust. She is forever grateful to NSG, Seth, Eowyn, Havana and Carmen for indulging this love of her life.

Susannah Skiver

Susannah Skiver enjoyed a few brief, glorious days as an NSG in 2005, but often wishes her tenure had been longer. Since then she has lived in France, gotten a degree and worked at a nonprofit organization soliciting nickels (and checks) in a much more conventional, and much less fun, manner. She will soon travel abroad once again in search of further higher education, but would probably drop it all in a heartbeat to stand on her head reciting Hamlet. Vive les Nickel Shakespeare Girls!

Maura Clement

Maura first fell in love with Shakespeare when Carmen cast her as bloody, bloody Macbeth during camp the summer she was 15. She began to tour with the Nickel Shakespeare Girls in 2007 and had great flippin' fun touring the southeast. Maura headed off to school and received a BFA in Acting from the University of Minnesota/Guthrie Theater BFA Actor Training Program. She plans to pack up her britches and her tap shoes and head where ever the work takes her.

Heather J. Strickland

Heather J. Strickland is the Artistic Director of Bare Theatre. She has been working with Bare Theatre for six years in which she has directed, performed in, choreographed and produced several productions including Titus Andronicus, Hamlet, A Midsummer Night's Dream, Twelfth Night, Othello, The Tempest, Rosencrantz and Guildenstern Are Dead, and The Crucible.

Heather received a degree in Theatre Arts from Flagler College and is a certified member of the Society of American Fight Directors, studying stage combat for over eight years under Fight Master Jeff A.R. Jones. Heather has worked with many local schools and performance groups as a Fight Choreographer and teacher, including Deep Dish Theatre Company, Ghost and Spice Productions, The Nickel Shakespeare Girls, Duke University, Durham School of the Arts, Durham Academy, East Chapel Hill High School and, of course, Bare Theatre.

Rosa Wallace

A native of Raleigh, North Carolina, Rosa began performing at the age of 4 in her church choir. She was heavily involved in educational and community theatre by the age of 11, and she continued that involvement during her attendance at WG Enloe High School for the Performing Arts. After dabbling in rock bands, visual art, and computer programming, the die was cast, and she subsequently earned her BA in Theatre with a Musical Theatre Concentration from Meredith College in Raleigh, NC. Rosa has been living, working, and traveling at home and abroad for the past four years. She currently hails from New York, NY and prides herself on being adaptable and well-traveled. She spends any and all free time on her other real job as a singer/songwriter.

Laura Jernigan

Laura Bess Jernigan is an actor living and working in NYC. Originally from the Raleigh, NC area, she joined NSG for a breif but wonderful time in her life. Laura grew up working with Carmen and was present at the birth of the NSG at their first NC Ren Faire. It has been absolutely amazing watching the girls grow and change into the amazing enterprise they are today. Laura is proud to have been a part of this group and continues to wow people with her ability to recite at least one speech from every play in Shakespeare's canon. And a few sonnets, too!

Anna Gettles

Anna Gettles started busking on the street as a Nickel Shakespeare Girl with Carmen-maria Mandley and Linnea Emigh. After the first year of NSG, Anna was hooked and performed on and off with these beautiful ladies for about 7 years. Anna has a BA in Theatre Performance from Appalachian State University and is now currently living and working in Portland, OR. Shouting Shakespeare to the sky while upside down is one of her most favorite things to do. One of her favorite Shakespeare quotes is "I fear too much rubbing, Good night my good owl".

Kacey Schedler

Kacey Reynolds Schedler was one of the "girls" for several years. Dealing with "Macbeth thighs" after a weekend may have been a low point, but who can't fall in love with: being with the best girls for some quality time (six hour car rides to Georgia), free-weight lifting exercise (Midsummer and Titus poses), and luxury outdoor living (listening to owls while snuggled next to another girl on an air mattress in the woods). She is so grateful to have been able to help bring the fun of Shakespeare to so many! While not lifting another girl over her head, Kacey works in the non-profit sector trying to save the world, and snuggles at home with her two big dogs and one lovely husband.

Tara Pozo

Tara Pozo is a native of Raleigh, NC. She is currently attending Hampshire College in Amherst, MA and plans to earn a BA in Education and Theatre and her teaching license for Elementary Education in 2012. She began her training at Raleigh Little Theatre where she first met Carmen and learned Shakespearean Clown technique. She followed Carmen to the NC Renaissance Faire and Bare Theatre where she performed in twelve productions including roles such as Juliet in Romeo and Juliet, Brutus in Julius Caesar, and Feste in Twelfth Night. She continued her passion for theatre at Hampshire College acting as Secretary for Theatre Board, and performing in college productions including Launce in The Two Gentlemen of Verona. Tara is now seen using her comedy skills with the Natural Disaster Club, Hampshire College's longest running improv troupe. She is also working in MA schools and after school programs with children and teachers as the assistant to the Executive Director of Enchanted Circle Theater.

Richard Butner (hold on, this is a bloke?)

Richard attended his first renaissance festival in 2005, where he saw - or rather, experienced - the Nickel Shakespeare Girls. He found them enchanting, inspiring, and hilarious. In 2007 he joined the troupe, performing in the lanes at the Carolina Renaissance Festival, thus fulfilling a lifelong dream. Or, actually, a two-year-and-seven-month-long dream. He's easy to spot: the Nickel Shakespeare Girl not wearing a bodice. Whether flapping his arms in a fairy ballet or rebuking the gods as King Lear, he is honored to promote Shakespeare power and girl power whenever and wherever he can.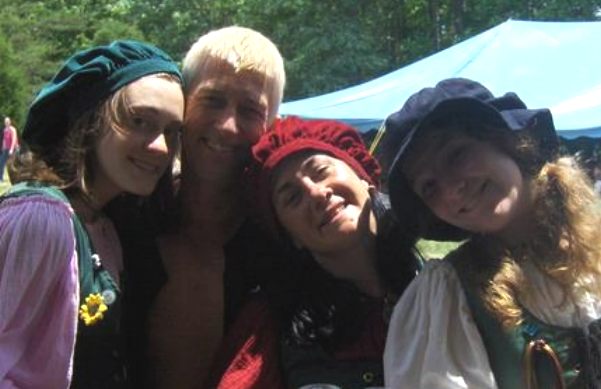 REVIEWS
"While I'm not the person who hired them, I'm the guy who wishes he HAD! Talk about accessible Shakespeare! Up to date, too...."
Also include scenes from Shakespeare's recently discovered 'new' play, Double Falsehood. While I work in the offices of the Pennsylvania Renaissance Faire during the week, on weekends I'm at either of my wife's 2 shoppes, right out front, so I saw the Nickel Shakespeare Girls up close and personal for every weekend they were here in August/September 2010. One word describes them: awesome. And another: compelling. And…charming, witty, adorable. And more. We can't wait 'til they're back here in 2011."
- Pennsylvania Renaissance Faire Patron
"A show for one twentieth of a dollar: Nickel Shakespeare Girls!
"You take a turn down one of the bustling avenues at the Renaissance Festival, and a calamity appears before you. Three girls in ragamuffin street dress from another time assume a defensive football position against the oncoming crowd. "Hunchbacks!" one roars, "One! Two! Three!" Simultaneously, they drop their shoulderblades on one side and grunt, before assailing the onlookers, in 3-D: "Now is the winter of our discontent made summer by this glorious son of York!""
Read the complete review of Nickel Shakespeare Girls by Byron Woods of the Independent Weekly.
The Nickel Shakespeare Girls captivated audiences better than anyone else performing at the Folger Shakespeare birthday celebration [April 27, 2008]. Their energy and savvy revved viewers of all ages. I hope Folger invites NSG back soon - and that the performance on Sunday results in other DC area invites.
- Jim Bovard, www.jimbovard.com
The Nickel Shakespeare Girls are preparing to pounce. Three young women in calico knickers and green kerchiefs, they approach and ask customers to name any of Shakespeare's plays. They proceed to perform a bit from that play while doing acrobatic stunts. Most patrons ask forHamlet or Romeo and Juliet.
Know-it-alls ask for King John or Timon of Athens. "Dueling Pucks" from A Midsummer Night's Dream is a favorite routine, where two of them race to recite the speech the quickest, all while flying through the air or balanced on their heads. All of this for a nickel, or more: They even accept "paper money, although we don't know what it's for."
Also by the code of the trouper: they perform in rain and wind and mud without complaint. In a downpour one day, when many patrons flee for shelter, they continue their handstands, they continue to recline on the wet ground to reenact, appropriately enough, a scene from The Tempest.
- Renaissance Clan by Richard Butner
---

MAJOR PRODUCTIONS:
The Nickel Shakespeare Girls started in 1999 at the North Carolina Renaissance Faire. Players for hire, a pair of Girls will perform at your Faire, Festival, school or event. On the "street," we approach patrons, ask them to name any Shakespeare play, (or they can spin the Wheel Of Shakespeare!) and perform right on the spot. Our street work and shows include clowning, choral work, stage combat, and acrobalance. We take special requests and enjoy anything an audience can do to try to stump us. We play all day and perform anywhere.

Street Work

William Shakespeare's words come alive for the young and old. Name any play written by Shakespeare and we will perform a selection: sometimes a fight, sometimes on our heads, sometimes delivered dramatically, but always with maximum energy and wild amounts of fun!

Stage Shows

We offer a variety of stage shows that can be modified to meet your needs. Each show can fit into a fast paced 30-minute time slot, but 45 minutes is an ideal amount of time to savor the richness and fun of the Bard's text. And we love having post-show Q and A sessions!

Our shows:

Pants & Poise: Meet many of Shakespeare's leading ladies
All the World's a Stage: Selections from the "greatest hits"
The Lunatic, the Lover & the Poet: Romance, infatuation and true love
Little Fooleries: Shakespeare's clowns amuse and beguile
Complete Works: All 39 plays in about 35 minutes. Fast. Furious. Fun.
You may have seen us at:

The Folger Shakespeare Library ( Washington DC )
The St. George's Day Festival (St. George, Bermuda )
The North Carolina Renaissance Faire
The Carolina Renaissance Festival
The Georgia Renaissance Festival
The Arizona Renaissance Festival
Elizabethan Tymes Renaissance Festival
The Kentucky Highland Renaissance Faire
The Kentucky Medieval Renaissance Faire
Shakespeare and Friends Renaissance Faire (TN)
A Camelot Christmas (Raleigh, NC)
The Virginia Renaissance Faire
University of South Carolina Union
Festival for the Eno
Pennsylvania Renaissance Festival
Maryland Renaissance Festival
Huntington Jaycees Indiana Renaissance Faire
---
AWARDS
Winner of the 6th Annual Renaissance Awards in the Best Street Performance Category

Winner of the 5th Annual Renaissance Festival Awards 2009 in the Best Street Performance category

Grand Huzzah 2004 - Carolina Renaissance Festival

Guilde of St. George 2003 - North Carolina Renaissance Faire

Guilde of St. Andrew 2002 - North Carolina Renaissance Faire

Guilde of St. Andrew 2001 - North Carolina Renaissance Faire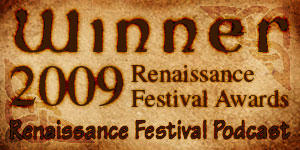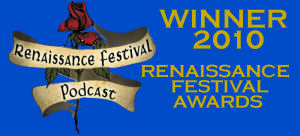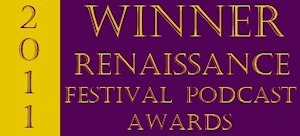 SPONSORS
USC-Union Literary Club

Union Daily Times
VIDEO CLIP
Nickel Shakespeare Girls - Youtube
LINKS & CONTACTS:
Email: info@nickelshakespearegirls.com
Telephone: 919-500-8231
Union Daily Times - Shakespeare-troupe
Performance
Education programs
Meet the girls
Schedule
Photo gallery
What people are saying
NSG merchandise (CafePress)
North Carolina - Nickel Shakespeare Girls
Antony and Cleopatra * Hamlet * Macbeth * Othello * Romeo and Juliet
---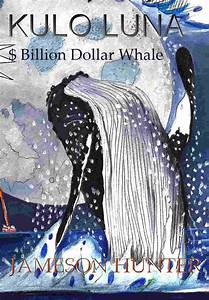 A heartwarming adventure: pirate whalers V conservationists
and over $billion dollars riding on the outcome