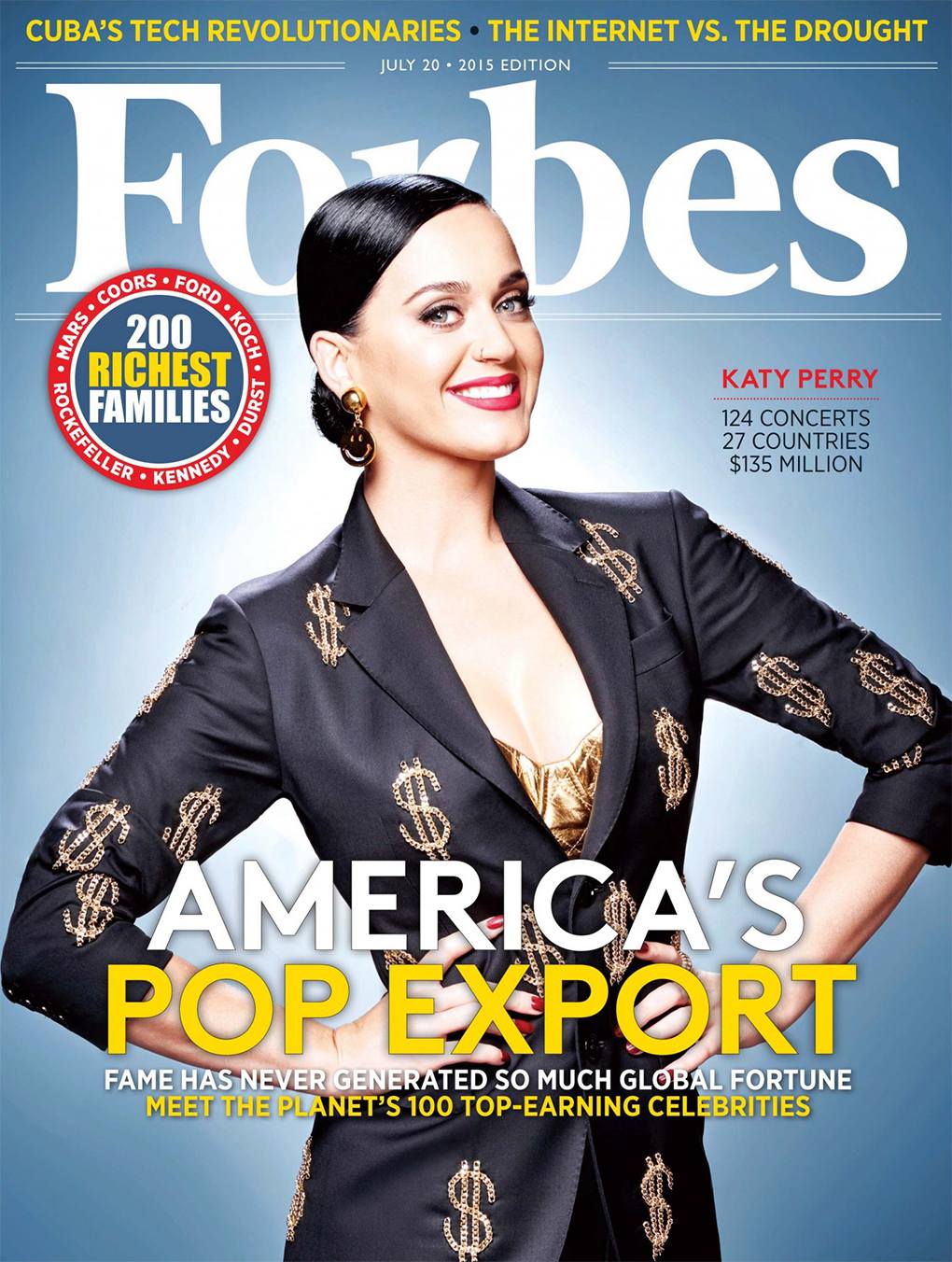 KATY PERRY - covers Forbes for their 2015 Celebrity 100 list. The "Roar" singer earned the No. 3 spot on Forbes' Highest Paid Celebrity list, coming in just behind boxers Floyd Mayweather and Manny Pacquiao. Perry earned $135 million from touring in the past 12 months - more than Taylor Swift, Miley Cyrus and Rihanna combined.

Her Prismatic World Tour consisted of 124 shows, 75 of them taking place abroad. Her 2012 documentary Part of Me grossed $33 million on a $6 million budget. She is the face of brands such as CoverGirl, Popchips and Adidas. "One thing I've been able to do is know the power of having equity deals," Perry said to Forbes. "I don't ever like to do things unless I'm really a part of them." Nobody can argue with that. As to the "feud", both singers give us excellent music - and that is really what it is all about. Variety is the spice of life. So, keep it up ladies, we love your music and there is nothing like a bit of healthy competition.
DAILY MAIL 30 JUNE 2015
Take that, Taylor Swift! Katy Perry is named Forbes' highest paid female celebrity after raking in $135M in 12 months - $55M more than the Bad Blood singer.

Katy Perry has been named the highest paid female celebrity of the year, beating Taylor Swift to the top spot.

Ellen DeGeneres, Lady Gaga, Beyoncé Knowles, and Kim Kardashian's millions followed not too far behind in the women's category - though they didn't make it into this year's top ten highest paid celebs which was 80 per cent male.

30-year-old Perry earned $135M over the past 12 months, according to a report published in the July 20 edition of Forbes.

That number makes her not only the biggest female money-maker but also the third-highest-paid celebrity in the world this year.
1. Floyd Mayweather, Athlete - $300M
2. Manny Pacquiao, Athlete - $160M
3. Katy Perry, Musician - $135M
4. One Direction, Musicians - $130M
5. Howard Stern, Comedian - $95M
6. Garth Brooks, Musician - $90M
7. James Patterson, Author - $89M
8. Robert Downey Jr., Actor - $80M
9. Taylor Swift, Musician - $80M
10. Cristiano Ronaldo, Athlete - $79.5M
Only boxers Floyd Mayweather and Manny Pacquiao managed to make more than Katy.

Over the past five years, in fact, Katy has reportedly made $303M from her music and related businesses.

The singer described her success as that of an entrepreneur when talking to the magazine

Taylor Swift grabbed the second spot for highest female earner this year by making $80M, though she was only number nine out of the ten top earners.

'I am proud of my position as a boss, as a person that runs my own company,' Perry said

'I don't want to shy away from it. I actually wanted to kind of grab it by its balls.'

That attitude has served the Roar singer well, selling 11 million albums and 81 million singles since her quiet debut as Katy Hudson back in 2001.

It was her second album, One Of The Boys, that brought Katy into the limelight in 2008 - she followed up that success with two more hit albums, Teenage Dream and Prism.

'I'm not here to brag,' Katy said of her success. 'I'm here to inspire other females.'

She may indeed be the biggest celebrity inspiration out there, considering that Katy and her perceived rival, 25-year-old Taylor, were the only women to make the list of top-ten earners.

Instead, the rest of the big money-makers were men - Howard Stern, Garth Brooks, James Patterson, Robert Downey Jr., and Christiano Ronaldo - or a group of men - One Direction.

Taking the number three spot for female earners and the number 12 spot overall, comedian and talk show host Ellen Degeneres made an impressive $75M.

Claiming the number four spot for females and the number 25 place on the list is musician Lady Gaga who earned $59M.

The fifth highest paid female is musician Beyonce Knowles who earns $54.5M. She made it to number 33 on Forbes list of top 100 celebrity earners.

Falling in at number six for women is personality Kim Kardashian who earns $52.5M.

Only 16 women made it into Forbes top 100 list of highest paid earnings this year, proving that there is still a huge disparity among paychecks for female and male talent.
By Laurel Brown and Alexandra Klausner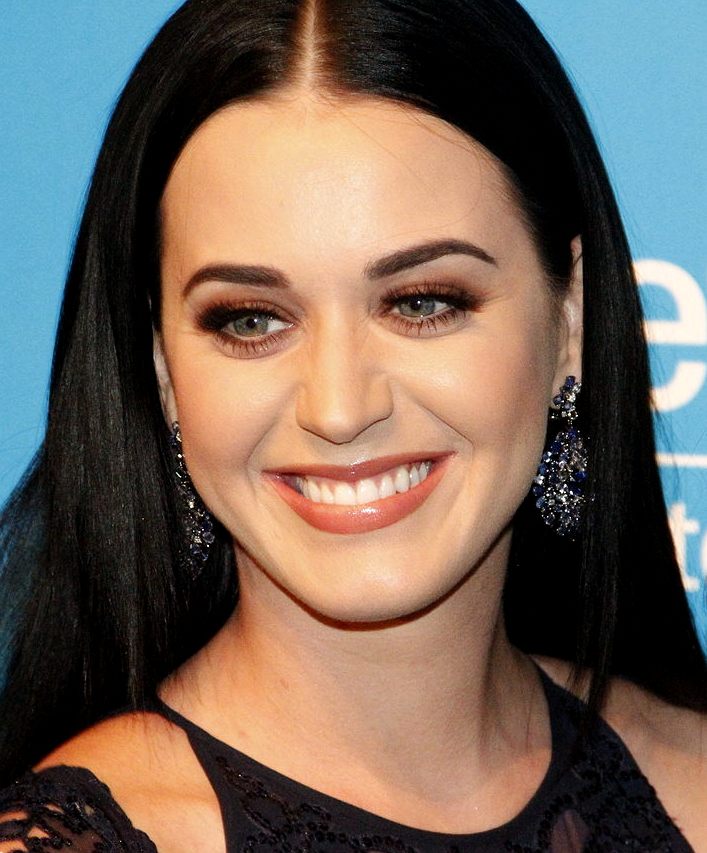 FORBES NOVEMBER 4 2015
The top-earning woman in the music business has been cashing in on a massive world tour, a constant stream of hit singles and a string of endorsements with a slew of major companies, while occasionally throwing thinly veiled barbs at her chief rival.

Sounds like Taylor Swift - but, in fact, it's her frequent competitor, Katy Perry. Largely because of her Prismatic World Tour, which is now winding down, Perry pulled in $135 million this year. She grossed more than $2 million per city over the course of 126 shows in our scoring period, and added to her total through deals with Coty, Claire's and Covergirl.

"I am proud of my position as a boss, as a person that runs my own company," Perry told FORBES for our Celebrity 100 cover story this past summer. "I'm an entrepreneur. … I don't want to shy away from it. I actually want to kind of grab it by its balls."

Swift has also been having quite the year, claiming the No. 2 spot with $80 million. More than a year after the launch of 1989 - the top release of 2014 with over 3.6 million copies sold - her latest single, "Wildest Dreams," has ascended to the top of the charts, boosted by a music video with Scott Eastwood. But it was the beginning of her epic 1989 World Tour that placed her so close to the top of this list.

Other big names on the on the list include Britney Spears (No. 6, $31 million), who makes the bulk of her bucks on a lucrative Planet Hollywood residency in Las Vegas, and Rihanna (No. 10, $26 million), who only played nine dates in our scoring period but is set to release new album Anti in the coming months; more touring will likely follow.

Though a pay gap regrettably pervades the music business - albeit not as badly as other parts of the entertainment world - this year the top most high-earning ladies in the industry boast earnings competitive with their male counterparts, as FORBES will reveal with its overall list of the highest-paid musicians in December.

Our list of the highest-paid women in music measures pretax income from June 1, 2014, to June 1, 2015, before subtracting management fees. Figures are based on data from Nielsen, Pollstar and the RIAA, as well as interviews with agents, managers, lawyers - and some of the stars themselves.

Given the nature of our scoring period, Perry will have some stiff competition for next year's list: Swift's 1989 Tour is grossing well over $4 million per city, and shows no signs of slowing down.

"It's a stadium tour, it's enormous," says Bongiovanni. "I would imagine that she's going to dwarf what everybody else does."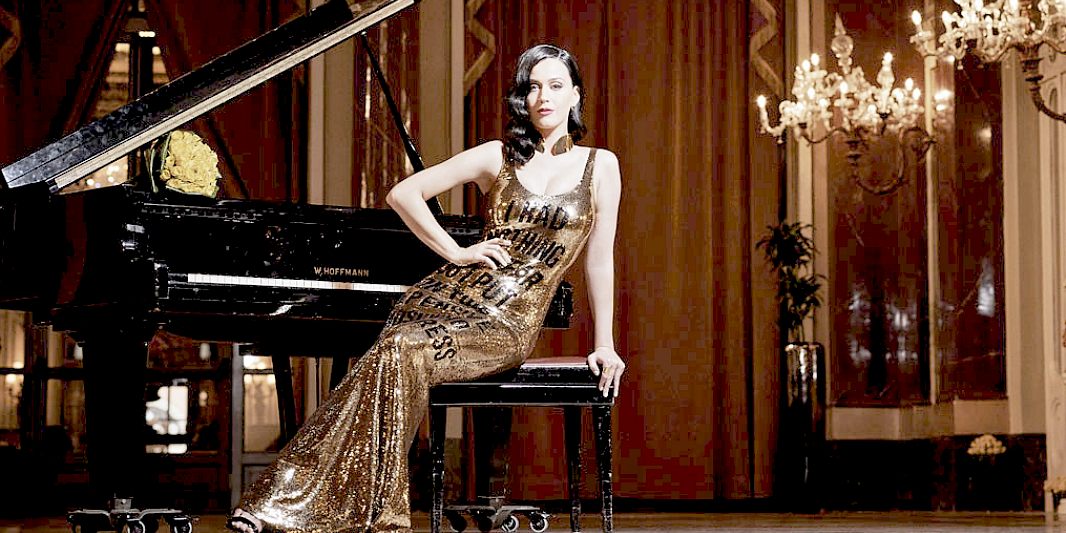 HOLLYWOOD LIFE 9 DECEMBER 2015 - KATY PERRY Vs TAYLOR SWIFT
Which Feuding Singer Was 2015's Highest Paid Artist?

Score one for Katy Perry! The 'Roar' singer topped Taylor Swift as the biggest money making musician in 2015 with a whopping $135 million. Cha-ching!

The infamous rivalry between Taylor Swift, 25, and Katy Perry, 31, may be heating up once again after the "Firework" singer was announced as the highest paid musician for 2015! With a whopping $135 million under her belt, Katy crushed Taylor as the biggest money maker in the music world. Keep reading to find out how much Katy beat Taylor by.

With her Prismatic World Tour grossing more than $2 million per city, Katy proved that girl power really is quite powerful. But it didn't come easy. Her work ethic is obvious considering she played 126 shows in the scoring period, where Forbes collects the earnings of each musician. During 2014-2015, Katy played the most shows out of any artist in the Top 10 during that time. WOW. Let's also not forget Katy's killer Super Bowl Halftime performance including that sexy shark. Not only does Forbes collect the earnings from concerts, but record sales, publishing, endorsements, and other business ventures are in the mix too.

What's shocking is that how far Taylor was behind. The 1989 artist came in 4th place with $80 million for this year. While this is an astonishing amount of money, it's over $30 million less than her rival which has to bother T-Swift right? But don't feel too bad for her. Taylor and her and long-time boyfriend, Calvin Harris, 31, were named Forbes' highest earning celebrity couple of the year. Congrats!

Katy's victory is the latest in a long fued that allegedly started when Taylor felt that Katy, stole her back-up dancers. Then there's the John Mayer drama, who Katy romanced after Taylor had her turn. Not to mention what had to be the biggest video of the year for Taylor's diss track, "Bad Blood". I mean, who can really keep up?! Regardless, the ladies are sweeping the nation one tour at a time!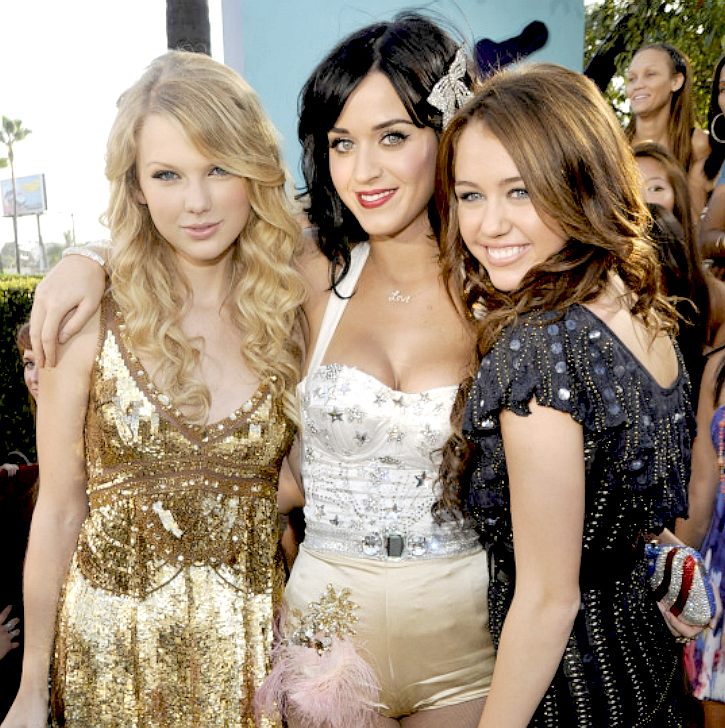 DAILY MIRROR 8 JUNE 2015 - Just weeks after Taylor released her Bad Blood music video (which is about her feud with her pop rival), Katy Perry has recorded a brand new song called "1984" - which is clearly a dig at Tay Tay, whose album is called 1989.

Katy, who was born in 1984, has remained silent during the furore around Taylor's public dig at her. But it seems she's going to let the music do the talking after registering the title of her new track on BMI.

We're guessing there are going to be all kinds of subtle digs in in Katy's new single - and no doubt the critics will be out to decide who did it best.

Katy hinted we might be hearing her side of the story during an interview with Billboard earlier this year. The 30-year-old Firework songstress said that she wasn't one to simply take hits.

"If somebody is trying to defame my character," she said in response to the feud, "you're going to hear about it."

Tay and Katy's feud became public last year, when Taylor hinted her hit single, Bad Blood, was about a feud with another female artist who was mean to her.

It is believed to be about Katy - who took to Twitter to respond to the interview shortly after.

"Watch out for the Regina George in sheep's clothing..." she wrote, referring to the main villain in comedy Mean Girls played by Rachel McAdams.

Despite Taylor not naming Katy, 29, in the interview, she didn't hold back when it came to talking about their rocky relationship.

"She basically tried to sabotage an entire arena tour. She tried to hire a bunch of people out from under me." "And I'm surprisingly non-confrontational – you would not believe how much I hate conflict. So now I have to avoid her. It's awkward, and I don't like it."
WIKIPEDIA - 2010–12 TEENAGE DREAM & MARRIAGE

After serving as a guest judge on American Idol, Perry released "California Gurls" featuring rapper Snoop Dogg on May 7, 2010. The song was the lead single from her third studio album, Teenage Dream, and reached number one on the Billboard Hot 100 in June. She also served as a guest judge on The X Factor UK later that month before releasing the album's second single, "Teenage Dream", in July. "Teenage Dream" reached number one on Billboard in September. Released on August 24, 2010, the album debuted at number one on the Billboard 200. It received mixed reviews from music critics, and has since sold 5.7 million copies globally. In October, "Firework" was released as the album's third single. It became the album's third consecutive number one on the Hot 100 on December 8, 2010. The song has since been certified 9× Platinum in the United States.

A remixed version of "E.T." featuring rapper Kanye West was released as the fourth single from Teenage Dream on February 16, 2011. It topped the Hot 100 chart for five non-consecutive weeks, making Teenage Dream the ninth album in history to produce four number one singles on the Hot 100. "Last Friday Night (T.G.I.F.)" followed as the fifth single in June, and Perry became the first female artist to achieve five number-one Hot 100 songs from one album when the single topped that chart on August 17, and the second artist after Michael Jackson with his album Bad. For this record, she received an honorary American Music Award in November 2011 and a 2013 Guinness World Record. On September 7, she set a new record by becoming the first artist to spend 69 consecutive weeks in the top ten of the Hot 100. In October, "The One That Got Away" was released as the album's sixth single. The song peaked at number three on the Hot 100 and number two in Canada. On February 13, 2012, Capitol released the lead single from Teenage Dream: The Complete Confection, "Part of Me", which debuted at number one on the Hot 100 and became Perry's seventh single overall to top the chart. Teenage Dream: The Complete Confection was released on March 23. "Wide Awake" was released on May 22 as the re-release's second single, peaking at number two on the Hot 100 and number one in Canada and New Zealand. On January 5, she was named the sixth best-selling digital artist in the United States, with sales of 37.6 million units according to Nielsen SoundScan. That month, she became the first artist to have four songs sell over 5 million digital units.

Perry embarked on her second tour, the California Dreams Tour, in support of Teenage Dream from February 2011 to January 2012. The tour grossed over $59 million globally and won her the award for Best Live Act at the 2011 MTV Europe Music Awards. On September 23, 2011, she performed on the opening day of the 2011 Rock in Rio festival along with Elton John, Claudia Leitte, and Rihanna. In September 2010, Perry was scheduled to appear on the 41st-season premiere of Sesame Street. After her scene was uploaded to YouTube, viewers criticized Perry's exposed cleavage. Four days before the scheduled airing, Sesame Workshop announced that the segment would not air on television, but would still be available to watch online. Perry subsequently mocked the controversy on Saturday Night Live, where she was a musical guest and wore an Elmo-themed shirt showing large amounts of cleavage during one skit.

In December 2010, Perry played Moe Szyslak's girlfriend in the live-action segment from a Christmas episode of The Simpsons titled "The Fight Before Christmas". In February 2011, she made a guest appearance on the How I Met Your Mother episode "Oh Honey", playing a woman known as Honey. The role won her the People's Choice Award for Favorite TV Guest Star in January 2012. She made her film debut in the 3D family motion picture The Smurfs as Smurfette on July 29, 2011. The film was a financial success worldwide, while critics gave mostly negative reviews. She hosted Saturday Night Live on December 10, 2011, with Robyn as the episode's musical guest. Perry's work on the episode received generally positive reviews from critics, who praised her performance in the episode's digital short featuring her and Andy Samberg. In March 2012, she guest starred as a prison security guard named Rikki on the Raising Hope episode "Single White Female Role Model". On July 5, 2012, Perry's autobiographical documentary Katy Perry: Part of Me was released to theaters through Paramount Pictures. The film received positive reviews and grossed $32.7 million worldwide at the box office.

Perry began to venture into business when she endorsed her first fragrance, Purr, in November 2010. Her second fragrance, Meow!, was released in December 2011. Both perfumes were released through Nordstrom department stores. Electronic Arts recruited her to promote their new expansion pack for The Sims 3: Showtime, before releasing a separate stuff pack featuring Perry-inspired furniture, outfits, and hairstyles, titled The Sims 3: Katy Perry's Sweet Treats, in June 2012. The following month, she became the spokesperson and ambassador for Popchips and made an investment in the company. She was ranked third on the 2011 Forbes list of "Top-Earning Women In Music" with earnings of $44 million, and fifth on their 2012 list with $45 million. Billboard dubbed her as their "Woman of the Year" for 2012.

She married Russell Brand on October 23, 2010, in a traditional Hindu ceremony near the Ranthambhore tiger sanctuary in Rajasthan. Brand announced on December 30, 2011, that they were divorcing after 14 months of marriage. Perry later stated that conflicting career schedules and his desire to have children before she was ready led to the end of their marriage, and that he never spoke to her again after sending a text message that he was divorcing her while Brand asserted that he divorced her due to her commercial success and reluctance to engage in activism. She was initially distraught over their divorce, and said that she contemplated suicide. After the marriage ended in 2012, Perry began a relationship with singer John Mayer that August.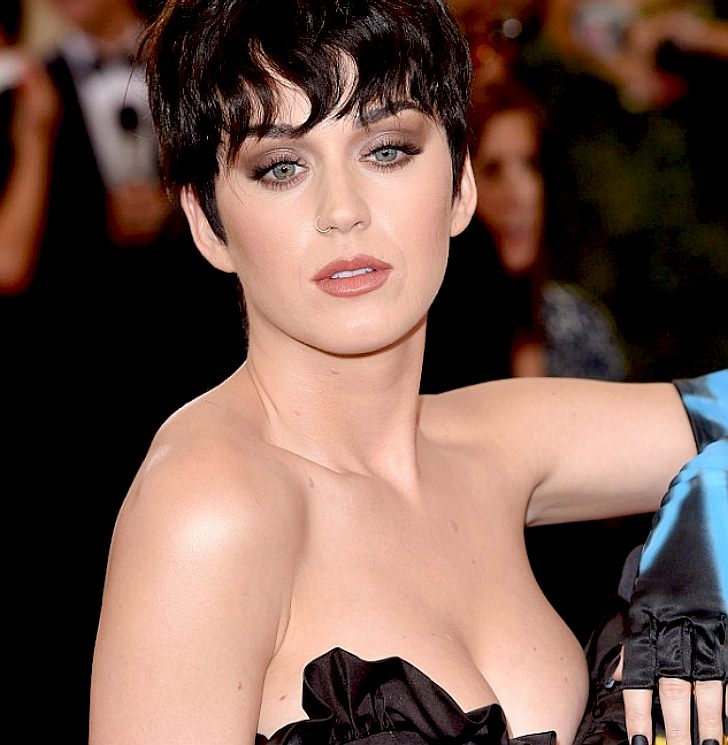 2013 >>>> PRISM & SUPER BOWL XLIX HALFTIME SHOW

In November 2012, Perry began work on her fourth album, Prism. She told Billboard, "I know exactly the record I want to make next. I know the artwork, the coloring and the tone" and "I even know what type of tour I'm doing next. I'll be very pleased if the vision I have in my head becomes a reality." Although she told L'Uomo Vogue in June 2012 that she planned to have "darker elements" in Prism following the end of her marriage, Perry revealed to MTV during the 2013 MTV Video Music Awards that she changed the album's direction after periods of self-reflection. She commented "I felt very prismatic", which inspired the album's name. "Roar" was released as the lead single from Prism on August 10, 2013. It was promoted at the MTV Video Music Awards and reached number one on the Billboard Hot 100. "Unconditionally" was released as the second single from Prism on October 16, 2013, and peaked at number 14 in the United States.

Prism was released on October 18, 2013, and debuted at number one on the Billboard 200 chart. Four days later, Perry performed the songs from the album at the iHeartRadio Theater in Los Angeles. "Dark Horse" was released as the album's third single on December 17, 2013, and became her ninth number-one single on January 29, 2014. In 2014, "Birthday" and "This Is How We Do" followed as the album's fourth and fifth singles, and reached the top 25 on the Hot 100. Prior to ending her relationship with Mayer in February 2014, she recorded and co-wrote a duet with him titled "Who You Love" for his album Paradise Valley. The song was released on August 12, 2013. Perry's third headlining tour, The Prismatic World Tour, began in May 2014 and concluded in October 2015. She also performed at the 2015 Rock in Rio festival on September 27, 2015.

On November 23, 2014, the NFL announced that Perry would perform at the Super Bowl XLIX halftime show on February 1, 2015. Lenny Kravitz and Missy Elliott served as special guests for the show. Two days after the halftime show, the Guinness World Records announced that Perry's performance garnered 118.5 million viewers in the United States, and became the most watched and highest rated show in Super Bowl history. The viewership was higher than the game itself, which was viewed by an audience of 114.4 million.

The International Federation of the Phonographic Industry (IFPI) ranked her fifth on the list of Top Global Recording Artists of 2013. On June 26, 2014, she was declared the Top Certified Digital Artist Ever by the Recording Industry Association of America (RIAA) for certified sales of 72 million digital singles in the United States. In May 2014, a portrait of Perry by painter Mark Ryden was featured in his exhibition "The Gay 90s", and shown at the Kohn Gallery in Los Angeles. Along with several other artists, she also recorded a cover version of the song "Daisy Bell (Bicycle Built for Two)" on a limited-edition concept album to accompany the exhibition. That month, a portrait of Perry by artist Will Cotton was included in the United States National Portrait Gallery. On November 23, Perry starred in the 2015 H&M holiday advertising campaign, for which she wrote and recorded a song titled "Every Day Is a Holiday".
TRADE MARK - Katy appears to have wanted something of this theme preserved as a trademark: 'Left Shark'. We're not quite sure what she was trying to achieve by that, but we are aware the the super singer cares very much about ocean pollution issues.
On June 17, 2014, Perry announced that she had founded her own record label under Capitol Records, titled Metamorphosis Music. Ferras was the first artist to get signed to her label, and Perry served as an executive producer on his self-titled EP. She also recorded a duet with him on the EP, titled "Legends Never Die". She ranked seventh on the 2013 Forbes list for "Top-Earning Women In Music" with $39 million earned, and fifth on their 2014 list with $40 million. With earnings of $135 million, Forbes also ranked Perry number one on their 2015 "Top-Earning Women In Music" list as well as the "World's Highest-Paid Musicians" and declared her the highest earning female celebrity in 2015, placing her at number 3 on the Forbes Celebrity 100 list.

Outside of her music career, Perry reprised her role as Smurfette in The Smurfs 2, which was released in theaters on July 31, 2013. Like its predecessor, The Smurfs 2 was a financial success but was panned by critics. In March 2014, she made a guest appearance playing herself in the episode "Blisteritos Presents Dad Academy Graduation Congraduritos Red Carpet Viewing Party" of the Kroll Show. Killer Queen was released as her third fragrance in August 2013 through Coty, Inc. In January 2014, she became a guest curator of Madonna's Art for Freedom initiative. In March 2015, she appeared in Brand: A Second Coming, a documentary following her ex-husband Russell Brand's transition from comedy work to activism, and released a concert film titled Katy Perry: The Prismatic World Tour through Epix, which took place during her tour of the same name. Perry also made a cameo appearance in the music video for Madonna's song "Bitch I'm Madonna" in June 2015. In September 2015, she appeared in the documentaries Katy Perry: Making of the Pepsi Super Bowl Halftime Show, which followed Perry's preparation for her Super Bowl performance, and Jeremy Scott: The People's Designer, which followed the life and career designer Jeremy Scott. Perry announced in October that she was working on a mobile app titled Katy Perry Pop which she described as "the most fun, colorful world that helps guide your musical dreams".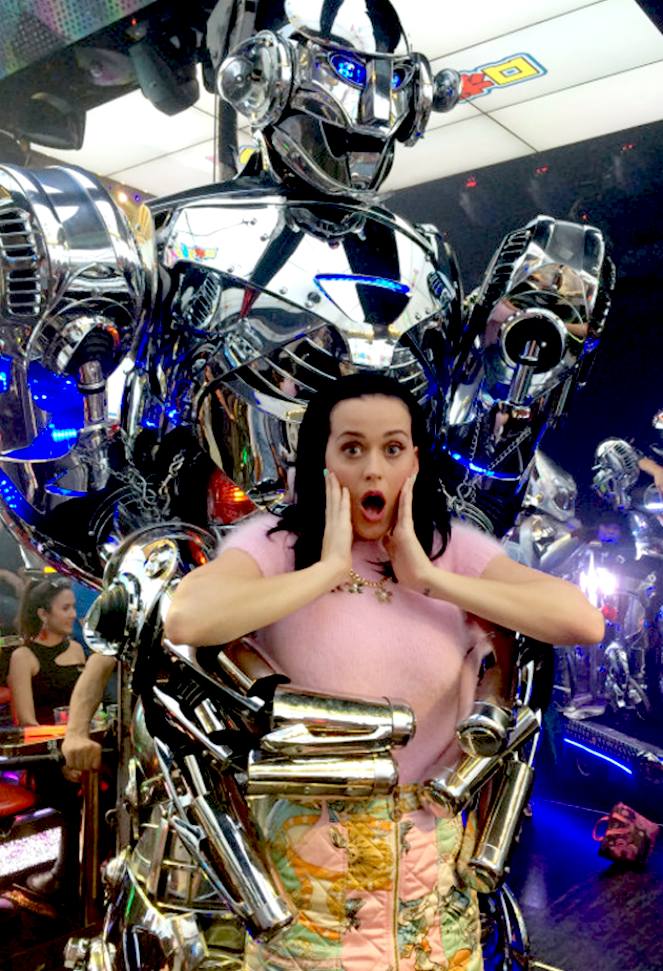 ROBOT ATTRACTION - Love at first grapple? Not a chance. Katy would make an excellent humanoid study, since conspiracy theorists have her down as a machine to capture our hearts. If that is the case she has already succeeded.
CONSPIRACY THEORY
Back in the '60s, the Russians were trying to perfect a way to control the masses using a lovable, as well as easily believable female robot. After months of research, their first prototype, Marilyn Monroe was ready to be released into the world to complete her task of assassinate the US president. The operation was a complete success, and Monroe was released from her duties as a secret agent. In 1991, after the end of the Cold War, The government cut funding to the secret laboratory, an it was ultimately shut down.

However, 10 years later in 2001, LOSDES found the old laboratory and adopted it as the new primary scientific research branch of their organization. They used the technology there to create a new weapon the likes of which the world had never seen before. They called it Katy Perry. (Extract from it's a conspiracy)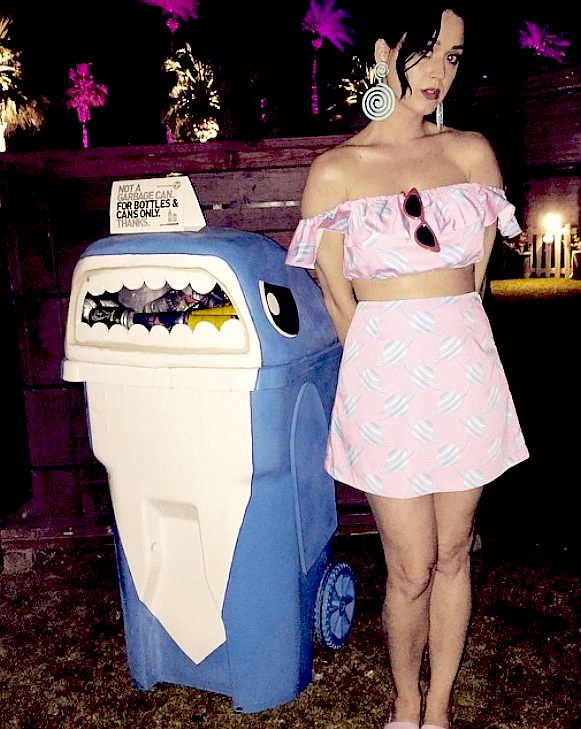 SHARK BIN - Not a bad idea to draw attention to the plight of marine animals. This is an enhanced version of a picture she posted on Instagram in April 2015. Nice one Katy!
HOLLYWOOD REPORTER - APRIL 2015
Katy Perry's performance during halftime at this year's Super Bowl is still reverberating at the U.S. Trademark Office. On Friday, the pop singer got the bad news that her company's initial attempts to register a "Left Shark" design had been rejected.

During her halftime performance, Perry had social media buzzing as she danced with two background dancers dressed as sharks. Many were talking about the shark on the left — actually, Perry's right — who seemed to be deviating from the choreography.

"Left Shark" became an Internet meme after the Super Bowl, and Perry's attempt to capitalize on it included a registration on the shark design as well as on the phrases "Left Shark," "Right Shark," "Drunk Shark," and "Basking Shark."

David Collier, the trademark examiner, isn't yet impressed by the attempt to register the design, which, he wrote, "identifies only a particular character; it does not function as a service mark to identify and distinguish applicant's services from those of others and to indicate the source of applicant's services."

In other words, there's not enough evidence submitted yet that consumers look at "Left Shark" and think of a Katy Perry music performance.

The examiner also noted the differences between a photograph of Perry dancing with "Left Shark" and the drawing of "Left Shark" submitted as the design.

"Specifically, the [photograph] displays the mark as a stylized depiction of a forward leaning shark in nearly a front profile with a portion of a dorsal fin, two pectoral fins and two legs and feet substituted for the caudal fin on the tail," he wrote. "The shark has five gills, a full mouth with teeth and round eyes with eyelids; however, the drawing displays the mark as a stylized depiction of an upright shark in full front profile with no dorsal fin, two full pectoral fins and two legs and feet; the shark has three gills and the shark's mouth appears without teeth; the shark also has oval eyes without eyelids."
Perry can try again, but at least she's had more luck with registering the word mark "Left Shark." The examiner did ask for a bit more clarification on the identity of goods over which she's attempting to assert dominion. For example, Perry's company says "costumes," but does she mean Halloween costumes or dance costumes? She says "figurines," but can she be more specific by saying, for example, "modeled plastic toy figurines"? Despite these minor quibbles, though, Perry's on the way to having the registration published.

The mixed success comes after Perry took on one designer named Fernando Sosa who attempted to capitalize on the phenomenon by selling a 3D-printed figurine of "Left Shark."

Perry's lawyers quickly sent a cease-and-desist letter that stated, "As you are undoubtedly aware, our client never consented to your use of its copyrighted work and IP, nor did our client consent to the sale of the infringed product. Your unauthorized display and sale of this product infringes our client's exclusive rights in numerous ways."

Sosa then retained an attorney, Chris Sprigman, who retorted that costumes are "generally not copyrightable" and asked why "Left Shark" should be treated differently.

Steve Plinio, the Greenberg Traurig attorney representing Perry, responded that Perry's team created shark drawings in the process of designing the costumes, and that those costumes were copyrightable.

Sprigman then volleyed back that the drawings were irrelevant — the sketches might be copyrightable, "but that doesn't make the Left Shark costume is copyrightable."

That discussion mostly centered on copyright, which protects works of authorship, rather than trademark, which protects the phrases and images that identify and distinguish the source of goods and services. Stated another way, holding a "Left Shark" design copyright would allow Perry some ability to prevent others from creating derivatives, while holding a "Left Shark" trademark would allow Perry to attack those who would mislead the public into thinking she's behind their "Left Shark" endeavors.

Meanwhile, Perry isn't done with "Left Shark" at all. See the shark bin picture she put up on Instagram above.

LINKS & REFERENCE
Vogue-beauty-and-the-beat-katy-perrys-first-vogue-cover
Billboard Katy Perry Forbes highest paid celebrities
Hollywood life 2015 December 9 Taylor Swift Katy Perry highest paid musicians 2015 Forbes list
Forbes Zack O'Malley Greenburg 2015 November 4 the worlds highest paid women in music 2015
Daily Mail UK showbiz Katy Perry beats rival Taylor Swift named Forbes highest paid female celebrity raking 135 million 12 monthsI
Its a conspiracy wikia Katy_Perry
Hollywood reporter Katy Perrys left shark design
http://www.nfl.com/superbowl/50
http://www.uspto.gov/
http://www.hollywoodreporter.com/thr-esq/katy-perrys-left-shark-design-790542
http://itsaconspiracy.wikia.com/wiki/Katy_Perry
http://www.vogue.com/865227/beauty-and-the-beat-katy-perrys-first-vogue-cover/
http://www.mtv.com/artists/katy-perry/
https://www.facebook.com/katyperry/
https://www.instagram.com/katyperry/
https://en.wikipedia.org/wiki/Katy_Perry
http://www.billboard.com/articles/columns/pop-shop/6613050/katy-perry-forbes-highest-paid-celebrities
http://hollywoodlife.com/2015/12/09/taylor-swift-katy-perry-highest-paid-musicians-2015-forbes-list/
http://www.forbes.com/sites/zackomalleygreenburg/
http://www.forbes.com/sites/zackomalleygreenburg/2015/11/04/the-worlds-highest-paid-women-in-music-2015/
http://www.dailymail.co.uk/tvshowbiz/article-3143931/Katy-Perry-beats-rival-Taylor-Swift-named-Forbes-highest-paid-female-celebrity-raking-135-million-12-months.html