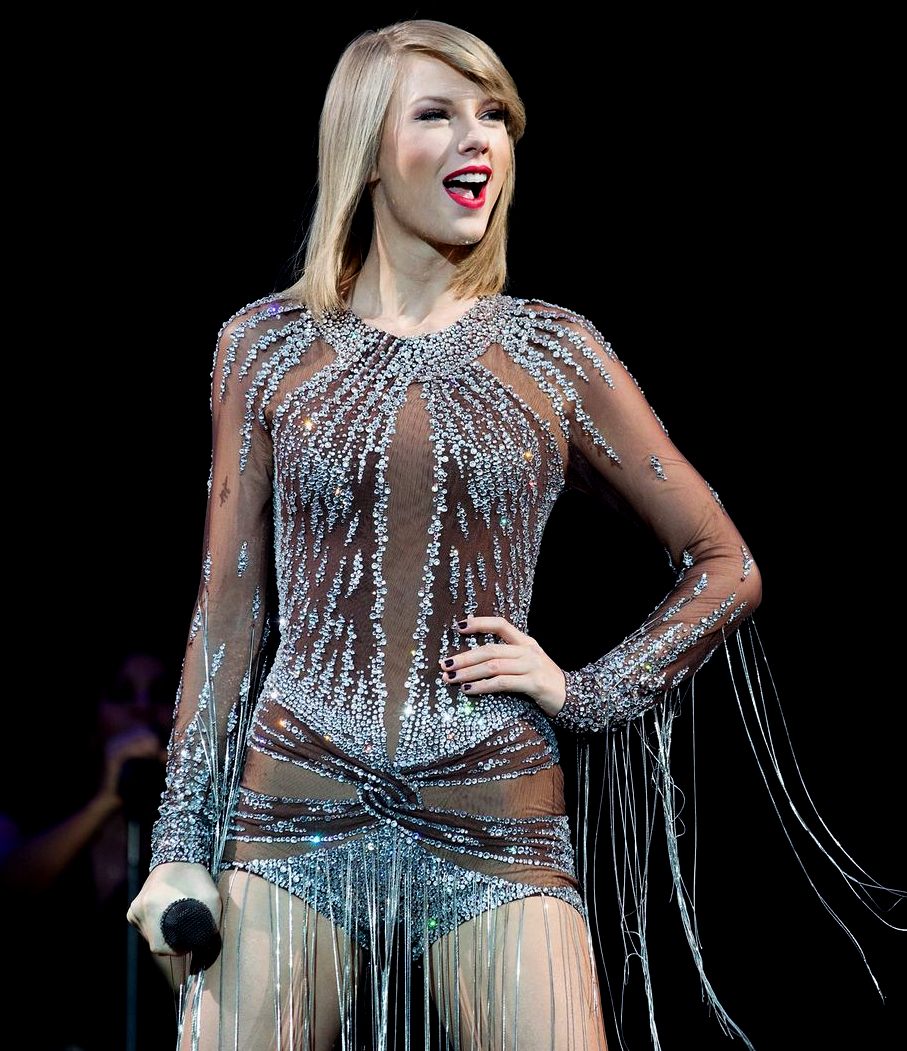 Taylor Alison Swift was born on the 13th of December 1989. She is an American singer-songwriter. Raised in Wyomissing, Pennsylvania, she moved to Nashville, Tennessee, at the age of 14 to pursue a career in country music. She signed with the independent label Big Machine Records and became the youngest songwriter ever signed by the Sony/ATV Music publishing house. The release of Swift's self-titled debut album in 2006 marked the start of her career as a country music singer. Her third single, "Our Song," made her the youngest person to single-handedly write and perform a number-one song on the Hot Country Songs chart.

Swift's second album, Fearless, was released in 2008. Buoyed by the pop crossover success of the singles "Love Story" and "You Belong with Me," Fearless became the best-selling album of 2009 in the United States. The album won four Grammy Awards, making Swift the youngest ever Album of the Year winner. Swift's third and fourth albums, 2010's Speak Now and 2012's Red, both sold more than one million copies within the first week of their U.S release. Speak Now's "Mean" won two Grammy Awards, while Red's singles "We Are Never Ever Getting Back Together" and "I Knew You Were Trouble" were successful worldwide. Swift's fifth album, the pop-focused 1989, was released in 2014 and sold more copies in its opening week than any album in the previous 12 years, making Swift the first and only act to have three albums sell more than one million copies in the opening release week. Its singles "Shake It Off", "Blank Space", and "Bad Blood" reached number one on the Billboard Hot 100.

Swift is known for narrative songs about her personal experiences. As a songwriter, she has been honored by the Nashville Songwriters Association and the Songwriters Hall of Fame. Swift's other achievements include seven Grammy Awards, one Emmy Award, 22 Billboard Music Awards, 11 Country Music Association Awards, eight Academy of Country Music Awards, and one Brit Award. She is one of the best-selling artists of all time, having sold more than 40 million albums - including 27.1 million in the U.S. - and 130 million single downloads. Swift has also had supporting roles in feature films including Valentine's Day (2010) and The Giver (2014). In 2015, she became the youngest woman ever to be included on Forbes' "100 Most Powerful Women" list, ranking at number 64.
PHILANTHROPY

Swift's philanthropic efforts have been recognized by the Do Something Awards, The Giving Back Fund and the Tennessee Disaster Services.

In 2012, Michelle Obama presented Swift with The Big Help Award for her "dedication to helping others" and "inspiring others through action." Also that year, Kerry Kennedy of the Robert F. Kennedy Center for Justice and Human Rights presented Swift with the Ripple of Hope Award because of her "dedication to advocacy at such a young age ... Taylor is just the kind of woman we want our daughters to be."

Swift is a supporter of arts education. In 2010, she donated $75,000 to Nashville's Hendersonville High School to help refurbish the school auditorium's sound and lighting systems. In 2012, she pledged $4 million to fund the building of a new education center at the Country Music Hall of Fame and Museum in Nashville. The 7,500-square-foot building opened in 2014 and will facilitate new programs and workshops for teenagers and senior citizens. The space includes three classrooms and an exhibit space, and houses interactive activities such as a musical petting zoo and a "wet" classroom space to make concert posters and other art projects. Museum officials named it The Taylor Swift Education Center and the singer is involved in an advisory capacity. Also in 2012, Swift partnered with textbook rental company Chegg to donate $60,000 to the music departments of six US colleges. In 2013, Swift donated $100,000 to the Nashville Symphony while, in 2015, she donated $50,000 to the Seattle Symphony. In 2015, she donated proceeds of the song "Welcome to New York" to SING, a New York City music program which allows high school children put on an annual musical production.

Swift promotes children's literacy. In 2009, she donated $250,000 to various schools around the country that she had either attended or had other associations with. The money was used to buy books, fund educational programs and help pay teacher's salaries. In 2010, she took part in a live webcast, Read Now! with Taylor Swift, broadcast exclusively in US schools to celebrate Scholastic's Read Every Day campaign. In 2011, Swift donated 6,000 Scholastic books to Reading Public Library, Pennsylvania and, in 2012, she donated 14,000 books to Nashville Public Library, Tennessee. Most of the books were placed in circulation; the rest were given to children from low-income families, preschools and daycare centers. In 2012, she co-chaired the National Education Association's Read Across America campaign and recorded a PSA encouraging children to read. Also in 2012, Swift promoted the "power of reading" in a second live Scholastic webcast, broadcast directly to US classrooms. In 2013, through the Reach Out and Read initiative, she donated 2,000 Scholastic books to the Reading Hospital Child Health Center's early literacy program. In 2014, she appeared in a READ campaign and took part in another Scholastic webcast, broadcast in US classrooms.[440] Also that year, she donated all proceeds from her song "Welcome to New York" to New York City Public Schools. In 2015, she partnered with Scholastic to donate 25,000 books to New York City schools.

Throughout her career, Swift has donated money for helping victims of natural disasters. In 2008, she donated the proceeds from her merchandise sales at the Country Music Festival to the Red Cross's disaster relief fund. Later that year, she donated $100,000 to the Red Cross to help the victims of the Iowa flood of 2008. In 2009, Swift supported the Victorian Bushfire Appeal by joining the lineup at Sydney's Sound Relief concert, reportedly making the biggest contribution of any artist to the Australian Red Cross. In 2010, she took part in the Hope for Haiti telethon; she performed and answered phone calls from viewers wishing to donate money. She also recorded a song for the Hope for Haiti Now album. In response to the May 2010 Tennessee floods, Swift donated $500,000 during a telethon hosted by WSMV. Later that year, she donated $100,000 to help rebuild a playground in Hendersonville, Tennessee which was damaged by floodwater. In 2011, Swift used the final dress rehearsal for the North American leg of her Speak Now tour as a benefit concert for victims of recent tornadoes in the United States, raising more than $750,000. She also donated $250,000 to Alabama football coach Nick Saban's charity, Nick's Kids, to aid in the tornado relief efforts of West Alabama. In 2012, Swift supported Architecture for Humanity's Restore the Shore MTV telethon in the aftermath of Hurricane Sandy.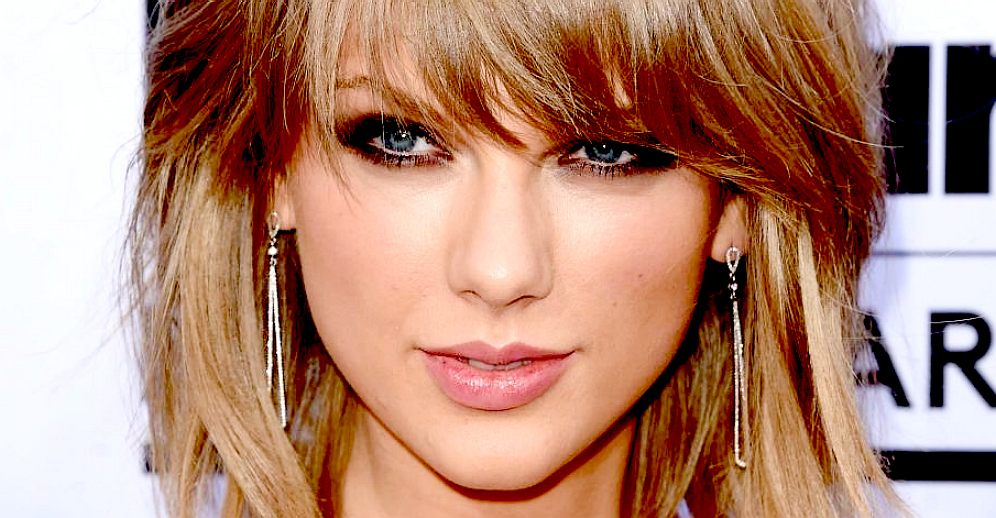 Swift opposes LGBT discrimination. Following the 2008 murder of Larry King, she recorded a Gay, Lesbian and Straight Education Network PSA to combat hate crimes. On the first anniversary of King's death, Swift told Seventeen that her parents taught her "never to judge others based on whom they love, what color their skin is, or their religion." In 2011, the music video for Swift's anti-bullying song "Mean" dealt in part with homophobia in high schools; the video was later nominated for an MTV VMA social activism award. The New York Times believes she is part of "a new wave of young (and mostly straight) women who are providing the soundtrack for a generation of gay fans coming to terms with their identity in a time of turbulent and confusing cultural messages."

The singer is involved with a number of charities which provide services to sick children. In 2008, she donated a pink Chevy pick-up truck to the Victory Junction Gang Camp; the truck is used to transport sick children from the airport to the camp. In 2011, as the Academy of Country Music's Entertainer of the Year, Swift donated $25,000 to St. Jude Children's Research Hospital, Tennessee. This figure was matched by the Academy. In 2012, Swift participated in the Stand Up to Cancer telethon, performing "Ronan", a song she wrote in memory of a four-year-old boy who died of neuroblastoma. The song was made available for digital download, with all proceeds donated to cancer-related charities. In 2014, she donated $100,000 to the V Foundation for Cancer Research and $50,000 to Children's Hospital of Philadelphia. Swift has met with many sick fans through the Make-A-Wish Foundation. She has also made private visits to hospitals such as St. Jude Children's Research Hospital, the Walter Reed Army Medical Center, the Ronald McDonald House, Cedars-Sinai Medical Center, Children's Hospital & Medical Center and Vanderbilt Children's Hospital.

Swift has encouraged young people to volunteer in their local community as part of Global Youth Service Day. In 2007, she launched a campaign to protect children from online predators, in partnership with the Tennessee Association of Chiefs of Police. Also in 2007, she supported an Allstate campaign which promotes safe teenage driving. In 2009, Swift recorded a Sound Matters PSA to make listeners aware of the importance of listening "responsibly." She appeared in a Got Milk? campaign in 2010. Swift has donated auctionable items to a large number of charities, including the Elton John AIDS Foundation, the UNICEF Tap Project, Oxfam International, Habitat for Humanity, MusiCares and Feeding America. She has also performed at a number of benefit concerts, including for the Food Bank For New York City, and Shriners Hospitals for Children.
POLITICS

During the 2008 presidential campaign, she supported the Every Woman Counts campaign, aimed at engaging women in the political process, and was one of many country stars to record a public service announcement for the Vote (For Your) Country campaign. She stated: "I don't think it's my job to try and influence people which way they should vote." Following President Obama's inauguration, she told Rolling Stone that she supported the president: "I've never seen this country so happy about a political decision in my entire time of being alive. I'm so glad this was my first election."

In 2012, Swift was presented with a Kids' Choice Award in recognition of her charitable work by Michelle Obama, who praised her as someone who "has rocketed to the top of the music industry but still keeps her feet on the ground, someone who has shattered every expectation of what a 22-year-old can accomplish." Swift later described the First Lady as "a role model." In a 2012 interview, Swift remarked that, although she tries to keep herself "as educated and informed as possible," she doesn't "talk about politics because it might influence other people." Swift has spent time with the Kennedy family and has spoken of her admiration for Ethel Kennedy. Swift is also a feminist.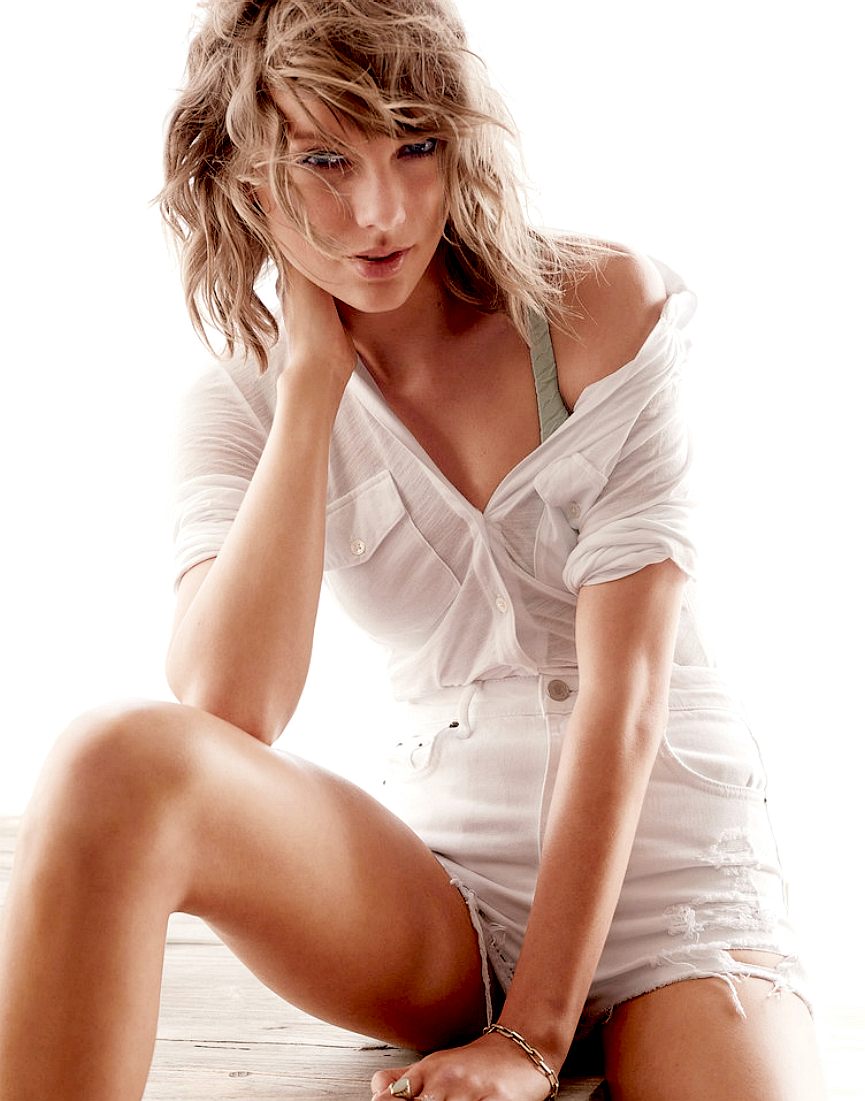 ENDORSEMENTS

While promoting her debut album, Swift appeared as a spokesmodel for l.e.i. jeans and as the face of Verizon Wireless' Mobile Music campaign. In the Fearless era, she launched a l.e.i. sundress range at Wal-Mart, and designed American Greetings cards and Jakks Pacific dolls. She became a spokesperson for the NHL's Nashville Predators and Sony Cyber-shot digital cameras. She performed in a commercial for the Band Hero video game, with Rivers Cuomo, Pete Wentz and Travis Barker appearing as her backing band. In the Speak Now era, she released a special edition of her album through Target. Swift became a CoverGirl spokesmodel, launched two Elizabeth Arden fragrances, Wonderstruck and Wonderstruck Enchanted.

While promoting her fourth album Red, Swift offered exclusive album promotions through Target, Papa John's Pizza and Walgreens. She became a spokesmodel for Diet Coke and Keds sneakers, released her third Elizabeth Arden fragrance titled Taylor by Taylor Swift, and continued her partnerships with Sony Electronics and American Greetings. Swift also partnered with a number of companies during the Red Tour; AirAsia and Qantas acted as the official airlines for the Australian and Asian legs, while Cornetto sponsored the Asian leg of the tour. While promoting 1989, Swift had tie-ins with Subway, Keds, Target and Diet Coke. In 2014, Swift released her fourth fragrance Incredible Things.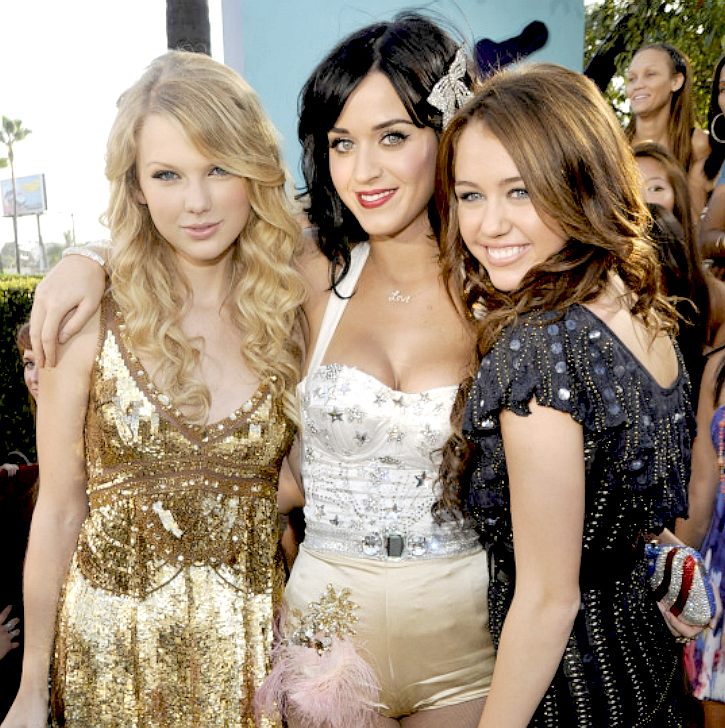 DAILY MIRROR 8 JUNE 2015 - Just weeks after Taylor released her Bad Blood music video (which is about her feud with her pop rival), Katy Perry has recorded a brand new song called "1984" - which is clearly a dig at Tay Tay, whose album is called 1989.

Katy, who was born in 1984, has remained silent during the furore around Taylor's public dig at her.

But it seems she's going to let the music do the talking after registering the title of her new track on BMI.

We're guessing there are going to be all kinds of subtle digs in in Katy's new single - and no doubt the critics will be out to decide who did it best.

Katy hinted we might be hearing her side of the story during an interview with Billboard earlier this year.

The 30-year-old Firework songstress said that she wasn't one to simply take hits.

"If somebody is trying to defame my character," she said in response to the feud, "you're going to hear about it."

Tay and Katy's feud became public last year, when Taylor hinted her hit single, Bad Blood, was about a feud with another female artist who was mean to her.

It is believed to be about Katy - who took to Twitter to respond to the interview shortly after.

"Watch out for the Regina George in sheep's clothing..." she wrote, referring to the main villain in comedy Mean Girls played by Rachel McAdams.

Despite Taylor not naming Katy, 29, in the interview, she didn't hold back when it came to talking about their rocky relationship.

"She basically tried to sabotage an entire arena tour. She tried to hire a bunch of people out from under me.

"And I'm surprisingly non-confrontational – you would not believe how much I hate conflict. So now I have to avoid her. It's awkward, and I don't like it."
DAILY MAIL 30 JUNE 2015
Take that, Taylor Swift! Katy Perry is named Forbes' highest paid female celebrity after raking in $135M in 12 months - $55M more than the Bad Blood singer.

Katy Perry has been named the highest paid female celebrity of the year, beating Taylor Swift to the top spot.

Ellen DeGeneres, Lady Gaga, Beyoncé Knowles, and Kim Kardashian's millions followed not too far behind in the women's category - though they didn't make it into this year's top ten highest paid celebs which was 80 per cent male.

30-year-old Perry earned $135M over the past 12 months, according to a report published in the July 20 edition of Forbes.

That number makes her not only the biggest female money-maker but also the third-highest-paid celebrity in the world this year.
1. Floyd Mayweather, Athlete- $300M
2. Manny Pacquiao, Athlete - $160M
3. Katy Perry, Musician- $135M
4. One Direction, Musicians- $130M
5. Howard Stern, Comedian- $95M
6. Garth Brooks, Musician- $90M
7. James Patterson, Author- $89M
8. Robert Downey Jr., Actor-$80M
9.Taylor Swift, Musician- $80M
10. Cristiano Ronaldo, Athlete- $79.5M
Only boxers Floyd Mayweather and Manny Pacquiao managed to make more than Katy.

Over the past five years, in fact, Katy has reportedly made $303M from her music and related businesses.

The singer described her success as that of an entrepreneur when talking to the magazine

Taylor Swift grabbed the second spot for highest female earner this year by making $80M, though she was only number nine out of the ten top earners.

'I am proud of my position as a boss, as a person that runs my own company,' Perry said

'I don't want to shy away from it. I actually wanted to kind of grab it by its balls.'

That attitude has served the Roar singer well, selling 11 million albums and 81 million singles since her quiet debut as Katy Hudson back in 2001.

It was her second album, One Of The Boys, that brought Katy into the limelight in 2008 - she followed up that success with two more hit albums, Teenage Dream and Prism.

'I'm not here to brag,' Katy said of her success. 'I'm here to inspire other females.'

She may indeed be the biggest celebrity inspiration out there, considering that Katy and her perceived rival, 25-year-old Taylor, were the only women to make the list of top-ten earners.

Instead, the rest of the big money-makers were men - Howard Stern, Garth Brooks, James Patterson, Robert Downey Jr., and Christiano Ronaldo - or a group of men - One Direction.

Taking the number three spot for female earners and the number 12 spot overall, comedian and talk show host Ellen Degeneres made an impressive $75M.

Claiming the number four spot for females and the number 25 place on the list is musician Lady Gaga who earned $59M.

The fifth highest paid female is musician Beyonce Knowles who earns $54.5M. She made it to number 33 on Forbes list of top 100 celebrity earners.

Falling in at number six for women is personality Kim Kardashian who earns $52.5M.

Only 16 women made it into Forbes top 100 list of highest paid earnings this year, proving that there is still a huge disparity among paychecks for female and male talent.
By Laurel Brown and Alexandra Klausner
FORBES NOVEMBER 4 2015
The top-earning woman in the music business has been cashing in on a massive world tour, a constant stream of hit singles and a string of endorsements with a slew of major companies, while occasionally throwing thinly veiled barbs at her chief rival.

Sounds like Taylor Swift - but, in fact, it's her frequent competitor, Katy Perry. Largely because of her Prismatic World Tour, which is now winding down, Perry pulled in $135 million this year. She grossed more than $2 million per city over the course of 126 shows in our scoring period, and added to her total through deals with Coty, Claire's and Covergirl.

"I am proud of my position as a boss, as a person that runs my own company," Perry told FORBES for our Celebrity 100 cover story this past summer. "I'm an entrepreneur. … I don't want to shy away from it. I actually want to kind of grab it by its balls."

Swift has also been having quite the year, claiming the No. 2 spot with $80 million. More than a year after the launch of 1989 - the top release of 2014 with over 3.6 million copies sold - her latest single, "Wildest Dreams," has ascended to the top of the charts, boosted by a music video with Scott Eastwood. But it was the beginning of her epic 1989 World Tour that placed her so close to the top of this list.

Other big names on the on the list include Britney Spears (No. 6, $31 million), who makes the bulk of her bucks on a lucrative Planet Hollywood residency in Las Vegas, and Rihanna (No. 10, $26 million), who only played nine dates in our scoring period but is set to release new album Anti in the coming months; more touring will likely follow.

Though a pay gap regrettably pervades the music business - albeit not as badly as other parts of the entertainment world - this year the top most high-earning ladies in the industry boast earnings competitive with their male counterparts, as FORBES will reveal with its overall list of the highest-paid musicians in December.

Our list of the highest-paid women in music measures pretax income from June 1, 2014, to June 1, 2015, before subtracting management fees. Figures are based on data from Nielsen, Pollstar and the RIAA, as well as interviews with agents, managers, lawyers - and some of the stars themselves.

Given the nature of our scoring period, Perry will have some stiff competition for next year's list: Swift's 1989 Tour is grossing well over $4 million per city, and shows no signs of slowing down.

"It's a stadium tour, it's enormous," says Bongiovanni. "I would imagine that she's going to dwarf what everybody else does."
LINKS & REFERENCE
Mirror celebrity news Katy Perry responds Taylor Swift
Hollywood Llife Taylor Swift Katy Perry 2015 Forbes
Forbes 2015 November 4 worlds highest paid women in music
Dailymail Katy Perry beats Taylor Swift Forbes £135-million
http://www.mirror.co.uk/3am/celebrity-news/katy-perry-responds-taylor-swift-5843452
https://en.wikipedia.org/wiki/Taylor_Swift
https://twitter.com/taylorswift13
http://taylorswift.com/
http://hollywoodlife.com/2015/12/09/taylor-swift-katy-perry-highest-paid-musicians-2015-forbes-list/
http://www.forbes.com/sites/zackomalleygreenburg/2015/11/04/the-worlds-highest-paid-women-in-music-2015/
http://www.dailymail.co.uk/tvshowbiz/article-3143931/Katy-Perry-beats-rival-Taylor-Swift-named-Forbes-highest-paid-female-celebrity-raking-135-million-12-months.html