Exotic Events Finder offer you the chance to enjoy the flavour of this romantic story at your wedding reception or corporate event. Please see the Gallery for details, or speak with our event organiser.
Moulin Rouge! is a 2001 Academy Award winning musical film directed by Baz Luhrmann. It tells the story of a young British poet/writer, Christian, who falls in love with the star of the Moulin Rouge cabaret, actress and courtesan, Satine. It uses the colourful musical setting of the Montmartre Quarter of Paris, France.
Some plot details, specifically the poor artist and his dying lover, bear relation to the Giacomo Puccini opera La bohème (which Luhrmann has also directed several times), including references to the "Bohemian" subculture. Otherwise, the plot greatly resembles that of Giuseppe Verdi's opera La traviata, especially the end. Luhrmann is said to have been inspired to make the movie after watching Dil Se (1998) by director Mani Ratnam.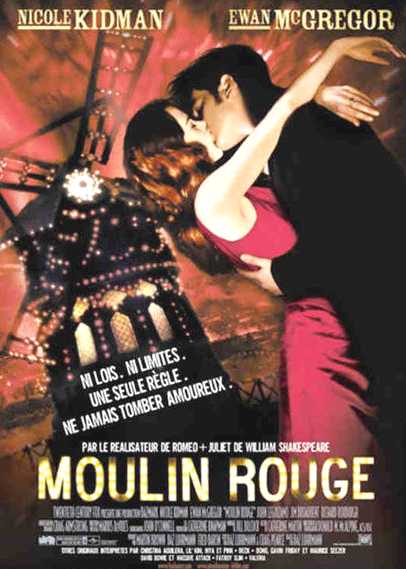 Moulin Rouge film poster
The film was nominated for eight Oscars, and won two; for art direction and costume design. It was shot at Fox Studios in Sydney, Australia.
Due to the film's international success, it has been widely credited with revitalizing the musical genre, setting the stage for films such as Chicago, Rent and The Phantom Of The Opera.
In 2006 Moulin Rouge! ranked #25 on the American Film Institute's list of best musicals.
Description
Moulin Rouge! is a cinematic musical that has a storyline and structure that is said to be inspired and influenced largely by Italian grand opera: exuberant music, colourful visuals, elaborate sets and costumes. It also has some elements of Bollywood films such as a simple story line with a simple conflict, a melodramatic heroine and two-dimensional characters, with the added touch of an India-inspired and very "Bollywood-style" play within a play, "Spectacular Spectacular", which itself may have been based on an ancient Sanskrit play The Little Clay Cart. In addition to the Bollywood influence, Baz Luhrmann has revealed in the DVD's voice-over commentary that he drew from the ancient Greek tale of Orpheus and Eurydice. Orpheus was a musical genius far surpassing anyone in his world; the film-makers chose to replicate this by using songs from the mid-to-late 20th century, many decades after the film's 1899 setting. In this way, Christian would appear to the other characters to be an innovative musician and writer.
The film takes well-known popular songs and modifies them to fit into a tale of a turn-of-the-20th-century Paris cabaret, blending swirling camera motion, loud music, and dancing. Some of the songs it samples include "Chamma Chamma" from the Hindi movie China Gate, Queen's "The Show Must Go On" (cleverly arranged in an opera format), David Bowie's rendition of the Eden Ahbez jazz standard "Nature Boy", "Lady Marmalade" by LaBelle (the Christina Aguilera/P!nk/Mıa/Lil' Kim cover having been commissioned for this film), Madonna's "Like a Virgin" and "Material Girl", the titular song of "The Sound of Music", and one of the few film uses of "Smells Like Teen Spirit" by Nirvana. The film uses so much popular music that it took Luhrmann almost two years to secure all the rights to the songs.
Principal cast
Nicole Kidman as Satine

Ewan McGregor as Christian

Jim Broadbent as Harold Zidler

Richard Roxburgh as The Duke

John Leguizamo as Henri de Toulouse-Lautrec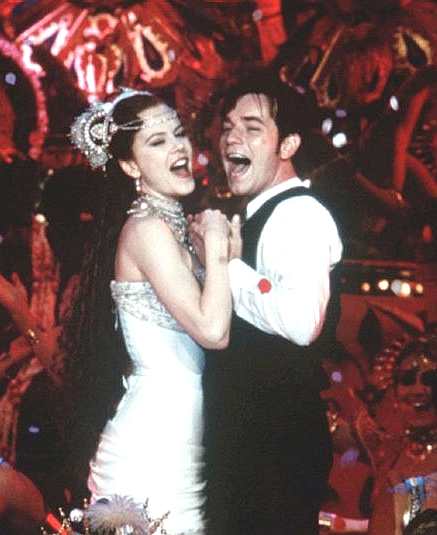 Satine and Christian sing in a love scene of Moulin Rouge
Plot summary
The theme of the movie is love and its age-old conflict with wealth, materialism and jealousy. The main character, Christian (Ewan McGregor), is an English poet/writer who comes to Paris at the height of the Bohemian movement—a city of artists, parties, and absinthe. He falls in love with the principal singer of the Moulin Rouge cabaret, Satine (Nicole Kidman), who unknowingly suffers from a terminal case of consumption.
Satine is a worldly and beautiful courtesan who believes that diamonds are a girl's best friend. She wants money and not love from her gentlemen clients, yet she dreams of leaving the show to become a real actress. Through mistaken identity, Satine believes Christian is a wealthy and powerful Duke who will invest in the cabaret's new show, keep everyone employed, and make her a star. While meeting him in the Elephant Room for a tryst to seal the deal, Satine is at first taken with Christian's poetry (a version of Your Song by Elton John) but is shocked to realize he's actually a penniless Bohemian poet.
The real Duke arrives and catches them together. Christian's quick wit and Satine's charm fool the Duke into believing that they were rehearsing their new show, "Spectacular Spectacular." Christian, with the help of Satine and the Bohemians, quickly improvises the show's plot: an Indian-themed musical extravaganza. The Duke is impressed and agrees to support the show, but he quickly reveals that he is a violently jealous man who will shut down the Moulin Rouge if he does not get Satine all to himself. Nevertheless, he accepts that she will be busy with rehearsals and in close contact with Christian, the writer.
Christian and Satine fall madly in love, while Harold Zidler, the Moulin Rouge's manager and a father figure to Satine, struggles to keep the Duke interested in the show even though Satine has not yet spent the night with him. At last the Duke realizes he is being cuckolded, tries to take Satine by force, and threatens to kill Christian. At Zidler's urging, Satine tells Christian she never loved him, hoping he will leave town and escape the Duke's wrath.
At the show's debut, Satine, now aware that she has only a short time to live, performs wearily. Christian, unwilling to give up on her, confronts her backstage. When she tries to drive him off again, he takes the place of the show's hero, throws money at her feet to "pay his whore," and storms off publicly. Although she is dying and his life is in danger, Satine calls him back by singing their secret lovers' song, and they are reconciled in full view of the audience and the Duke. The Duke attacks Christian physically, but Zidler unexpectedly drives him off so that love can prevail. The show ends. The audience wildly applauds what they perceived as a good drama, but privately, backstage, Satine is overcome by her illness and dies in Christian's arms. She begs him at the last moment to write their story down for others to read.
Half a year later, Christian has kept his promise, but so has the Duke. Harold had to sign the deed to the Moulin Rouge over to the Duke, who shut it down in bitterness at losing Satine. The Moulin Rouge ends the movie empty and in disrepair.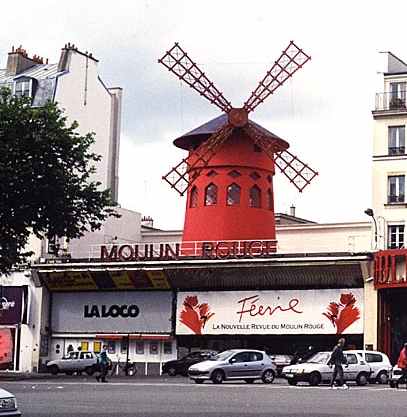 Moulin Rouge, Paris, France - daytime
Release and reception
Production on the film began in November 1999 and was completed in May 2000, with a budget of just over $50 million. Production generally went smoothly, with the only major problem occurring when star Nicole Kidman injured her knee while filming one of the more complicated dance sequences. Originally set for release on December 25, 2000 as a high profile Oscar contender, 20th Century Fox eventually moved the release to early summer so director Baz Luhrmann would have more time during post production. The film premiered at the Cannes Film Festival on May 9, 2001—making it the festival's opening title. A limited release on May 18, 2001 followed, and the film was released to theaters nationwide on June 1, 2001.
The film was an instant success in limited release, grossing $185,095 in only two theaters opening weekend. Representatives from the studio said that many audiences even burst into applause during the screenings. The numbers continued to increase over the Memorial Day weekend, with the film making $254,098. When it expanded into over 2500 theaters, it made $14.2 million in its first weekend of wide release. It had great word of mouth and managed to have sturdy legs throughout the summer season, eventually grossing over $57 million domestically. It had a brief re-release in October 2001 for Oscar consideration, with Luhrmann stating that his intent was to get Kidman and McGregor nominated.
The movie was even more successful overseas. It broke box office records in Australia where it was given a rare theatrical re-release at the end of 2001, and managed to find a stable audience in almost every country. It eventually made over $120 million internationally, resulting in a total of over $177 million worldwide.
Awards
When awards season rolled around, the film was still fresh in everyone's mind due to the high-profile DVD release in December 2001. It was selected by the National Board of Review as the best film of 2001 over many other contenders. After that, it picked up six Golden Globe nominations including Best Motion Picture - Musical or Comedy, Best Actress in a Motion Picture - Musical or Comedy (for Nicole Kidman), Best Actor in a Motion Picture - Musical or Comedy (for Ewan McGregor), Best Original Score, Best Director (for Baz Luhrmann) and Best Song ("Come What May"). It won three including the coveted Best Picture trophy. A few weeks later, it received 13 nominations at the BAFTA Awards, making it the most nominated film of the year for that ceremony. It took home three, including Best Supporting Actor for Jim Broadbent.
When Oscar nominations were announced, the film received eight nominations including Best Actress in a Leading Role (Nicole Kidman) and Best Picture. The film was not nominated for Best Director (Baz Luhrmann); commenting on this during the Oscar ceremony, host Whoopi Goldberg remarked, "I guess Moulin Rouge! just directed itself." It took home two Oscars when the winners were announced for Best Costume Design and Best Art Direction. At the lower-profile MTV Movie Awards, Kidman took home the Best Actress trophy and Kidman and McGregor took home Best Musical Sequence.
It should be noted that "Come What May" (the only original song in the film) was disqualified from nomination for an Oscar because it was originally written (but unused) for Luhrmann's previous film William Shakespeare's Romeo + Juliet and not written expressly for Moulin Rouge!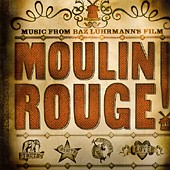 Moulin Rouge - Album
Soundtrack
Two soundtrack albums were released, with the second coming after the first one's massive success. The first volume featured the smash hit single "Lady Marmalade", performed by Christina Aguilera, Lil' Kim, Mıa and P!nk.
Track listings are as follows:
MOULIN ROUGE - Music From Baz Luhrmann's Film (Vol. 1)
"Nature Boy" performed by David Bowie

"Lady Marmalade" performed by Christina Aguilera, Lil' Kim, Mıa and P!nk

"Because We Can" performed by Fatboy Slim

"Sparkling Diamonds" performed by Nicole Kidman, Jim Broadbent, Caroline O'Connor, Natalie Mendoza and Lara Mulcahy

"Rhythm Of The Night" performed by Valeria

"Your Song" performed by Ewan McGregor

"Children Of The Revolution" performed by Bono, Gavin Friday and Maurice Seezer

"One Day I'll Fly Away" performed by Nicole Kidman

"Diamond Dogs" performed by Beck

"Elephant Love Medley" performed by Nicole Kidman and Ewan McGregor

"Come What May" performed by Nicole Kidman and Ewan McGregor

"El Tango De Roxanne" performed by Ewan McGregor, Jose Feliciano and Jacek Koman

"Complainte De La Butte" performed by Rufus Wainwright

"Hindi Sad Diamonds" performed by Nicole Kidman and Cast

"Nature Boy" performed by David Bowie and Massive Attack
MOULIN ROUGE - Music From Baz Luhrmann's Film (Vol. 2)
"Your Song" performed by Craig Armstrong

"Sparkling Diamonds (Original Film Version)" performed by Nicole Kidman, Jim Broadbent, Caroline O'Connor, Natalie Mendoza and Lara Mulcahy

"One Day I'll Fly Away (Remix)" performed by Nicole Kidman

"The Pitch (Spectacular Spectacular)" performed by Nicole Kidman, Ewan McGregor, John Leguizamo, Jim Broadbent and Richard Roxburgh

"Come What May (Original Film Version)" performed by Nicole Kidman and Ewan McGregor

"Like A Virgin" performed by Jim Broadbent and Richard Roxburgh

"Meet Me In The Red Room" performed by Amiel

"Your Song (Instrumental)" performed by Craig Armstrong

"The Show Must Go On" performed by Jim Broadbent, Nicole Kidman and Cast

"Ascension/Nature Boy" performed by John Leguizamo and Craig Armstrong

"Bolero (Closing Credits)" composed by Steve Sharples and performed by Craig Armstrong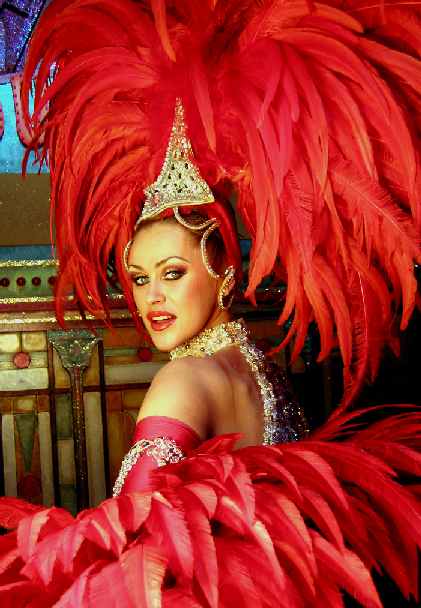 Dancer in red feather outfit Moulin Rouge, Paris, France
Distinctions
Golden Globe Award for Best Motion Picture - Musical or Comedy

Golden Globe Award for Best Actress - Motion Picture Musical or Comedy (Nicole Kidman)

Academy Award for Art Direction-Set Decoration (Catherine Martin & Brigitte Broch)

Academy Award for Costume Design (Catherine Martin & Angus Strathie)

Golden Globe Award for Best Original Score - Motion Picture (Craig Armstrong)

Producers Guild of America's Award for Best Picture

National Board of Review's Award for Best Picture
Trivia
Tim Wheeler, of the rock band Ash, auditioned for the lead role of Christian which led him to write the track "Orpheus".

The film is dedicated to Baz Luhrmann's father, Leonard, who died just as filming was about to begin.

The production was overrunning in its shooting schedule and had to be out of the Fox Studios in Sydney to make way for Star Wars: Episode II: Attack of the Clones. This necessitated some pick-up shots being filmed in Madrid.

Kylie Minogue makes a cameo as "the Green Fairy", appearing in Christian's hallucinations as he drinks. Originally the character's portion of the film was intended to be longer and use Ozzy Osbourne's voice to replace Minogue's as the absinthe drives Christian deeper into hallucinations. The only surviving remnant of Osbourne's voice is the scream the Green Fairy utters as her eyes turn red and the camera pulls into the Moulin Rouge.

The movie makes reference to absinthe, and incorrectly attributes it with hallucinogenic effects.

Placido Domingo voices the operatic Moon during the occasions where it sings.

The movie also features the famous Bollywood item number by Urmila Matondkar: "Chamma Chamma".

Ewan McGregor and John Broadbent both also starred together in the british film, Little Voice.

The band Panic! At the Disco was inspired by the costumes worn in the movie, creating the band's anachronistic clothing style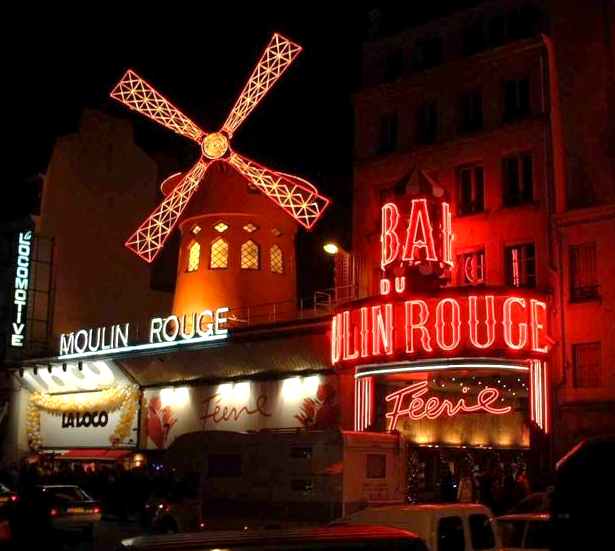 The Moulin Rouge, Paris, France - at night
LINKS and REFERENCE
Exotic Events Finder

Email: Event Enquiries