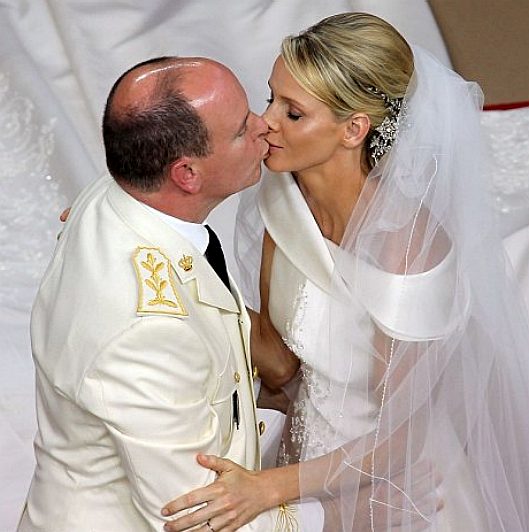 ROYAL KISS - Prince Albert II and Charlene Wittstock tie the knot. The wedding between Albert II, Prince of Monaco, and Charlene Wittstock took place on 1 and 2 July 2011 at the Prince's Palace of Monaco. It has been described as Monaco's "biggest party in 55 years", in other words, the biggest since the wedding of Albert's parents, Rainier III and Grace Kelly. Prince Albert and Wittstock first met in 2000 at a swimming competition in Monaco in which she was participating. They announced their engagement on 23 June 2010.
Charlene Lynette Wittstock was born on the 25th of January 1978. She is a former South African Olympic swimmer who, after marrying Prince Albert II, became Princess of Monaco.

Charlene is the daughter of Michael and Lynette Wittstock. She was born in Zimbabwe and her family relocated to South Africa in 1989. She represented South Africa at the 2000 Sydney Olympics, with her team finishing fifth in the 4 × 100 metre medley relay. She retired from competitive swimming in 2007.

Charlene met Prince Albert at the Mare Nostrum swimming competition in Monte Carlo, Monaco in 2000. They were first seen together in 2006, and she has accompanied the prince on many of his official duties since then. They announced their engagement in June 2010, and were married on 1 July 2011. Princess Charlene's pregnancy was announced on 30 May 2014. On 10 December 2014, The Princess of Monaco gave birth to Princess Gabriella and Hereditary Prince Jacques.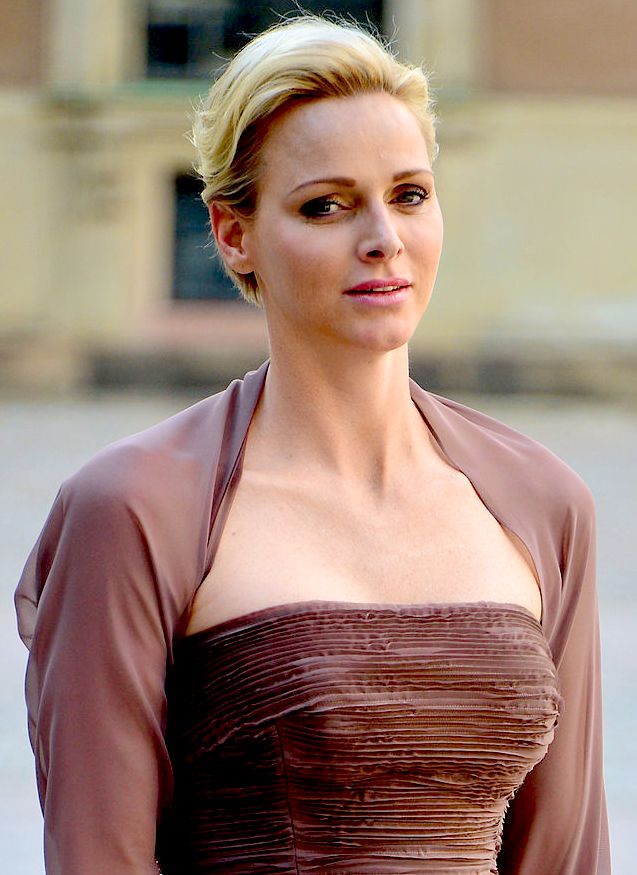 SPORTSWOMAN - Princess Charlene shares a similar facial shape with South African beauty, Charlize Theron. They are both great performers, Charlene in water, Charlize on the silver screen.


OLYMPIC SWIMMER

Charlene won three gold medals and a silver medal at the 1999 All-Africa Games in Johannesburg. She also was a member of the South African women's 4×100 m medley team at the 2000 Summer Olympics, which finished fifth. She finished sixth at the 2002 FINA Short Course World Championships for the 200 m breaststroke. She left her Durban-based team (the Seagulls) to join the Tuks Swimming Club at the High Performance Centre of the University of Pretoria. She never enrolled in classes. The Club sponsored her by providing her with free access to their pools, free coaching, accommodations, and gymnasium access.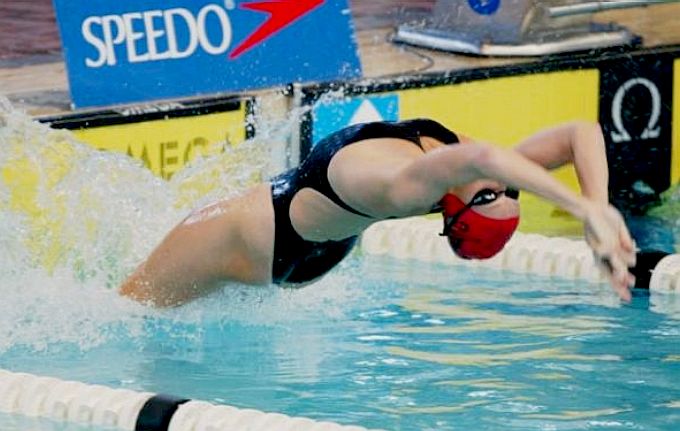 She decided to leave Pretoria in January 2005, and returned to Durban; she then went to the north coast of KwaZulu-Natal, where she joined a former University of Pretoria swimming coach, Brannislav Ivkovic. On 13 April 2007, Charlene regained her title as South Africa's 50 m women's backstroke champion when she completed the 50 m backstroke final at the Telkom SA National Aquatic Championships in 30:16 seconds, to finish third behind Australia's Sophie Edington and Brazil's Fabíola Molina.

Over the years she has won several national titles. She planned to compete in the 2008 Summer Olympics in China, which she said would be her swansong, but she did not qualify. Previously she had been out of competitive swimming for 18 months with a shoulder injury. Charlene said she would be swimming in Europe in the near future, hoping to improve her times. "I have a year left of competitive swimming, and I just want to be the best I can be in that time. After that I want to get involved in charity work, and development work with athletes' commissions".
2015 - HRS Prince Albert II with John Kerry in the USA. Princess Charlene is sure to be proud that Prince Albert is active in the field of ocean conservation. They are both into water in a big way. The Prince was generally supportive of the Global Ocean Commission, an organization concerned about pollution from plastic and declining fish stocks from over-fishing. Other Royal supporters of the cause include the UK's Prince Charles. There is roughly 8 million tons of plastic in five gyres in the Atlantic, Indian and Pacific oceans.
2010 - The Planet Solar Turanor, the world's largest solar powered ship, stopped at the International Monaco Yacht Show before embarking on a record setting circumnavigation of Planet Earth. On Friday, September 24, Prince Albert II of Monaco toured this unique vessel.

The designers of Planet Solar Turanor created a catamaran because it saves energy by slicing through rather than riding into wave. The ship stores energy in its batteries by day and can continue sailing on its stored energy without sunlight for about three days. Planet Solar Turanor followed an equatorial route in order to take advantage of the most sunshine.
ENGAGEMENT & MARRIAGE
Charlene met Albert II, Prince of Monaco, in 2000 at the Mare Nostrum swimming meet in Monaco. They were first seen together in 2001. They went public at the opening ceremony of the 2006 Winter Olympics. Charlene moved in with Albert in 2006. She accompanied him to the weddings of the Crown Princess of Sweden in 2010 and of the Duke of Cambridge in 2011.

On 23 June 2010, the palace announced the engagement of Charlene and Albert. Charlene, who was raised a Protestant, converted to Roman Catholicism, even though this is not a requirement of the Constitution of Monaco. The future princess was also instructed in the French language and the Monégasque dialect, and became familiar with European court protocol. The Prince presented her with an engagement ring featuring a pear-shaped three-carat diamond at the center and round diamond brilliants surrounding it. This engagement ring was reported to be created by Parisian jeweler Repossi.

The wedding was originally scheduled for 8 and 9 July 2011, but was moved forward to prevent a conflict with the International Olympic Committee (IOC) meeting in Durban on 5–9 July. The couple had invited members of the IOC, including president Jacques Rogge, to their wedding. The couple attended the IOC meeting; hence Charlene's first foreign visit as princess was to her childhood home, South Africa.

During the week before the wedding, the palace denied reports that Charlene had been getting cold feet. French weekly L'Express reported that Charlene tried to leave Monaco on Tuesday, 28 June, after rumors surfaced that Albert had fathered a third illegitimate child. The report claimed Monaco Police intercepted her at Nice Côte d'Azur Airport, confiscated her passport, and that it took "intense convincing" by Albert and palace officials for her to stay. The palace called the stories "ugly rumors" born out of jealousy.

The couple were married in a civil ceremony on 1 July 2011 at the Throne Room in the Prince's Palace. The Nuptial Mass on 2 July, was a lavish affair. Only days after the beginning of the couple's honeymoon in South Africa, several newspapers from Spain, Britain, and elsewhere reported that Charlene and Albert were not staying at the same hotel, but were in fact booked in different hotels several miles apart. These reports fueled rumors about the couple's marital crisis that was sparked off even before their wedding.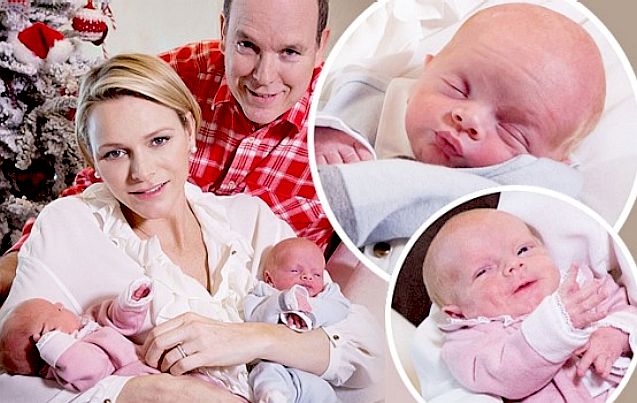 MOTHERHOOD

On 30 May 2014, it was announced that Princess Charlene was pregnant. After much speculation it was confirmed on 9 October 2014, that the couple would be expecting twins by the end of the year. On 10 December 2014, her twins were born at The Princess Grace Hospital Centre. Daughter Gabriella Thérèse Marie was born first followed by her brother Jacques Honoré Rainier. Due to male-preference cognatic primogeniture, Jacques is first in line to the throne and has been styled His Serene Highness The Hereditary Prince of Monaco as well as Marquis of Baux. Gabriella has been styled Her Serene Highness The Countess of Carladès.
CONTROVERSY, SUNDAY TIMES DAMAGES (reported in The Guardian) JAN 2013
Prince Albert of Monaco has accepted a high court apology and substantial damages from the Sunday Times over "seriously defamatory allegations" that he had entered a sham marriage with Charlene Wittstock.

The prince sued the News International paper following the publication of the article in July 2011 for damages of more than £300,000, but the high court heard on Tuesday morning that the exact settlement has yet to be agreed. The Sunday Times will also pay Prince Albert's legal costs.

Rupert Earle, a lawyer representing the Sunday Times, said the paper offered "its sincere apologies to the claimants for the damage, as well as the distress caused".

In a statement read out in court, it also agreed that the paper had falsely alleged that Prince Albert had "turned a blind eye to corrupt activity by his courtiers and had done nothing effective to curb the activities of mobsters and money launderers in the principality".

The article was published on 3 July 2011, just two days after the couple were married – it was headlined "The Full Monte" and "Curse of the Grimaldis". It wrongly claimed that Prince Albert's wife had agreed to take part in a sham marriage because he paid her so much money to go through the pretence of an extravagant wedding, despite her discovering that he had fathered an illegitimate child with another woman during their relationship.

The prince and princess said the story had caused considerable hurt, distress and embarrassment.

Mr Justice Eady, presiding over the case in the high court, heard that the article also wrongly alleged that Prince Albert had granted residency in Monaco to foreigners on the request of friends and advisers for fear they would disclose embarrassing secrets about his love life.

"It also accused him of having Her Serene Highness Princess Charlene's passport confiscated at Nice airport in order to prevent her from leaving Monaco, so that she would marry him for appearance's sake," Prince Albert's lawyer Mark Thomson said in court.

He added that the Sunday Times also made the defamatory suggestion that Princess Charlene had attempted to flee the principality because she had discovered the existence of a third love child by another woman and she had reluctantly agreed to marry the prince in exchange for money with a view to "obtaining an annulment after a seemly interval".

The final libel, Thomson told the court, was the allegation that Prince Albert "had paid his allegedly reluctant bride for going through with the marriage with the intent of allowing her afterwards to annul the marriage quietly".

"None of these allegations are true," said Thomson in the statement agreed with the paper.

"The article caused the newly-wed couple enormous upset and embarrassment," he added, particularly in view of the worldwide interest in their marriage.

Prince Albert has launched a second lawsuit against the Sunday Times over false allegations that he entered a sham marriage with his wife Charlene Wittstock.

The prince is suing the paper and its editor, John Witherow, and the author of the article, Matthew Campbell, in France over the publication of the article on 3 July 2011 in the paper which is distributed in France.

Papers lodged in the French court show Prince Albert is seeking €100,000 (£83,000) in damages and a legal notice in the Sunday Times in English, along with one in French, in three French newspapers and the Monaco Matin Express. A hearing on the case is scheduled for the Paris courts on Wednesday.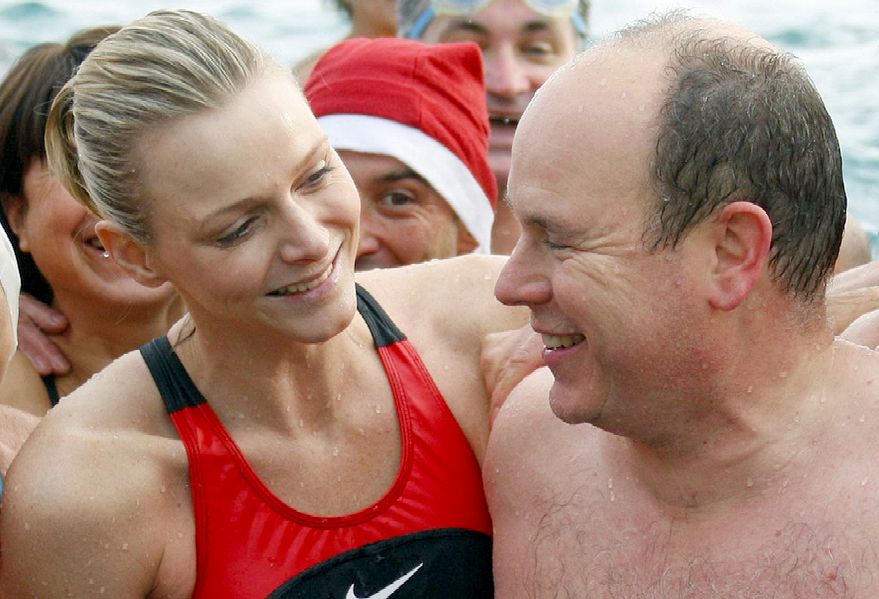 CONTROVERSY, DAILY MAIL, FEMAIL JULY 2013
I'm NOT the runaway bride: Monaco's Princess Charlene finally breaks her silence to brand rumours she tried to flee before wedding 'categorical lies'

As she walked down the aisle in a bespoke Armani dress that had taken the Italian atelier an astonishing 2,500 hours to create, Charlene Wittstock, now Her Serene Highness Princess Charlene of Monaco, looked anything but the happy bride.

Tears rolled down her cheeks as she exchanged vows with the principality's ruler, Prince Albert II, in front of a global audience of millions.

But her tears weren't, as reported, the result of a series of rows over her fiancée's womanizing ways and a failed escape attempt in the days leading up to her wedding.

In a rare interview, the South African former swimmer has revealed that they were tears of happiness and has described the speculation as 'categorical lies'.

'Everything was just so overwhelming and there were all the mixed emotions because of the rumours, and obviously the tension built up and I burst into tears [immediately after the ceremony].

'And then I burst into tears some more because I was thinking "Oh no, now the whole world has seen me cry"'.

Despite the slew of negative headlines that marred her big day, Europe's newest royal wife has happy memories of her wedding.

'It was such a wonderful three days,' she told the Times Weekend Magazine. 'Even months afterwards I would get flashbacks and think, "Oh my goodness, did I really have the Eagles playing at my wedding?"

'I think back and wonder how we managed to pull it off. There was a lot going on. It was beautiful; it was sentimental, showing my most intimate moment to the world.'

Since her 2011 nuptials, Charlene has thrown herself into her new role, building relationships with other European royals and working on her charitable foundation which encourages French and Monégasque children to learn to swim.

'My cousin drowned when he was five years old,' she says. 'He went to swim in a neighbour's pool and fell in.

'Thousands of people drown in France every year... and I want to spearhead this water safety project of mine, giving people access to someone to teach them to swim free.'

She's working on smoothing the gap between the designer clad children of the super-rich and everyone else and is currently setting up a competition that will encourage Monégasque children to design their own school uniforms.

She also speaks warmly of her work with Dior designer Raf Simons who recently staged a show in the principality.

'I worked for two years on that,' she explains. 'I had a vision to arrange a fashion show between Cannes Film Festival and the [Monaco] Grand Prix, because everybody is here.

'I thought it would work out and people would love to see Raf Simons' line. I mean, he's the number one designer in the world! I'm still smiling about it.'

Another person who makes her smile is the Netherland's new queen, Maxima. 'Maxima has been unbelievably supportive if I need help with anything,' reveals Charlene.

'Because she came from Argentina and moved to Holland, we have made similar lifestyle choices. She has given me advice that I identified with.'

And Maxima isn't the only fellow royal to meet with Princess Charlene's approval. The Duchess of Cambridge, married just months before Charlene, has also proved a friendly source of support.

'She's very sweet and lovely,' says Charlene. 'I can understand it must be difficult for everyone being in this situation when you're not born into it.'

But as the Duchess of Cambridge, now a day overdue, prepares for the birth of her first child, does she hope for a little prince or princess of her own?

'Look, I'm not going to put myself under any pressure,' she says. 'I just got married. I'm just settling into this enormous place and getting used to having huge responsibilities.

'You know,' she adds, 'we travel a lot, so it's going to take time. But as I said, I'm not going to put myself under any pressure. It will happen; it will happen.'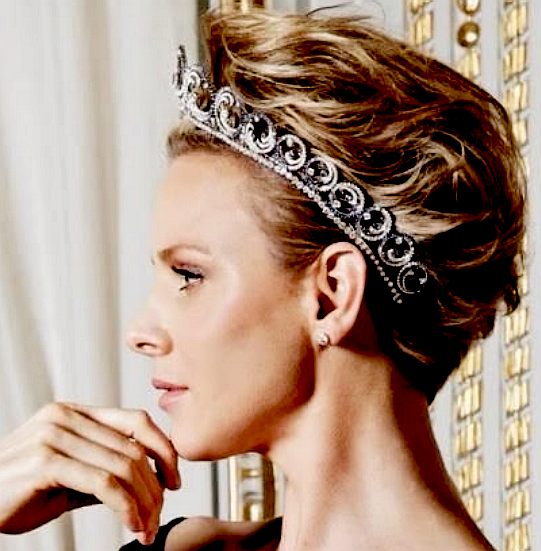 FAMILY HISTORY

Charlene was born in Bulawayo, Zimbabwe. She is the daughter of Michael Kenneth Wittstock, a sales manager, and Lynette Wittstock (born Lynette Humberstone), a former competitive diver and swimming coach. Charlene has two younger brothers: Gareth (born 1980), a computer technician, and Sean (born 1983), a sales representative. Her family relocated to South Africa in 1989, when she was 11 years old. Charlene attended Tom Newby Primary school in Benoni, near Johannesburg, from 1988 to 1991.

The Wittstock family is of German origin; Charlene's great-great-grandparents Martin Gottlieb Wittstock and Johanne Luise Wittstock (born Johanne Luise Schönknecht) emigrated to South Africa from the Pomeranian village of Zerrenthin in northern Germany in 1861 to escape hardship. In South Africa, the Wittstocks worked as handyworkers and unsuccessfully prospected for diamonds. Gottlieb's son, Heinrich Carl Wittstock would marry Olive Florence Caldwell, of English origin. Their son Dudley Kenneth Wittstock, Charlene's paternal grandfather, married Sylvia Fagan Nicolson, also of English origin. Charlene was given a certificate in 2014 which verified her Irish ancestry.

Michael Wittstock announced in April 2011 that he was considering moving the family from Benoni to Monaco because of the increasing crime rate in South Africa.

Wedding, HSH Princess Charlene - Youtube
LINKS & REFERENCE
Prince Albert II Monaco Foundation
Wikipedia Charlene_Princess_of_Monaco
Daily Mal Monacos-Princess-Charlene-finally-breaks-silence-brand-rumours-tried-flee-wedding-categorical-lies
The Guardian 2013 sunday-times-damages-prince-albert-monaco
KUNC Monaco-welcomes-guests-royal-wedding
http://www.olympic.org/ioc
http://www.kunc.org/post/monaco-welcomes-guests-royal-wedding
http://www.fpa2.com/home.html
http://en.wikipedia.org/wiki/Charlene,_Princess_of_Monaco
http://www.dailymail.co.uk/femail/article-2362899/Monacos-Princess-Charlene-finally-breaks-silence-brand-rumours-tried-flee-wedding-categorical-lies.html
http://www.theguardian.com/media/2013/jan/15/sunday-times-damages-prince-albert-monaco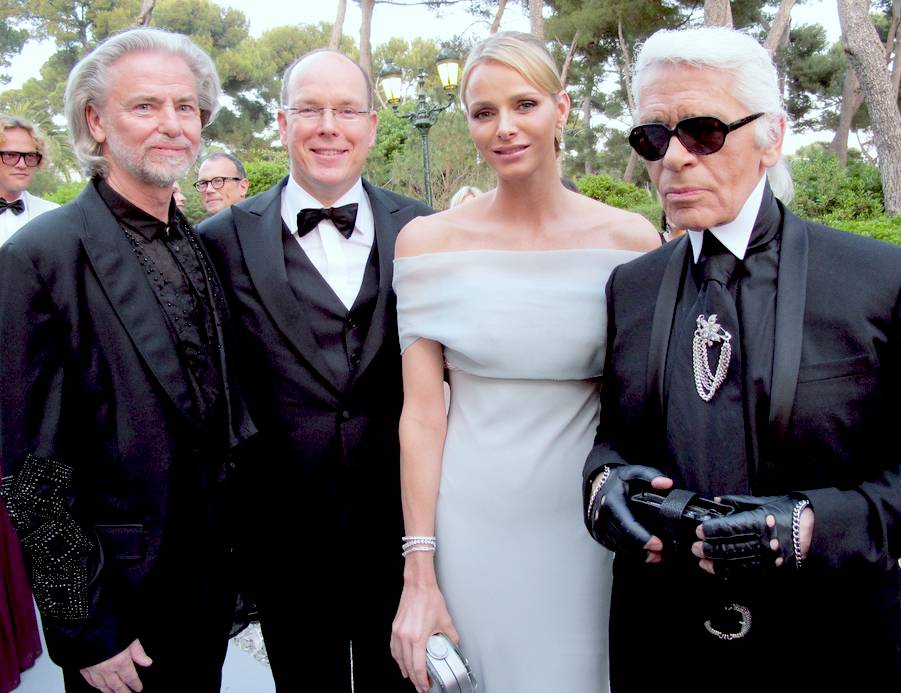 The Prince and Princess at the "Cinema Against AIDS" Gala with Karl Lagerfeld