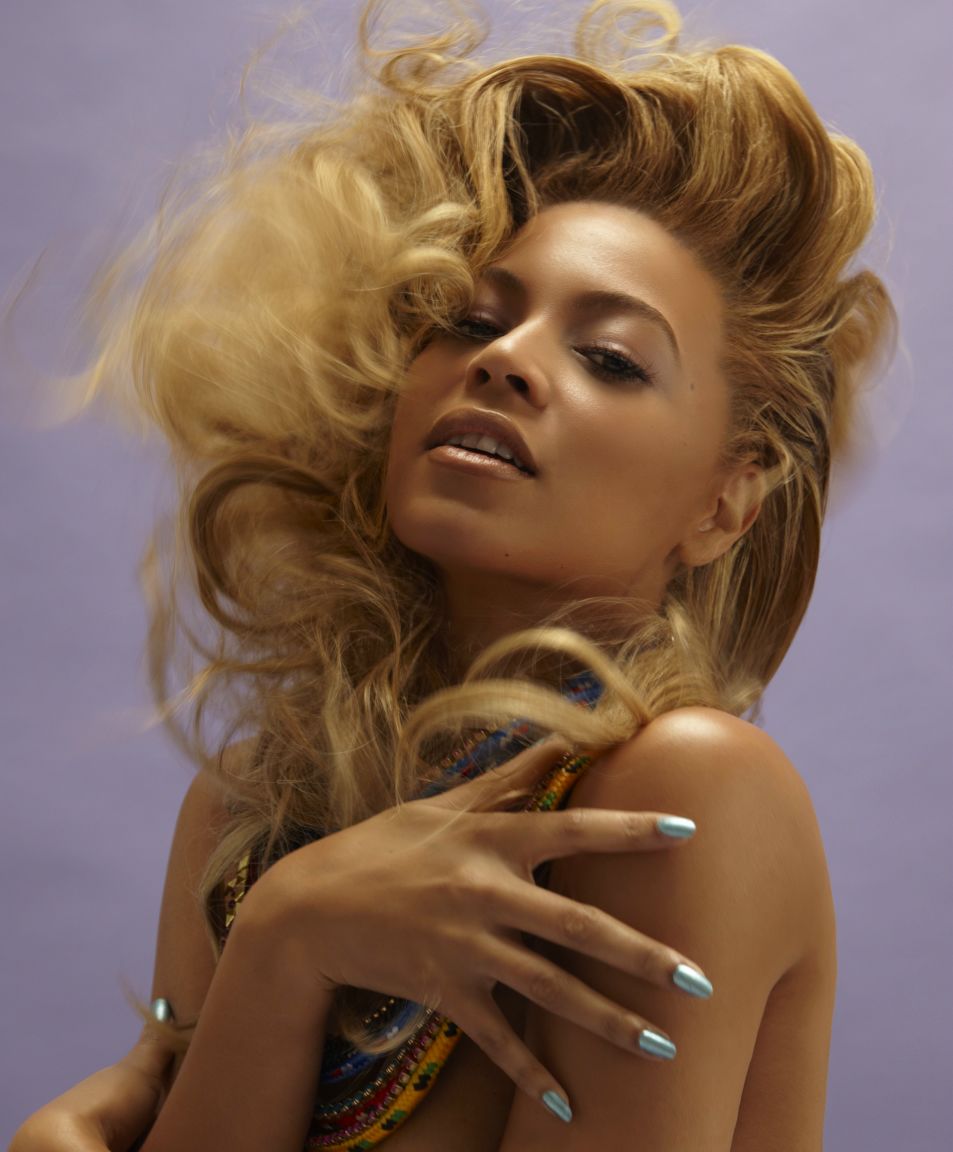 After an entire weekend of pre-wedding festivities, including a group movie night and rehearsal dinner, the big day arrived on Sunday, Nov. 16. Around 100 guests, including J. Crew creative director and president Jenna Lyons and singer Janelle Monae, started arriving at the Holy Trinity Church (also known as the Marigny Opera House) around 1:30 p.m. Everyone was dressed in different shades of white. So much for that whole only the bride wears white rule.


A short time later, Knowles and Ferguson arrived on white bicycles. The bride, 28, wore a breathtaking Stephane Rolland jumpsuit with an attached cape, and adorned her bike basket with white roses. Sadly, the groom's ride got a flat tire, and he was forced to walk it part of the way.

"Beyonce was just there as a supportive sister and didn't take any of the spotlight. Jay was taking care of Blue Ivy while Beyonce was celebrating with her family and didn't look like they had a worry in the world."
ABOUT BEYONCE

Beyoncé Giselle Knowles-Carter (bee-YON-say) was born on September the 4th 1981. She is an American singer, songwriter, and actress. Born and raised in Houston, Texas, she performed in various singing and dancing competitions as a child, and rose to fame in the late 1990s as lead singer of R&B girl-group Destiny's Child. Managed by her father Mathew Knowles, the group became one of the world's best-selling girl groups of all time. Their hiatus saw the release of Beyoncé's debut album, Dangerously in Love (2003), which established her as a solo artist worldwide; it sold 11 million copies, earned five Grammy Awards and featured the Billboard Hot 100 number-one singles "Crazy in Love" and "Baby Boy".

Following the disbandment of Destiny's Child in June 2005, she released her second solo album, B'Day (2006), which contained hits "Déjà Vu", "Irreplaceable", and "Beautiful Liar". Beyoncé also ventured into acting, with a Golden Globe-nominated performance in Dreamgirls (2006), and starring roles in The Pink Panther (2006) and Obsessed (2009). Her marriage to rapper Jay Z and portrayal of Etta James in Cadillac Records (2008) influenced her third album, I Am... Sasha Fierce (2008), which saw the birth of her alter-ego Sasha Fierce and earned a record-setting six Grammy Awards in 2010, including Song of the Year for "Single Ladies (Put a Ring on It)". Beyoncé took a hiatus from music in 2010 and took over management of her career; her fourth album 4 (2011) was subsequently mellower in tone, exploring 1970s funk, 1980s pop, and 1990s soul. Her critically acclaimed fifth studio album, Beyoncé (2013), was distinguished from previous releases by its experimental production and exploration of darker themes.

A self-described "modern-day feminist", Beyoncé creates songs that are often characterized by themes of love, relationships, and monogamy, as well as female sexuality and empowerment. On stage, her dynamic, highly choreographed performances have led to critics hailing her as one of the best entertainers in contemporary popular music. Throughout a career spanning 18 years, she has sold over 118 million records as a solo artist, and a further 60 million with Destiny's Child, making her one of the best-selling music artists of all time. She has won 20 Grammy Awards and is the most nominated woman in the award's history. The Recording Industry Association of America recognized her as the Top Certified Artist in America during the 2000s decade. In 2009, Billboard named her the Top Radio Songs Artist of the Decade, the Top Female Artist of the 2000s and their Artist of the Millennium in 2011. Time listed her among the 100 most influential people in the world in 2013 and 2014. Forbes magazine also listed her as the most powerful female musician of 2015.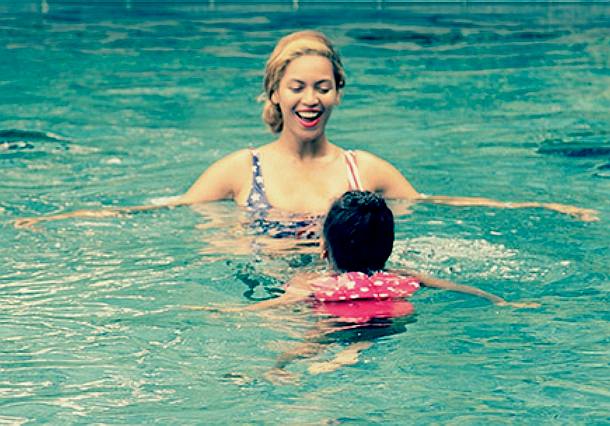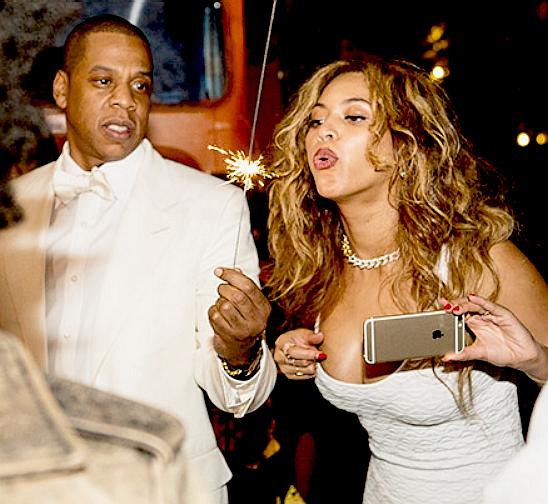 HELLO MAGAZINE JULY 2015 - 24 JULY 2015

Beyoncé Knowles made a splash with the adorable family photos shared on her official website on Thursday. The Halo singer posted a series of snaps from her recent Fourth of July celebrations online, including a sweet photo of daughter Blue Ivy swimming in the pool.

The candid image shows Beyoncé smiling encouragingly at the three-year-old as she swims towards her in the water. The 33-year-old looked glamorous as ever in a patriotic stars and stripes print swimsuit and a slick of red lipstick as she took a dip with her daughter.

Beyoncé continued to share a number of photos with fans including one that sees Blue Ivy looking grown up as she walks next to her dad Jay Z, who places a tender hand on her back while they walk side by side.

The mother-daughter duo also showed off their co-ordinating style with a photo showing their matching white Converse trainers.

Beyoncé often gives fans a glimpse at her family life by sharing personal photos on her official website and social media sites. At the end of May the Destiny's Child star revealed highlights from her trip to Florence, Italy, which included herself and Blue Ivy cuddling up in their hotel, as well as enjoying all the culinary delights the city had to offer.

More recently she showed off her dedication to her daughter by wearing a gold jewelled ring that spelled her name "Blue" on her left hand.

The mother-of-one has spoken openly about her joy at having a child and previously told Oprah Winfrey that she felt "complete" since welcoming her daughter in 2012.

"My story did not feel complete and I didn't know why but… after I gave birth I looked at my diaries and everything made sense," she said. "Everything just completely connected and I said now I know who I am… I wasn't complete before my daughter."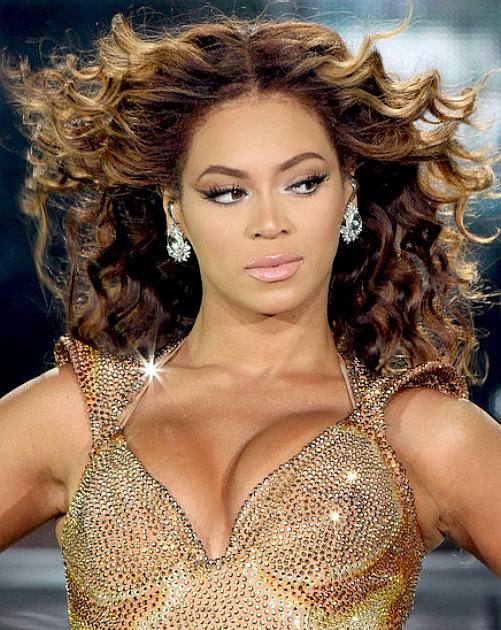 PHILANTHROPY

After Hurricane Katrina in 2005, Beyoncé and Rowland founded the Survivor Foundation to provide transitional housing for victims in the Houston area, to which Beyoncé contributed an initial $250,000. The foundation has since expanded to work with other charities in the city, and also provided relief following Hurricane Ike three years later.

Beyoncé participated in George Clooney and Wyclef Jean's Hope for Haiti Now: A Global Benefit for Earthquake Relief telethon and was named the official face of the limited edition CFDA "Fashion For Haiti" T-shirt, made by Theory which raised a total of $1 million. On March 5, 2010, Beyoncé and her mother Tina opened the Beyoncé Cosmetology Center at the Brooklyn Phoenix House, offering a seven-month cosmetology training course for men and women. In April 2011, Beyoncé joined forces with US First Lady Michelle Obama and the National Association of Broadcasters Education Foundation, to help boost the latter's campaign against child obesity by reworking her single "Get Me Bodied". Following the death of Osama bin Laden, Beyoncé released her cover of the Lee Greenwood song "God Bless the USA", as a charity single to help raise funds for the New York Police and Fire Widows' and Children's Benefit Fund.

In December, Beyoncé along with a variety of other celebrities teamed up and produced a video campaign for "Demand A Plan", a bipartisan effort by a group of 950 US mayors and others designed to influence the federal government into rethinking its gun control laws, following the Sandy Hook Elementary School shooting. Beyoncé became an ambassador for the 2012 World Humanitarian Day campaign donating her song "I Was Here" and its music video, shot in the UN, to the campaign. In 2013, it was announced that Beyoncé would work with Salma Hayek and Frida Giannini on a Gucci "Chime for Change" campaign that aims to spread female empowerment. The campaign, which aired on February 28, was set to her new music. A concert for the cause took place on June 1, 2013 in London and included other acts like Ellie Goulding, Florence and the Machine, and Rita Ora. In advance of the concert, she appeared in a campaign video released on 15 May 2013, where she, along with Cameron Diaz, John Legend and Kylie Minogue, described inspiration from their mothers, while a number of other artists celebrated personal inspiration from other women, leading to a call for submission of photos of women of viewers' inspiration from which a selection was shown at the concert. Beyoncé said about her mother Tina Knowles that her gift was "finding the best qualities in every human being." With help of the crowdfunding platform Catapult, visitors of the concert could choose between several projects promoting education of women and girls. Beyoncé is also taking part in "Miss a Meal", a food-donation campaign, and supporting Goodwill charity through online charity auctions at Charitybuzz that support job creation throughout Europe and the U.S.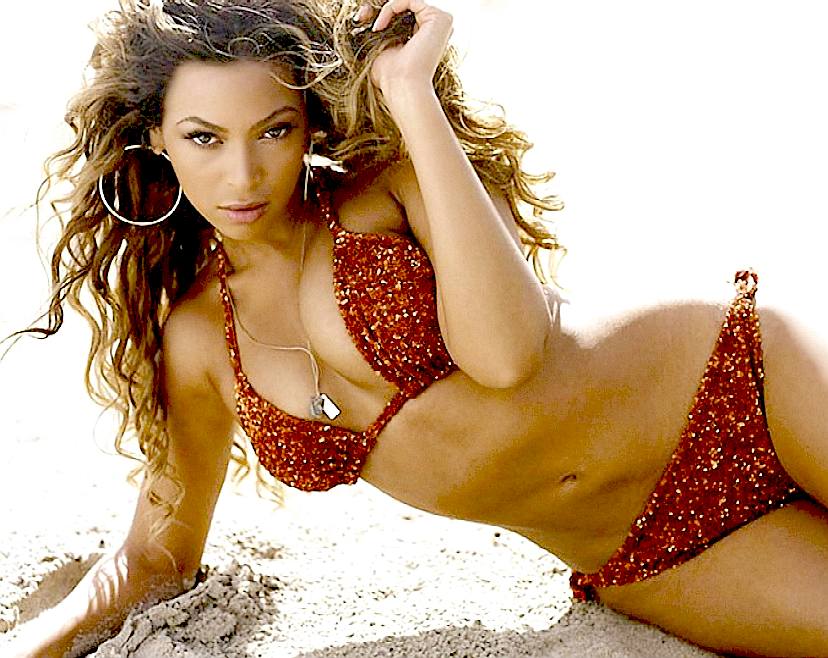 POLITICS

Beyoncé and husband Jay Z are friends with President Barack Obama and First Lady Michelle Obama. She performed "America the Beautiful" at the 2009 presidential inauguration, as well as "At Last" during the first inaugural dance at the Neighborhood Ball two days later. Beyoncé and Jay Z held a fundraiser at the latter's 40/40 Club in Manhattan for Obama's 2012 presidential campaign which raised $4 million. Beyoncé uploaded pictures of her paper ballot on Tumblr, confirming she had voted in support for the Democratic Party and to encourage others to do so. She also performed the American national anthem at his second inauguration, singing along with a pre-recorded track. She publicly endorsed same sex marriage on March 26, 2013, after the Supreme Court debate on California's Proposition 8. In July 2013, Beyoncé and Jay-Z attended a rally in response to the acquittal of George Zimmerman for the shooting of Trayvon Martin.

In an interview published by Vogue in April 2013, Beyoncé was asked if she considers herself a feminist, to which she said, "that word can be very extreme... But I guess I am a modern-day feminist. I do believe in equality". She would later align herself more publicly with the movement, sampling "We should all be feminists", a speech delivered by Nigerian author Chimamanda Ngozi Adichie at a TEDxEuston conference in April 2013, in her song "Flawless", released later that year. She has also contributed to the Ban Bossy campaign, which uses television and social media to encourage leadership in girls.

In 2015 Beyoncé signed an open letter which the ONE Campaign had been collecting signatures for; the letter was addressed to Angela Merkel and Nkosazana Dlamini-Zuma, urging them to focus on women as they serve as the head of the G7 in Germany and the AU in South Africa respectively, which will start to set the priorities in development funding before a main UN summit in September 2015 that will establish new development goals for the generation.

Following the death of Freddie Gray, Beyoncé and Jay-Z, among other notable figures, met with his family. After the imprisonment of protesters of Gray's death, Beyoncé and Jay-Z donated thousands of dollars to bail them out.


I MISS YOU

"I Miss You" is a song by American recording artist Beyoncé, taken from her fourth studio album, 4 (2011). It was written by Knowles, Frank Ocean and Shea Taylor while production was handled by Knowles and Taylor. The song's development was motivated the fact that Knowles wanted to focus on songs being classics, songs that would last, and songs that she could sing when she becomes old. A mid-paced R&B ballad, "I Miss You" is influenced by the ballads of the 1980s. Its instrumentation consists essentially of synthesizers and keyboards. "I Miss You" finds Knowles, as the protagonist, thinking deeply over her relationship with her love interest from whom she parted; however, she still pines for him and feels self-conscious for doing so.

"I Miss You" was generally well received by music critics who complimented its very sparse production as well as its aurally remarkable 1980s influence. Some of them also described the song as a "haunting" ballad and called it the highlight of the record. Critics also complimented how Knowles' vocals keep on alternating from desperate and calm throughout the song, and highlighted the vulnerability in her voice. Following the release of 4 in early July 2011, "I Miss You" charted at number 184 on the UK Singles Chart and at number 34 on the South Korea Gaon International Singles Chart, based on downloads alone. The song was part of Knowles' set list for her 4 Intimate Nights with Beyoncé, held in Roseland Ballroom, New York City in August 2011.
FRANK OCEAN LYRICS

"Miss You So"

I'll stack these magazines in the corner
After I'm done with them
And I still got the same hope that I started with
That you'll be in one of them
My camera shed some tears since you left him
With nothing, with nothing

[Bridge:]
How am I supposed to remember?
I got the memories
But memories fade, baby
What am I gonna show to my kids, girl?
When I'm older, and my mind is telling me to forget you
What's gonna make me remember?

[Chorus:]
That's why I was always taking pictures, pictures
Cause I didn't wanna miss a thing, miss a thing
Tell me how could you take the pictures, pictures
When you knew they were all that I had left - nothing left
They were part of our history, this story
I was always taking pictures
Cause I didn't wanna miss you so bad, miss you this bad
Miss you so bad, miss you so

We didn't make love
We celebrated its invention
Confetti on the mattress – I used to have those images
Tonight I came home they were just embers in the fire
Along with my hard drive, no, no, slow goodbye

[Bridge:]
How the hell am I supposed to remember?
Tell me now, have the memories
But memories don't last...
What am I gonna show to my kids, baby?
When I'm older, and my mind's telling me to forget you
What's gonna make me remember?

[Chorus:]
That's why I was always taking pictures, pictures
Cause I didn't wanna miss a thing, miss a thing
Tell me how could you take the pictures, pictures
When you knew they were all that I had left – nothing left
They were part of our history, this story
I was always taking pictures
Cause I didn't wanna miss you

No videos, no polaroid
No record of the love we had
My Nikon wasn't fast enough
To catch my heart break in half
No smiles on my picture frame, no
Just got them little basic ones that the pictures frames come with
Model, wedding picture, you know

[Chorus:]
That's why I was always taking pictures, pictures
Cause I didn't wanna miss a thing, miss a thing
Tell me how could you take the pictures, pictures?
When you knew they were all that I had left – nothing left
They were part of our history, this story
I was always taking pictures
Cause I didn't wanna miss you so bad, miss you this bad
Miss you so bad, miss you so...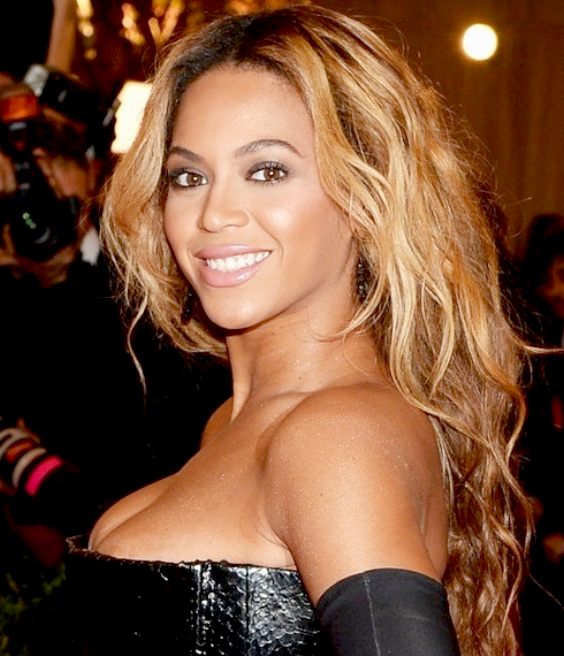 LINKS:
Beyonce
Wikipedia Beyonce
IMDB Beyonce
Hello Magazine celebrities Beyonce blue ivy swimming holiday
Vogue Beyonce Knowles
Biography Beyonce Knowles
US magazine celebrity news Solange-knowles-new-orleans-wedding-details
Whosampled Frank-Ocean-Crack-Rock-Jimi-Hendrix-Little-Miss-Lover
AZ Lyrics Frank Ocean Miss You So
http://www.whosampled.com/sample/162251/Frank-Ocean-Crack-Rock-Jimi-Hendrix-Little-Miss-Lover/
http://www.azlyrics.com/lyrics/frankocean/missyouso.html
http://www.beyonce.com/
https://en.wikipedia.org/wiki/Beyonc%C3%A9
http://www.imdb.com/name/nm0461498/
http://www.hellomagazine.com/celebrities/2015072426408/beyonce-blue-ivy-swimming-holiday/
http://www.vogue.co.uk/person/beyonce-knowles
http://www.biography.com/people/beyonce-knowles-39230
http://www.usmagazine.com/celebrity-news/news/solange-knowles-new-orleans-wedding-details-20141711