HISTORY OF BEACH COSTUMES, BIKINIS & SWIMWEAR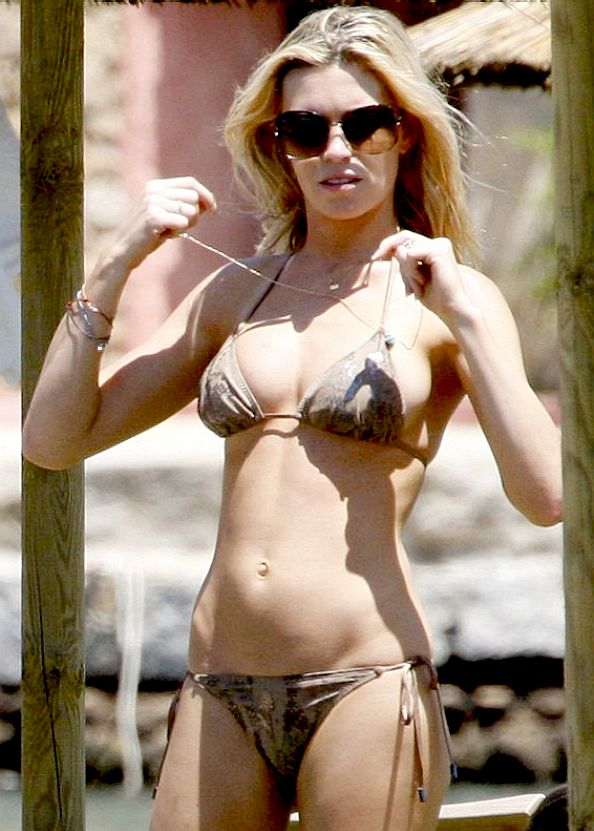 PAGEANT WITH A PURPOSE - As an ambassador for the high seas, the Miss Ocean contest sends a message to all women around the world that they care about pollution, acid oceans and climate change. Empowered women do this in a way that will influence both world leaders and inform the ordinary man in the street. In England they love the sea so much that we build steel structures, called piers, to get us out into the ocean air.
MISS OCEAN SWIMMING OUTFITS
Extra points will be awarded for costumes made from recycled ocean plastics. If you think that such a task will be impossible, you may be surprise to learn that many responsible manufacturers of clothing and sporting goods are now including recovered plastics in their products. In some cases routinely. We cannot applaud such initiatives loudly enough.
ABOUT BIKINIS
A bikini is usually a women's abbreviated two-piece swimsuit with a bra top for the chest and panties cut below the navel. The basic design is simple: two triangles of fabric on top cover the woman's breasts and two triangles of fabric on the bottom cover the groin in front and the buttocks in back. The size of a bikini bottom can range from full pelvic coverage to a revealing thong or G-string design.

The name for the bikini design was coined in 1946 by Parisian engineer Louis Réard, the inventor of the bikini. He named the swimsuit after Bikini Atoll, where testing on the atomic bomb was taking place. Fashion designer Jacques Heim, also from Paris, invented a similar design in the same year. Due to its controversial and revealing design, the bikini was slow to be adopted. In many countries it was banned from beaches and public places. The Holy See declared the design sinful. While still considered risqué the bikini gradually became a part of popular culture when filmstars like Brigitte Bardot, Raquel Welch, Ursula Andress and others began wearing them on public beaches and in film.

The bikini design became common in most western countries by the mid-1960s as beachwear, swimwear and underwear. By the late 20th century it had become common as sportswear in sports such as beach volleyball and bodybuilding. Variations of the term are used to describe stylistic variations for promotional purposes and industry classifications, like monokini, microkini, tankini, trikini, pubikini, bandeaukini and skirtini. A man's brief swimsuit may also be referred to as a bikini. A variety of men's and women's underwear are described as bikini underwear. The bikini has fueled spin-off industries, like bikini waxing and sun tanning.

The bikini has gradually grown to gain wide acceptance in Western society. According to French fashion historian Olivier Saillard, the bikini is perhaps the most popular type of female beachwear around the globe because of "the power of women, and not the power of fashion". As he explains, "The emancipation of swimwear has always been linked to the emancipation of women." By the early 2000s, bikinis had become a US$811 million business annually, and boosted spin-off services like bikini waxing and the sun tanning.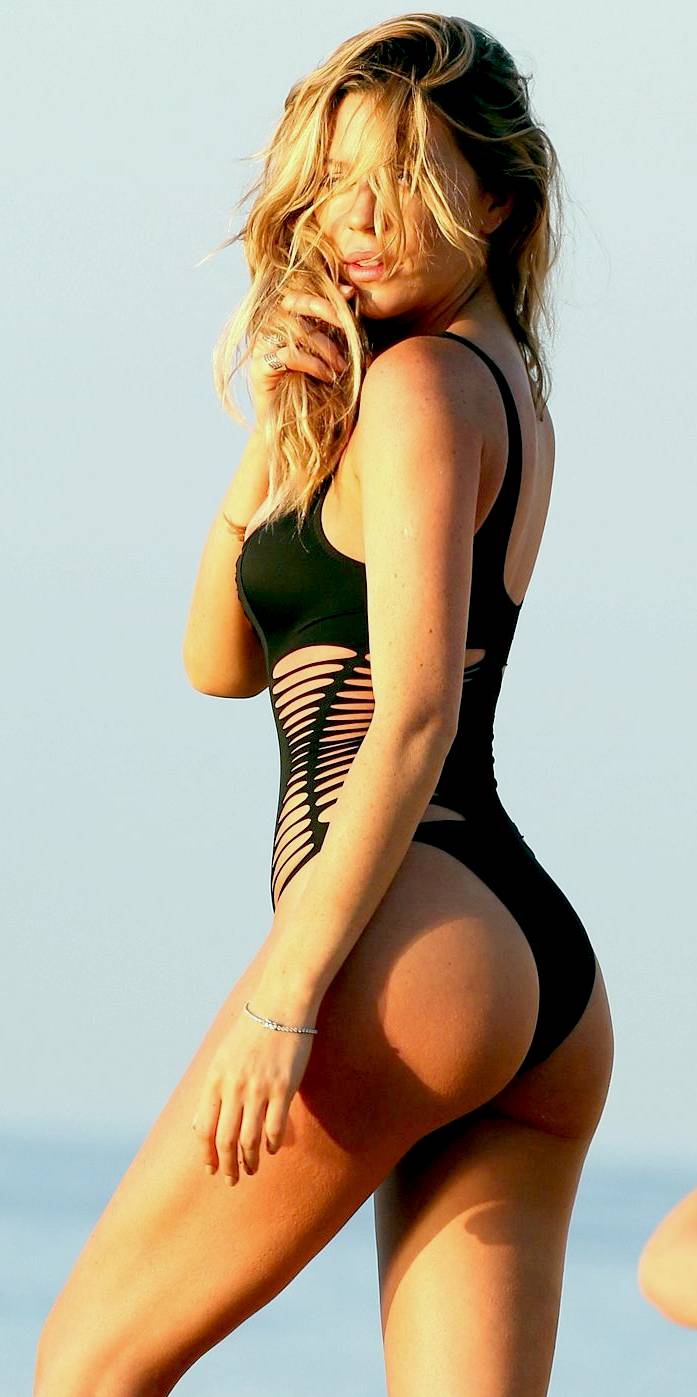 MORAL ATTITUDES (RESISTANCE)
The swimsuit was declared sinful by the Vatican and was banned in Spain, Portugal and Italy, three countries neighboring France, as well as Belgium and Australia, and it remained prohibited in many US states. As late as in 1959, Anne Cole, a US swimsuit designer and daughter of Fred Cole, said about a Bardot bikini, "It's nothing more than a G-string. It's at the razor's edge of decency." In July that year the New York Post searched for bikinis around New York City and found only a couple. Writer Meredith Hall wrote in her memoir that till 1965 one could get a citation for wearing a bikini in Hampton Beach, New Hampshire.

In 1951, the first Miss World contest, originally the Festival Bikini Contest, was organized by Eric Morley as a mid-century advertisement for swimwear at the Festival of Britain. The press welcomed the spectacle and referred to it as Miss World. When, the winner Kiki Håkansson from Sweden, was crowned in a bikini, countries with religious traditions threatened to withdraw delegates. The bikinis were outlawed and evening gowns introduced instead. Håkansson remains the only Miss World crowned in a bikini, a crowning that was condemned by the Pope. Bikini was banned from beauty pageants around the world after the controversy. Catholic-majority countries like Belgium, Italy, Spain and Australia also banned the swimsuit that same year.

In 1962, Bond Girl Ursula Andress emerged from the sea wearing a white bikini in Dr. No. The scene has been named one of the most memorable of the series. Channel 4 declared it the top bikini moment in film history, Virgin Media puts it ninth in its top ten, and top in the Bond girls. The Herald (Glasgow) put the scene as best ever on the basis of a poll. It also helped shape the career of Ursula Andress, and the look of the quintessential Bond movie. Andress said that she owed her career to that white bikini, remarking, "This bikini made me into a success. As a result of starring in Dr. No as the first Bond girl, I was given the freedom to take my pick of future roles and to become financially independent." In 2001, the Dr. No bikini worn by Andress in the film sold at auction for US$61,500. That white bikini has been described as a "defining moment in the sixties liberalization of screen eroticism". Because of the shocking effect from how revealing it was at the time, she got referred to by the joke nickname "Ursula Undress". According to the British Broadcasting Corporation, "So iconic was the look that it was repeated 40 years later by Halle Berry in the Bond movie Die Another Day."

The appearance of bikinis kept increasing both on screen and off. The sex appeal prompted film and television productions, including Dr. Strangelove. They include the surf movies of the early 1960s. In 1960, Brian Hyland's song "Itsy Bitsy Teenie Weenie Yellow Polka Dot Bikini" inspired a bikini-buying spree. By 1963, the movie Beach Party, starring Annette Funicello and Frankie Avalon, followed by Muscle Beach Party (1964), Bikini Beach (1964), and Beach Blanket Bingo (1965) that depicted teenage girls wearing bikinis, frolicking in the sand with boys, and having a great time.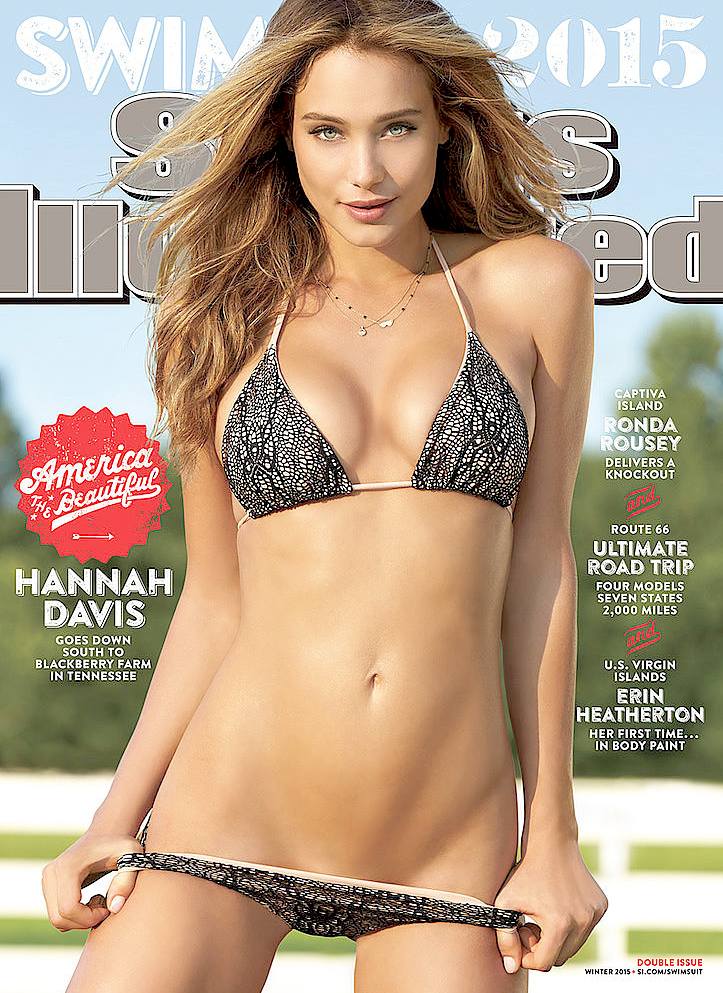 The beach films led a wave of films that made the bikini pop-culture symbol. In the sexual revolution in 1960s America, bikinis became quickly popular. Hollywood stars like Marilyn Monroe, Jayne Mansfield, Gina Lollobrigida, and Jane Russell helped further the growing popularity of bikinis. Pin-up posters of Monroe, Mansfield, Hayworth, Bardot and Raquel Welch also contributed significantly to its increasing popularity. In 1962, Playboy featured a bikini on its cover for the first time. Two years later, Sports Illustrated featured Berlin-born fashion model Babette March on the cover wearing a white bikini. The issue was the first Swimsuit Issue. It gave the bikini legitimacy, became an annual publication and an American pop-culture staple, and sells millions of copies each year. In 1965, a woman told Time it was "almost square" not to wear one. In 1967 the magazine wrote that 65% of "the young set" were wearing bikinis.

When Jayne Mansfield and her husband Miklós Hargitay toured for stage shows, newspapers wrote that Mansfield convinced the rural population that she owned more bikinis than anyone. She showed a fair amount of her 40-inch (1,000 mm) bust, as well as her midriff and legs, in the leopard-spot bikini she wore for her stage shows. Kathryn Wexler of The Miami Herald wrote, "In the beginning as we know it, there was Jayne Mansfield. Here she preens in leopard-print or striped bikinis, sucking in air to showcase her well noted physical assets." Her leopard-skin bikini remains one of the earlier specimens of the fashion.

Raquel Welch wore a deer skin bikini in One Million Years B.C. (1966) that made her an instant pin-up girl. Welch was featured in the studio's advertising as "wearing mankind's first bikini" and the bikini was later described as a "definitive look of the 1960s". Her role wearing the leather bikini raised Welch to a fashion icon and the photo of her in the bikini became a best-selling pinup poster. One author said, "although she had only three lines in the film, her luscious figure in a fur bikini made her a star and the dream girl of millions of young moviegoers". In 2011, Time listed Welch's B.C. bikini in the "Top Ten Bikinis in Pop Culture".

In the 1983 film Return of the Jedi, Star Wars' Princess Leia Organa was captured by Jabba the Hutt and forced to wear a metal bikini complete with shackles. The costume was made of brass and was so uncomfortable that actress Carrie Fisher described it as "what supermodels will eventually wear in the seventh ring of hell." The "slave Leia" look is often imitated by female fans at Star Wars conventions. In 1997, 51 years after the bikini's debut, and 77 years after the Miss America Pageant was founded, contestants were allowed to wear two-piece swimsuits, not just the swimsuits (nicknamed "bulletproof vests") traditionally issued by the pageant. Two of the 17 swimsuit finalists wore two-piece swimsuits, and Erika Kauffman, representing Hawaii, wore the briefest bikini of all and won the swimsuit competition. In 2010, the International Federation of Bodybuilders recognized Bikini as a new competitive category.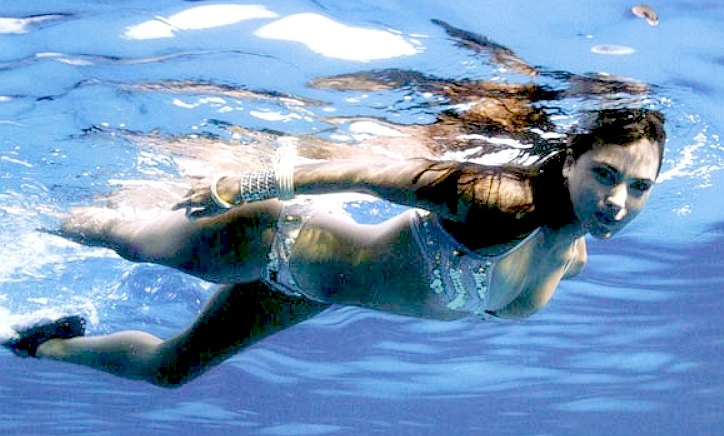 TIME MAGAZINE
Time magazine's list of top 10 bikinis in popular culture:

1. Micheline Bernardini models the first-Ever Bikini (1946)

2. "Itsy Bitsy Teenie Weenie Yellow Polka Dot Bikini" (1960)

3. Annette Funicello and Beach Party (1960s)

4. The belted Bond-girl bikini (1962)

5. Sports Illustrated's first Swimsuit Issue (1964)

6. Raquel Welch's fur bikini in One Million Years B.C. (1966)

7. Phoebe Cates' Bikini in Fast Times at Ridgemont High

8. Princess Leia's golden bikini in Return of the Jedi (1983)

9. The official uniform of the female Olympic Beach Volleyball players (1996)

10. Miss America pageant's bikini debut (1997)
ACCEPTANCE

In France, Réard's company folded in 1988, four years after his death. By that year the bikini made up nearly 20% of swimsuit sales, more than any other model in the US. As skin cancer awareness grew and a simpler aesthetic defined fashion in the 1990s, sales of the skimpy bikini decreased dramatically. The new swimwear code was epitomized by surf star Malia Jones, who appeared on the June 1997 cover of Shape Magazine wearing a halter top two-piece for rough water. After the 90s, however, the bikini came back again. US market research company NPD Group reported that sales of two-piece swimsuits nationwide jumped 80% in two years. On one hand the one-piece made a big comeback in the 1980s and early 1990s, on the other bikinis became briefer with the string bikini in the 1970s and 80s.

The "-kini family" (as dubbed by author William Safire), including the "-ini sisters" (as dubbed by designer Anne Cole) has grown to include a large number of subsequent variations, often with a hilarious lexicon — string bikini, monokini or numokini (top part missing), seekini (transparent bikini), tankini (tank top, bikini bottom), camikini (camisole top and bikini bottom), hikini, thong, slingshot, minimini, teardrop, and micro. In just one major fashion show in 1985, there were two-piece suits with cropped tank tops instead of the usual skimpy bandeaux, suits that are bikinis in front and one-piece behind, suspender straps, ruffles, and daring, navel-baring cutouts. To meet the fast changing tastes, some of the manufacturers have made a business out of making made-to-order bikinis in around seven minutes. The world's most expensive bikini, made up of over 150 carats (30 g) of flawless diamonds and worth a massive £20 million, was designed in February 2006 by Susan Rosen.

Actresses in action films like Charlie's Angels: Full Throttle (2003) and Blue Crush (2002) have made the two-piece "the millennial equivalent of the power suit", according to Gina Bellafonte of The New York Times, The scene was credited with reviving her career. On September 9, 1997, Miss Maryland Jamie Fox was the first contestant in 50 years to compete in a two-piece swimsuit to compete in the Preliminary Swimsuit Competition at the Miss America Pageant. PETA used celebrities like Pamela Anderson, Traci Bingham and Alicia Mayer wearing a bikini made of iceberg-lettuce for an advertisement campaign to promote vegetarianism. A protester from Columbia University used a bikini as a message board against a New York City visit by Iranian president Mahmoud Ahmadinejad.

By the end of the century, the bikini went on to become the most popular beachwear around the globe, according to French fashion historian Olivier Saillard due to "the power of women, and not the power of fashion". As he explains, "The emancipation of swimwear has always been linked to the emancipation of women", though one survey tells 85% of all bikinis never touch the water. According to Beth Dincuff Charleston, research associate at the Costume Institute of the Metropolitan Museum of Art, "The bikini represents a social leap involving body consciousness, moral concerns, and sexual attitudes." By the early 2000s, bikinis had become a US$811 million business annually, according to the NPD Group, a consumer and retail information company. The bikini has boosted spin-off services like bikini waxing and the sun tanning industries.
RECENT CONTROVERSY
The bikini remains a hot topic for the news media. In May 2011, Barcelona, Spain made it illegal to wear bikinis in public except in areas near the beaches. Violators face fines of between 120 and 300 euros. In 2012, two students of St. Theresa's College in Cebu, the Philippines were barred from attending their graduation ceremony for "ample body exposure" because their bikini pictures were posted on Facebook. The students sued the college and won a temporary stay in a regional court. Two fundamental human rights are to be able to express opinions and impart information. If it had been pornographic nudity, that may have raised other issues.

In May 2013, Cambridge University banned the Wyverns Club of Magdalene College from arranging its annual bikini jelly wrestling. In June 2013, actress Gwyneth Paltrow, who also is interested in fashion, produced a bikini for her clothing line that is designed to be worn by girls 4 to 8 years old. She was criticized for sexualizing young children by Claude Knight of Kidscape, a British foundation that strives to prevent child abuse. He commented, "We remain very opposed to the sexualisation of children and of childhood ... is a great pity that such trends continue and that they carry celebrity endorsement."

Four women were arrested over the 2013 Memorial Day weekend in Myrtle Beach, South Carolina for indecent exposure when they wore thong bikinis that exposed their buttocks. In June 2013, the British watchdog agency Advertising Standards Authority banned a commercial that showed men in an office fantasizing about their colleagues Pamela Anderson in a bikini for derogating women.
The fact is that a bikini in the appropriate setting is as natural as the fur on a polar bear. Humans use clothing to keep warm and dispense with clothing to stay cool. This increases the range of tolerance that we have as an intelligent species. Sensible tanning is healthy for generating vitamin D, though with a fair skin care is needed to avoid harmful doses.
There are some costumes consisting of strings that are thicker in some places to give the impression that a bikini is being worn. Okay, some of these designs do look good, but a well designed swimsuit can be every bit as gorgeous as the most revealing bikinis. The secret is what is inside the suit and does that compliment the suit. If follows that design should be tailored to the wearer - and that is the art that we applaud, just as we would a beautiful car. We are not exploiting the car, we are simply admiring its form.
EXPLOITATION
In all walks of life objects are used in one way of another to generate a mood, desire or disgust. That might be to sell, or to warn of dangers. Either way it is communication and that is something that humans are good at.
Using an event to generate public interest is something that needs attention is not exploitation. It is collaborative marketing at its best. The joining of symbiotic symbolism to impart a message that will stay with the person receiving that image. Ocean pollution is not a pretty sight. Nor is a healthy woman bathing is polluted waters. The juxtaposition of one image against the other is the contrast that is needed to get people thinking about what they are doing to planet earth - before it is too late.
LINKS
Sustainable Guernsey blog 2011 May bikinis-made-of-recycled-plastic-bottles-and-fabric-off-cuts
Ecokini recycled
Fast company itsy-bitsy-green-bikini-iconic-two-piece-turns-63-gets-recycled
Plastics make it possible July 2012 a-cool-new-trend-recycled-plastics-in-swimwear
Daily Mail UK showbiz news Abbey Clancy accessorises string bikini matching jewellery family holiday
http://www.dailymail.co.uk/tvshowbiz/article-2002500/Abbey-Clancy-accessorises-string-bikini-matching-jewellery-family-holiday.html
https://en.wikipedia.org/wiki/History_of_swimwear
https://www.youtube.com/watch?v=VOYxq-AUwW4#t=97
https://en.wikipedia.org/wiki/Bikini
http://www.sustainableguernsey.info/blog/2011/05/bikinis-made-of-recycled-plastic-bottles-and-fabric-off-cuts/
http://www.ecokini.com/recycled.html
http://www.fastcompany.com/1303703/itsy-bitsy-green-bikini-iconic-two-piece-turns-63-gets-recycled
http://plasticsmakeitpossible.com/2012/07/a-cool-new-trend-recycled-plastics-in-swimwear/