MISS OCEAN CLUB'S BIKINI CONTEST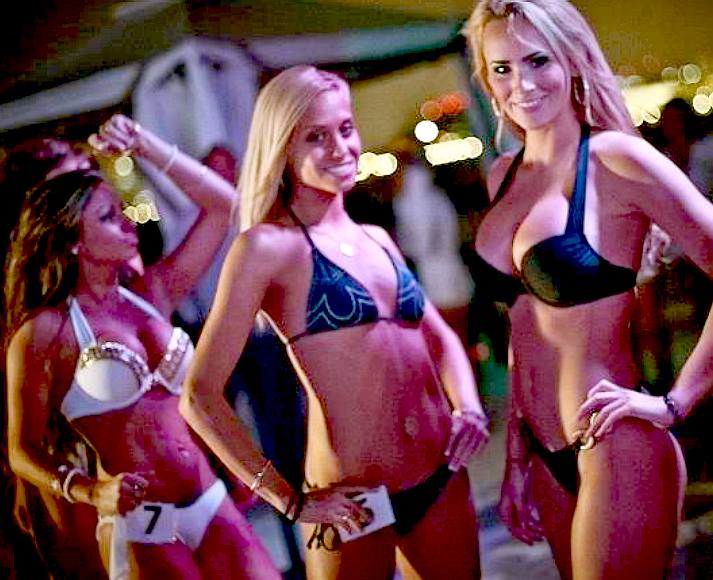 CONTEST - This celebrity-judged bikini pageant featured 25 symmetrically faced finalists sashaying their stuff in an attempt to win $5000 courtesy of the host Ocean Club, where they simply ask you to "dress for the role and don't be a douche".
The Ocean Club at Marina Bay had become the area's most chic and trendy outdoor entertainment complex since opening on Memorial Day Weekend of 2010. North End entrepreneur Frank DePasquale of DePasquale Ventures, redeveloped Quincy's Marina Bay Beach Club (formerly Waterworks) and created one of the summer's hottest scenes - as it turns out a little too hot.
The oceanfront space offered 62,000 square feet of nightlife, daytime fun, live entertainment and innovative amenities such as seaside cabanas, a VIP section, table service, LED fountains, and a level of nightlife production unrivaled in the Northeast. The venue's live entertainment offerings include world-renowned DJ's, live local and national bands. You have to admit it all sounds fantastic, and full marks to Frank for his vision and creativity, especially in the poster department. But, just three years later events unrelated to the superb entertainment was to see the club closed. The same has happened to numerous clubs and pubs where there is any degree of tolerance to substances, other than those sanctioned by the state as being legal - and let us not forget that alcohol was once an illegal substance - and should still be treated with caution.
Whereas, an appreciation of the natural form can do not harm, provided that the subjects are suitably clad, and the audience is in attendance not to intoxicate themselves to excess, but for the visual extravaganza about to unfold. And that is why the bikini is so popular, because it allows the innocent appreciation of natural beauty, though we would recommend that such eye candy is not served alone, but intermixed with other appraisal of the adorable creatures that are keen to show what they are made of. The composition of a pageant is thus of paramount importance for audience acceptance and participant advancement.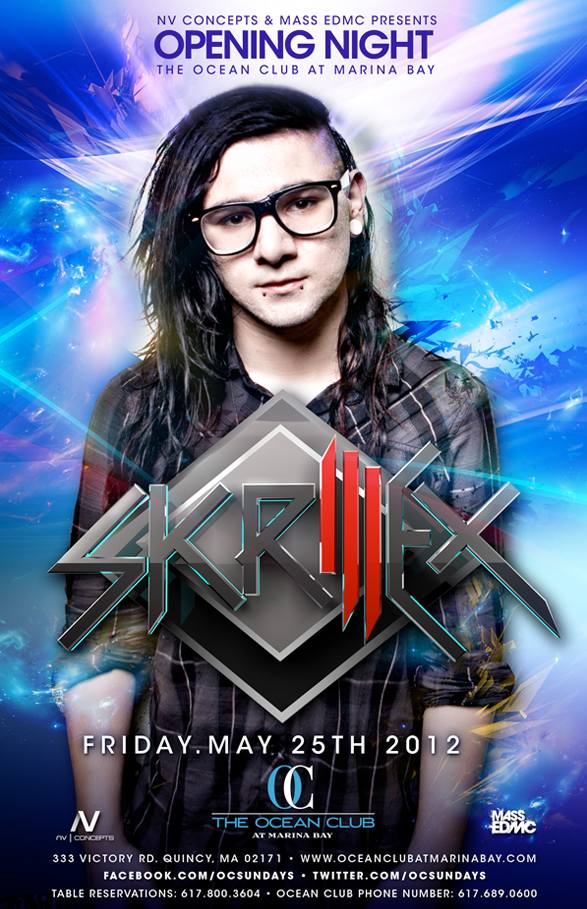 THE OCEAN CLUB, QUINCY, BOSTON, MA - 2013

After a summer of 12 "Molly" overdoses and a string of drug arrests, the Ocean Club at Marina Bay suffered a major setback to their music and bikini shows.

Quincy's police chief and city clerk is quoted as saying that the outdoor music club's manager and Marina Bay's manager will cancel a private event on Sept. 13 and an over-21 DJ show Sept. 20, as the request of the city.

A spokesman for Mayor Thomas Koch is quoted as saying: "there's not likely to be an Ocean Club" by next spring, if a planned apartment and retail development at the site proceeds as expected.

Police Chief Paul Keenan and City Clerk Joe Shea are quoted as saying that Marina Bay manager Brian Ferrara and club manager Tim Collins readily agreed to pull the plug on the two September shows. "They understand the scope of the problem," Keenan said.
The club operator, Frank DePasquale of Boston, leases the site from Flagship Marinas, which owns Marina Bay.

The club can hold 1,600 patrons and draws them from the greater Boston area and surrounding states. The Sept. 13 party and Sept. 20 Afrojack show would have been the season's last events.

The Ocean Club is the second high-profile Boston-area music venue to be investigated in the last two weeks for overdoses connected to "Molly," which is the street name for a pure, more potent version of MDMA, the psychedelic drug ecstasy.

In late August three patrons at the House of Blues in Boston overdosed – among them, New Hampshire college student Brittany Flannigan, who died.

Thursday's Quincy meeting came a day after Keenan released details of the season's non-fatal overdoses and arrests.

Quincy police got the first reports of overdoses at the club in late May. Plainclothes detectives investigated the club starting in mid-July, and since Aug. 23 have charged eight people for alleged possession or intent to distribute the ecstasy drug "Molly" or cocaine.

Only one of those charged is from the South Shore – William Naumenko, 23, of Hull – and only one of those who overdosed is from the South Shore. Most of those charged are from Rhode Island and Connecticut.

Two of the arrests were made Aug. 30, the night of what turned out to be the club's last show of the season. Four more were made Sept. 1.

Keenan said there's no indication that anyone at the club was involved with alleged "Molly" dealing or possession.

Shea said DePasquale and Collins want to re-open in April 2014 as usual, if a development proposed for the club site is delayed. If that happens, Keenan said police and the club will prepare a safety and security plan "acceptable to all parties" – and that will meet all police concerns

But like Mayor Koch, Keenan said "that may be a moot point" if Flagship Marinas begins construction of the 400-unit apartment complex and retail shops by April. That would spell the end of the Ocean Club. Shea said Ferrara told him that Flagship has no plans to relocate the club elsewhere at Marina Bay.
Organizers of such events need to be careful, that in the high spirits that such events can generate, that there are adequate safeguards. One way of dealing with that is to ensure that no alcohol is on sale during beauty pageants. Not practical of course for a music venue, and that may be where the objectives allowed security to reach a low point for drug dealers to gain a foothold. Well done then to the local authorities for taking immediate action. Let us hope that if the site is not developed into apartments, that any restructured management learns from past mistakes.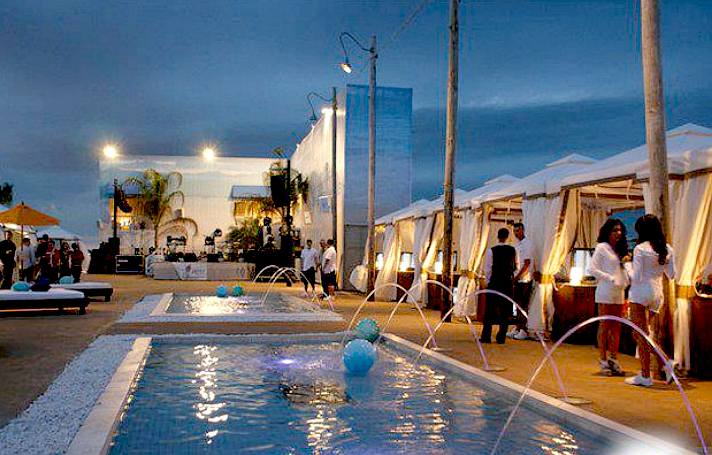 DEFUNCT CONTACTS
http://www.goldbar.tv/
http://www.oceanclubatmarinabay.com/
Address: 333 Victory Rd., Quincy, MA
ABOUT QUINCY
Quincy (pronounced: KWIN-zee) is a city in Norfolk County, Massachusetts, United States. It is a major part of Metropolitan Boston and is Boston's immediate southern suburb. Its population in 2010 was 92,271, making it the 8th largest city in the state. Known as the "City of Presidents," Quincy is the birthplace of two U.S. presidents — John Adams and his son John Quincy Adams — as well as John Hancock, a President of the Continental Congress and the first signer of the Declaration of Independence.

First settled in 1625, Quincy was briefly part of Dorchester and Boston before becoming the north precinct of Braintree in 1640. In 1792, Quincy was split off from Braintree; the new town was named after Colonel John Quincy, maternal grandfather of Abigail Adams and after whom John Quincy Adams was also named. Quincy became a city in 1888.

For more than a century, Quincy was home to a thriving granite industry; the city was also the site of the Granite Railway, the United States' first commercial railroad. Shipbuilding at the Fore River Shipyard was another key part of the city's economy. In the 20th century, both Howard Johnson's and Dunkin' Donuts were founded in the city.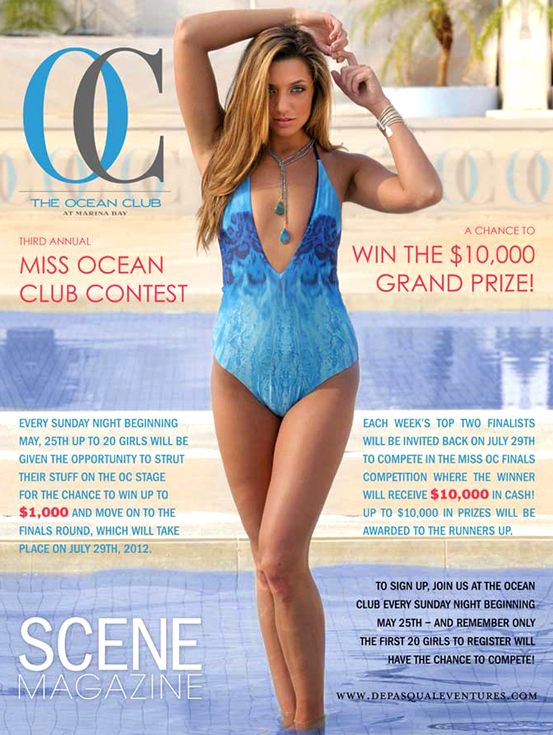 ABOUT BOSTON
Boston has an area of 89.6 square miles (232.1 km2)—48.4 square miles (125.4 km2) (54.0%) of land and 41.2 square miles (106.7 km2) (46.0%) of water—and is the country's third most densely populated city that is not a part of a larger city's metropolitan area. This is largely attributable to the rarity of annexation by New England towns. The city's official elevation, as measured at Logan International Airport, is 19 ft (5.8 m) above sea level. The highest point in Boston is Bellevue Hill at 330 feet (100 m) above sea level, and the lowest point is at sea level. Situated near the Atlantic Ocean, Boston is the only state capital in the contiguous United States with an ocean coastline.

Boston is surrounded by the "Greater Boston" region and is contiguously bordered by the cities and towns of Winthrop, Revere, Chelsea, Everett, Somerville, Cambridge, Newton, Brookline, Needham, Dedham, Canton, Milton, and Quincy. The Charles River separates Boston from Watertown and the majority of Cambridge, and the mass of Boston from its own Charlestown neighborhood. To the east lie Boston Harbor and the Boston Harbor Islands National Recreation Area (which includes part of the city's territory, specifically Calf Island, Gallops Island, Great Brewster Island, Green Island, Little Brewster Island, Little Calf Island, Long Island, Lovells Island, Middle Brewster Island, Nixes Mate, Outer Brewster Island, Rainsford Island, Shag Rocks, Spectacle Island, The Graves, and Thompson Island). The Neponset River forms the boundary between Boston's southern neighborhoods and the city of Quincy and the town of Milton. The Mystic River separates Charlestown from Chelsea and Everett, and Chelsea Creek and Boston Harbor separate East Boston from Boston proper.


The city's water supply, from the Quabbin and Wachusett Reservoirs to the west, is one of the very few in the country so pure as to satisfy federal quality standards without filtration.

Boston has a continental climate with some maritime influence, and using the −3 °C (27 °F) coldest month (January) isotherm, the city lies within the transition zone from a humid subtropical climate (Köppen Cfa) to a humid continental climate (Köppen Dfa), although the suburbs north and west of the city are significantly colder in winter and solidly fall under the latter categorization; the city lies at the transition between USDA plant hardiness zones 6b (most of the city) and 7a (Downtown, South Boston, and East Boston neighborhoods). Summers are typically warm to hot, rainy, and humid, while winters oscillate between periods of cold rain and snow, with cold temperatures. Spring and fall are usually mild, with varying conditions dependent on wind direction and jet stream positioning. Prevailing wind patterns that blow offshore minimize the influence of the Atlantic Ocean. The hottest month is July, with a mean temperature of 73.4 °F (23.0 °C). The coldest month is January, with a mean of 29.0 °F (−1.7 °C). Periods exceeding 90 °F (32 °C) in summer and below freezing in winter are not uncommon but rarely extended, with about 13 and 25 days per year seeing each, respectively. The most recent sub-0 °F (−18 °C) reading occurring on February 16, 2015 when the temperature dipped down to −3 °F (−19 °C). In addition, several decades may pass between 100 °F (38 °C) readings, with the most recent such occurrence on July 22, 2011 when the temperature reached 103 °F (39 °C). The city's average window for freezing temperatures is November 9 through April 5. Official temperature records have ranged from −18 °F (−28 °C) on February 9, 1934, up to 104 °F (40 °C) on July 4, 1911; the record cold daily maximum is 2 °F (−17 °C) on December 30, 1917, while, conversely, the record warm daily minimum is 83 °F (28 °C) on August 2, 1975.

Boston's coastal location on the North Atlantic moderates its temperature, but makes the city very prone to Nor'easter weather systems that can produce much snow and rain. The city averages 43.8 inches (1,110 mm) of precipitation a year, with 43.8 inches (111 cm) of snowfall per season. Snowfall increases dramatically as one goes inland away from the city (especially north and west of the city) - away from the moderating influence of the ocean. Most snowfall occurs from December through March, as most years see no measurable snow in April and November, and snow is rare in May and October. There is also high year-to-year variability in snowfall; for instance, the winter of 2011−12 saw only 9.3 in (23.6 cm) of accumulating snow, but the previous winter, the corresponding figure was 81.0 in (2.06 m).

Fog is fairly common, particularly in spring and early summer, and the occasional tropical storm or hurricane can threaten the region, especially in late summer and early autumn. Due to its situation along the North Atlantic, the city is often subjected to sea breezes, especially in the late spring, when water temperatures are still quite cold and temperatures at the coast can be more than 20 °F (11 °C) colder than a few miles inland, sometimes dropping by that amount near midday. Thunder storms occur from May to September, that are occasionally severe with large hail, damaging winds and heavy downpours. Although downtown Boston has never been struck by a violent tornado, the city itself has experienced many tornado warnings. Damaging storms are more common to areas north, west, and northwest of the city.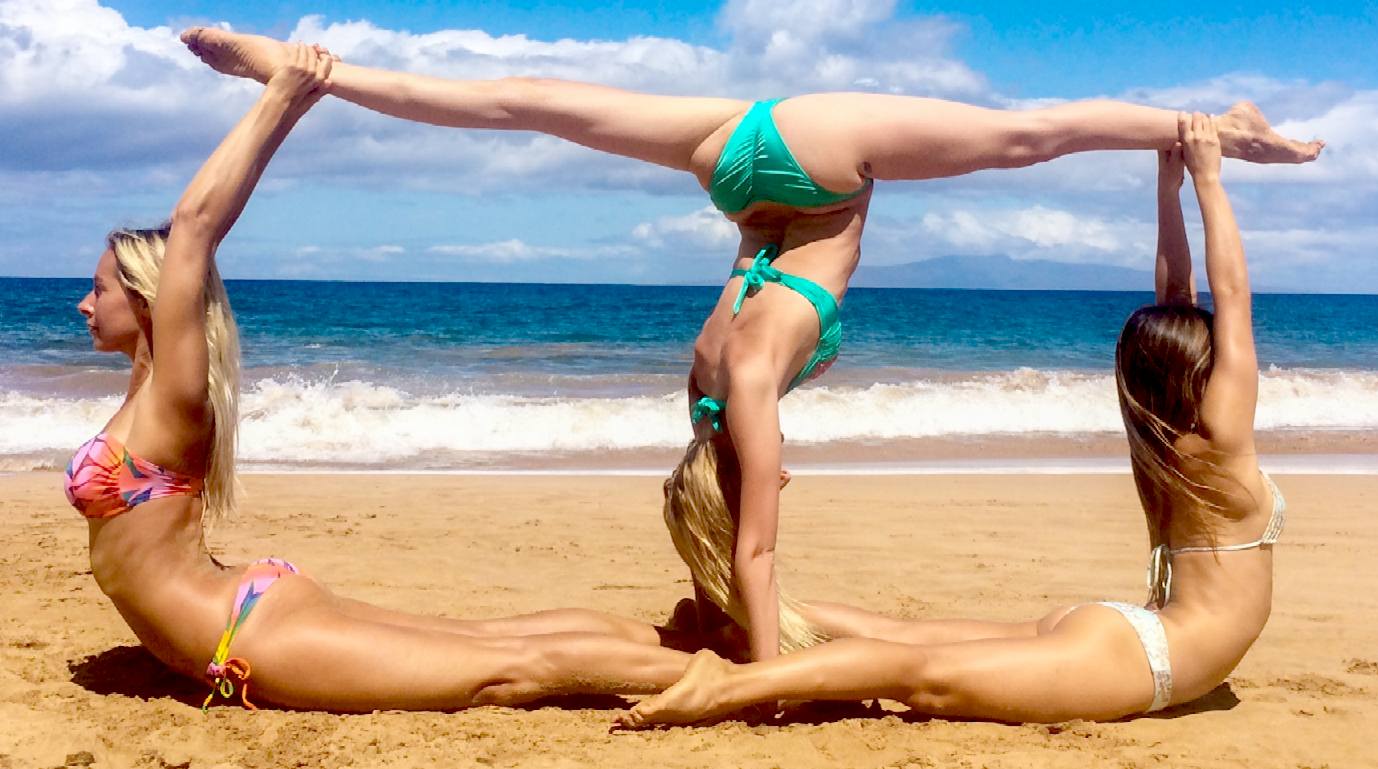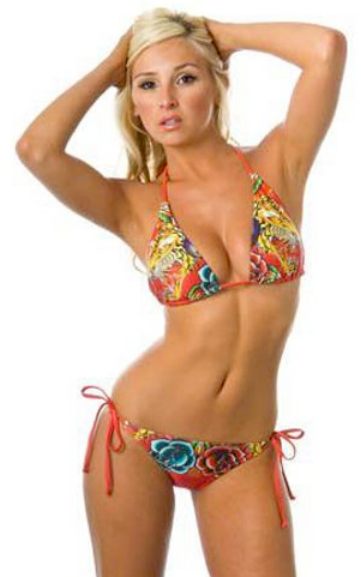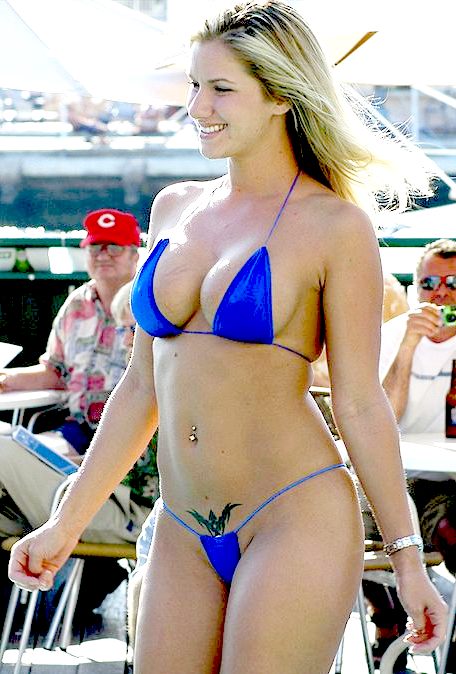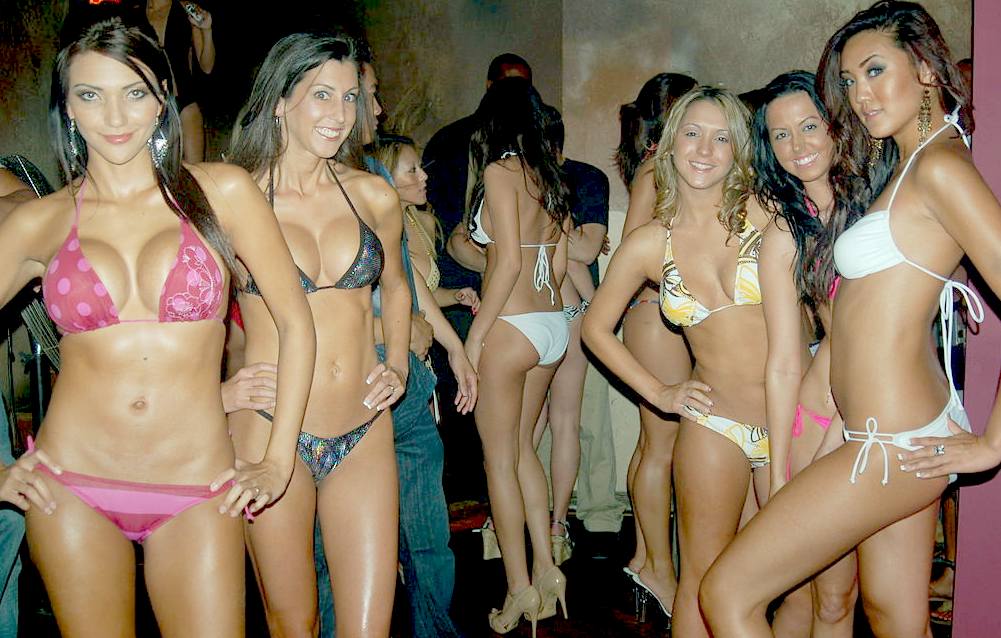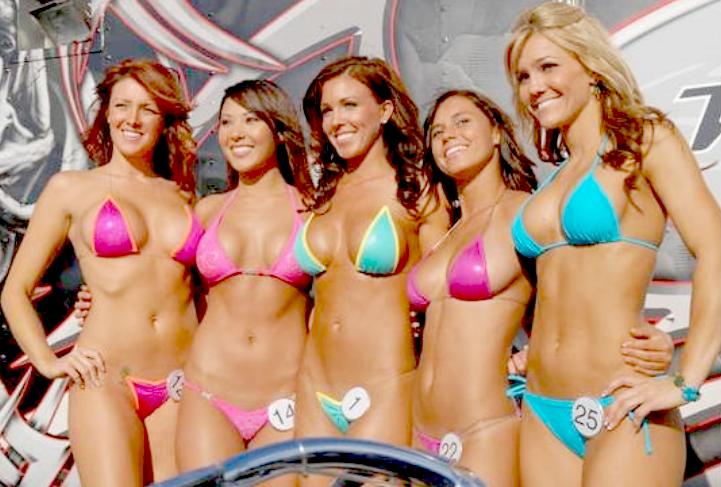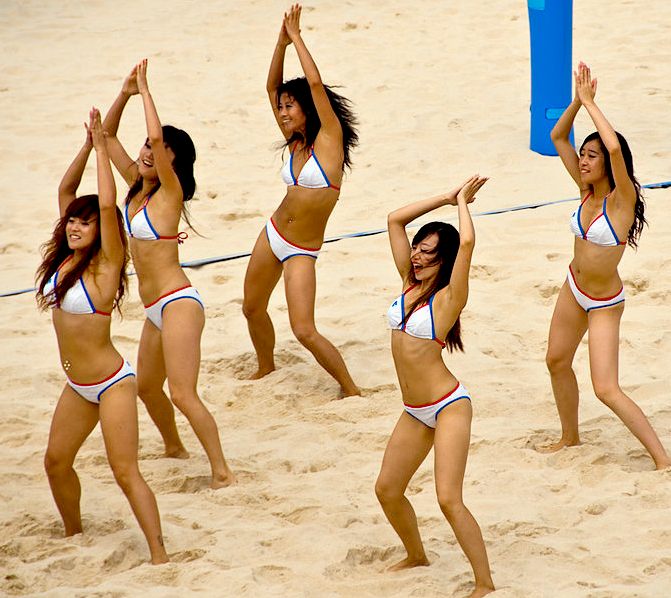 POPULAR FORMAT - The now extremely popular bikini swimsuit has given rise to dozens of contests for just those two items of clothing. The ladies like the apparel just as much as the men like looking at women wearing the famous two-piece. When a fit woman chooses just the right costume to compliment her curves, it can be poetry in motion.
LINKS
Thrill List Boston MA Miss Ocean Club's bikini contest
Patriot Ledger Quincy Ocean Club drug misuse
Facebook ocean club bikini contestants
Wikipedia Quincy,_Massachusetts
Scene Boston blog 2012 the Ocean Club at Marina Bay 2012
http://www.sceneboston.com/blog/2012/05/the-ocean-club-at-marina-bay-2012/
https://en.wikipedia.org/wiki/Quincy,_Massachusetts
http://www.patriotledger.com/article/20130906/NEWS/309069725
https://twitter.com/BostonSceneMag
https://www.facebook.com/media/set/?set=a.349697785115792.82205.111286678956905&type=3
https://www.thrillist.com/entertainment/boston/ma/02171/quincy/miss-ocean-club-bikini-contest_events