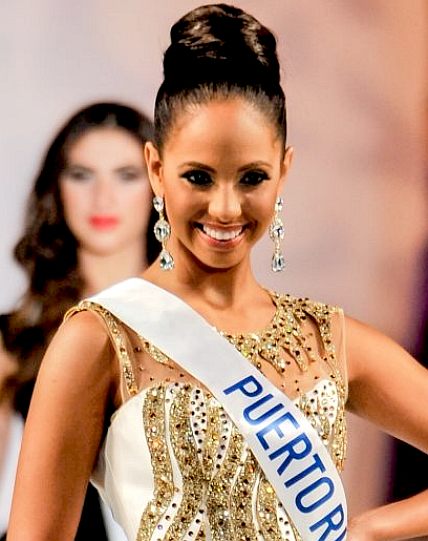 VALERIE HERNANDAZ - Valerie Hernández Matías was born on the 19th of July 1993 in San Juan, Puerto Rica. The beauty queen was crowned Miss International 2014 in Tokyo, Japan. She is the second winner from Puerto Rico after Laurie Simpson in 1987.

MISS INTERNATIONAL
Miss International (Miss International Beauty or The International Beauty Pageant) is an annual international beauty pageant held since 1960. Miss International is one of the largest beauty pageants in the world after Miss World, Miss Universe and Miss Earth contests in terms of the number of national-level competitions to participate in the world finals and one of the most publicized beauty contests in the world.

Miss International is part of the Big Four international beauty pageants. The current Miss International is Valerie Hernandez of Puerto Rico who was crowned on November 11, 2014 in Tokyo, Japan. Traditionally, Miss International lives in Tokyo during her reign.
ミス・インターナショナル(正式名=Miss International Beauty Pageant)は、1960年に米国カリフォルニア州ロングビーチで誕生しました。
以来、国際貢献事業として「相互理解による世界平和の実現」と「国際社会における日本の正しい理解」をスローガンに人物交流等を幅広く展開してきました。

1968年~1970年に、大阪万国博覧会を記念して日本で開催され(1968年の大会は、日本武道館で行われ、日比谷公園から日本橋まで「銀座パレード」が行われるなど大好評を博しました) これをきっかけに、1972年以降は、日本での開催となり、2008年の北京オリンピック、2010年には上海万国博覧会の成都館へ訪問し大会のプレイベントを行など経済発展が目覚ましい中国での国際親善事業の中核をなす大会として位置づけられてきました。

2004年、2006年は中国・北京、2009~2011年は同じ中国の四川省成都市で開催、四川大地震の復興支援活動をきっかけに3年つづけての大会となりました。 2012年は沖縄、2013年度は東京で大会を開催し各国ミス達の親善活動の輪を広げるなど日本の観光PR活動にも重要な役割をはたしています。

また、ミス・インターナショナルは、「ミス・インターナショナル基金」を設立し、ユニセフなどの慈善機関を通じて世界の恵まれない子供たちに寄付したり、日本のミス達による環境保全を目的とした植樹活動 "グリーンキャンペーン" を日本全国で毎年行っています。
このような継続的な慈善活動によって、外見的な美しさを競うだけでなく、内面を豊かにする為に、国際交流や社会貢献活動などを積極的に行うことを目的とした祭典を目指しています。

今年も65以上 の国と地位を代表する"美の親善大使" が東京に集結します!
そして情熱と行動力あふれるミス達により「ミス・インターナショナル ビューティ・ページェント」に新たな歴史が刻まれます。
INTERNATIONAL CULTURAL ASSOCIATION

6-6-3-B1, Akasaka, Minato-ku,Tokyo 107-0052, Japan
Phone: +81(3)6441-3251
Fax: +81(3)6441-3253
LINKS & REFERENCE
http://www.miss-international.org/
http://www.missearth.tv/
http://www.missworld.com/
http://www.missuniverse.com/
https://en.wikipedia.org/wiki/Miss_Earth
https://en.wikipedia.org/wiki/Miss_International
https://en.wikipedia.org/wiki/Miss_World
https://en.wikipedia.org/wiki/Miss_Universe
| | | | | | |
| --- | --- | --- | --- | --- | --- |
| Beauty Pageant | Headquarters | President | Key People | Formation | Motto |
| | New York City | Paula Shugart | Donald Trump | 1952 | Confidently Beautiful |
| | London | Julia Morley | Eric Morley | 1951 | Beauty with a Purpose |
| | Manila | Ramon Monzon | Lorraine Schuck | 2001 | Beauties for a Cause |
| | Tokyo | Hirofumi Hashimoto | Hirofumi Hashimoto | 1960 | Love, Peace and Beauty |
| | Ocean City NJ | - | - | 2015 | Learn and be beautiful |
| | Boston, Massachusetts | - | - | 2012 | Flaunt it Baby |
| | Paris, Saint Denis | - | - | 2012 | Love your island |
| | Ho Chi Minh City | - | - | 2010 | Love your ocean |
| | Zhoushan Island | - | - | 2014 | Love your ocean |
| | Scarborough, Perth | - | - | 2014 | 12 lucky girls |
| | LA, California | - | Von Gretchen McAlpin | 2014 | Dream more, be more |
| | Ambon city, Mollucas Is | Nadine Chandrawinata | Kamidia Radisti | 2012 | Brave, smart & beautiful |