MISS OCEAN INTERNATIONAL 2010 WINNERS - 1st place: Russia, Krasnitskaya Victoria, 2nd place was Miss China, Ye Xu, and in 3rd place was Miss Netherlands, Rasmussen Martha Ingebrigtsen. Congratulations to all who took part in this competition for drawing attention to the plight of our most under-sung assets on planet earth. Keeping our oceans healthy is all part of ensuring that blue growth is sustainable for a circular economy.
MISS OCEAN INTERNATIONAL 2010
On June the 28th 2010, contestants posed for a group photo during the Miss Ocean Contest in Zhoushan, island city of east China's Zhejiang Province. A total of 50 beauties from more than 40 countries attended the 10-day contest. (Xinhua/Xu Yu)

The Miss Ocean International 2010 final show was held on July the 5th at Zhoushan, China. 50 contestants from all over the world competed for the crown. The winner was Russian beauty, Krasnitskaya Victoria (left above), with 2nd place runner-up 徐冶, from China (above centre) and the 3rd place runner-up from the Nederlands, Rasmussen Martha Ingebrigtsen (above right). All of the girls wore distinctive blue swimsuits as well as donning traditional dress.
Another feature of the competition was a tug of war and a mud fight, that captured the attention of the world's media.
Miss Russia, Krasnitskaya Victoria, stands 181cm tall, with the vital statistics of 88 61 93 cm. Miss China, Ye Xu, stands 181cm tall, with the vital statistics of 85 63 91 cm. Miss Netherlands, Rasmussen Martha Ingebrigtsen, stands 177cm tall, with the vital statistics of 83 60 92 cm.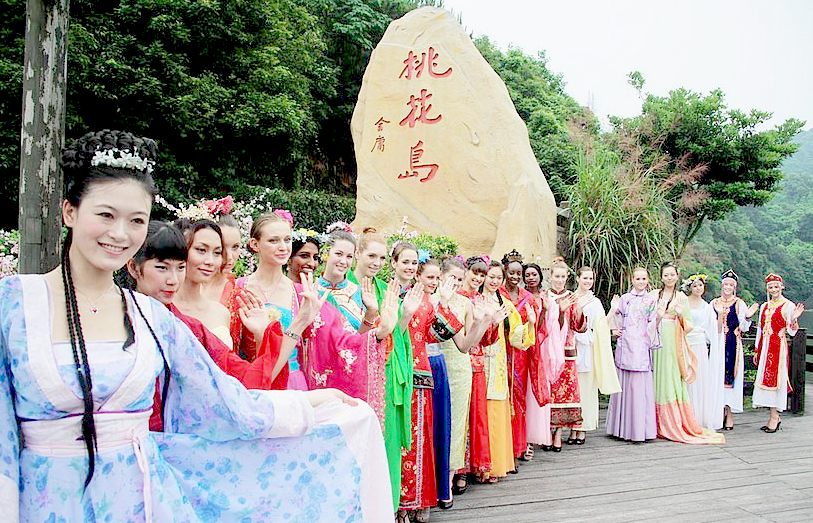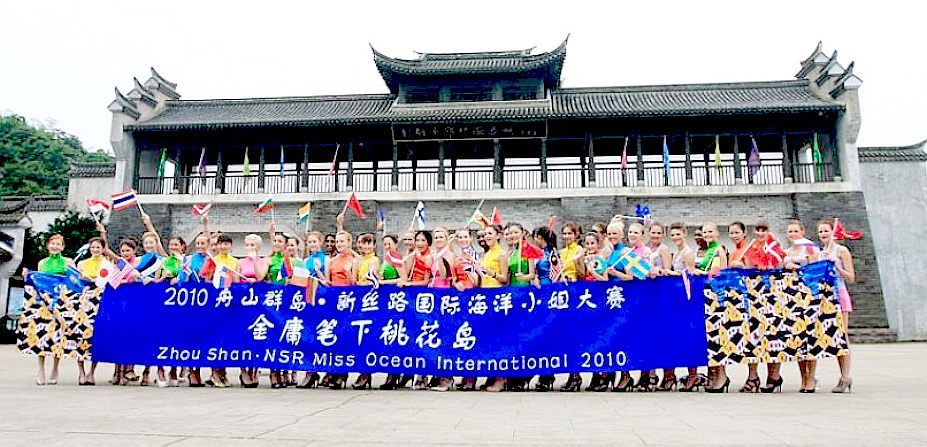 Thí sinh HH Đại dương 2010 nghịch bùn vẫn sexy - Thứ ba, 2010-06-29 - Nguồn: 24h.com.vn Yêu cầu xóa tin
Ngập trong bùn đất lem nhem nhưng các thí sinh tham dự HH Đại dương Quốc tế 2010 vẫn thật gợi cảm, sexy và cực kỳ đáng yêu.

Thời trang 24H luôn cập nhật nhanh nhất các mẫu thời trang trẻ, thời trang công sở, váy công sở, áo công sở, thời trang jean hay xu hướng thời trang 2010, tin tức thời trang, bí quyết mặc đẹp mới và hợp mốt nhất.

Hơn 50 đại diện đến từ khắp các quốc gia và vùng lănh thổ đă cùng hội tụ ở Miss ocean international 2010 (Hoa hậu đại dương Quốc tế) đang diễn ra tại Trung Quốc. Các người đẹp với đủ màu da, sắc tóc đua nhau trổ tài và khoe sắc. Các thí sinh của Hoa hậu Đại dương Quốc tế năm nay được đánh giá là đồng đều cả về nhan sắc, vóc dáng lẫn cốt cách, tinh thần. Có rất nhiều thí sinh thực sự xinh đẹp và quyến rũ. Điều ấy làm tinh thần cuộc thi càng thêm gay cấn và tạo sự hồi hộp hưng phấn cho khán giả.

3h chiều hôm qua, 28/6 (theo giờ địa phương), những người đẹp tham dự cuộc thi Miss ocean international 2010 đă có một hoạt động thể thao vô cùng... độc đáo.

Trong thời gian tổ chức cuộc thi Hoa hậu Đại dương Quốc tế 2010, các người đẹp đă tham gia vào nhiều hoạt động thi thố cũng như tham quan các danh lam thắng cảnh nổi tiếng của Trung Quốc. Và Lễ hội trượt bùn nổi tiếng ở Lệ Giang là một trong số những hoạt động cực độc lần này.

50 người đẹp chia làm các đội chơi, cùng nhau trượt bùn, chơi kéo co, nhảy múa vô cùng vui nhộn và náo nhiệt. Công viên nước Lệ Giang như bừng tỉnh bởi những bóng hồng vô cùng nóng bỏng này.

Trong đồng phục là bikini màu xanh nước biển và giầy vải màu đen, các người đẹp đă có một cuộc chiến thực sự quyết liệt. Ai cũng hào hứng tham gia cuộc thi có lẽ sẽ là 'có 1 không 2' trong đời. Không e ngại bùn đất làm lem nhem khuôn mặt xinh đẹp cùng cơ thể nơn nà của ḿnh. Khán giả và khách du lịch có mặt tại công viên đă cổ vũ hết ḿnh cho các người đẹp. 50 thí sinh đă cống hiến cho người xem nhiều 'pha' nóng bỏng. Hăy cùng chiêm ngưỡng cuộc chiến bikini đầy hấp dẫn và sexy này!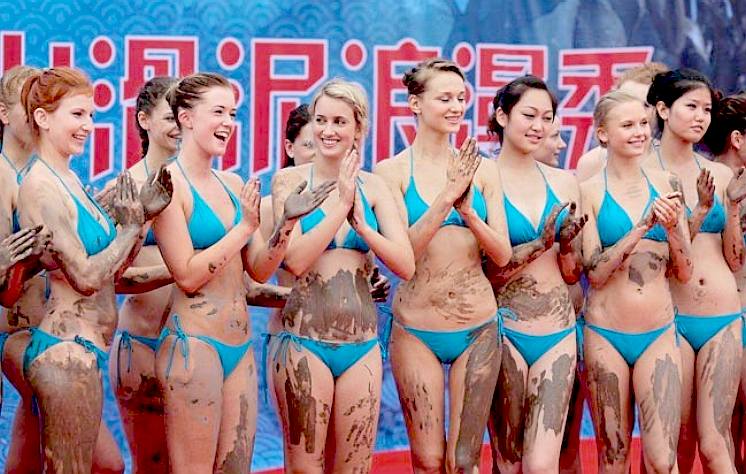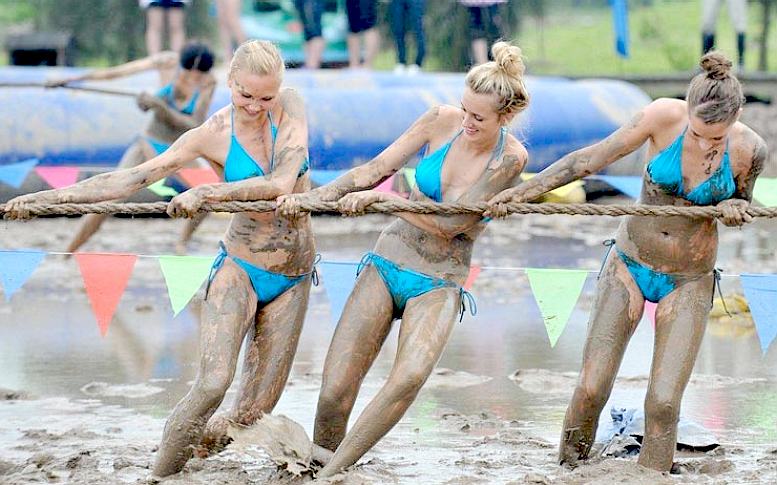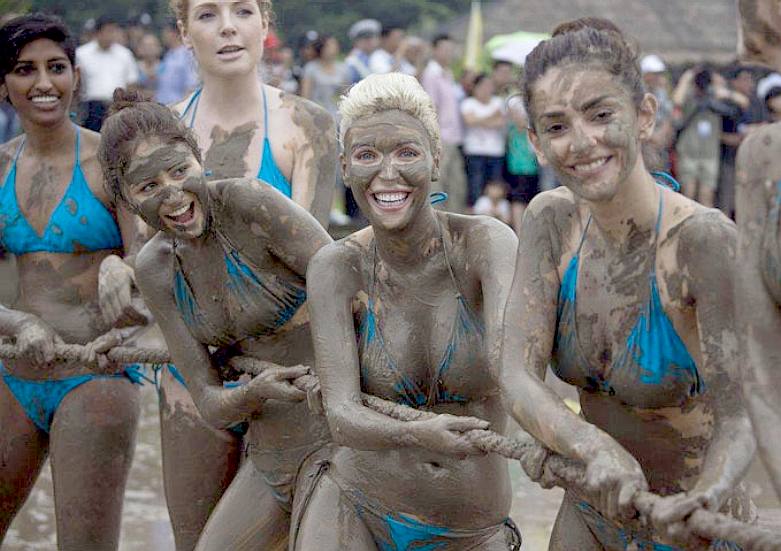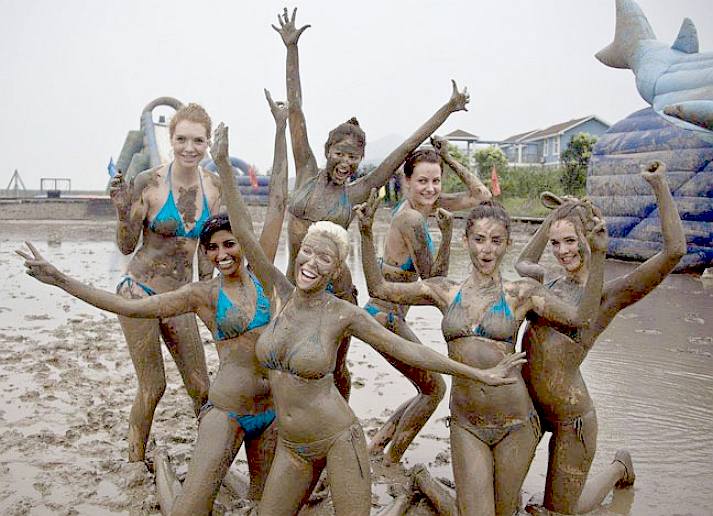 MUD and BLUE BIKINIS GAMES - Contestants posed for photos during the Miss Ocean Contest in Zhoushan, island city of east China's Zhejiang Province (June 28, 2010). A total of 50 beauties from more than 40 countries attended the 10-day contest, taking part in mud-wrestling, tug-of-war (29 June) and other events. We're not quite sure what the significance of the mud was. Whether the mud has therapeutic properties, or maybe it was just the girls having fun at the seaside.
ABOUT MISS OCEAN CONTESTS
Miss Ocean contests are intended to increase public awareness of pollution and other issues affecting the seas that we depend on for food. Congratulations to the organizers of this event, with especial thanks to all of the sponsors and supporters that made the event possible. None of this would have been possible without the women who cared enough to enter the competition. In the international drive to empower women (G7), women who follow their heart are empowering themselves and other women around the world - leading by example.
UNBELIEVABLE - That as an intelligent species, we'd let our planet get into this mess. The Miss Ocean Vietnam contest is a chance for the crowned ocean miss to tell the world about a problem that not very much is happening about in real terms, with world leaders such a President Barack Obama and Ban Ki Moon, apparently stymied as to a cure.
OCEAN HEALTH INDEX
The health of Earth's oceans is still ailing although slightly improved, says the latest edition of the Ocean Health Index, issued this week. It gave the planet's waters a score of "D," saying it could be worse and that conservation and protection measures are having a positive effect. The goal of the study, say its authors, is "to encourage decisions that create a healthier ocean and to track progress toward that goal."

The Index assigned the oceans an overall score of 67, with the waters off Canada's Prince Edward Island and Australia's Heart and McDonald Island the top scorers at 93, with the largely uninhabited wildlife preserves of Howland Island and Baker Island in the equatorial Pacific scoring 92. On the low end were countries like Somalia, Eritrea, Guinea Bisseau, Pakistan, Grenada and Angola, which scored 48-49. Both the High Seas,which it included for the first time this year, and the coastal territories were assigned the score of 67 while Antarctica, also graded for the first time, got 72.
"Certainly the score of 67 needs to be much higher if the ocean is sustainably to help meet the needs of our rising human population," said the study. "Although there is much room for improvement, some people might have expected an even lower score given all the news reports about ocean acidification, oil spills, plastic trash, dead zones, overfishing and others—serious impacts that will become worse if their causes are not reduced or eliminated."

The index authors noted that scores were slightly higher overall from the previous two years, improving in areas like biodiversity, coastal protection, and sense of place, and they projected slightly higher scores in upcoming years.

"Humans and our activities are part of the ocean, and the human-ocean system is healthier if it delivers the most benefits for us that it can without jeopardizing the future health or function of the web of life that the ocean contains," they conclude.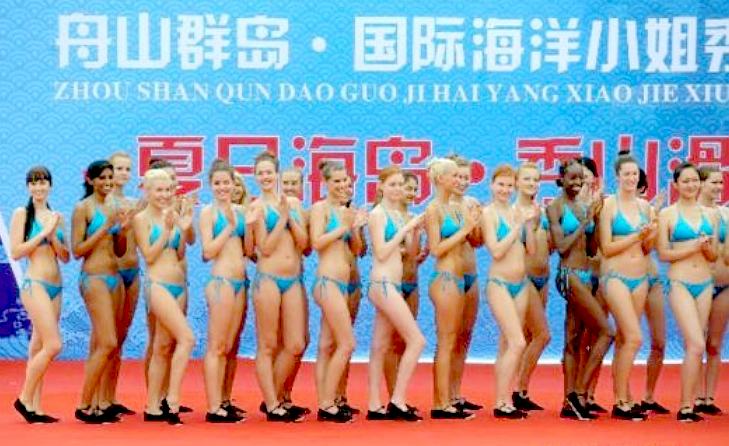 ...
THE ADVANTAGES OF KEEPING OUR OCEANS HEALTHIER

Remarkable range of benefits we get from healthy oceans:

1. Food provision through wild fisheries and fish farming. About 4.3 billion people get around 15% of their animal protein and essential nutrition from seafood.

2. Natural products like shells, seaweed, fish oil and coral. Each year, people consume almost 23 million tons of seaweed alone, an amount valued at over US$ 6 billion.

3. Coastal protection. Natural barriers like coral reefs, mangroves and seagrass beds mitigate impacts from major storms and tsunamis.

4. Artisanal fishing opportunities for those who don't have other options for employment or livelihoods and need to make their sustenance from oceans. There are over 12 million artisanal fishers worldwide.

5. Economies and livelihoods for people along the coasts. Worldwide, an estimated 350 million jobs depend on the ocean.

6. Biodiversity. Already the IUCN Red List categorizes 11.7% of the 8,459 marine species assessed to date as threatened with a high risk of extinction in the wild. The decline or extinction of species threatens the many direct and indirect benefits they provide to people, from being sources of new medicines to maintaining ecosystems in balance.

7. Clean water, free from pollutants and plastic garbage, that people can swim and wash in without putting their health at risk. There are already more than 400 dead zones worldwide, where lack of oxygen prevents many forms of life. These areas cover an area larger than the entire state of Minnesota.

8. A sense of place, including cultural, spiritual and aesthetic benefits. In the U.S. 39% of the population lives in coastal counties; these people are shaped by living by the ocean.

9. Carbon storage. The ocean captures carbon dioxide from the atmosphere and buries it in sediments to mitigate climate change. Mangroves capture five times as much carbon per acre as tropical rainforests, but these "blue carbon" habitats are being lost at a rate 2–4 times faster.

10. Tourism and recreation. In the U.S., over 40% of people visit the beach each year.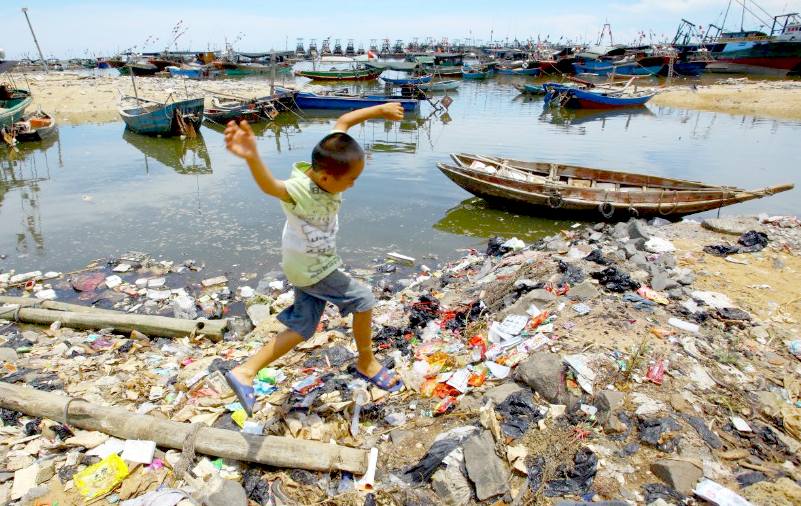 PLASTIC MINEFIELD - A Chinese boy plays in plastic waste. Would you want this for your child, or anyone's child? Miss Ocean Vietnam is sure to be drawing attention to similar scenes. It's not just happening in the South China Sea, it is happening all over the world. Even reasonably well managed economies, allow waste to get into the ocean. This includes Australia, Europe, Canada and the USA. Richer countries should help poorer countries. This was something agreed recently by the G7.
CNN FEBRUARY 2015
Nearly every piece of plastic still exists on Earth, regardless of whether it's been recycled, broken down into microscopic bits or discarded in the ocean.

And the world keeps producing more of the material - creating 288 million metric tons of it in 2012. About 4.8 to 12.7 million metric tons of it end up in the oceans in 2010, according to a new estimate published in the journal Science.

That report released Thursday ranks countries that generate the most plastic debris into the oceans, with Asian nations taking 13 out of the top 20 spots.

Using World Bank data on 192 coastal countries, researchers estimated that China, the most populous nation, has the most mismanaged plastic waste per year and also generates the most plastic debris that end up in the ocean at 28%.

Mismanaged waste means the material is littered or not properly disposed of - meaning there isn't a formally managed waste management system.

"The study is not to point fingers at people, it wasn't to focus on the countries," said lead author Jenna Jambeck. "The purpose was to make a global estimate." But the data set Jambeck and the seven co-authors used was only available on a country-by-country level.

"Many of them are middle-income countries with rapidly growing economy," said Jambeck of the University of Georgia. "They have also large coastal populations, they have high levels of mismanaged waste, they have trouble keeping up with infrastructure."

The United States also cracked the top 20 and had a higher rate of waste generation per person at 5.6 pounds per person than China (2.4 pounds).

Low-income countries were less likely to end up on the list, because of less waste, Jambeck said.
WE'RE USING MORE PLASTIC

Since 1974, the world has undergone a 620% increase in plastic production, according to the researchers.

"When the waste was natural material, we could leave it and not think about it," Jambeck said. "Even disposing of it in the land was fine, but plastic has increased 650% in the last 40 years.

"It's a wake-up call. We need to look at this and the way we're collecting and containing our waste."

Plastic waste discarded in the ocean raises a number of concerns, scientists say. It may damage ecosystems and marine animals, contaminate our food supply, and lead to chemical leaching.

Estimates of the time it takes to degrade plastic range from hundreds to thousands of years - and because plastic has only been around for 100 years, there hasn't been enough time to observe the process, says Darby Hoover, senior resource specialist at Natural Resources Defense Council, an environmental group.

Meanwhile, plastic waste keeps on growing with more people and more consumption, the report authors wrote.

"All that consumption is growing, unfortunately the waste management systems around the world are not keeping pace as quickly as the consumption and products - there's a big mismatch," said Doug Woodring, who was not involved in the study but has worked on the issue of plastics waste at the Ocean Recovery Alliance in Hong Kong.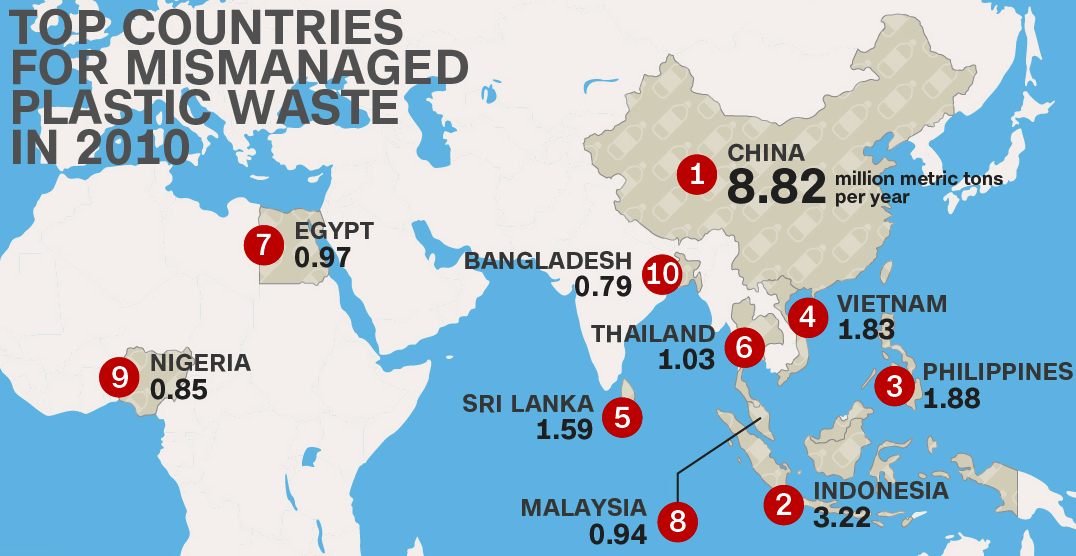 WHO'S RESPONSIBLE?

Last year, one study in the journal PLOS estimated that a minimum of 5.25 trillion floating plastic particles weighing 268,940 tons are in the ocean. This estimate included only surface plastics, and not the materials that have sunk.

"A lot of people think of an island of floating garbage, people envision that there are forms of an island you can see on Google Earth - it's much more diffuse than that," Hoover said. " All of our oceans are plastic soups- everywhere you can go."

Environmentalists have criticized the rampant use of plastics in packaging that are only used once and then discarded. The solutions have to be both local and global, Jambeck said.

"It's everybody's responsibility. Of course, don't litter and prioritize using reusables," Hoover said. "At the same time there's a responsibility on companies who produce the products found in oceans, to make sure the materials they produce are recyclable, get recycled and look for ways to improve the infrastructure."

DRIVE TO REDUCE PLASTIC WASTE

While China topped the list in the report, the country has made some efforts to curb waste. In 2008, China banned free plastic bags and five years later, banned the import of poorly sorted recyclables from other countries including the U.S.

There are some successful models, said Woodring. For example, Taiwan places a surcharge on plastics sold on a company level and it pays for the sorting, capturing, cleaning and recycling.

However, some countries lack infrastructure for waste management and recycling.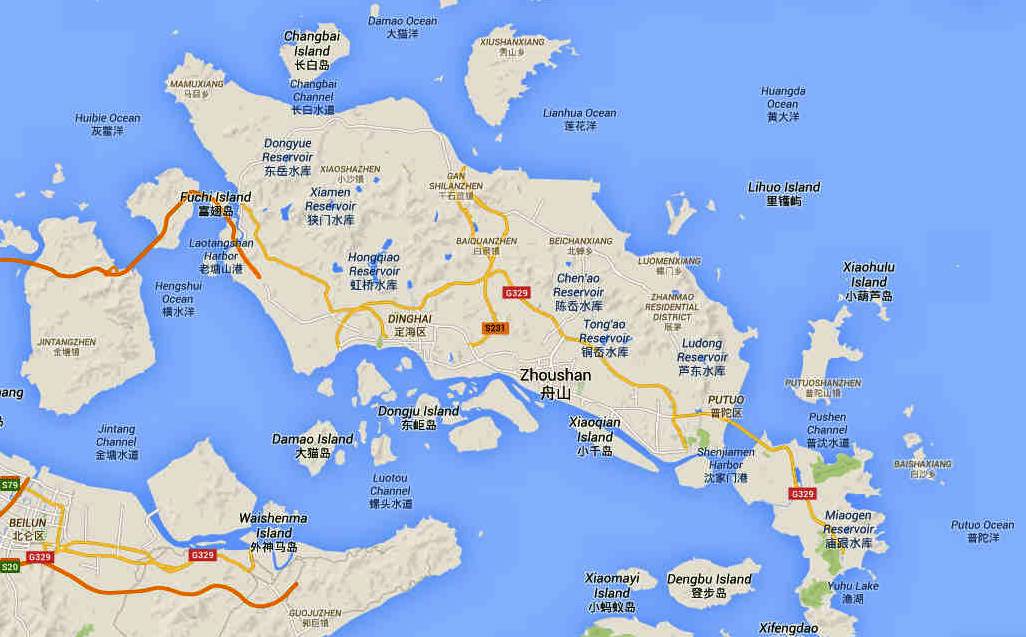 ZHOUSHAN ISLAND
Zhoushan Island (Chinese: 舟山岛) is the principal island of the namesake archipelago Zhoushan Islands, administered by Zhoushan City, Zhejiang Province, the People's Republic of China. Its name means "Boat Mountain", in reference to its shape. It is the province's largest island, and third largest in mainland China (after Hainan and Chongming Islands). The island is the district seats of both Dinghai and Putuo.

At 30° N. 122° E., it lies northwest to southeast, and has a circumference of 170.16 km (105.73 mi), with a maximum length of 44 km (27 mi), and a maximum width of 18 km (11 mi). Its area is 502.65 km2 (including tidal zone). At its closest point, it is 9.1 kilometres from the Chinese mainland. The tallest point is 503.6 metres.

The island has varied range of landscape, with hill and dale, as well as watered with numerous small streams, of which the most considerable is the Dongjiang (East River), passing into the harbour of Dinghai. There are several hundred ports around the islands, separated into three areas: Dinghai Port Zone, Shen-jia-men Port Zone (沈家门港区), and Laotangshan Port Zone (老塘山港区). The tourism regions include the regions of Shen-jia-men and Dinghai.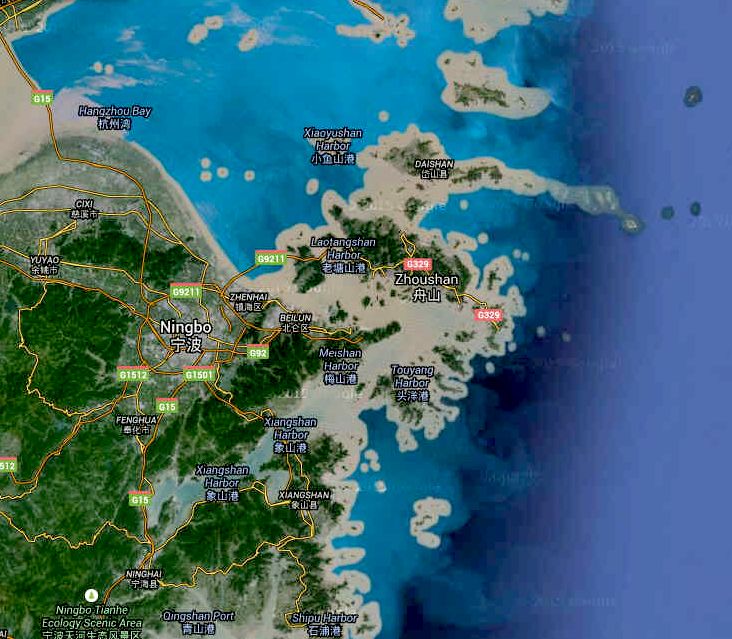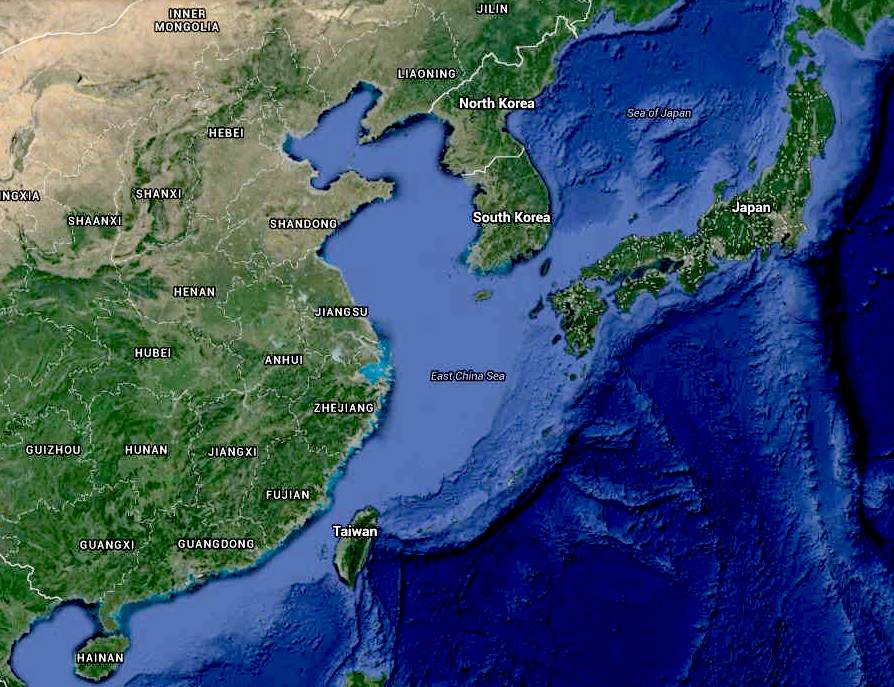 GOOGLE MAPS - East China Sea and Zhoushan Island location maps.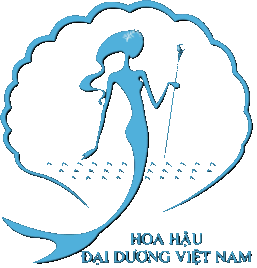 LINKS & REFERENCE
Universal queen 2010 July Miss Russia, Krasnitskaya Victoria wins
Tin 247 thi_sinh_hh_dai_duong_2010_nghich_bun_van_sexy
http://www.universalqueen.com/2010/07/miss-russia-krasnitskaya-victoria-wins.html
http://www.tin247.com/thi_sinh_hh_dai_duong_2010_nghich_bun_van_sexy-8-21611847.html
https://en.wikipedia.org/wiki/Zhoushan_Island
http://en.people.cn/90001/90782/7044094.html
http://www.vietnambreakingnews.com/2014/01/binh-thuan-to-host-miss-vietnam-ocean/
http://www.thesailingbay.com/#!Moments/SID27/Miss-Vietnamese-Ocean-2014.mpx
https://en.wikipedia.org/wiki/Ho_Chi_Minh_City
https://en.wikipedia.org/wiki/Phan_Thi%E1%BA%BFt
http://coastalcare.org/2009/11/plastic-pollution/
http://edition.cnn.com/2015/02/12/world/ocean-trash-pollution/
http://english.vov.vn/Culture/Dang-Thu-Thao-crowned-Miss-Vietnam-Ocean-2014/276894.vov
http://www.talkvietnam.com/2014/02/miss-vietnam-ocean-2014-kicks-off-in-april/
http://giadinh.net.vn/giai-tri/hoa-hau-viet-nam-2014-se-duoc-nhan-vuong-mien-tri-gia-25-ty-20141020141909032.htm
http://www.hoahaudaiduongvietnam.com/
http://wordvietnam.com/your-say/tag/The%20Grand%20Beauty
https://www.facebook.com/TheGrandHoTramStrip
http://hanoitimes.com.vn/arts-entertainment/entertainment/2014/02/81E07681/miss-ocean-contest-hopes-to-increase-public-awareness/
http://vietnamnews.vn/life-style/255404/miss-ocean-winner-thao-makes-waves.html
http://wordvietnam.com/your-say/miss-ocean-vietnam-2014
http://news.yahoo.com/china-says-changing-position-sea-dispute-shame-ancestors-080310808.html
http://www.nytimes.com/newsgraphics/2013/10/27/south-china-sea/
http://www.johnfeffer.com/is-chinas-rise-still-peaceful/
http://www.livemint.com/Politics/j2x5cxz1gxYQwDPmK5NtuN/India-Asean-to-dis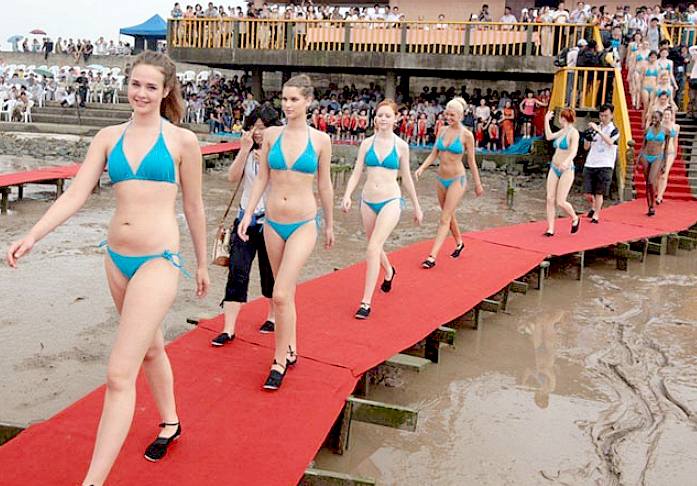 BEAUTY AND THE BEAST - It's hard to believe that some of the most beautiful seas in the world are also the most polluted - and most disputed. By drawing attention to the problems they are facing, local people will begin to think about their waste and how they dispose of it. Local authorities might then pay more attention to recycling and other ocean cleanup initiatives. Of equal importance is that internationally recognized boundaries are respected by neighboring countries, regardless of size. Disputes should be arbitrated by an international body on application by any party who feels aggrieved.
| | | | | | |
| --- | --- | --- | --- | --- | --- |
| Beauty Pageant | Headquarters | President | Key People | Formation | Motto |
| | New York City | Paula Shugart | Donald Trump | 1952 | Confidently Beautiful |
| | London | Julia Morley | Eric Morley | 1951 | Beauty with a Purpose |
| | Manila | Ramon Monzon | Lorraine Schuck | 2001 | Beauties for a Cause |
| | Tokyo | Hirofumi Hashimoto | Hirofumi Hashimoto | 1960 | Love, Peace and Beauty |
| | Ocean City NJ | - | - | 2015 | Learn and be beautiful |
| | Boston, Massachusetts | - | - | 2012 | Flaunt it Baby |
| | Boston, Massachusetts | - | - | 2013 | Flaunt it Baby |
| | Paris, Saint Denis | - | - | 2012 | Love your island |
| | Ho Chi Minh City | - | - | 2010 | Love your ocean |
| | Zhoushan Island | - | - | 2014 | Love your ocean |
| | Scarborough, Perth | - | - | 2014 | 12 lucky girls |
| | LA, California | - | Von Gretchen McAlpin | 2014 | Dream more, be more |
| | Ambon city, Mollucas Is | Nadine Chandrawinata | Kamidia Radisti | 2012 | Brave, smart & beautiful |