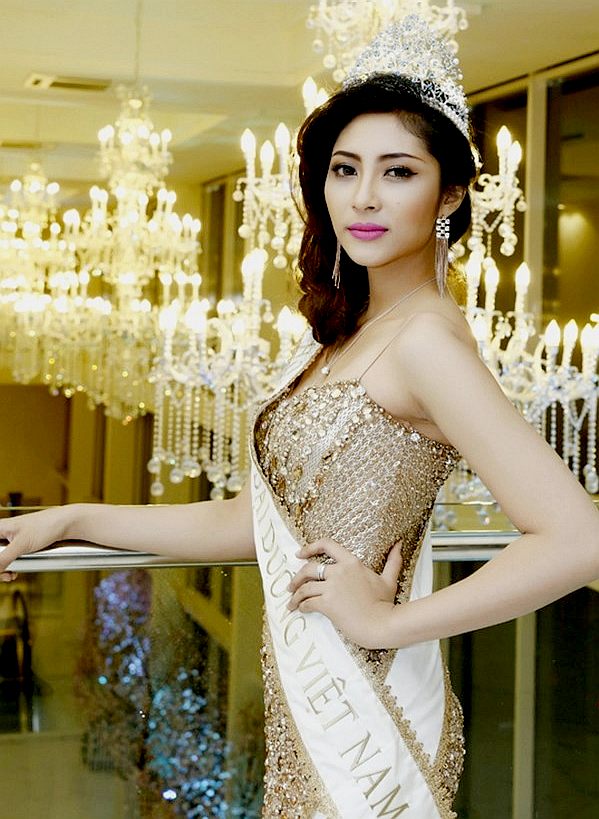 Miss Ocean Vietnam 2015, the beautiful Miss Dang Thu Thao
The 'Miss Ocean Vietnam' beauty contest has been organized to draw attention to the growing pollution problems in and around Vietnam, which includes the Gulf of Tonkin, Gulf of Thailand and the South China Sea. The aim for this event is to find woman who can voice their concerns about the issues in their geographical region. Miss Ocean Vietnam reflects the ideals of the Miss Ocean pageant that is looking to begin in 2016 in the United Kingdom. There is an obvious mutual accord, that may be built upon as such projects develop.
The Cleaner Oceans Club™ think that it is wonderful how people all over the world are taking action to draw attention to what is one of the most dreadful international problems that the world has ever had to face. The fact that it is humans who are causing the damage is the problem, where, with the economies of all nations charging ahead full blast, little thought has been given to waste management - in the mistaken belief that nature will do the dishes for us forever. That is of course wrong. We will have to wash our own dishes, it is just a matter of time before the sink is overflowing with dirty leftovers, until there are no more dishes to eat from.
Congratulations then to the organizers of this event, with especial thanks to all of the sponsors and supporters that made the event possible. None of this would have been possible without the women who cared enough to enter the competition. In the international drive to empower women (G7), women who follow their heart are empowering themselves and other women around the world - leading by example.
MISS OCEAN VIETNAM - The preliminary round and semi-finals for Miss Vietnam Ocean 2014 was held in Hanoi on April 20 and in Ho Chi Minh City on April 25.
Tân Hoa hậu Đại dương - Cập nhật 28-05-2014

(iHay) Chia sẻ về việc trùng tên với Hoa hậu Việt Nam 2012, tân Hoa hậu Đại dương Việt Nam 2014 Đặng Thu Thảo cho biết cô không ngại bị so sánh và sẵn sàng noi gương đàn chị.


Hoa hậu Đại dương Việt Nam 2014 Đặng Thu Thảo trong phần thi bikini
Sở hữu chiều cao 1,71 m với số đo 3 ṿng lần lượt là 91 - 63 - 90, Đặng Thu Thảo (sinh năm 1995) đă vượt qua 28 thí sinh c̣n lại trong ṿng chung kết để trở thành Hoa hậu Đại dương đầu tiên của Việt Nam. Tuy nhiên, việc trùng tên với Hoa hậu Việt Nam 2012 Đặng Thu Thảo (quê Bạc Liêu) đă khiến người đẹp đến từ Cần Thơ gặp những câu hỏi "khó" từ phóng viên báo đài.

Trong buổi trao đổi ngắn sau khi kết thúc cuộc thi, khi được hỏi có ngại bị so sánh với đàn chị Đặng Thu Thảo không, tân Hoa hậu Đại dương Việt Nam 2014 khẳng định: "Thảo không ngại đâu v́ mỗi người có cá tính riêng và mục đích của Thảo đến với cuộc thi nhan sắc này cũng khác với chị Đặng Thu Thảo nữa. Thảo sẽ noi gương chị và sắp tới sẽ học hỏi thêm nhiều điều để bảo vệ môi trường biển Việt Nam".
Xem clip Hoa hậu Đại dương Việt Nam 2014 - Đặng Thu Thảo trả lời phỏng vấn báo chí:
Đặng Thu Thảo quê ở Cần Thơ. Cô là con út trong gia đ́nh. Chia sẻ cảm xúc khi đăng quang, Đặng Thu Thảo cho biết: "Thảo thật sự rất bất ngờ v́ Thảo đến với cuộc thi này chủ yếu là v́ muốn chung tay góp sức cho việc bảo vệ môi trường biển. Khi được xướng tên, Thảo rất xúc động v́ đă được đạt được mục tiêu của ḿnh".

Trước những ư kiến trái chiều về việc bất ngờ đăng quang trong khi lại không phải là thí sinh nổi trội ngay từ đầu, Đặng Thu Thảo cho rằng: "Nếu vương miện đă thuộc về Thảo th́ Thảo sẽ cố gắng hết ḿnh để xứng đáng với danh hiệu này".

Người đẹp đến từ Cần Thơ cũng tiết lộ v́ gia đ́nh không có điều kiện nên sau khi tốt nghiệp lớp 12, cô phải tự kiếm tiền để vào đại học. "Hiện tại, em đă gom đủ số tiền để vào đại học. Sắp tới em sẽ cố gắng thi thật tốt vào ngành Tài chính - ngân hàng của Đại học Tây Đô (Cần Thơ) đồng thời tham gia các hoạt động bảo vệ môi trường biển Việt Nam và thế giới". Điều trùng hợp là Hoa hậu Việt Nam 2012 Đặng Thu Thảo cũng từng học tại ĐH Tây Đô (Cần Thơ).

Ngoài mong muốn này, Đặng Thu Thảo c̣n chia sẻ ước mơ được giúp đỡ các trẻ em trên thế giới v́ cháu của cô không may mắc bệnh khiếm thính.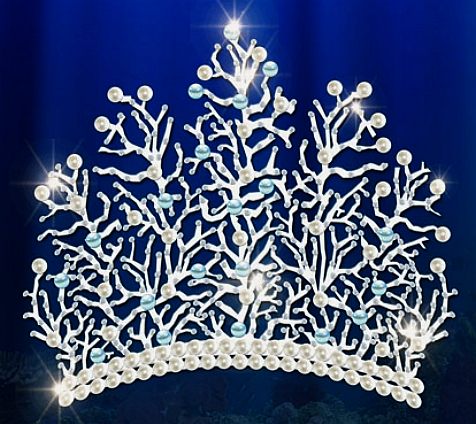 WORD - MISS OCEAN VIETNAM 2014 5 JUNE
Lots of beauty pageant contestants talk a good game about the environment, but the dreamboats at The Grand — Ho Tram Strip's Miss Ocean Vietnam 2014 Gala are actually helping the coastal charity Blue Ocean World with their good looks, to the tune of VND220 million.

At the gala, fashion and a VND1.6 billion jeweled crown helped raise awareness of the importance of Vietnam's magnificent coastline and the ocean that lies off it. In the end, bombshell Le Thi Van Quynh went home with the honours, crowned 'The Grand Beauty' at a Zumba dance pool party.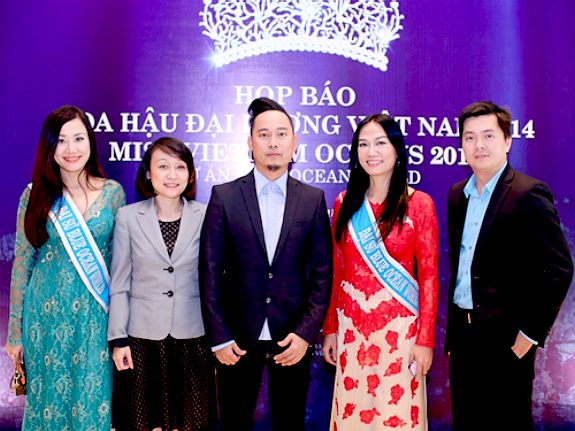 FAR SIGHTED - The world should praise Vietnam's Ministry of Natural Resources and Environment and the Binh Thuan's People's Committee for recognizing the issues on their doorstep, and for wanting to do something about it. Every country should be allowed the right to support themselves by fishing, and those fish should be toxin free. The right to "peaceful enjoyment" of international boundaries, should be a basic Human Right. That of course presumes that human rights are recognized by the countries bordering the area affected. We believe that marine life should also be accorded protected status, where the Ocean Economy is in danger of collapse. This is a subject of serious concern to the IMO, United Nations and the Global Ocean Commissioners.
HANOI TIMES 21 FEBRUARY 2014 - Friday, 21 Feb 2014 - MISS OCEAN CONTEST
Miss Ocean contest hopes to increase public awareness

The Ministry of Natural Resources and Environment has kicked off a national beauty contest in search of Miss Ocean, who will be the face of its marine environment protection projects.

The contest is open to Vietnamese women living in and outside the country. The selection round in the north will take place in Hanoi on April 20 and in the south in HCM City on April 25. The quarter-final round will be held in HCM City on May 1. Thirty-five finalists will compete for the top prize in Mui Ne in the central province of Binh Thuan between May 12 and 23.

"Through various useful activities during the competition, we hope to improve people's awareness about saving the marine environment and advertise domestic sea tourism," said designer Vo Viet Chung, head of the organising board.

The winner of the first-ever Miss Ocean contest will walk away with a cash prize of VND400 million (US$20,000) and a crown worth VND1.6 billion, which will be handed down to the winner each year. The first and second runners up will receive prizes of VND200 million and VND150 million respectively.

The organisers will give away nine smaller titles, including Miss Ao Dai, Miss Talent, Miss Bikini and Miss Beach. More information can be found at www.hoahaudaiduongvietnam.com

The contest has been organised by the Ministry of Natural Resources and Environment and the central province of Binh Thuan's People's Committee.
CROWNING MOMENT - The anticipation of the audience was palpable and when Đặng Thu Thảo was announced as the woman who would wear the crown for the cause of protecting the seas of Vietnam, the applause rose to a crescendo like waves breaking upon the shore. After a brief moment of surprise and a barrage of flashing cameras, nineteen year old Đặng Thu Thảo regained her poise, looking regal at 171 cm tall, weighing in at 57 kilos and with a splendid gown wrapped around her 91-63-90 figure. Young as she is, her bearing and intelligence belies her youth. The final round of the competition was in Binh Thuan's Phan Thiet City from 15th to 25th of May 2014. The event included: Ao Dai Costume, Bikinis, Soiree and Talent show. The Bikinis round was hosted at The Sailing Bay Beach Resort.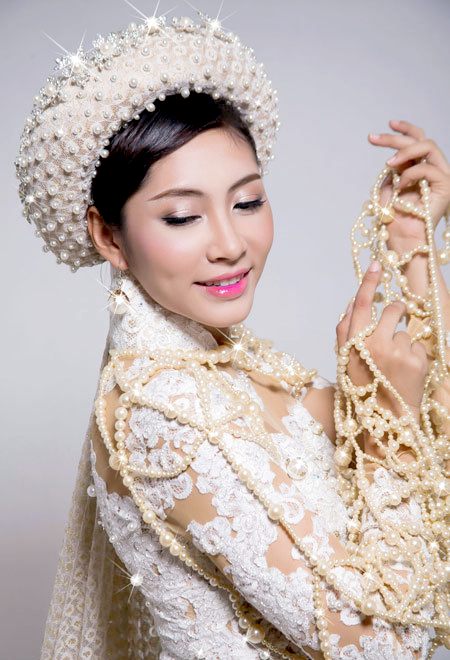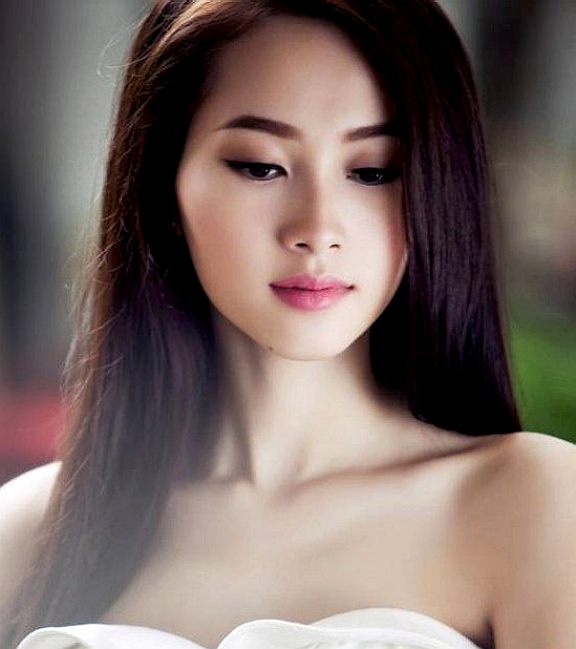 CLIMAX - This was the climactic moment in a two week campaign to raise awareness of Vietnam's oceanic environment that had taken these beautiful Vietnamese women from Hanoi to Ho Chi Minh City and finally to Phan Thiet and the beaches of Mui Ne. Here, they had helped clean up littered beaches, planted trees, visited fishing communities and rode around on bicycles to spread the message of marine conservation… taking you by the hand as it were, to seed flowers where there is garbage and to hold out your hand to hungry children of fishing communities. Twenty two year old Lê Thị Hà Thu (167 kg, 50 cm, 83-64-86) took the runner up title and twenty one year old Lê Thị Vân Quỳnh (170 kg, 52 cm, 86-62-88) was placed third among the ranks of the 35 finalists.
VIETNAM NEWS, HANOI - MISS VIETNAM OCEAN - MAY 27 2014: Dang Thu Thao

Dang Thu Thao was crowned Miss Viet Nam Ocean 2014 in the central city of Phan Thiet on Sunday.

Thao, 19, from Mekong Delta Province of Can Tho, received VND200 million, or roughly $10,000, in cash. She also bagged the title of The Best Skin.

The first and second runners-up were Le Thi Ha Thu from Thua Thien Hue and Le Thi Van Quynh from Ha Noi.

The contest, the first of its kind, will be held annually by the Ministry of Culture, Sports and Tourism with the goal of raising people's awareness on environmental protection of the country's seas, islands and to prevent tourism exploitation. — VNS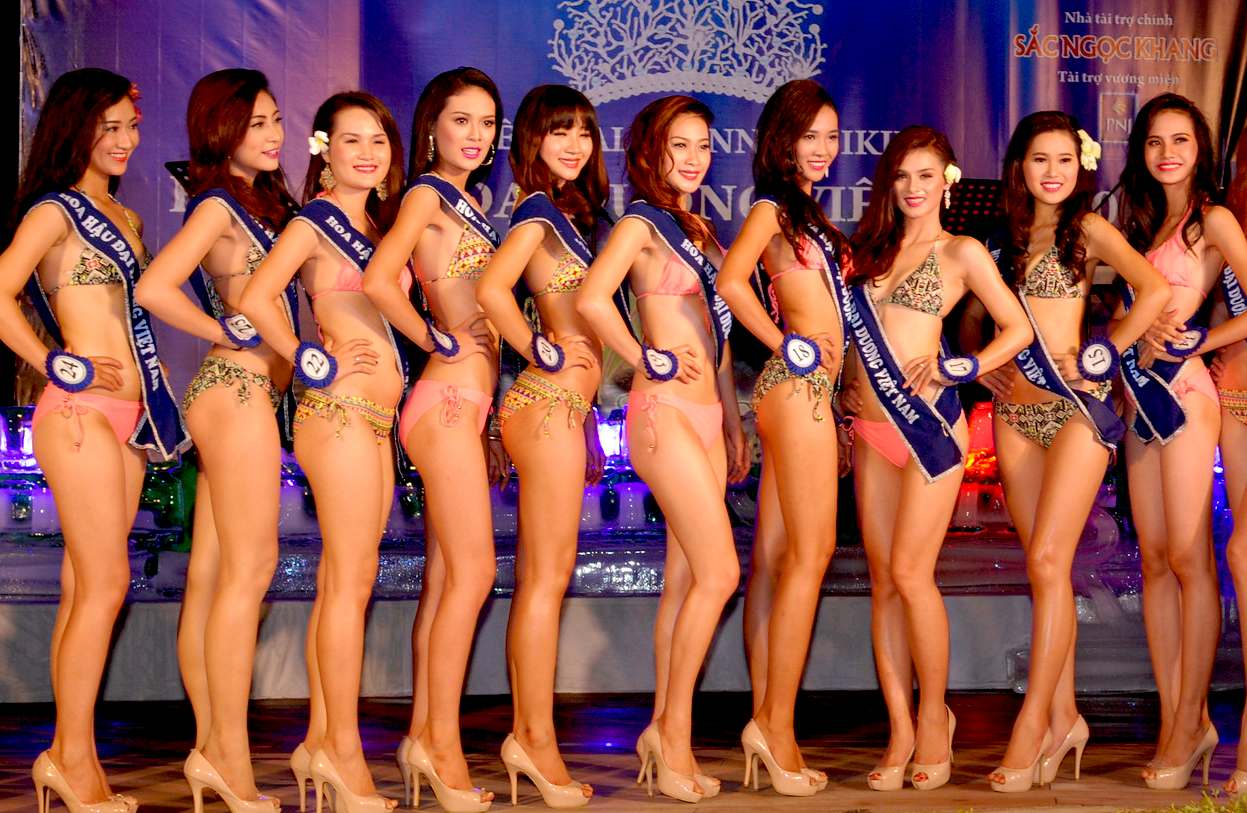 VOICE OF VIETNAM 26 MAY 2014 - Dang Thu Thao crowned Miss Vietnam Ocean 2014

Dang Thu Thao, born in 1997 in the Mekong Delta city of Can Tho, was sashed winner of the 2014 Miss Vietnam Ocean beauty pageant which wrapped up in Phan Thiet City in Binh Thuan on May 25.

Thao was awarded with VND200 million in cash, a crown and many other valuable items.

Thao will now become a goodwill ambassador for Blue Ocean World Fund with the aim of promoting environment and sea resources protection.

The two runner-ups awards went to Le Thi Ha Thu from Thua Thien-Hue province and Le Thi Van Quynh from Hanoi.
In addition, the organising board presented sub-awards to other beauties, including a beauty with fair complexion for Dang Thu Thao, a beauty with shiny hair for Bui Thi Thao Huyen, Miss Photo for Le Thi Van Quynh, Miss Bikini for Tran Thi Kim Yen, Miss Talent for Bui Thi Huyen Trang, Miss Ao Dai for Nguyen Thi Diem My, Miss Sea for Pham Thi Thu Thuy and Miss Fashion for Phan Thi Thu Huong.

During the final round, contestants had joined outdoor activities, such as collecting garbage along beach, planting green trees, cycling for environment, and presenting gifts at fishing villages and primary schools.

At the final night, the organising board donated VND400 million to the fund "Join hands to protect Vietnam's sovereignty in the East Sea" launched by Tuoi Tre (Young Age) newspaper.

This is the first time Binh Thuan has hosted the beauty contest under which the province sent a message on sea and island sovereignty marine environment protection and tourism promotion.
MISS VIETNAM 2014 - Ngày 20 Tháng 10, 2014

Hoa hậu Việt Nam 2014 sẽ được nhận vương miện trị giá 2,5 tỷ

GiadinhNet – Chiếc vương miện đính viên ngọc trai trống đồng 15mm màu vàng quư hiếm được bao bọc bởi hàng ngh́n viên ngọc trai tự nhiên có trị giá 2,5 tỷ đồng sẽ được trao cho Hoa hậu trong đêm chung kết Hoa hậu VN 2014.


GiadinhNet – Chiếc vương miện đính viên ngọc trai trống đồng 15mm màu vàng quư hiếm được bao bọc bởi hàng ngh́n viên ngọc trai tự nhiên có trị giá 2,5 tỷ đồng sẽ được trao cho Hoa hậu trong đêm chung kết Hoa hậu VN 2014.

Sáng nay (20/10) tại Hà Nội đă diễn ra cuộc họp báo ṿng Chung khảo khu vực phí Bắc cuộc thi Hoa hậu VN 2014. Theo đó, qua 2 ṿng sơ loại và sơ khảo, BTC đă lựa được 40 thí sinh vào ṿng Chung khảo khu vực phía Bắc.

Trong 40 thí sinh này, BTC sẽ chọn ra 20 thí sinh đại diện cho nhan sắc khu vực phía này bước vào đêm Chung kết toàn quốc ở Phú Quốc (Kiên Giang). Ṿng Chung khảo phía Bắc sẽ diễn ra trong 4 ngày từ 20/10 đến 23/10/2014 tại Làng Văn hóa – Du lịch Nắng Sông Hồng (Long Biên, Hà Nội).

Đêm Chung khảo Khu vực Phía Bắc sẽ kéo dài gần 3 tiếng đồng hồ và có sự tham gia của các ca sĩ ngôi sao ca nhạc: Mỹ Linh, Hoàng Hải, Lưu Hương Giang, nhóm Oplus; đạo diễn Hoàng Nhật Nam; đơn vị phối hợp thực hiện chương tŕnh Công ty Sen Vàng TP HCM và Công ty Cổ Phần Nắng Sông Hồng. Chương tŕnh được ghi h́nh và phát trên VTV6 Đài Truyền h́nh Việt Nam vào tối ngày 25/10/2014.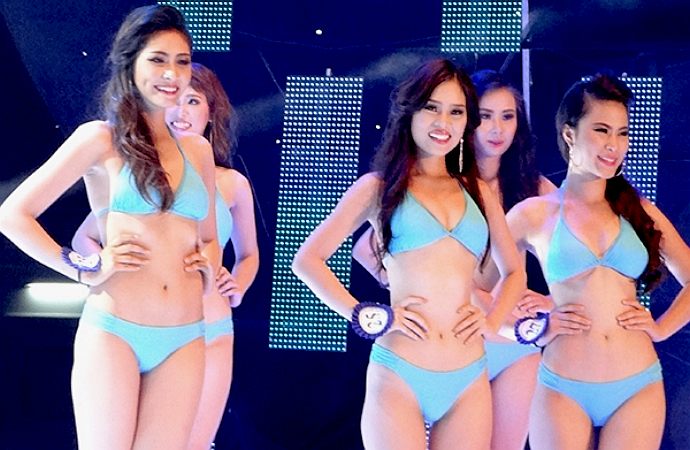 Theo đánh giá của Tiến sỹ, Nhà thơ Lê Cảnh Nhạc, Trưởng Ban giam khảo (BGK) cuộc thi này th́ theo dơi qua các ṿng, ông thấy mặt bằng thí sinh khu vực phía Bắc năm nay khá đồng đều và hầu hết đều đang là sinh viên hoặc có tŕnh độ Cao đẳng, Đại học. Thậm chí, có những thí sinh đă và đang học Thạc sỹ. Tính chất vùng miền của 40 thí sinh cũng tương đối đa dạng, ngoài dân tộc Kinh là chủ yếu c̣n có sự tham dự của các thí sinh thuộc các dân tộc Mường, Tày, Nùng, Dao.

Thành phần BGK năm nay bao gồm 5 thành viên: Tiến sĩ, Nhà thơ Lê Cảnh Nhạc – Phó Tổng cục trưởng Tổng cục Dân số & Kế hoạch hóa gia đ́nh (Bộ Y tế), Tổng biên tập báo Gia đ́nh & Xă hội làm Trưởng BGK; Nhà nhân trắc học, Tiến sĩ, Bác sĩ Lê Diệp Linh – Bệnh viện Trung ương Quân đội 108; Nhà thơ Hữu Việt – Phó trưởng ban Văn hóa - Văn nghệ báo Nhân dân; Biên đạo múa Trần Ly Ly – Phó hiệu trưởng Trường múa TP Hồ Chí Minh và Hoa hậu Việt Nam 2010 Đặng Thị Ngọc Hân.

Ông Lê Xuân Sơn – Tổng biên tập báo Tiền Phong, Trưởng BTC cho biết, sở dĩ năm nay hội đồng BGK chỉ có 5 là bởi đây là con số vừa đủ, không thừa không thiếu và rất đúng luật. Các thành viên trong hội đồng giám khảo đều là những người có tŕnh độ học vấn, có tầm ảnh hưởng, có uy trín trong xă hội, có độ tin cậy cao và đặc biệt là đủ khả năng cầm cân nẩy mực.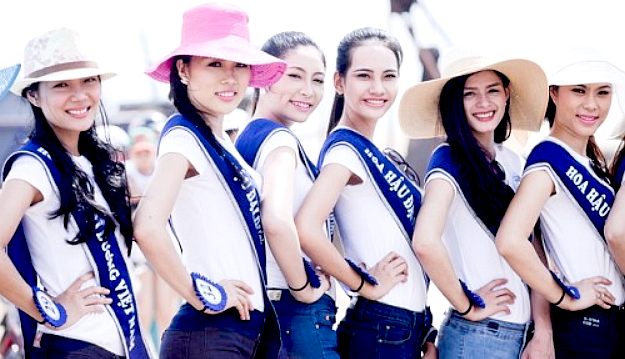 Trả lời câu hỏi "V́ sao lại chọn Tiến sỹ, Nhà thơ Lê Cảnh Nhạc làm vị trí Trưởng BGK?", ông Lê Xuân Sơn cho rằng, Tiến sỹ Lê Cảnh Nhạc hội đủ nhiều yếu tố để có thể ngồi ở vị trí này. Thứ nhất, ông Lê Cảnh Nhạc đang là nhà quản lư một cơ quan nhà nước, lại có học hàm Tiến sỹ và là nhà thơ có tên tuổi trong lĩnh vực văn hóa, nghệ thuật Thêm vào đó, ông c̣n có kinh nghiệm báo chí – truyền thông bởi đă nhiều năm đảm nhiệm chức vụ Tổng biên tập báo Gia đ́nh & Xă hội.

Đặc biệt, ông có nhiều kinh nghiệm trong việc làm giám khảo ở các cuộc thi sắc đẹp, nhất là cuộc thi Hoa hậu Thế giới người Việt 2010.

Xung quanh viên ngọc trai này được bao bọc bởi 18 viên ngọc trai tự nhiên màu vàng kim. 18 viên ngọc trai này được đỉnh các hoa văn nhưng những giọt sương. 36 viên ngọc trai biển Akoya màu trắng tinh khôi cùng 1000 viên kim cương tự nhiên được đính trên các họa tiết cánh sen sẽ tạo cho chiếc vương miện này lung linh và hoàn mỹ.

Để thực hiện được chiếc vương miện này, 20 nghệ nhân đă phải làm việc trong ṿng 3 tháng. Chiếc vương miện này đă được xác lập kỷ lục Guiness Việt Nam với nội dung: "Vương miện đính viên ngọc trai trống đồng lớn nhất và có nhiều viên ngọc trai tự nhiên nhất".
UNBELIEVABLE - That as an intelligent species, we'd let our planet get into this mess. The Miss Ocean Vietnam contest is a chance for the crowned ocean miss to tell the world about a problem that not very much is happening about in real terms, with world leaders such a President Barack Obama and Ban Ki Moon, apparently stymied as to a cure.
OCEAN HEALTH INDEX
The health of Earth's oceans is still ailing although slightly improved, says the latest edition of the Ocean Health Index, issued this week. It gave the planet's waters a score of "D," saying it could be worse and that conservation and protection measures are having a positive effect. The goal of the study, say its authors, is "to encourage decisions that create a healthier ocean and to track progress toward that goal."

The Index assigned the oceans an overall score of 67, with the waters off Canada's Prince Edward Island and Australia's Heart and McDonald Island the top scorers at 93, with the largely uninhabited wildlife preserves of Howland Island and Baker Island in the equatorial Pacific scoring 92. On the low end were countries like Somalia, Eritrea, Guinea Bisseau, Pakistan, Grenada and Angola, which scored 48-49. Both the High Seas,which it included for the first time this year, and the coastal territories were assigned the score of 67 while Antarctica, also graded for the first time, got 72.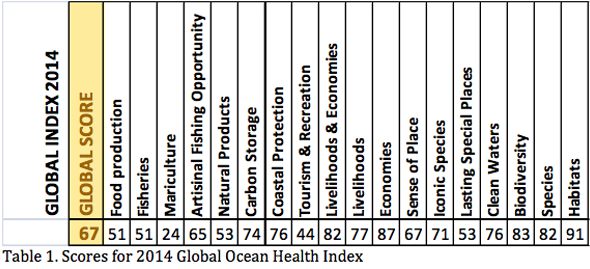 "Certainly the score of 67 needs to be much higher if the ocean is sustainably to help meet the needs of our rising human population," said the study. "Although there is much room for improvement, some people might have expected an even lower score given all the news reports about ocean acidification, oil spills, plastic trash, dead zones, overfishing and others—serious impacts that will become worse if their causes are not reduced or eliminated."

The index authors noted that scores were slightly higher overall from the previous two years, improving in areas like biodiversity, coastal protection, and sense of place, and they projected slightly higher scores in upcoming years.

"Humans and our activities are part of the ocean, and the human-ocean system is healthier if it delivers the most benefits for us that it can without jeopardizing the future health or function of the web of life that the ocean contains," they conclude.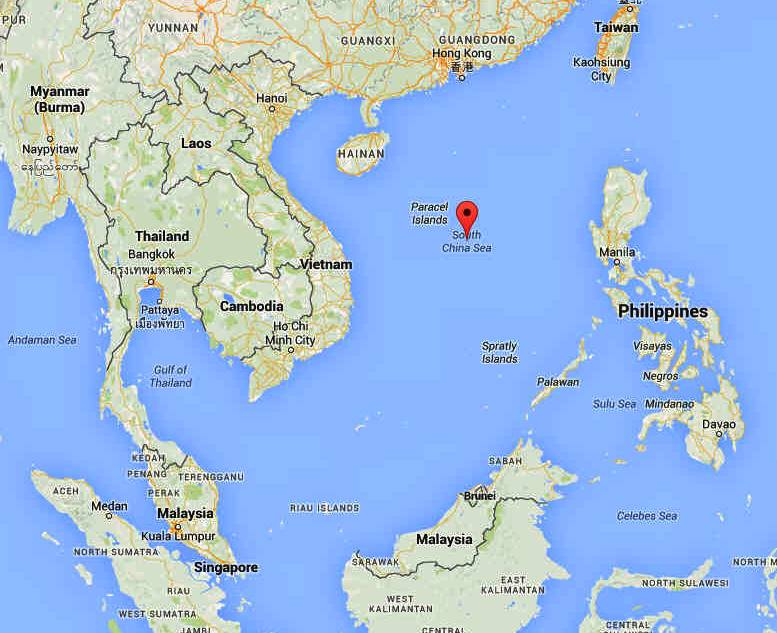 The Bay of Bengal and the South China Sea are two of the most polluted seas in the world. You can't see the Bay of Bengal in the above map, but it is to the immediate west of Thailand. The Philippines gives us some of the most vivid pictures of ocean pollution with boats literally swimming in single use plastic packaging. It is a sickening sight that will both shock and disturb anyone seeing the volume of garbage that must be harming marine wildlife. Plastic waste that is not disposed of carefully is in effect cruelty to animals.
THE ADVANTAGES OF HEALTHIER OCEANS

Remarkable range of benefits we get from healthy oceans:

1. Food provision through wild fisheries and fish farming. About 4.3 billion people get around 15% of their animal protein and essential nutrition from seafood.

2. Natural products like shells, seaweed, fish oil and coral. Each year, people consume almost 23 million tons of seaweed alone, an amount valued at over US$ 6 billion.

3. Coastal protection. Natural barriers like coral reefs, mangroves and seagrass beds mitigate impacts from major storms and tsunamis.

4. Artisanal fishing opportunities for those who don't have other options for employment or livelihoods and need to make their sustenance from oceans. There are over 12 million artisanal fishers worldwide.

5. Economies and livelihoods for people along the coasts. Worldwide, an estimated 350 million jobs depend on the ocean.

6. Biodiversity. Already the IUCN Red List categorizes 11.7% of the 8,459 marine species assessed to date as threatened with a high risk of extinction in the wild. The decline or extinction of species threatens the many direct and indirect benefits they provide to people, from being sources of new medicines to maintaining ecosystems in balance.

7. Clean water, free from pollutants and plastic garbage, that people can swim and wash in without putting their health at risk. There are already more than 400 dead zones worldwide, where lack of oxygen prevents many forms of life. These areas cover an area larger than the entire state of Minnesota.

8. A sense of place, including cultural, spiritual and aesthetic benefits. In the U.S. 39% of the population lives in coastal counties; these people are shaped by living by the ocean.

9. Carbon storage. The ocean captures carbon dioxide from the atmosphere and buries it in sediments to mitigate climate change. Mangroves capture five times as much carbon per acre as tropical rainforests, but these "blue carbon" habitats are being lost at a rate 2–4 times faster.

10. Tourism and recreation. In the U.S., over 40% of people visit the beach each year.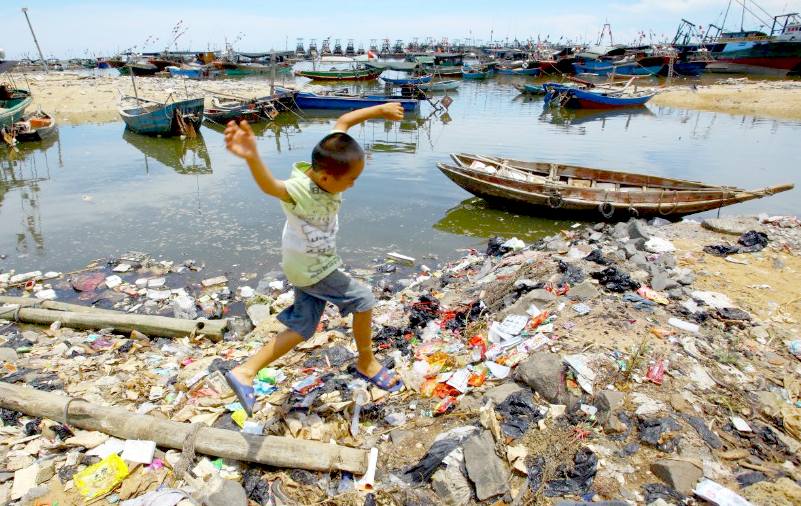 PLASTIC MINEFIELD - A Chinese boy plays in plastic waste. Would you want this for your child, or anyone's child? Miss Ocean Vietnam is sure to be drawing attention to similar scenes. It's not just happening in the South China Sea, it is happening all over the world. Even reasonably well managed economies, allow waste to get into the ocean. This includes Australia, Europe, Canada and the USA. Richer countries should help poorer countries. This was something agreed recently by the G7.
CNN FEBRUARY 2015
Nearly every piece of plastic still exists on Earth, regardless of whether it's been recycled, broken down into microscopic bits or discarded in the ocean.

And the world keeps producing more of the material - creating 288 million metric tons of it in 2012. About 4.8 to 12.7 million metric tons of it end up in the oceans in 2010, according to a new estimate published in the journal Science.

That report released Thursday ranks countries that generate the most plastic debris into the oceans, with Asian nations taking 13 out of the top 20 spots.

Using World Bank data on 192 coastal countries, researchers estimated that China, the most populous nation, has the most mismanaged plastic waste per year and also generates the most plastic debris that end up in the ocean at 28%.

Mismanaged waste means the material is littered or not properly disposed of - meaning there isn't a formally managed waste management system.

"The study is not to point fingers at people, it wasn't to focus on the countries," said lead author Jenna Jambeck. "The purpose was to make a global estimate." But the data set Jambeck and the seven co-authors used was only available on a country-by-country level.

"Many of them are middle-income countries with rapidly growing economy," said Jambeck of the University of Georgia. "They have also large coastal populations, they have high levels of mismanaged waste, they have trouble keeping up with infrastructure."

The United States also cracked the top 20 and had a higher rate of waste generation per person at 5.6 pounds per person than China (2.4 pounds).

Low-income countries were less likely to end up on the list, because of less waste, Jambeck said.
WE'RE USING MORE PLASTIC

Since 1974, the world has undergone a 620% increase in plastic production, according to the researchers.

"When the waste was natural material, we could leave it and not think about it," Jambeck said. "Even disposing of it in the land was fine, but plastic has increased 650% in the last 40 years.

"It's a wake-up call. We need to look at this and the way we're collecting and containing our waste."

Plastic waste discarded in the ocean raises a number of concerns, scientists say. It may damage ecosystems and marine animals, contaminate our food supply, and lead to chemical leaching.

Estimates of the time it takes to degrade plastic range from hundreds to thousands of years - and because plastic has only been around for 100 years, there hasn't been enough time to observe the process, says Darby Hoover, senior resource specialist at Natural Resources Defense Council, an environmental group.

Meanwhile, plastic waste keeps on growing with more people and more consumption, the report authors wrote.

"All that consumption is growing, unfortunately the waste management systems around the world are not keeping pace as quickly as the consumption and products - there's a big mismatch," said Doug Woodring, who was not involved in the study but has worked on the issue of plastics waste at the Ocean Recovery Alliance in Hong Kong.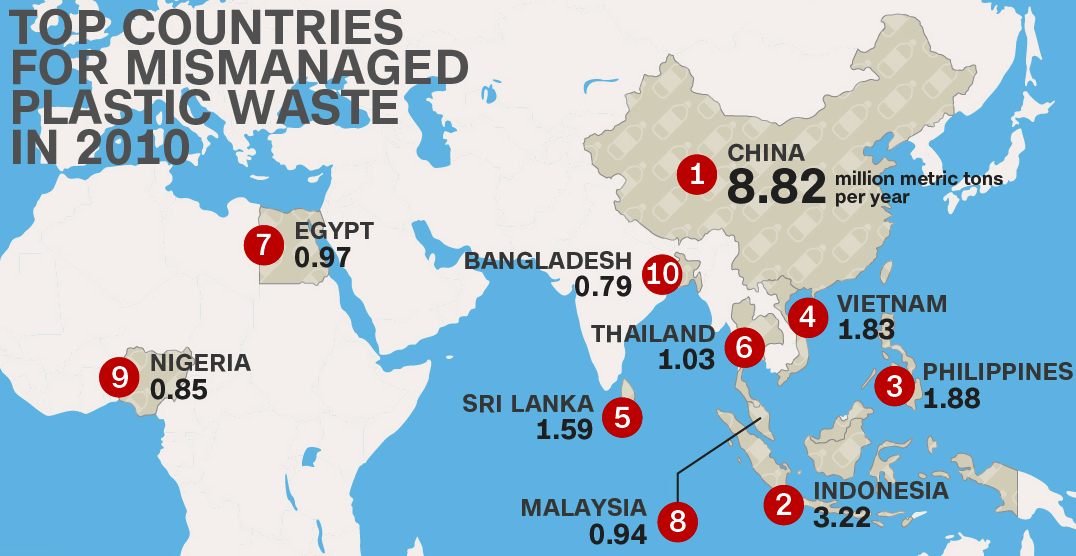 WHO'S RESPONSIBLE?

Last year, one study in the journal PLOS estimated that a minimum of 5.25 trillion floating plastic particles weighing 268,940 tons are in the ocean. This estimate included only surface plastics, and not the materials that have sunk.

"A lot of people think of an island of floating garbage, people envision that there are forms of an island you can see on Google Earth - it's much more diffuse than that," Hoover said. " All of our oceans are plastic soups- everywhere you can go."

Environmentalists have criticized the rampant use of plastics in packaging that are only used once and then discarded. The solutions have to be both local and global, Jambeck said.

"It's everybody's responsibility. Of course, don't litter and prioritize using reusables," Hoover said. "At the same time there's a responsibility on companies who produce the products found in oceans, to make sure the materials they produce are recyclable, get recycled and look for ways to improve the infrastructure."

DRIVE TO REDUCE PLASTIC WASTE

While China topped the list in the report, the country has made some efforts to curb waste. In 2008, China banned free plastic bags and five years later, banned the import of poorly sorted recyclables from other countries including the U.S.

There are some successful models, said Woodring. For example, Taiwan places a surcharge on plastics sold on a company level and it pays for the sorting, capturing, cleaning and recycling.

However, some countries lack infrastructure for waste management and recycling.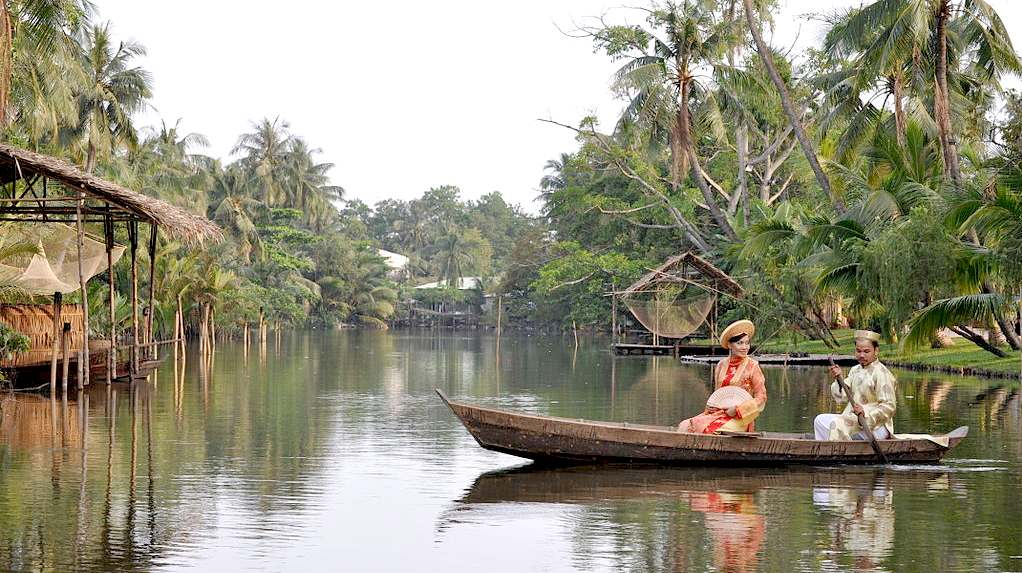 HO CHI MIN CITY
Ho Chi Minh City is located in the southeastern region of Vietnam, 1,760 km (1,090 mi) south of Hanoi. The average elevation is 19 metres (62 ft) above sea level. It borders Tây Ninh Province and B́nh Dương Province to the north, Đồng Nai Province and Bà Rịa–Vũng Tàu Province to the east, Long An Province to the west and the South China Sea to the south with a coast 15 km (9 mi) long. The city covers an area of 2,095 km2 (809 sq mi or 0.63% of the surface of Vietnam), extending up to Củ Chi District (12 mi or 19 km from the Cambodian border) and down to Cần Giờ on the South China Sea. The distance from the northernmost point (Phú Mỹ Hưng Commune, Củ Chi District) to the southernmost one (Long Ḥa Commune, Cần Giờ District) is 102 km (63 mi), and from the easternmost point (Long B́nh ward, District Nine) to the westernmost one (B́nh Chánh Commune, B́nh Chánh District) is 47 km (29 mi).
Ho Chi Minh City (Vietnamese: Thành phố Hồ Chí Minh), formerly named Saigon (Vietnamese: Sài G̣n), is the largest city in Vietnam. It was once known as Prey Nokor, an important Khmer sea port prior to annexation by the Vietnamese in the 17th century. Under the name Saigon, it was the capital of the French colony of Cochinchina and later of the independent republic of South Vietnam 1955–75. On 2 July 1976, Saigon merged with the surrounding Gia Định Province and was officially renamed Ho Chi Minh City after Hồ Chí Minh (although the name Sài G̣n is still unofficially widely used).
Ho Chi Minh City is the economic center of Vietnam and accounts for a large proportion of the economy of Vietnam. Although the city takes up just 0.6% of the country's land area, it contains 8.34% of the population of Vietnam, 20.2% of its GDP, 27.9% of industrial output and 34.9% of the FDI projects in the country in 2005. In 2005, the city had 4,344,000 laborers, of whom 130,000 are over the labor age norm (in Vietnam, 60 for male and 55 for female workers). In 2009, GDP per capita reached $2,800, compared to the country's average level of $1,042.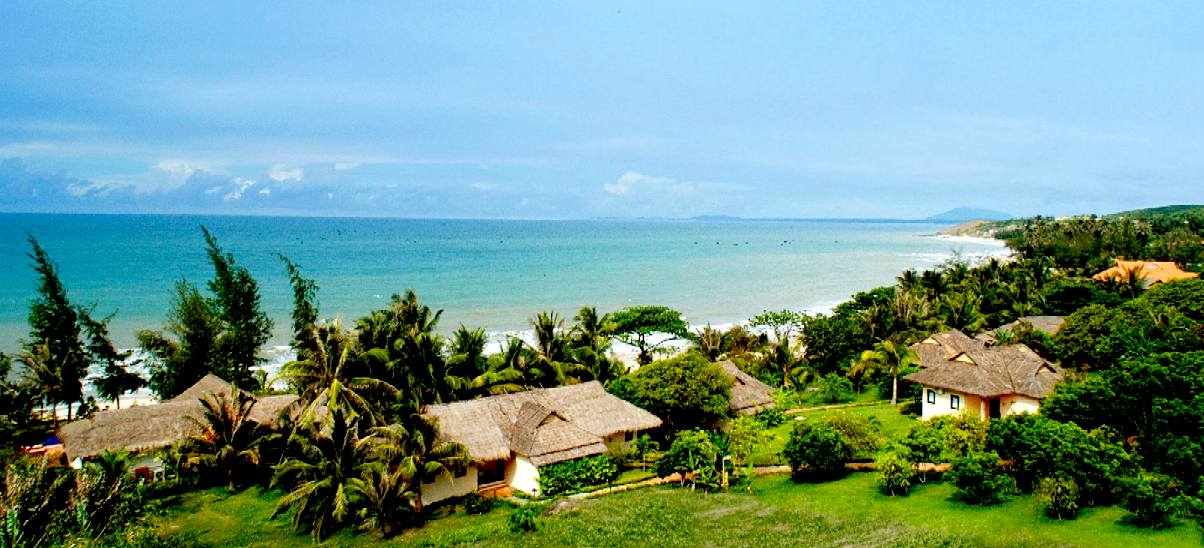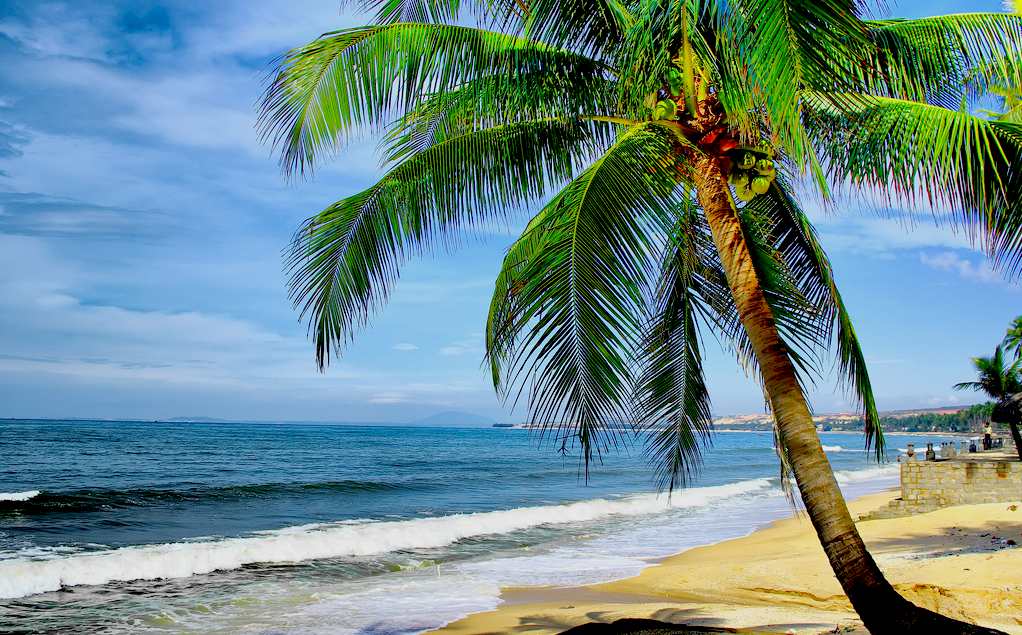 PHAN THIET
Phan Thiết, or Phan Thiết city, is the capital of B́nh Thuận province in Southeastern Vietnam, where all government offices for the province are located. While most of the inhabitants live in the city center, the others live in the four wards, extending from Suoi Nuoc beach in the northeast to the Ke Ga lighthouse in the southwest.

Traditionally, fishing and manufacturing of fish sauce has been the main source of Phan Thiet's income thus far, the picturesque fishing fleet in the harbor colorful proof. Drawn by the beautiful beaches of the area, tourism is rapidly replacing the fish industry as the main employer.

The first resorts along the beaches of Hung Long and Phu Thuy wards, as well as Phu Hai and Ham Tien wards east of the city center appeared in the mid-nineties. Since then, tourism has boomed and hundreds of hotels, restaurants, resorts, guesthouses and shops have been constructed along the coastline.

Rang Beach in Ham Tien ward was discovered by foreigners in 1995, while they watched the solar eclipse. Misled by guidebooks, which incorrectly labelled Rang Beach as "Mui Ne Beach", they were the first of a long row of tourists mistakenly calling everything east of the city center Mui Ne.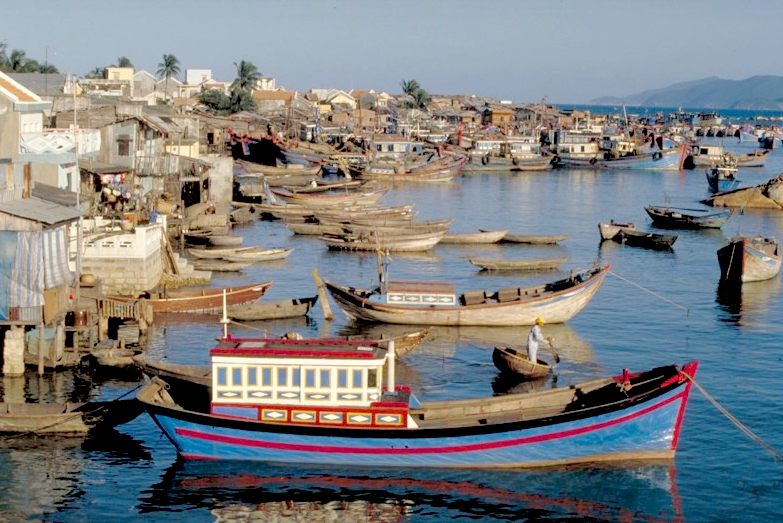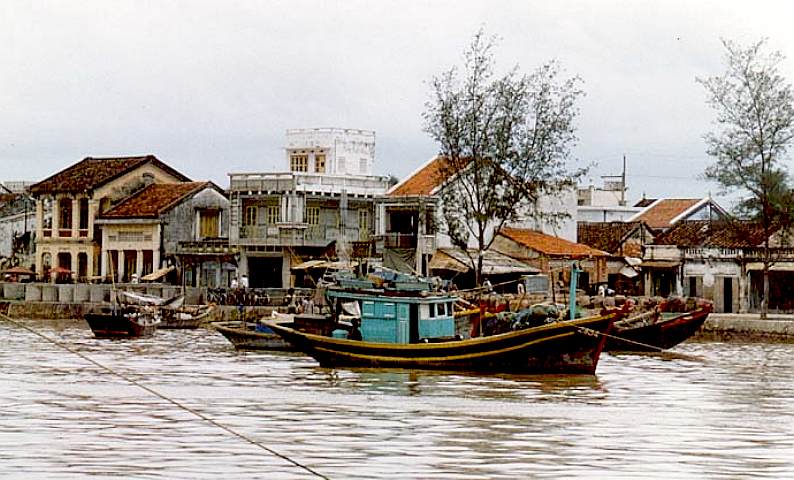 Each area of Phan Thiet has its own characteristics. The beaches of Ke Ga and Tien Thanh are peaceful and quiet, inviting tourists to swim and relax. There is not much traffic on the roads along the coastline, so walking or riding along the beach is quite peaceful.

Compared to Nha Trang, the density of resorts along the beaches of the city center in Phan Thiet is quite low, so when tourists leave their hotels, they step into the middle of the bustling daily life of a Vietnamese city. You can walk to many restaurants, museums or shopping malls - even visit the school where Ho Chi Minh taught before he went to study in Paris.

Phu Hai ward covers a hilly area along the coastline and has many small beaches and hidden coves. Many of the resorts in this ward are built above the water on the hills and have a small beach to themselves. Sea Links City, composed of a hotel, condos, apartments, a winery and a golf course is located here. Phu Hai is the place of the old Thap Poshanu Cham Tower, built in the 8th century and worth a visit.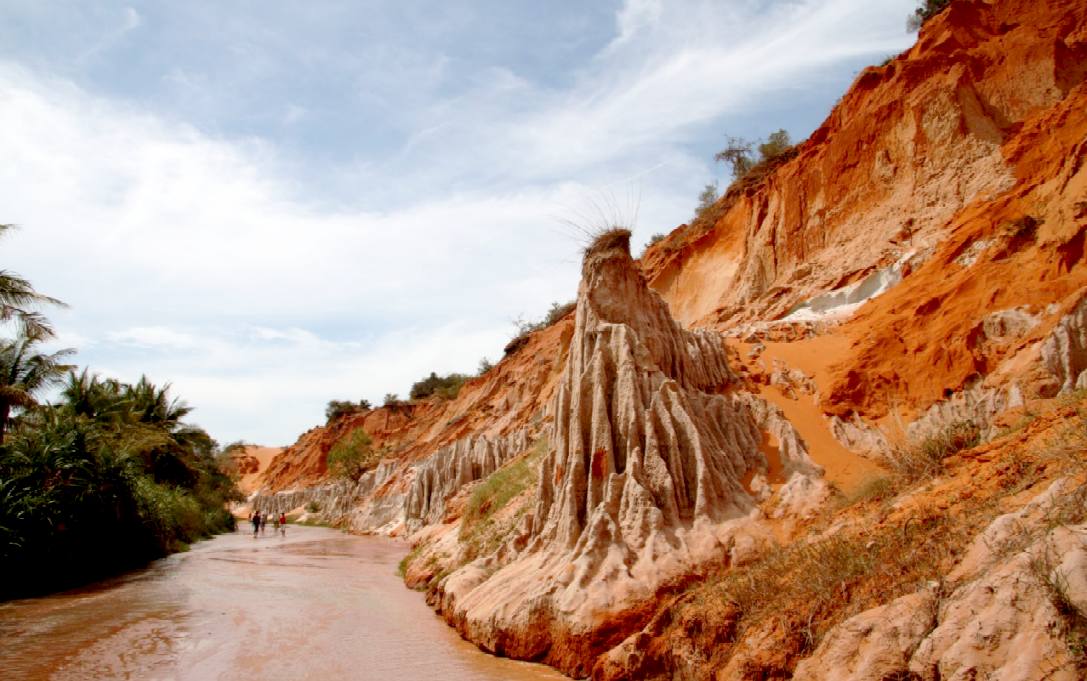 HAM TIEN, FAIRY (PINK) STREAM - Suoi Tien is a unique stream in Phan Thiet. Suoi Tien (Fairy Stream) is also known by the name Suoi Hong (Pink Stream) situated at Mui Ne ward of PhanThiet city. Phan Thiet is famous for this immense sandy hillock and passionate beaches. Not many people know about the existence of such a beautiful stream - you do now, because you've read this.
Suoi Tien is a small water gap running at the side of Hon Rom and is obscured by sandy dunes. The very first impression of Suoi Tien is the water color, which is dark red because of the red sand and yellow clay. Winds and rain have eroded the sand stones, carving different shapes and sizes from the sedimentary rock. One side of the stream is a colorful sand hillock and the other is lines of aquatic plants. The stream is very shallow, with the deepest spot only 30 centimeters.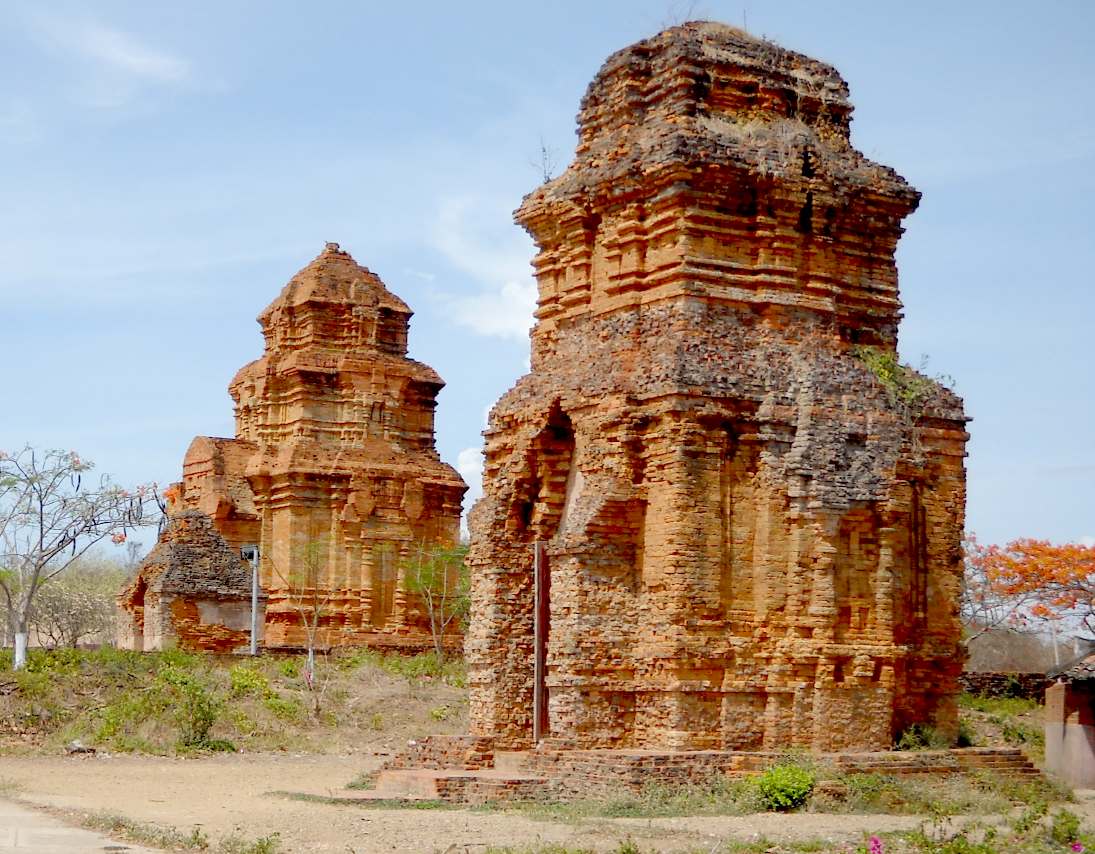 MONUMENTS - The brick built towers of Po Sa Nu (Pho Hai) near Phan Thiết may be the oldest extant Cham buildings. In style, they exhibit the influence of pre-Angkorian Cambodia.
Alongside the 10 kilometer strip of Rang Beach in Ham Tien ward, you will find a lively tourist strip. Hundreds of resorts, hotels, bars, restaurants, shops, and spas are situated here.

The downside is the advanced erosion of the beach, some resorts meanwhile lack a beach at high tide, when the water directly reaches the sea wall.

One of the great tourist attractions of Ham Tien is the so-called Fairy Stream, where a small stream has carved a canyon through the dunes, revealing colorful layers of sand.

Beyond Ham Tien you find Mui Ne, consisting of two communities, adding up to around 25,000 residents in the actual town and two beaches. The second community is Hon Rom, a real fishing village with a few hundred residents. Mui Ne has the highest population outside the city center and is quite lively in the morning. In the evening locals join together for coffee or dinner at the many cafés and restaurants.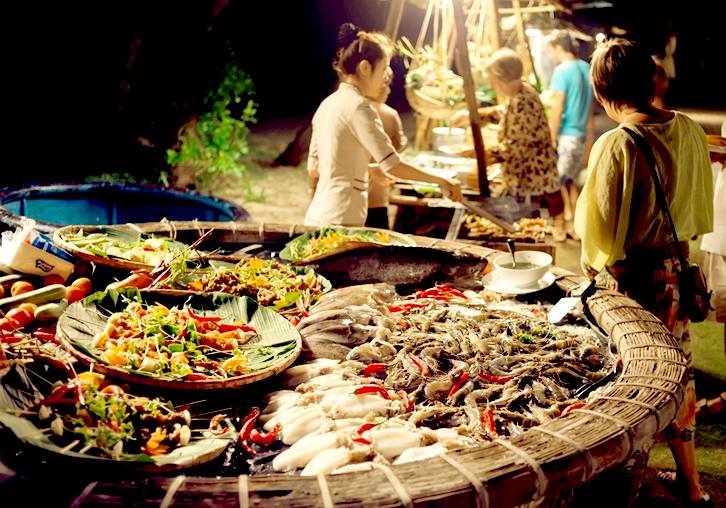 Mui Ne actually translates to "Shelter Cape," because for ages the local fishermen used the cape to shelter their boats from the wind. The town itself covers the west side of the cape, whereas many resorts are alongside Ganh Beach and Suoi Nuoc. A resort in Mui Ne ward is the right decision for people who want to be close to a local community, but keep their distance to the bustling tourist strip and rather prefer a quiet beach.

Another tourist attraction are the orange sand dunes, located on a hill between Mui Ne and Hon Rom. The larger white dunes are around 23 kilometers north of the town.

Phan Thiet operators usually make a distinction between winter and summer seasons. During winter, mostly Northern Europeans and Russians spend their holidays here, far away from the northern chill, to enjoy kite and windsurfing. In summer season, Phan Thiet is a popular destination for Australians and North Americans, as well as many Vietnamese escaping the steaming hot cities for a fresh breeze of sea wind.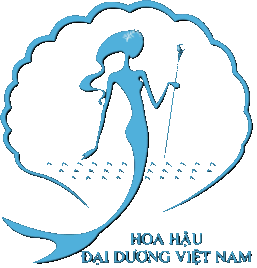 LINKS & REFERENCE
Hanoi Times arts entertainment 2014/02 miss ocean contest hopes to increase public awareness
Vietnam news life style miss ocean winner thao makes waves
Word Vietnam.com/your-say/miss-ocean-vietnam-2014
Facebook The Grand Ho Tram Strip
Giadinh Hoa-hau-viet-nam-2014-se-duoc-nhan-vuong-mien-tri-gia-25-ty-2014
Talk Vietnam 2014 02 miss-vietnam-ocean-2014-kicks-off-in-april
E VOV Culture Dang Thu Thao crowned Miss Vietnam Ocean 2014 27 July
CNN Edition news 2015 March world ocean trash pollution
Coastal Care 2009 plastic pollution
The Sailing Bay Miss-Vietnamese-Ocean-2014
Vietnam breaking news 2014 Binh Thuan to host miss Vietnam ocean
http://www.vietnambreakingnews.com/2014/01/binh-thuan-to-host-miss-vietnam-ocean/
http://www.thesailingbay.com/#!Moments/SID27/Miss-Vietnamese-Ocean-2014.mpx
https://en.wikipedia.org/wiki/Ho_Chi_Minh_City
https://en.wikipedia.org/wiki/Phan_Thi%E1%BA%BFt
http://coastalcare.org/2009/11/plastic-pollution/
http://edition.cnn.com/2015/02/12/world/ocean-trash-pollution/
http://english.vov.vn/Culture/Dang-Thu-Thao-crowned-Miss-Vietnam-Ocean-2014/276894.vov
http://www.talkvietnam.com/2014/02/miss-vietnam-ocean-2014-kicks-off-in-april/
http://giadinh.net.vn/giai-tri/hoa-hau-viet-nam-2014-se-duoc-nhan-vuong-mien-tri-gia-25-ty-20141020141909032.htm
http://www.hoahaudaiduongvietnam.com/
http://wordvietnam.com/your-say/tag/The%20Grand%20Beauty
https://www.facebook.com/TheGrandHoTramStrip
http://hanoitimes.com.vn/arts-entertainment/entertainment/2014/02/81E07681/miss-ocean-contest-hopes-to-increase-public-awareness/
http://vietnamnews.vn/life-style/255404/miss-ocean-winner-thao-makes-waves.html
http://wordvietnam.com/your-say/miss-ocean-vietnam-2014
http://news.yahoo.com/china-says-changing-position-sea-dispute-shame-ancestors-080310808.html
http://www.nytimes.com/newsgraphics/2013/10/27/south-china-sea/
http://www.johnfeffer.com/is-chinas-rise-still-peaceful/
http://www.livemint.com/Politics/j2x5cxz1gxYQwDPmK5NtuN/India-Asean-to-dis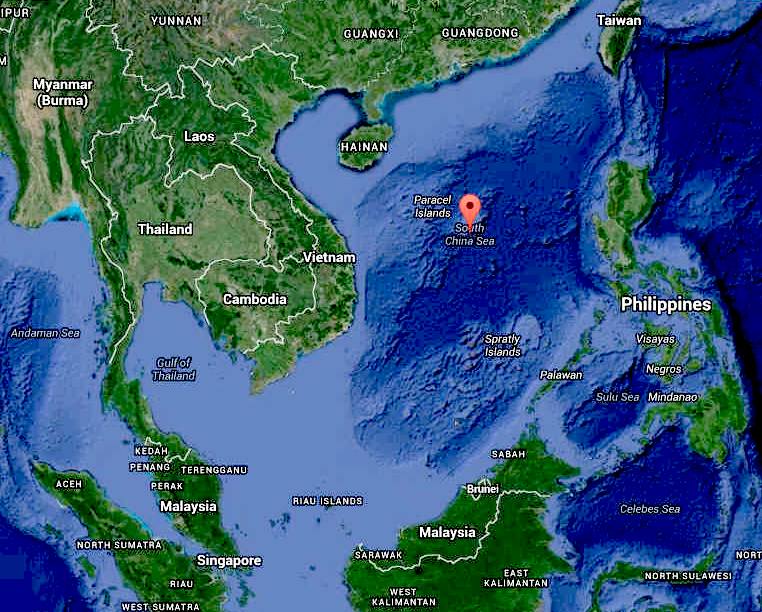 BEAUTY AND THE BEAST - It's hard to believe that some of the most beautiful seas in the world are also the most polluted - and most disputed. By drawing attention to the problems they are facing, local people will begin to think about their waste and how they dispose of it. Local authorities might then pay more attention to recycling and other ocean cleanup initiatives. Of equal importance is that internationally recognized boundaries are respected by neighboring countries, regardless of size. Disputes should be arbitrated by an international body on application by any party who feels aggrieved.
| | | | | | |
| --- | --- | --- | --- | --- | --- |
| Beauty Pageant | Headquarters | President | Key People | Formation | Motto |
| | New York City | Paula Shugart | Donald Trump | 1952 | Confidently Beautiful |
| | London | Julia Morley | Eric Morley | 1951 | Beauty with a Purpose |
| | Manila | Ramon Monzon | Lorraine Schuck | 2001 | Beauties for a Cause |
| | Tokyo | Hirofumi Hashimoto | Hirofumi Hashimoto | 1960 | Love, Peace and Beauty |
| | Ocean City NJ | - | - | 2015 | Learn and be beautiful |
| | Boston, Massachusetts | - | - | 2012 | Flaunt it Baby |
| | Paris, Saint Denis | - | - | 2012 | Love your island |
| | Ho Chi Minh City | - | - | 2010 | Love your ocean |
| | Zhoushan Island | - | - | 2014 | Love your ocean |
| | Scarborough, Perth | - | - | 2014 | 12 lucky girls |
| | LA, California | - | Von Gretchen McAlpin | 2014 | Dream more, be more |
| | Ambon city, Mollucas Is | Nadine Chandrawinata | Kamidia Radisti | 2012 | Brave, smart & beautiful |