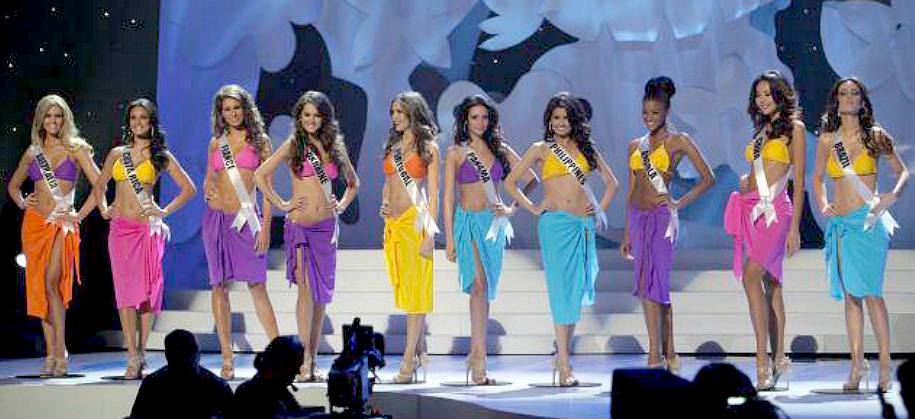 MISS OCEAN WORLD - Contestants on stage during the competition. Keeping our oceans healthy is all part of ensuring that blue growth is sustainable for a circular economy.
MISS OCEAN WORLD
Miss Ocean World is a pageant contest for island countries. If you are from a landlocked country and eligible to compete in Miss Landlocked World, or Miss Tourism Globe, this may be a contest for you.
The organizers are looking for women who are brave, smart and beautiful, and who have an aim to help their fellow man, but more specifically who are concerned about the oceans and coral reefs.
This pageant contest begins from the Miss Indonesia Ocean World event. Because Indonesia is the biggest archipelago country in the world. Miss Indonesia Ocean World will compete in Miss Ocean World and will assist and cooperate (corporately) with Miss Ocean World.
This event will be held around summer vacation time. The concept is to keep the oceans healthy and promote blue growth. In the Final coronation night, the contestant will take the (hatchling) baby of a green sea turtle for release into the oceans.
MISS INDONESIA OCEAN WORLD HOSTS
1. Nadine Chandrawinata - Miss Indonesia Universe 2006 - diving athlete, and
2. Kamidia Radisti - Miss Indonesia World 2007 - swimmer athlete
CAMPAIGNS TO SAVE CORAL REEFS & OTHER CONSERVATION
Campaign & funding for Coral reefs conservations.

Campaign for clean ocean water.
Campaign for anti trawler fishing.
Funding and donate charity for aid clean freshwater supply, especially in landlocked countries.
Entertainment for victims or refugees in disaster areas, with the Miss-reign's talent. (Cooking, acting comedy, singing, dancing, playing music or perform magical trick)
Campaign for Peace in the world, campaign for anti war, campaign for peace in disputed area.
Campaign for Respect to ethnic minorities.
Poverty relief, helping those less well off.
Technology aid in lagging regions especially basic sanitation systems.
Fund & Donate charity for International Maritime Organization (IMO).
Be available to assist advertising and funding of: UNICEF, WHO, UNAIDS, UNHCR, UNESCO & WWF.
Equality drive as a campaign for anti discrimination towards women.
Campaign for the preservation of biodiversity.
Cultural preservation campaign, assist handicraft training on residents.
PRIZES

Luxurious Villa in Mollucas island - Indonesia (with spa and sport facilities), the comfort living place;

1 year luxurious condominium apartment in Jakarta

Top 3 will get Old & New Indonesia tour package to :

~ Tarutung city ( pine forests mountain with many lamps) & Sidikalang city (candle night dinner in Sidikalang cafe with Sidikalang cofee with many giant fireflies in the garden - natural attractive)

~ Papua Indonesia (ice climbing and ice skiing in Iceberg Carstensz Pyramid summit / Jaya Wijaya in Papua Indonesia, sailing with luminous planktons in Mansinam island - Manokwari, diving in coral reefs Wayag island Raja ampat- Sorong)

~ Kalimantan (Kakaban island : night swimming with benign luminous jellyfish in Kakaban lake, diving with green sea turtles in Derawan island, swimming with Mahakam river Dolphin, Dayaknese torches party in Kutai Kartanegara park)

~Manado (Citraland Park Manado and fireworks park in the nights, visit flowers gardens in Tomohon , diving in Bunaken)

~ Nusa Tenggara Timur ( Full moon beach in Larantuka Flores, nights swimming with luminous planktons in Komodo island beach, Kelimutu 3 color lake)

~ Toraja city (candle night dinner with Sulawesi luminous mushrooms Gardens & )
~ Bali (conservation of many species of sea turtles in Meru Beriti Beach National Park - Banyuwangi / fragrant-water city)

Ticket Flight Garuda Indonesia Airlines for 1 year to all routes in the world. ,
1 year free stay at Hotel Indonesia Natour whole;
1 year free food from Aerofood;
shares in BEI;
Obligation saving account of Mandiri Bank: Money 950 million Indonesian Rupiahs;
Car from Astra;
Monthly Salary 10,000,000 Indonesian Rupiahs / month;
shoes Yongki Komaladi,
Gown Batik from Anne Avantie and cosmetic products & Spa Sari Ayu;
Free Spa & Reflection;
Get Fitness Equipment;
Get Papua Gold Jewellery, Diamond Jewellery from Martapura Indonesia.


TITLES

* Miss Ocean World
* 1st Runner Up will titled as Miss Coral Reefs. As ambassador for coral reefs conservation.
* 2nd Runner Up will titled as Miss Marine Sporty
The Crown of Miss Ocean World is made from Blue Saphier (Kecubung) Martapura Indonesia and Pearl Lombok Indonesia

* Miss Landlocked World
* 1st Runner-up will titled as Miss Flora
* 2nd Runner-up will title as Miss Fauna

The Crown of Miss Landlocked World is made from Green Emerald jewel from Martapura Indonesia


CONTEST ELIGIBILITY & REQUIREMENTS:

You must be aged between 19 – 28 years.

You must be from an Islands Country (For Miss Ocean World) or must from landlocked countries (For Miss Landlocked World).
From others countries, you can compete in Miss Tourism Globe with all over countries in the world.

You must not have had any plastic surgery or other artificial cosmetic treatments.

You must not have posed in any pornographic media or other naked poses.

You must be taller that 168 cm (5ft 6inches).

Your weight must be proportional.

You must be confident & able to represent your country.
COMPETITION FORMAT:
1. Humanity Action
2. Talent (Performing cooking -Cake decorating, gardening- florist designer,
design graphic, painting, weave fabric, fashion designer, hair stylish,
Make-up Make-over, painting,
playing music, playing violin, acting theater, magician, as anchor, ballet dance,
diving, swimming, horse rider, biker, boxer, fighter athlete,
acrobatic gymnastics athlete, capoeira, ice skating, etc )
3. Marine Sport
4. Auction for handicrafts from contestants themselves (Best Favorite Handicrafts).
5. Fashionable (technique of cosmetic & catwalk)
6. Interview, IQ Test & psychological test
PERSONALITY TEST :

1. What is your age, height & weight,
2. What is your strength?
3. What is your hobby?
4. What is your talent?
5. What is your favorite Philosophy word or your life motto?
6. Please describe your self ? What is your friend said about your physical character, about your voice, etc?
7. What is your favorite food and fruit? And what is your favorite tourism place?
8. What is your dramatic moment in your life or in your family?
9. Please mention your favorite figure from each category (fairytale/ fiction figure, Politician/ Nationalist, Act artist, Singer & athlete)
10. How you can change the world?
11. What is your achievement?
12. What organizations do you follow during your life?
13. What is your activities or jobs?
14. How do you treat facial and body?
15. In your opinion, which your best physical character?
16. Describe 3 most important things in your life?
17. What is the relation sentence about respect, peace and democracy?
18. If you are a martial arts athlete or policewoman, What is the most urgent criminal to exterminated?
19. If you are a teacher or socialist, What is education issues most need to concern?
20. If you are a artist, what is your contribution for world culture?
21. If you are a doctor or medical workers, What is your desire that you want to help about health issues?
22. If you are a engineering or scientist, What is your innovation invention or machines to solving global warming?


MISS OCEAN LOCATIONS & WORLD HQ

Ambon city , Mollucas island , Indonesia
Manokwakri city, Papua , Indonesia
Miangas island , Indonesia
MISS OCEAN WORLD CONTESTANTS MAY BE FROM:

Indonesia
Japan
Philippines
Guam
Singapore
Sri Lanka
Maldives
Bahrain

UK
Malta
Cyprus
Ireland
Iceland
Greenland
New Zealand
Australia

Madagascar
Comoros
Mauritius
Reunion
Seychelles

Puerto Rico
Dominican Republic
Cuba
Grenada
Jamaica
Cape Verde
Dominican
Antigua and Barbuda
Bahamas
Trinidad & Tobago
Haiti
Aruba
Barbados

Fiji
Kiribati
Marshall Islands
Tonga
Palau
Vanuatu
Samoa
Micronesia
French Polynesia

and many others countries called archipelago countries or island countries .......

MISS LANDLOCKED WORLD CONTESTANTS:
Paraguay
Bolivia
Laos
Nepal
Bhutan
Mongolia
Switzerland
Andorra
Austria
Moldova
Liechtenstein
Luxembourg
Hungary
Belarus
Macedonia
Serbia
Slovakia
Czech Republic
Armenia
Afghanistan
Kazakhstan
Kosovo
Kyrgyzstan
Tajikistan
Turkmenistan
Uzbekistan
Azerbaijan
Botswana
Ethiopia
Swaziland
Niger
Zambia
Zimbabwe
Uganda
Malawi
LINKS & REFERENCE
http://missoceanworld.org/
http://www.miss-international.org/
http://www.missearth.tv/
http://www.missworld.com/
http://www.missuniverse.com/
https://en.wikipedia.org/wiki/Miss_Earth
https://en.wikipedia.org/wiki/Miss_International
https://en.wikipedia.org/wiki/Miss_World
https://en.wikipedia.org/wiki/Miss_Universe
| | | | | | |
| --- | --- | --- | --- | --- | --- |
| Beauty Pageant | Headquarters | President | Key People | Formation | Motto |
| | New York City | Paula Shugart | Donald Trump | 1952 | Confidently Beautiful |
| | London | Julia Morley | Eric Morley | 1951 | Beauty with a Purpose |
| | Manila | Ramon Monzon | Lorraine Schuck | 2001 | Beauties for a Cause |
| | Tokyo | Hirofumi Hashimoto | Hirofumi Hashimoto | 1960 | Love, Peace and Beauty |
| | Ocean City NJ | - | - | 2015 | Learn and be beautiful |
| | Boston, Massachusetts | - | - | 2012 | Flaunt it Baby |
| | Paris, Saint Denis | - | - | 2012 | Love your island |
| | Ho Chi Minh City | - | - | 2010 | Love your ocean |
| | Zhoushan Island | - | - | 2014 | Love your ocean |
| | Scarborough, Perth | - | - | 2014 | 12 lucky girls |
| | LA, California | - | Von Gretchen McAlpin | 2014 | Dream more, be more |
| | Ambon city, Mollucas Is | Nadine Chandrawinata | Kamidia Radisti | 2012 | Brave, smart & beautiful |