MISS OCEAN ONE - CALENDAR GIRLS
OCEAN ONE CONTESTANTS - Cassy, Dani and Telisha.
MISS OCEAN CALENDAR SEARCHES

The organizers claim that this is a fun, well-run and respectable competition with great prizes. Each year they look for natural Perth Beauties. If you think you have girl-next-door looks and a friendly and vibrant personality, they ask you to please apply.
The great thing about this event is that contestants need only have a minimum of modeling experience, giving many girls a chance to get involved that they might otherwise not have with other rigid formats. Hence, beginners who are just starting out are welcome.
This is quickly becoming one of Perth's most prestigious modeling competitions.

Each year Ocean One searches for 12 lucky girls to form a new calendar for the coming year. The winner receives $1,500 Australian dollars in cash and a $500 bar card. They also get a sponsors prize pack and will become the face of Ocean One for the year they enter.

Typically, the heats run over 12 weeks. Each week one girl will be selected as a finalist and will get to represent a month in the next Ocean One calendar. The 12 lucky finalists will also compete at the grand final of Miss Ocean One for that year. The schedule of event is published in advance and we include some below from previous years by way of example.

All 12 finalists receive a professional photo shoot for the Calendar they are aiming at. They have the option to re-enter as many heats as they like. All heat winners will go on to compete in the finals for Miss Ocean One 20??. If you are selected as the winner of your heat you will be expected to be available for the advertised grand final.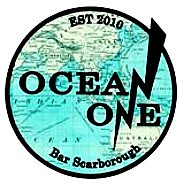 OCEAN ONE BAR CONTACTS
1 Manning St Scarborough
Perth, Western Australia
9245 5353
Tel: 0415 629 591
Email: tamlin@unhookedkiteboarding.com.au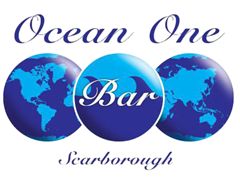 TYPICAL CALENDAR COMPETITION SCHEDULE
Event Details Miss Ocean One - 2013 Calendar Girl Search

Each week one girl will be selected as a finalist and will represent a month in the Ocean One calendar. The 12 lucky finalists will compete at the finals for the title of Miss Ocean One 2013.

Heats run every Thursday for 12 weeks starting 13th September 2012.

Miss January - 13 Sept
Miss February - 20 Sept
Miss March - 27 Sept
Miss April - 4 Oct
Miss May - 11 Oct
Miss June - 18 Oct
Miss July - 25 Oct
Miss August - 1 Nov
Miss September - 8 Nov
Miss October - 15 Nov
Miss November - 22 Nov
Miss December - 29 Nov

Final to be held 6th December.
2014 - HEAT DATES

Miss January – 29 Aug
Miss February – 5 Sept
Miss March – 12 Sept
Miss April – 19 Sept
Miss May – 26 Sept
Miss June – 3 Oct
Miss July – 10 Oct
Miss August – 17 Oct
Miss September – 24 Oct
Miss October – 31 Oct
Miss November – 7 Nov
Miss December – 14 Nov

Final to be held Sunday 24th November.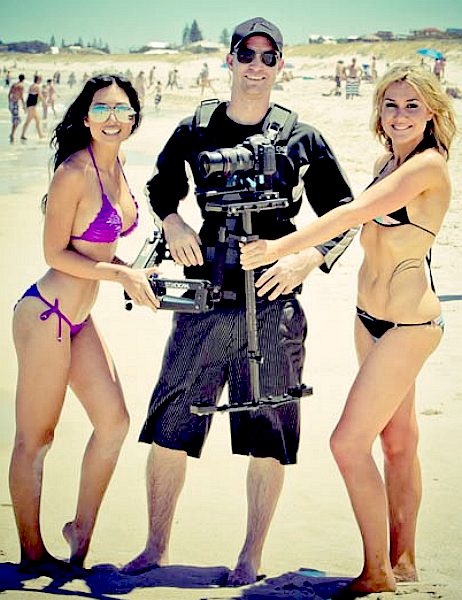 BRODIE BUTLER - Is seen here using a set of Genus rails to which he usually has a Genus Mattebox attached with a large French flag. However, being down the beach he removed the mattebox because it was too hard trying to fight the wind while filming. Steadicams are very delicate and the slightest nudge from you or the wind will ruin your shot. Brodie didn't have any trouble with glare or lens flare so had no issues operating without the matterbox. Under the rails is a Manfrotto 577 video quick release plate which makes it much easier to remove the camera and attach it to other rigs. Whatever Mr Butler is using, he should keep on with it, because the results are getting better each year. The original photos of Brodie are by Liam Underwood.
ABOUT SCARBOROUGH
Scarborough is a coastal suburb of Perth, Western Australia, located approximately 14 km northwest of the city centre in the City of Stirling local government area. It was named after the English beach resort Scarborough, North Yorkshire.

It has a population of about 14,300 people (2011 census), of whom about 25% were born overseas, mostly in the United Kingdom, and has a landmark high-rise hotel, the Rendezvous Observation City, originally built in 1986 for Alan Bond whose intention was to profit from anticipated accommodation demand when the 1987 America's Cup challenge was held at nearby Fremantle. Scarborough beach was the venue for the Australian Surf Life Saving Championships for the years 2007, 2008, 2009 and 2014.

Scarborough is located roughly 14 kilometers from the Perth city centre. The suburb of the city is located approximately 24 kilometers from the airport.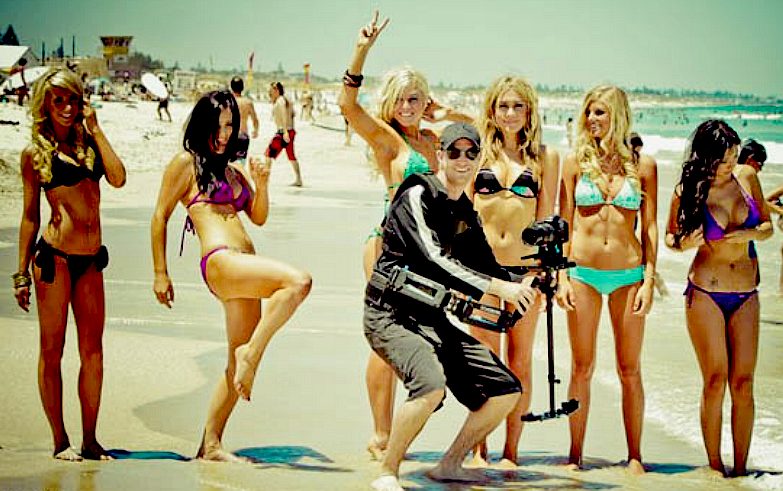 BEACHFRONT DEVELOPMENT
Scarborough Beach is an entertainment precinct with restaurants, bars and a nightclub. Since 1999, the local council has developed a strategy for issues including traffic, parking, zoning, coastal landscape and recreation. One of the issues was whether or not to allow further high-rise development on Scarborough Beach. The 24-level Observation City hotel development (now Rendezvous) had been very controversial in the 1980s and proceeded despite a long and intense public campaign against high-rise beachfront development. Perth businessman Alan Bond, who built Observation City, had ambitious plans to convert the entire Scarborough Beach "strip". After securing most of the real estate his plans failed to proceed due to an inability to purchase the family owned fast food restaurant Peter's by the Sea. The restaurant, still present today, refused to sell despite Bond making inflated offers on the property, and has taken on historical significance with the locals ever since. Subsequent amendments by the City of Stirling have specified a height limit of eight storeys.
PERTH, AUSTRALIA
Perth is the capital and largest city of the Australian state of Western Australia. It is the fourth-most populous city in Australia, with an estimated population of 2.02 million (as of 30 June 2014) living in Greater Perth. Perth is part of the South West Land Division of Western Australia, with the majority of the metropolitan area of Perth located on the Swan Coastal Plain, a narrow strip between the Indian Ocean and the Darling Scarp, a low coastal escarpment. The first areas settled were on the Swan River, with the city's central business district and port (Fremantle) both located on its shores. Perth is formally divided into a number of local government areas, which themselves consist of a large number of suburbs, extending from Two Rocks in the north to Rockingham in the south, and east inland to The Lakes.

Perth was originally founded by Captain James Stirling in 1829 as the administrative centre of the Swan River Colony. It gained city status (currently vested in the smaller City of Perth) in 1856, and was promoted to the status of a Lord Mayorality in 1929. The city is named after Perth, Scotland, by influence of Sir George Murray, then British Secretary of State for War and the Colonies. The city's population increased substantially as a result of the Western Australian gold rushes in the late 19th century, largely as a result of emigration from the eastern colonies of Australia. During Australia's involvement in World War II, Fremantle served as a base for submarines operating in the Pacific Theatre, and a US Navy Catalina flying boat fleet was based at Matilda Bay. An influx of immigrants after the war, predominantly from Britain, Greece, Italy and Yugoslavia, led to rapid population growth. This was followed by a surge in economic activity flowing from several mining booms in the late 20th and early 21st centuries that saw Perth become the regional headquarters for a number of large mining operations located around the state.

As part of Perth's role as the capital of Western Australia, the state's Parliament and Supreme Court are located within the city, as is Government House, the residence of the Governor of Western Australia. Perth became known worldwide as the "City of Light" when city residents lit their house lights and streetlights as American astronaut John Glenn passed overhead while orbiting the earth on Friendship 7 in 1962. The city repeated the act as Glenn passed overhead on the Space Shuttle in 1998. Perth came 9th in the Economist Intelligence Unit's August 2014 list of the world's most liveable cities, and was classified by the Globalization and World Cities Research Network in 2010 as a world city.

LINKS
Brodie Butler filming the Miss Ocean One 2011 calendar photoshoot with the 5d mkii hdslr steadicam
All Events in Perth Miss Ocean One 2013 calendar girl search
Ocean Beach Ibiza events calendar
Facebook ocean one bar Scarborough
Wikipedia Scarborough,_Western_Australia
https://en.wikipedia.org/wiki/Perth
https://en.wikipedia.org/wiki/Scarborough,_Western_Australia
http://oceandrive.com/Calendar
http://www.brodiebutler.com/filming-the-miss-ocean-one-2011-calendar-photoshoot-with-the-5dmkii-hdslr-steadicam/
http://allevents.in/perth/miss-ocean-one-2013-calendar-girl-search/184018711730944#
https://www.oceanbeachibiza.com/events-calendar
http://www.starnow.co.uk/listing/489256
https://www.facebook.com/ocean.one.bar.scarborough
http://www.oceancalendars.com.au/
https://missoceanone.wordpress.com/
| | | | | | |
| --- | --- | --- | --- | --- | --- |
| Beauty Pageant | Headquarters | President | Key People | Formation | Motto |
| | New York City | Paula Shugart | Donald Trump | 1952 | Confidently Beautiful |
| | London | Julia Morley | Eric Morley | 1951 | Beauty with a Purpose |
| | Manila | Ramon Monzon | Lorraine Schuck | 2001 | Beauties for a Cause |
| | Tokyo | Hirofumi Hashimoto | Hirofumi Hashimoto | 1960 | Love, Peace and Beauty |
| | Ocean City NJ | - | - | 2015 | Learn and be beautiful |
| | Boston, Massachusetts | - | - | 2012 | Flaunt it Baby |
| | Paris, Saint Denis | - | - | 2012 | Love your island |
| | Ho Chi Minh City | - | - | 2010 | Love your ocean |
| | Zhoushan Island | - | - | 2014 | Love your ocean |
| | Scarborough, Perth | - | - | 2014 | 12 lucky girls |
| | LA, California | - | Von Gretchen McAlpin | 2014 | Dream more, be more |
| | Ambon city, Mollucas Is | Nadine Chandrawinata | Kamidia Radisti | 2012 | Brave, smart & beautiful |