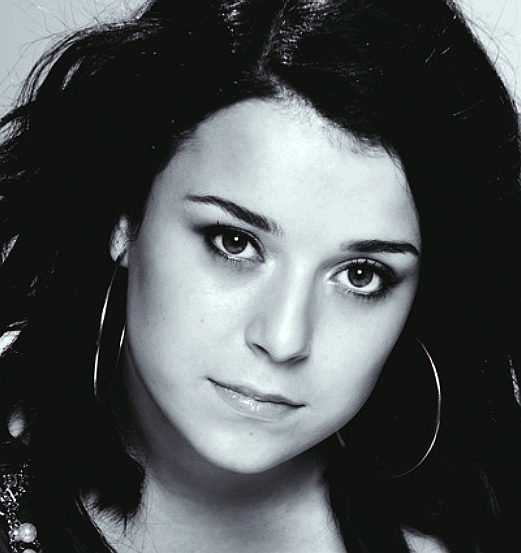 Dani Harmer is performing well consistently in Strictly Come Dancing, despite personal issues that might otherwise cloud the mind. Let's hope she can continue to focus on, what is obviously, something she enjoys - and is giving the viewing public much enjoyment, apart from showcasing a new side to this star. Hang in there girl. We're all behind you.
HISTORY

Danielle Jane "Dani" Harmer (born 8 February 1989) is an English television actress, presenter and singer. Harmer is best known as the title character in the UK television programme The Story of Tracy Beaker/Tracy Beaker Returns and Tracy Beaker Survival Files, a guide of how to survive in the world. She also played Molly Venables in the BBC sitcom After You've Gone. Harmer confirmed on Twitter that she will not appear in the spin off series, The Dumping Ground.

Harmer also has her own TV show called Dani's House, which concluded on the 19 July 2012. A spin-off series has been confirmed for Dani's House, which will be called 'Dani's Castle'. Harmer has also occasionally presented continuity clips on the CBBC Channel. She was also a presenter on Friday Download in the first series, where she guest presented the 'Style Download' segment.

In 2008, Harmer branched into the music business and signed a £3m record deal. She recorded her debut album Superheroes in 2009, but it was never released and it was later confirmed she had given up her music career.
In 2012, she also appeared in the BBC One show Let's Dance for Sport Relief, alongside Friday Download presenter Tyger Drew-Honey and is currently a contestant on the tenth series of Strictly Come Dancing. She is partnered with Vincent Simone.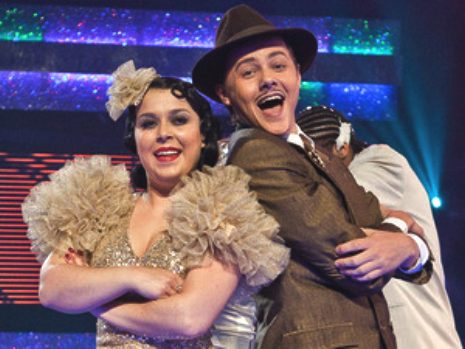 Career

She made her stage debut at the age of 5 in the musical The Who's Tommy in the West End. She has appeared in a number of pantomimes: Dolly Mixture in Snow White (2004), the title character in Peter Pan (2005, Alban Arena, 2006 in Worthing and 2010 in High Wycombe), Dick Whittington (2007, Wolverhampton Grand Theatre) and the title role in Cinderella alongside Joe Tracini (2011, York Barbican). Other stage credits include a 2005 production of The Wizard of Oz at the Sunderland Empire Theatre. Harmer appeared as an extra in Harry Potter and the Philosopher's Stone; she was sitting in the Great Hall when the new students to Hogwarts School of Witchcraft and Wizardry took turns to visit the Sorting Hat. Her big break was when she landed the title role in CBBC's dramedy series The Story of Tracy Beaker, which she starred in for five series and also the feature length film, Tracy Beaker's Movie of Me. She also went to Redroof Theatre school as a child. Dani has been beloved by a lot of children by starring in The Story Of Tracy Beaker, Tracy Beaker Returns and Dani's House.

Her other TV credits include the ITV drama series Trial & Retribution, Casualty, My Family, Pie in the Sky, The 10th Kingdom, Beast, Touch Me, I'm Karen Taylor, Beep Beep in the British television series The Beeps, and the pilot for Coming of Age. She was one of the presenters: known as "packers" in the 2006 series of the Saturday morning show, Mighty Truck of Stuff.

In November 2008, Media Guardian reported that After You've Gone was to be cancelled by the BBC, due to ITV moving Coronation Street to the same slot on ITV1. The BBC had announced a fourth series of the show in January of that year to be aired in 2009; however, the series ended with a Christmas special in 2008. In March 2010, Harmer starred in The Wizard of Oz at The Journal Tyne Theatre in Newcastle.

Dani Harmer returned to the role of Tracy Beaker in early 2010 in the 13-episode BBC series Tracy Beaker Returns, in which her character had developed into a care worker and had written an autobiography about what life is like for children in care. Three series aired of Tracy Beaker Returns. It concluded on 23 March 2012. A spin-off has been confirmed but is not to feature Harmer. Dani is due to star in another TV show which will be called Dani's Castle. This is a spin-off from the previous series called Dani's House. This will air in 2013.

Dani appeared on the celebrity version of the gameshow Pointless in a team with Joe Pasquale, playing for the charity Make A Wish Foundation. The two reached the final, but failed to win the jackpot. Dani did manage to score one 'Pointless' answer during the course of the show.

Dani was due to star as 'Jane' in Disco Inferno, which was planned tour across the UK in autumn 2012. However it was announced on 5 September 2012 that the musical was cancelled after an investor pulled out. Dani confirmed via her Twitter account on the same day that she would be a contestant on the upcoming tenth series of Strictly Come Dancing. In the first week of the competition she performed the Waltz and scored 21/40.In Week 2 she performed the Salsa and scored 27/40. In Week 3 she performed the Foxtrot and scored 29/40.In week 4 she performed a Cha Cha Cha and scored 27/40.In Week 5 she performed a Jive she scored 33/40. In Week 6 she performed a Tango and scored 34/40. In Week 7 she performed a quickstep and scored 36/40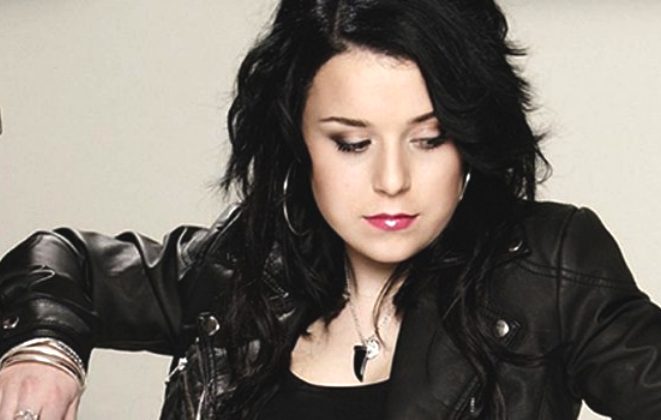 Music

Harmer signed a record deal with record label Universal/Decca worth £3 million, under the management of Daniel Glatman, some time before beginning work on her debut album. The album's lead single, Free, was released on May 25, 2009, after becoming the theme song of the TV show Dani's House, in which Harmer plays the lead role. Despite excessive promotion, the song was a commercial failure, entering iTunes at 117 and then taking the same position on the official chart. "Free" was also featured on the compilation album Pop Princesses 2009.

Her debut album, Superheroes, was recorded and written in 2008 with the help of producer and songwriter Tom Nichols. The album's scheduled release date was September 2009, which then got pushed back to early 2010. Rumours circulated that the album had been cancelled by Harmer's record company due to poor sales of the lead single, she responded that "they are just waiting for the right time to release it". No further comment was made until mid-2012, when Harmer stated via Twitter that she had given up music because she wanted to focus on her acting career. The album artwork and 30-second previews of each track were released in early 2010, along with the tracklist: "Superheroes" tracklist

Awards

Dani is one of the biggest stars of children's television in BBC history. Winner of the 2010 Children's BAFTA for Best Drama, Dani was also nominated for her performance as Tracy Beaker in its various incarnations, with the programme attracting another nomination in the Children's Drama Category at the 2011 RTS Awards. Dani was also nominated for a BAFTA Cymru for Best Actress for her performance in Tracy Beaker's Movie of Me. Dani's House, her own hit CBBC show also received a 2009 Children's BAFTA nomination.
In 2009, Dani received a Gold Blue Peter Badge for her role in Tracy Beaker.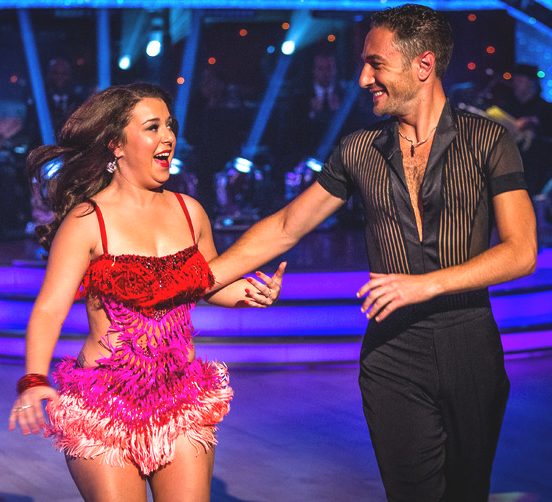 Dani Harmer and Vincent Simone - Strictly Come Dancing, Reality TV

FEMALE FIRST NOVEMBER 2012

Dani Harmer tells: 'Strictly Come Dancing' has helped her get over her heartbreak. The 'Tracy Beaker' star split from boyfriend Graeme Livingstone just before the start of the BBC One show and says being able to focus on her dance routines means she doesn't get so upset about the break-up.

She is quoted as saying: "Dancing is definitely the best way to get over a break-up. It's helped shift my focus and take my mind off it. Strictly's awesome and has helped me a lot.

"It's so much easier to concentrate on the dance steps without having a man to constantly text and take calls from. So I've got the advantage over the attached contestants. It could mean the difference between me winning and losing."

Dani loves working with professional dance partner Vincent Simone and thinks they make a great team: "It's going really well! Vincent is the best man in the world. He's an amazing dancer, brilliant teacher, he's patient and we giggle all day long so it makes it fun. He never tells me off, or gives me 'homework' - we dance all day as it is. I couldn't do any more if I tried!"
CLOSER NOVEMBER 2012
Dani says: "My secret weapons are Lipsy dresses. They really show off my figure."

On the split wit assistant TV director Graeme Livingstone, Dani reveals: "We're still in touch and on good terms, but we knew the show schedule was going to be manic. There's no time for men!"

Meanwhile, she's enjoying the freedom of being single and says the only thing she misses about being in a relationship is having someone to have a good rant with, adding: "Now my Mum's taking that role!"

She's hoping she'll manage to stay in the show until the final and is overwhelmed by the public's support. "I get people approaching me every day to congratulate me or wish me luck," she says.

Despite being a self-confessed tomboy, Dani reveals one of her favourite parts of being on the show is getting glammed up. She laughs: "I love the fake tan, false lashes and skimpy outfits. And what girl doesn't love glitter? I like being a sexy smurf!"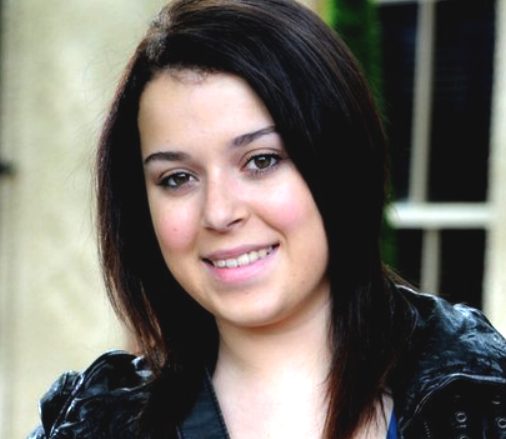 LINKS and REFERENCE
Digital Spy dani harmer has natura dance talent says tyger drew honey
Strictly Come Dancing Series 10 Dani Harmer
Unreality TV strictly come dancing wizard of oz performance
Get Bracknell News dani_harmer_on_strictly_come_dancing
| | |
| --- | --- |
| Dani Waltz - Youtube | Dani Salsa - Youtube |
| Dani Jive - Youtube | Dani Foxtrot - Youtube |
---
A heartwarming adventure: Pirate whalers V Conservationists,
with an environmental message.
For release as an e-book in 2013 with hopes for a film in 2015 TBA
(graphic design: Martin House)