DENISE VAN OUTEN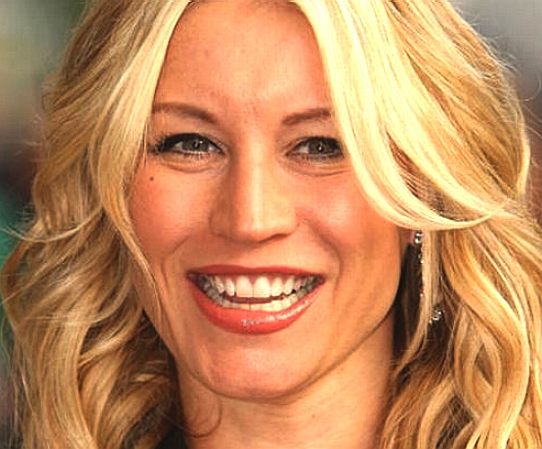 Denise van Outen was born on the 27th of May 1974 as Denise Kathleen Outen. She is an English actress, singer and television presenter. Her most notable roles to date are as a presenter on The Big Breakfast, and as Roxie Hart in the musical Chicago on both the West End and on Broadway. Denise was born in Basildon, Essex, she is the youngest of Ted and Kathleen Outen's three children and was brought up a Catholic. She has a brother Terry and sister Jackie.

At the age of seven Denise began modeling for knitting patterns and showed an early flair for performing. This resulted in her attending the Sylvia Young Theatre School. In 1986 when 12, she played Eponine in Les Misérables alongside fellow Sylvia Young student Melanie Blatt (the role paid her school fees), the Anthony Newley directed production of Stop the World - I Want to Get Off, and A Midsummer Night's Dream with the Royal Shakespeare Company.
Early career

As a teenager she had brief roles on a number of television dramas including Kappatoo and The Bill. She also sang with Cathy Warwick in "girl group" Those2Girls, by which time she had become Denise van Outen. She also did backing vocals with Melanie Blatt for the band Dreadzone.

Van Outen was voted Rear of the Year in 1999, and was top of a poll to find the most desired "bikini body" in a 2007 poll of readers of Grazia magazine.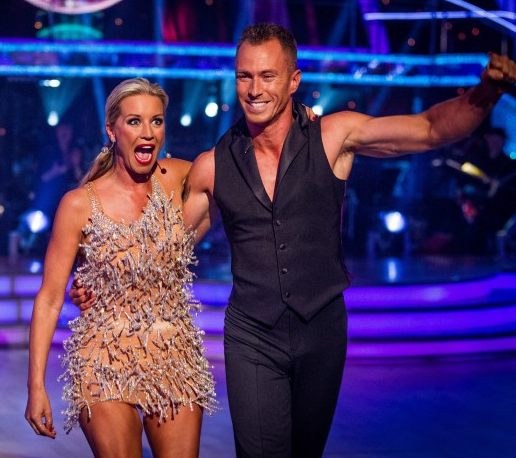 TELEVISION
Television
Year
Title
Role
1995-96
Massive!
Presenter
1997-98, 2000-01
The Big Breakfast
Presenter
1999
Something for the Weekend
Presenter
2001
Prickly Heat
Presenter
2004
Passport to Paradise
Presenter
2005
This Morning
Guest Presenter
2006
The National Lottery: Christmas Special
Presenter
2007
Any Dream Will Do!
Judge
Grease: You're the One that I Want!
Presenter
The Friday Night Project
Guest Host
2008
Backstage at the Brits
Presenter
Who Dares, Sings!
Co-presenter
Hairspray: The School Musical
Presenter
Who Wants to be a Millionaire?
Contestant
2009
Hotel Babylon
Guest Appearance
2010
The 5 O'Clock Show
Presenter
2010, 12
Lorraine
Guest Presenter
2010—
The Only Way Is Essex
Narrator
2011
Born to Shine
Head Judge
The Marriage Ref
Panellist
2012
Big Fat Quiz of the 90s
Panellist
Strictly Come Dancing
Contestant
FILM
1998
Jack and the Beanstalk
Jill
TV Movie
1999
Tube Tales
Alex
in segment "Horny"
2000
Love, Honour and Obey
Maureen
2007
Are You Ready for Love?
Rita
2012
Run for Your Wife
Michelle Smith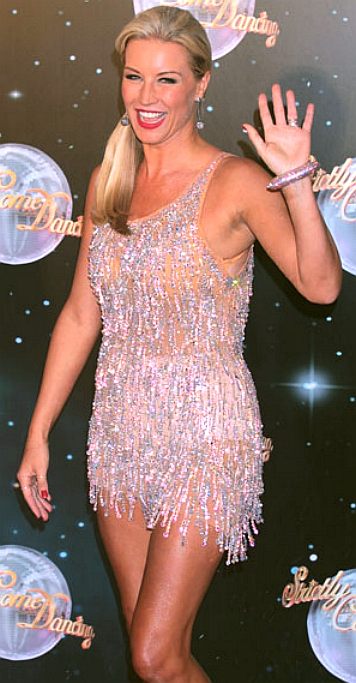 ACTING CAREER

During her first stint on the Big Breakfast show, she appeared as Jill in ITV1's version of the pantomime Jack and the Beanstalk alongside Julie Walters and Neil Morrissey. Wanting to further develop her acting career, she left The Big Breakfast at the end of 1998. In 1999, she appeared on several episodes of The Bill and The Young Person's Guide To Becoming A Rock Star, the BBC's Murder in Mind short series of crime dramas, and on 2 series of Babes in the Wood with Karl Howman and Samantha Janus.

Van Outen has also appeared in film, initially as Maureen in the crime comedy Love, Honour and Obey. She had a cameo tease as red head Alex, in the low-key Tube Tales in one of the four separate short films, based on the London Underground. Other directors included Ewan McGregor, Jude Law and Jarvis Cocker; while her part in "Horny" was directed by Lost In Space director Stephen Hopkins. Van Outen has played a small role in the romantic comedy Are You Ready For Love?

She first played Roxie Hart on the stage in the hit musical Chicago at the Adelphi Theatre in the West End in April 2001. Her run proved a hit with theatre-goers, selling out for the entire 20 weeks. Unknown in the United States, she reprised her role on Broadway in the spring of 2002, before returning to the show's London version in late April 2002. Late the same year, Van Outen appeared as one of many special guest stars in a performance of The Play What I Wrote once again in London's West End.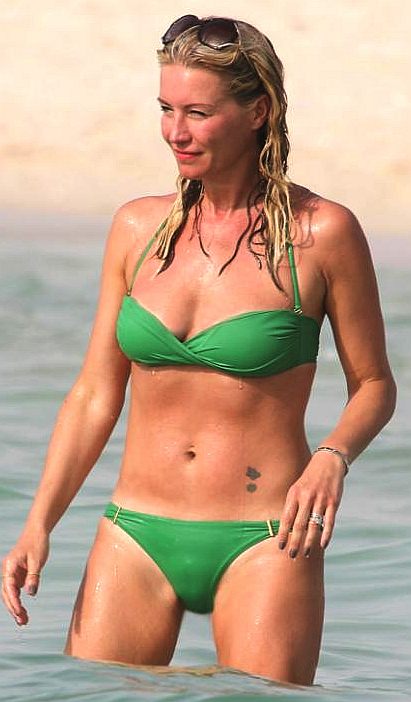 In 2003, she returned to the London stage at the Gielgud Theatre in Andrew Lloyd Webber's one-woman show Tell Me On A Sunday, which he reworked for her. She was a huge success and the show ran for nearly a year. She then joined the cast of the established ITV sentimental drama Where the Heart Is as one of the lead characters, playing single mother Kim Blakeney, continuing for two series.

Van Outen played Maureen in the 2007 London revival of Rent Remixed directed by William Baker until 22 December. She was forced to cancel some performances due to a throat infection.

In July 2009, van Outen played Mary in Hotel Babylon for the BBC. Her character was at the hotel for a science convention.

In August 2009, van Outen made her Edinburgh Festival Fringe debut in Blondes, a show by Jackie Clune.
Van Outen took over the role of Paulette Bunafonte from Jill Halfpenny in the West End production of Legally Blonde on 25 October 2010. She continued in the role for 6 months.

In 2012, Van Outen was cast in the film of the Ray Cooney farce Run For Your Wife alongside Danny Dyer, Sarah Harding and Neil Morrissey.

Radio

It was announced on 10 January 2008 that van Outen would be reunited with Vaughan and become the co-host of Capital Breakfast on Capital Radio, from 4 February 2008.

On 29 July 2008 she decided to quit the show halfway through her contract due to juggling her extensive TV commitments with the early mornings. However, in April 2011 Denise revealed that she left the show because relations between her and Vaughan had soured. She says Vaughan has not spoken to her since.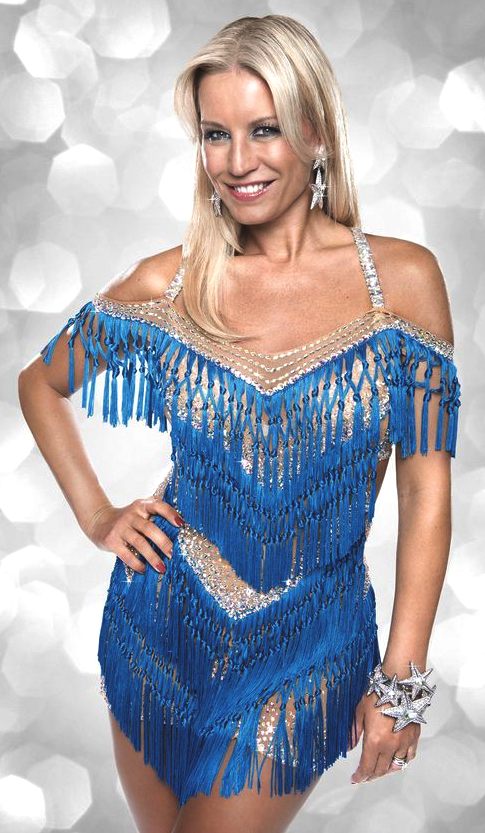 Fashion ranges

Van Outen has designed two collections thus far for the website, Very, part of the Shop Direct Group. The first collection was a maternity range launched in March 2010 and the second an autumn/winter collection.

Charity work

Van Outen has lent her support to design limited edition T-shirts or vests for the 'Little Tee Campaign' for Breast Cancer Care which donates money for breast cancer research. She continues to support Breast Cancer Charities and Great Ormond Street Hospital.

In 2009 van Outen climbed Mt Kilimanjaro for Comic Relief. Joining her on the climb were Girls Aloud members Cheryl Cole and Kimberley Walsh, Fearne Cotton, Ben Shephard, Gary Barlow, Ronan Keating, Alesha Dixon and Chris Moyles.

In 2010, van Outen along with Fearne Cotton and Alexandra Burke did the Inca Trek in Peru for Breast Cancer Care.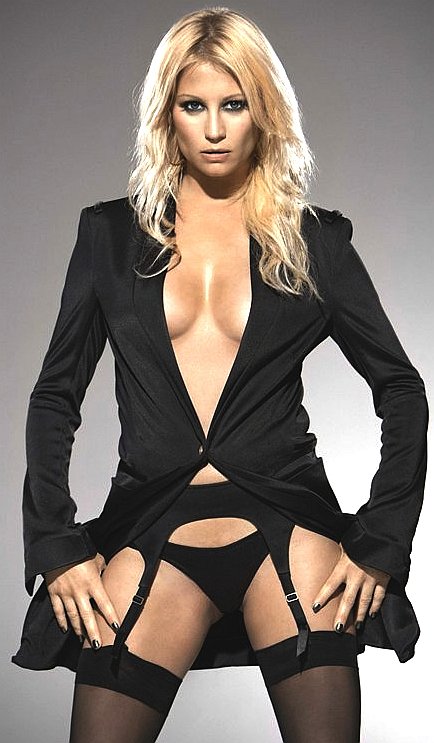 Personal life

Van Outen's personal life has been subjected to the sharp glare of the British tabloid media. In 1996, Van Outen dated Dodgy guitarist Andy Miller. From 1998 to 2001, she dated Jamiroquai lead singer Jay Kay. They were engaged and reported to be on the verge of marriage, but split up in 2001; his album A Funk Odyssey is mostly about their break-up, with the song "Little L" expressing his fight against cocaine addiction during their break up.

From 2003, she dated 'Brown's' club owner Richard Traviss, but split up with him in May 2005, moving out of the Marylebone home they shared and back into her own garden flat in North London. After appearing on Channel 4's The Friday Night Project and describing her first real kiss with fellow Sylvia Young student James Lance, subsequently they dated for a few weeks in 2007. In November 2007, she began dating Any Dream Will Do winner, Lee Mead. She married Mead in April 2009 in the Seychelles. They have a daughter, Betsy, who was born on 1 May 2010.
Denise is a great subject for the artists among you
Discography

All singles, unless otherwise stated:

1994: "Wanna Make You Go... Uuh!" (with Those 2 Girls) [UK #74]
1995: "All I Want" (with Those 2 Girls) [UK #36]
1998: "Especially for You" – shown as Denise & Johnny (cover: Minogue & Donovan song same name) [UK #3]
1999: "Gimme! Gimme! Gimme! (A Man After Midnight)" – from the ABBAMania compilation album
2002: "Can't Take My Eyes Off You" (With Andy Williams) [UK #23]
2003: "Tell Me On A Sunday" (Original cast recording) [UK Album Charts #34]
2007: "Baby It's Cold" – duet with Russell Watson on his 2007 album Outside In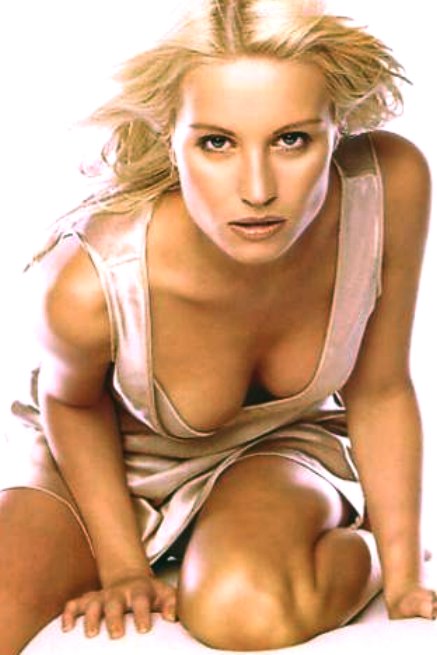 LINKS and REFERENCE
It was either quit my job or lose my man, says Denise Van Outen Daily Mail
A blonde has more fun The Observer – 25 March 2001
TV Guide biography Tvguide.com 27 May 1974
Biography All Saints A to Z. 2 January 2006
Anita Dobson and Denise Douglas
Stars who got a break on The Bill The Guardian 26 March 2010.
MyVillage – various, from 2007
CV at agents PfD – 11 August 2007
Van Outen's career goes down the Tube BBC News – 3 December 1998
Van Outen lights up Chicago BBC News – 18 April 2001
Ovation for returning Van Outen BBC News – 30 April 2002
Cast List – "Tell Me On a Sunday
The Basildon princess and the King of easy melody – BBCNews, 2003
Denise Van Outen -'I'm getting old and kids think I'm Sunday Mirror 30 November 2003
Van Outen joins Where the Heart Is RTE.ie 2005
Rent – Denise Van Outen Takes on Maureen 2007
Denise Van Outen gives costar laryngitis after lesbian kiss Now Magazine 2007
Watch this The Guardian (London)
Denise's laugh at blondes | The Sun |Showbiz|TV The Sun. 9 June 2009
Blondes | Edinburgh Festival Guide November 2010
Denise Van Outen, Siobhan Dillon and Carley Stenson to Join West End's Legally Blonde
Run For Your Wife 31 December 2011
Denise van Outen to become Capital Radio Breakfast Co-hos 10 January 2008
Van Outen quits Capital Radio a half year early29 July 2008
Denise Reveals Johnny Rift. 8 April 2011
Very launches maternity range with Denise van Outen | News
newkerala.com 30 September 2010
Virgin Money Giving | Fundraising | Denise & Fearne's Trek for Breast Cancer
Jay Kay: I will marry Denise BBC News – 19 November 1999
contract musice 11 August 2007
Denise dumps first-kiss guy Sunday Mirror November 2010
Denise unveils baby Betsy The Sun.6 May 2010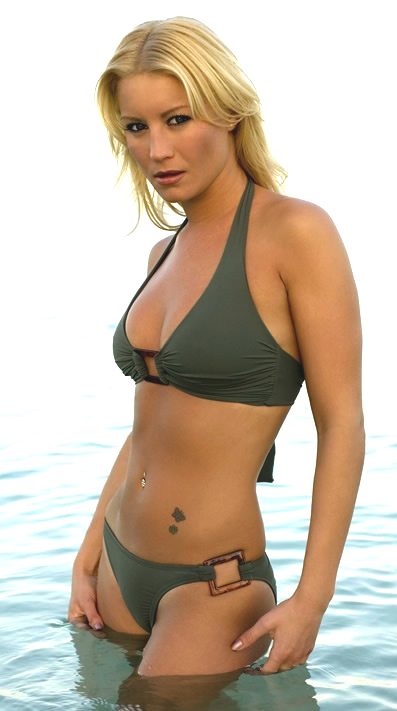 | | |
| --- | --- |
| Waltz - Youtube | Pasa Doble - Youtube |
| Cha cha - Youtube | The Waltz - Youtube |
---
A heartwarming adventure: Pirate whalers V Conservationists,
with an environmental message.
For release as an e-book in 2013 with hopes for a film in 2015 TBA
(graphic design: Martin House)