They're limbering up for another all female UK tour, and this time romance gives way to bloodshed: Ladies and gentlemen, the Smooth faces present to you: TITUS ANDRONICUS. For 2013 introducing Madeline Gould as Tamora. Best of Luck Madeline, from the Kismet Girls.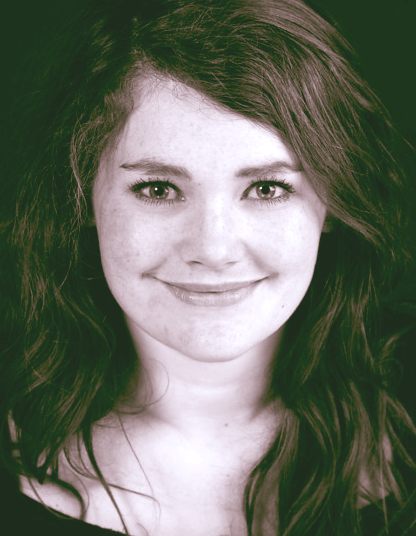 ACTOR PROFILE

Location: London
Height: Not Specified
Weight: Not Specified
Playing age: 22-25 Years
Role types: White
Eye colour: Blue - Grey
Hair colour: Dark Brown
Hair Type: Long
Facial hair: None
Physique: Medium / Average Build
Showreel: Not Specified
Disabilities: None

SKILLS

Languages: English
UK Accents: Southern England US Accents General American, Southern American
Dancing: Ballroom, Flamenco, Period
Singing: Mezzo-Soprano
Instruments: Guitar
CREDITS
Narrator/ Writer in "Boxer/ Beetle"
Type: Rehearsed Reading
Year: 2012
Director: Lauren Bracewell
Company: Young Vic Freshworks/ Local Girl

Berte in "Hedda Gabler"
LAMDA Linbury Studio
Type: Theatre / Stage
Year: 2011
Director: Jo Blatchley
Company: LAMDA

Sandra in "Touched"
The Tricycle Theatre
Type: Theatre / Stage
Year: 2011
Director: Colin Cook
Company: LAMDA / The Tricycle Theatre

Miss Gibson in "Daisy Pulls It Off"
The Lyric Theatre, Hammersmith
Type: Theatre / Stage
Year: 2011
Director: Stephen Jameson
Company: LAMDA / Lyric Hammersmith

Stepmother in "Into The Woods"
LAMDA Linbury Studio
Type: Theatre / Stage
Year: 2011
Director: Joanna Read
Company: LAMDA

Photographer's Assistant in "Shoot Me!"
Type: Short Film
Year: 2011
Director: Kate Hardie
Company: Rankin Films

Duckling/ Meg Long in "Our Country's Good"
LAMDA Linbury Studio
Type: Theatre / Stage
Year: 2011
Director: Lauren Bracewell
Company: Local Girl

The Journalist in "Do Not Pass Go"
The Old Police Station, New Cross
Type: Theatre / Stage
Year: 2011
Director: Joel Samuels
Company: Do Not Pass Go

Frau Holle/ Writer in "Freshly Scratched/ BAC Christmas Cook Up"
Battersea Arts Centre
Type: Theatre / Stage
Year: 2011
Director: Lauren Bracewell
Company: Local Girl

Louise/ Chorus in "Road/ A Short History of the Royal Court"
Shoreditch Town Hall
Type: Theatre / Stage
Year: 2011
Director: Paul Smith/ Lyndsey Turner
Company: The Royal Court Gala 2011

Her in "Goodwill To All Men (Writer's Night)"
Crucible Theatre, Sheffield
Type: Theatre / Stage
Year: 2011
Director: Marieke Audsley
Company: Sheffield Theatres

Galactia in "Scenes From an Execution"
LAMDA Linbury Studio
Type: Theatre / Stage
Year: 2010
Director: Penny Cherns
Company: LAMDA
Madeline's Twitter picture, we think playing Blackbeard the pirate and rehearsing in Titus Andronicus
TITUS ANDRONICUS PLAYER

Madeline Gould plays Tamora. This is Madelineís first time with Smooth Faced Gentlemen, though she recently worked with several of our actors on web-sitcom Missing Something. She trained at LAMDA and has just returned from a sell-out run on the Brighton Fringe.

TITUS ANDRONICUS CREW - In alphabetical order

Yaz Al-Shaater Ė Director

Anna Beecher Ė Dramaturg

Tom Crawshaw - Dramaturg

Celia Dugua - Lighting

Kirsty Fox - Associate Producer

Amy Gunn Ė Stage Management

Jacob Hughes - Designer

Rachel Illingsworth Ė Assistant Director

James Percival - Sound

These are the smooth faces of a troupe of ladies who prefer to act out the parts of gentlemen. Don't they know when they are onto a good thing? Okay, seriously, this troupe are truly superb and deserve as much support as we can give them. The productions that the SFG players intend staging in the future, are classic renditions of Shakespeare's works in traditional costume, which sets them apart from other all female troupes in the US and elsewhere (good as they are) - as one might expect from the qualifications and experience of the members. They are Kismet Girls through and through.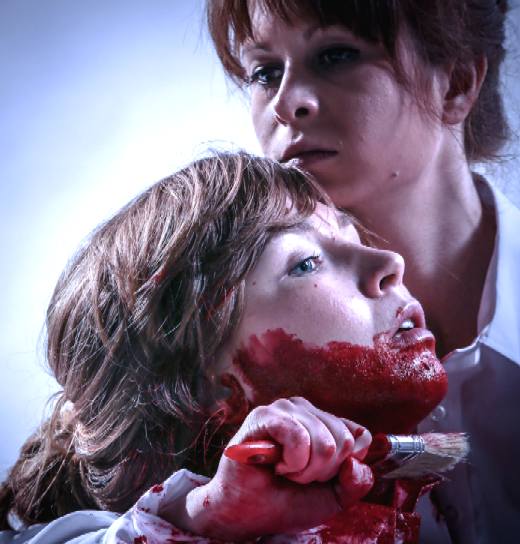 Ashlea Kaye and Leila Sykes rehearsing Titus Andronicus
These girls are serious actors carrying off the parts of their male counterparts so well, that you may well believe they are men. That is the opinion of many people who have seen their shows. Moreover, the acting is of such a high caliber that any advocate of Shakespeare will appreciate the performance for the performance and not because the players are all female - although that inevitably adds to the mystique - and that extra layer of spice is bound to draw audiences wherever they perform.
2013 THE SMOOTH FACED PLAYERS: TITUS ANDRONICUS CAST - In alphabetical order
| | | | |
| --- | --- | --- | --- |
| | | | |
| Vivienne Acheampong | Fran Binefa | Madeline Gould | Ashlea Kaye |
| | | | |
| | | | |
| Henri Merriam | Emma Nixon | Leila Sykes | Stella Taylor |
MADELINE SAYS:
"Thereís plenty to chat about with Titus - especially when you have eight actors covering somewhere between twenty-five and thirty characters and only one hour to perform it. Just to contextualize, thatís at least thirteen on-stage deaths, a rape, two mutilations, a live burial, cannibalism, an uprising, insanity, racism and an almighty final act bloodbath to rival the collective body of work of Leatherface. Something tells me weíre not in Kansas anymore. And itís clear as we wade through this bonkers Jacobean slasher-thriller that itíll take more than balled-up socks in our pants for us to get to grips with these complex characters. Not to mention the plot, which has you debating its twists and turns like Leo riding the kicks back up the layers in Inception. Iím having a tremendous amount of fun. Like I said, this is the stuff I love."

"But I have to confess to some serious sock envy. As one of only two gents that play women in the production, there comes the inevitable moment of disappointment in rehearsal when the director instructs the other six actors to reach for their cotton/wool-mix phallus while Lavinia and I continue to circle the room, dejected, having been separated from our makeshift chaps. It doesnít help that Iím also useless at any of the competitive rehearsal games as well, so canít even compensate through brutal play. Never mind, Iím sure itís character building."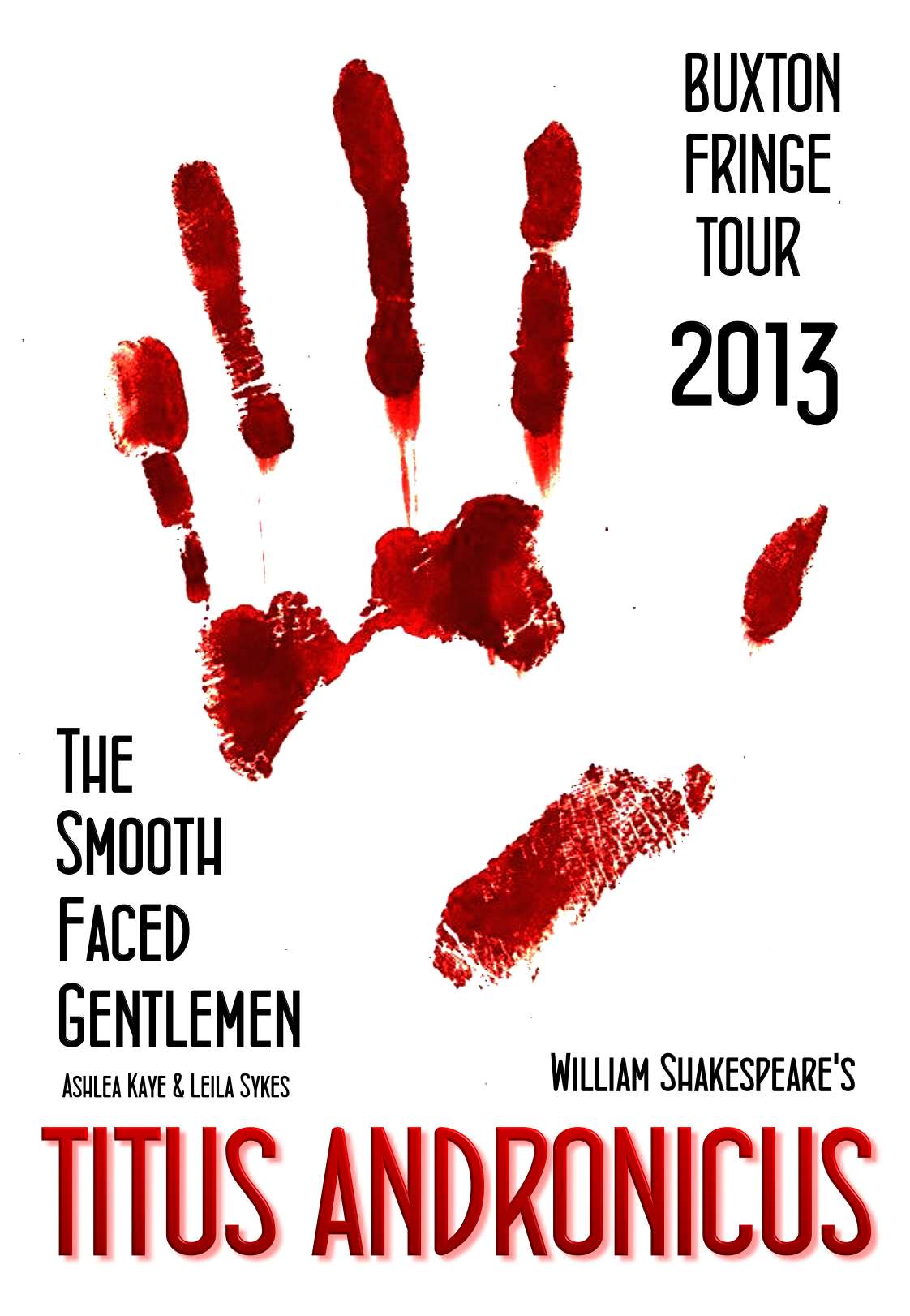 Smooth Faced Gentlemen are one of the UK's most prodigious all-female Shakespeare troupes. Formed in 2012, this female ensemble perform fast-paced, dynamic productions of Shakespeare's much-loved classics. Thier approach, which marries tradition with innovation, seeks to dismantle the audience's preconceptions of the Bard's work. Through the prism of an all-female cast Smooth Faced Gentlemen examine the mastery with which Shakespeare pictures humanity - a humanity which an actor can explore and share whether male or female.
A time lapse rehearsal of Romeo & Juliet
LINKS
http://www.21stcenturyactors.org/main/2013/01/09/madeline-gould-at-the-union/madeline-gould-4/
https://twitter.com/MadelineRGould
http://www.thecastingwebsite.com/members-directory/performers/26569/madeline_gould/
http://www.21stcenturyactors.org/main/114-2/madeline-gould/
http://uk.linkedin.com/pub/madeline-gould/45/148/1a4
http://smoothfacedgentlemen.com/2013/06/introducing-our-titus-team/
http://smoothfacedgentlemen.com/author/maddy/
https://www.facebook.com/SmoothFacedGentlemen
Stratford Upon Avon - Shakespeare's birthplace
---
Ashlea * Camina * Carly * Emma * Fran * Henri * Kayleigh * Leila * Madeline * Mariam * Stella * Vivienne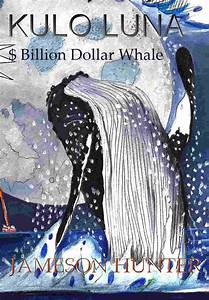 A heartwarming adventure: pirate whalers V conservationists